Where is the best place for an expert skier to go heliskiing?
Where do ski patrollers go heliskiing? I'm an expert skier looking to pull the trigger on heliskiing this year, probably in BC. I'm willing to pay for a little luxury, but don't want to be surrounded by intermediates who just happen to have the money. Dan G. London, England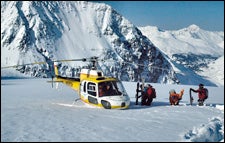 Heading out the door? Read this article on the new Outside+ app available now on iOS devices for members! Download the app.
Well, it sounds like you've reached the point where snow bunnies and powder hounds part ways. But be forewarned: Heliskiing isn't for everyone. Even veterans find that they don't want to trade the comfort of riding chairs to the summit for the heart-thumping thrill of riding in a helicopter. But you sound like one of the accomplished few who crave the untouched territory of far-removed backcountry along with the adrenalyn-fueled ride to the top. And while there are twice as many heliskiing operations as there were 15 years ago, thousands of acres still wait to be carved by fat tips. The trick is to find tried-and-true experienced guides who know the terrain well and can cover it with their choppers, so you can worry more about looking out at those expansive views and plotting the next run of your life.
Heliskiing in Alaska's Chugach range

THE POWDER LESS TRACKED: Heliskiing in Alaska's Chugach range
One of the best places to cut your teeth on heliskiing is Thompson Pass within the Alaskan Chugach mountain range near Valdez, Alaska. Home to some of the world's first extreme ski, snowboard, and snowmobile competitions like the World Extreme Skiing Championships, Thompson has enough fresh powder to satisfy the most expert skiers. The mountain range is now home to heliskiing outfits such as Alaska Rendezvous Lodge, Inc. Heli-Guides (ARL), located at milepost 45 on the Richardson Highway north of Valdez (arlinc.com; 888.634.0721). With ARL, extreme skiers and boarders can cover 30,000 vertical feet on steep chutes, long ridgelines, and open bowls at elevations of up to 6,800 feet. ARL was started by expert guides who learned from the pioneers of Valdez's original heliskiing ventures. Often referred to as the "blue hole," Pacific storms head north and fall just short of the pass, dumping huge stashes of powder to create optimal skiing conditions and a prime location for helicopters to touch down. ARL's four packages are priced from $250 (the Alaskan Local special) up to $4,400 per hour (of flight time) for a semi-private or private charter in their A-star B2 and B3 choppers. Finish the day off at the Alaskan Rendezvous Lodge, a rustic hotel complete with log-cabin accents overlooking the heli-base. At $240 per night, you'll also have the opportunity to top off your northwest stay by indulging in entrees that span steak to sushi at the in-house restaurant run by four chefs from Telluride and Jackson Hole.
If you're partial to the Canadian Rockies, head southeast to British Columbia, where you'll find some seriously dry powder and North America's most rugged peaks at elevations over 12,000 feet. The backcountry here provided one of the staging grounds for Mongo Productions' latest extreme ski flick, The Constant Struggle. Located within the Selkirk and Purcell mountains in Meadow Creek, Stellar Heliskiing uses a smaller, speedier, A-star helicopter, which flies you and three friends to a remote heli-pad where you'll ski an average of 18,000 vertical feet per day (stellarheliskiing.com; +250.366.0067). Besides the spectacular ridgelines and 199 square miles of uncharted backcountry, you'll get spectacular views of glacial lakes like Duncan and Kootenay. A first-time visit, a full day of skiing 1,500- to 4,000-foot runs, plus lunch and flight time costs $1,275. Accommodations are available in Kaslo at the Dayspring Lodge, starting at $130 per night (dayspringlodge.com; +250.353.2810). Overlooking the Purcell Mountains, this cozy bed and breakfast promises uninterrupted rest after a fully loaded day of pristine powder.
If you're the sentimental type and want to see where it all began, or you just want to cover some heady terrain, try a trip with a heliskiing pioneer and world's largest heliskiing operator, Canadian Mountain Holidays (CMH; canadianmountainholidays.com; 1.800.661.0252). Hans Gmoser, an Austrian immigrant with a passion for snow, opened CMH in 1959, and today they offer trips all over North America, including the Bugaboos, Monashees, and Cariboo mountains in eastern British Columbia. CMH schedules three- to ten-day trips, with a guaranteed vertical of over 142,000 feet on the latter, and uses speedy Bell 212 twin-engine choppers for the majority of their flights. But if an average heliskiing trip seems rather tame, then try Nomads Week. Throughout this new CMH adventure, not only will you be at the mercy of guides looking for the most outlandish skiing in both the Selkirk and Monashee mountain ranges, but you'll be carving powder on the outskirts of six heliskiing areas with elevations of over 10,000 feet. Because this is Nomads Week and nomads don't hang with crowds, CMH tries to keep clear of other groups in the area while migrating through different parts of each mountain range. Weather conditions will help determine exact locations prior to the week of travel. Each group is limited to eight skiers accompanied by three guides. Warm up at backcountry lodges and receive 17 hours of flying time, as well as prepared meals. The ultimate heliskiing adventure doesn't come cheap though, as this package runs for a humbling $21,000 per person. But let's face it, if you're going heli-skiing, it's go big or go home.
–Amy A. Clark