Where is the best place for multi-day backpacking on the West Coast?
Last year, four friends of mine and I biked the Allegheny Passage to see the cherry blossoms in Washington, DC. This late winter or early spring, we want to top that by heading out west and backpacking for four to five days in a national park. What is a good location that will have favorable conditions? -Andrew Pittsburgh, PA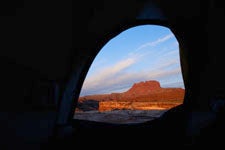 Getty Images(Photo)
Heading out the door? Read this article on the new Outside+ app available now on iOS devices for members! Download the app.
That's very ambitious of you, Andrew. Here's the catch with backpacking in late winter or early spring in a national park out west: unless you're using skis or snowshoes (which I'm assuming you aren't) you won't be able to access three quarters of them, and nearly all the rest will still be too frigid or wet (or both) to enjoy. The exceptions are a handful of national parks located in the desert—like Canyonlands in Utah, and Big Bend in Texas. You'll be relatively free from the crowds at this time of year, giving you a more pristine experience in these amazing natural treasures. But backpacking in the desert isn't easy. Unless you use a National Park Service campground as a base of operations for day hikes, you'll have to pack in your own water for the entire expedition, which conservatively translates to a total of 16 gallons for four people to consume over four days, at a weight of 128 pounds. You also have to keep in mind that trails on arid lands can be hard to follow, so getting lost is easy if you're not paying attention. Still interested? I hope so. Here's a brief rundown on each.
The Maze District of Canyonlands National Park

The Maze District of Canyonlands National Park
Canyonlands National Park, Utah
Spreading across a Mars-like, quarter-million-acre swath of rocky canyons, cliffs, and mesas in southern Utah where the Green and Colorado rivers meet, Canyonlands is one of the jewels of the national park system. Every vista provides an Ansel Adams-worthy moment. The high temperature for this time of year is somewhere in the mid-50s. I'd suggest you stick to the area on the east side of the park called the Needles District, known for its slender, towering rock spires. Its trails are the least technical and most trammeled, so if you're new to the area, the chances of getting into trouble here are minimal. Most footpaths extend from the 26-site Squaw Flat campground and make for prime day hikes, although if you want to spend a night in the backcountry, you can hit the 19-mile out-and-back Lower Red Lake Canyon trail to the Colorado River (which is too silty to be a decent water source, by the way).
Big Bend National Park, Texas
Larger than the state of Rhode Island yet visited by only about 300,000 people a year, Big Bend is definitely the country's most unappreciated national park. Maybe it has something to do with the location, 300 miles from the closest city of El Paso. Its southern edge follows the Rio Grande for 120 miles along the river's "big bend" in the Chihuahuan Desert, forming the boot heel of Texas's southwestern border. But here's what's being overlooked: more than 1,200 species of plants, 11 kinds of amphibians, 75 different mammals, 56 species of reptiles, 450 species of birds, and 40 species of fish distributed among its sheer, deep canyons, badlands, and rocky desert plains backdropped by 7,000-foot mountains. The best backpacking route is probably the 12-mile South Rim Trail which climbs steeply into the Chisos Mountains and offers broad views all the way into Mexico across the Chisos Basin—and February and March are probably the prime time to go, as temperatures usually hover in the 60s and 70s.
Lead Photo: Getty Images
Trending on Outside Online