Where Can I Camp and Surf in California?
I live in southern Utah—obviously not one of the world's great surf destinations. One of my biggest dreams is to take a surfing trip up the California coast, from San Diego to San Francisco. I would like to camp on the beaches in state parks and such. What do you suggest?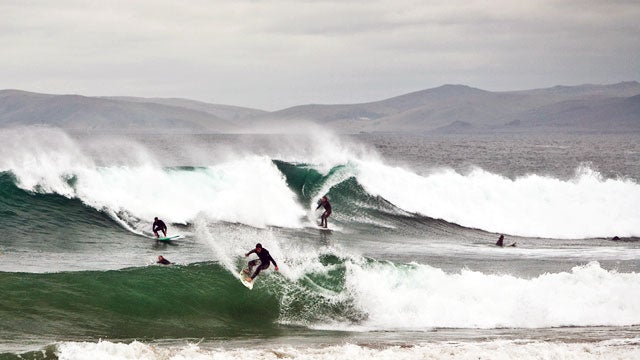 Michael "Mike" L. Baird(Photo)
Heading out the door? Read this article on the new Outside+ app available now on iOS devices for members! Download the app.
When I imagine a California surfing road trip, I picture myself setting up camp on an empty stretch of sand, where I can roll out of the tent and hit the water first thing in the morning. But when I contacted Marcus Sanders, the editor of go-to surf forecasting site Surfline.com, for some advice, I got a reality check instead. According to him, informal camping on California beaches (at least, ones that aren't designated camp spots) is generally a no-go. 
However, there's plenty of great surf that comes complete with campsites nearby. I asked Sanders for his top five surf spots along that stretch of coast. From south to north, they are: Black's Beach, part of Torrey Pines State Beach just north of La Jolla; the famous Newport Beach, south of L.A., and nearby Malibu; Morro Rock, located in Morro Bay, just outside of San Luis Obispo; and Steamer Lane, in Santa Cruz.
The quality of the camping you'll find varies from place to place. "The closest camping to Black's is Cardiff, which also has good waves," says Sanders. Unsurprisingly, given the town's high-end reputation, "there isn't really any camping near Newport Beach, except for RVs." If you're setting up a tent, you might be better off heading to Malibu: Nearby Sycamore Canyon offers camping possibilities, especially "near County Line, which also has decent surf."
The more remote Morro Bay State Park has conveniently located camping near Morro Rock, though it occasionally gets crowded; 105 more campsites are available at nearby Morro Strand State Beach. There are options inland from Steamer Lane, too, but if you're keen to be on the coast, the Costanoa Lodge, just north of Santa Cruz, offers tent and RV sites, or, for a little luxury, wall tents and cabins.
Don't forget to pack your manners: Surfing is famous for its etiquette, and for locals' punishment of rule-breakers. Before you hit the road, be sure to brush up on the do's and don't's. For a good refresher, check out Surfline's Bill of Lefts and Rights.
Lead Photo: Michael "Mike" L. Baird
Trending on Outside Online