Where in Ecuador can my family go rafting?
I would like to arrange for a two- or three-day rafting trip in Ecuador for myself, my husband, and our sons (ages 12 and 14). We've all done a fair amount of rafting and love it. We want to make sure we find a reputable outfitter to take us on this trip. Do you have any suggestions for rivers or outfitters? Laura New York, New York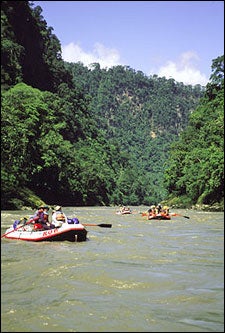 Heading out the door? Read this article on the new Outside+ app available now on iOS devices for members! Download the app.
Back in 1830 when the country's founding fathers were trying to come up with a name for their new Andean country, they kicked around several ideas like "Kingdom of Quito" before choosing Ecuador (a rather poor option, in our humble opinion). Republica del Mucho Adventura probably never came up, and it wouldn't carry clout in diplomatic circles, but that name certainly fits.
Ecuador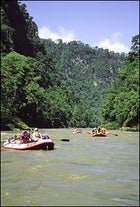 Have Courage, Will Raft: Ecuador's ROW Outfitters brave the South American whitewater
Rafting is just one of the many adventures you can take here, and Ecuador offers up some of the best rivers on the continent. You can thank the 20,000-foot peaks of the Andes for that. The mountains, a veritable weather backstop, collect plenty of moisture that feeds tens of thousands of miles of rivers which boil into impossibly scary rapids before easing off into mellow licks of Amazon blackwater in the east and Pacific streams to the west. Between summits and shores you can often find rivers with 60 miles or more of continuous rapids, some with a sustained Class IV ride. Combine that kind of geography with a country that's friendly, extremely colorful, easy to navigate, and infinitely more mellow than Peru or Bolivia, and you've got yourself a great family vacation.
Your problem isn't going to be finding a river to run with the right company, but rather which river to run with which company: options abound as you've probably guessed. You can do a one- to three-day trip as well as have options for longer floats. Then again, there's nothing wrong with sticking to the shorter trips to save some time to check out the rest of the Adventure Republic.
As for rivers, the Rio Blanco sits just outside Quito, the capital and main hub for travelers. You could even use Quito as a base for several day trips, if you like. The Blanco has more than 120 miles of rapids. Expect long trains of waves, huge holes, and big scenery as you bounce through places like the El Sapo Canyon. You'll also find a whopping 30 miles or so of—get this—nonstop Class III and IV rapids. It'll take you about four hours to tackle that. If that sounds like a little much, try the Caoni and Mulate rivers, where rapids top out around Class III. Just about any time of year is good to hit these rivers, but February to June offers the most consistent flows. To get more time on the river than just a day, you can combine a trip down the Toachi and Blanco rivers. Sign up with Yacu Amu Rafting (+593.2.290.4054, info@yacuamu.com; www.yacuamu.com). Plus you'll stay in a riverside inn and have time each afternoon to hike through the surrounding rainforest. Count on rapids up to about Class IV. At $195 a person including accommodation, most meals, and transportation from Quito, you'll have plenty of cash left over for some yummy locro soup.
For the ultimate journey, though, sign up with ROW Expediciones (800.451.6034; www.rowinternational.com) for the four-day expedition down the Upano River in Ecuador's Amazon. In November 2005, I joined the company on a trip to the Galápagos and owner Juan Rodriguez is skilled, amicable, and certainly top-notch. He and his U.S. business partner Peter Grubb pioneered rafting down the Upano in the early 1990s and since then they've done more than 30 trips down this classic river. If you're looking for A-1 guides who know an exotic river inside and out, ROW is it.
The trip goes like this: After spending a few days in Quito, you'll take a short flight to Macas, a small frontier town in the jungle. The next day, rafts await you on the shores of the Upano at about 3,000 feet in the Ecuadorian jungle. For the next four days you'll float 65 miles over rapids that range anywhere from Class II to IV. For the first day and a half or so you'll paddle past only a few villages. This area is home to the Shuar Indians, a once-fierce tribe of infamous headhunters. Today ROW has made friends with many of the locals in this region, so expect to pull off the river and visit their homes. Come evening, you'll camp alongside the river on a wide beach and take swims in the tributaries. The next day you'll float through a spectacular gorge where numerous waterfalls rain for hundreds of feet down through the rainforest. You'll explore caves, ogle dozens of species of butterflies, and keep an eye out for funky birds like the gregarious oropendola. At the end of the trip, you'll get off the river and stop off in Cuenca, the country's third largest city and World Heritage Site recognized for its outstanding colonial architecture. And then before you know it, you'll be back in Quito staring up at the volcanoes or wondering about those hacienda inns that beckon you to skip work and stay.
The Upano trips, which run December 17, 24, 31, and on January 7, 2007, will set you back $1,990 to $2,200 for a seven-day trip or $2,190 to $2,490 for a nine-day trip, depending on how many people sign up. Both trips include four days on the river but do not including international or internal airfare (the latter costs around $185).