Where should a beginning climber start?
I'm a beginning mountaineer looking to tackle a few mountains this summer. What are some challenging peaks in the United States? Beau R. Rochester, NH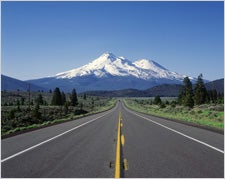 Heading out the door? Read this article on the new Outside+ app available now on iOS devices for members! Download the app.
Like many other physical feats, mountaineering takes practice—and lots of it. Fortunately, you've got plenty of options. The United States alone has 87 peaks that reach 14,000 feet or higher. And even though all are in the western half of North America, the panoramic views from the summit are worth the trip. Since you're a beginner, plan to tackle one peak at a time, starting with an easier ascent, and then progressing to a more technical guided one.
California's Mt. Shasta

ALL ROADS POINT NORTH: California's Mt. Shasta
Mt. Elbert is the tallest of Colorado's 53 fourteeners, standing at an elevation of 14,433 feet. The peak is also one of Colorado's easiest to climb; you don't need crampons or an ice axe, just typical day-hiking gear (along with extra layers for that infamously unpredictable high-elevation weather). Located approximately ten miles south of Leadville, the Northeast Ridge is the route you'll want to take. Round trip mileage is just nine miles with 4,700 feet of elevation gain. And while the peak may be climbable without the fancy gear, that doesn't mean it lacks adventure. Past the tree line at 11,900 feet you'll switchback up to the Northeast Ridge and run into some steeper climbing through boulders and scree slopes at approximately 13,400 feet. Unfortunately the summit remains invisible until 14,300 feet. After reaching the top, enjoy views of some other fourteeners you can add to your "to do" list – Mt. Massive (elev. 14,421 feet) and Mt. Oklahoma (elev. 13,845 feet). On average, the trip to the summit takes around three hours. In addition to the rewards of making the climb, it's also a great intro to how altitude can affect your endurance.
If you're looking for a technical climb that requires crampons and an ice axe, try the Avalanche Gulch route up California's 14,162-foot Mt. Shasta. Using Mount Shasta City as your home base, follow Everitt Memorial Highway up the southwest slope of the mountain to Bunny Flat trailhead. Starting at 6,860 feet, the trail is approximately six vertical miles with an elevation gain of 7,000 feet. Leave behind the trees at 8,500 feet and expect to hit snow shortly there after. We recommend you make it a two-day adventure and camp overnight at 10,443-foot Helen Lake, but prepare for cold, rocky conditions. You'll have 3,719 feet left to climb the next day, and won't be nearly as pressed for time. The Red Banks area at 13,000 feet can be icy even in late summer and is the spot where you'll need your crampons and ice axe. Use both to climb through a steep rock-and-ice chute upon reaching Red Banks, then continue to Misery Hill, and the summit towers into view. After reaching the top, you'll gaze at Oregon's Mt. Hood (on a clear day) and hundreds of miles in every direction. Timing of your climb is key, and your best bet is early June, when Shasta gets some of its mildest weather of the year. Rent gear at local mountaineering shops like The Fifth Season.
When you're ready for a guided trip up one of the most challenging mountains in the Cascades, head for Mt. Baker. You'll traverse 12 active glaciers, icefalls, seracs, and crevasses. The climbing-guide service Mountain Madness offers guided aescents up the Easton Glacier to Mt. Baker's summit elevation of 10,778 feet. The climb is ideal preparation for other high altitude peaks like 20,320-foot Denali. The three-day adventure begins on the south side of Mt. Baker where a three- to four-hour hike takes you a base camp at 5,500 feet. Because of the amount of gear you'll be packing, an equipment check and skills assessment is necessary upon arrival. On the second day, learn the basics of glacier travel, beginning with climbing skills, ice axe lessons, self arrest, and balance positioning. These skills will be reinforced throughout the day, along with roped team travel, route finding, and hazard assessment, along with an introduction to crevasse rescue. Final preparations for the summit attempt will also be made. An early alpine morning begins at 2 a.m. the next morning, followed by a sunrise climb to the summit. The homestretch to the top takes approximately five to eight hours, and upon arrival you'll find views of Mt. Rainier, the North Cascades, and San Juan Islands. You'll also make your final descent to base camp, and the trip back to Seattle. Cost for this guided adventure is $750 per person and includes ground transportation, mountain meals, all rental equipment and guide services.
–Amy A. Clark