Where's the best place for spring skiing on the East coast?
Where's the best place for spring skiing on the East coast? Brett W. Reston, Va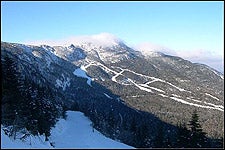 Heading out the door? Read this article on the new Outside+ app available now on iOS devices for members! Download the app.
Spring skiing always feels a little bit like cheating. All the fun of carving buttery turns and jouncing through soft moguls without the frigid winter storms, runny noses, or wearing 1,001 layers. And when Jack Frost is packing his bags, lift tickets are cheaper, lodging rates plunge, and the cravings for eating a barbecued burger on the deck underneath the shining sun become a little more intense with each run. But not every mountain is equal when it comes to spring snow-flinging. In part due to the snow that typically sticks to the high peaks through June, the Rocky Mountains and the Pacific Northwest are where most people consider spring skiing. But back East there's a handful of solid resorts that combine higher elevations and copious snowmaking skills to offer skiing into March and April.
Mount Mansfield, Vermont

The Big Guy: Stowe's Mount Mansfield, Vermont's tallest peak
One such spot is Stowe Mountain Resort. Located in the Green Mountains, this quaint New England town boasts the highest peak in Vermont—Mount Mansfield at 4,395 feet. And with the recent addition of state-of-the-art snowmaking capabilities on their novice hill, Spruce Peak, and additional snowguns aimed at Mansfield's slopes, the resort is ahead of the game when spring training begins. Stowe's slope variety, from gut-churning verticals to glade skiing to corduroy groomers, assure that promises skiers of every ability will not be disappointed. Toll Road, the longest run, measures in at 3.7 miles, and the infamous Front Four—a group of runs with dizzying pitches—reinforces Stowe's status as the true beast of the East. As the winter months draw to a close, Stowe's 3,719-foot skiing elevation, annual snowfall average of 333 inches, and 80% snowmaking capabilities allow skiers to stick around late into April. Better still, late season lift tickets drop to $52, a savings of over $25 off regular holiday rates. Stowe also starts to amp up their offerings with special events such as the Torchlight Parade and Fireworks in mid March. After the sun goes down, follow the action along Mansfield's Gondolier trail, then watch the sky for an even more spectacular light show. For easy access to the slopes, stay at the Inn at the Mountain at the base of Mount Mansfield. Late-season rates in April begin at just $79 per night (1.800.253.4754). Stowe is just 40 minutes away from Burlington International Airport and 15 minutes off I-89.
For a little more spring flinging (and a lot of singing), head north up to Sugarloaf in Maine's Carrabassett Valley for the 19th-Annual Budweiser Reggae Fest Weekend, April 13 to 15. You'll find a unique reason to leave your iPod at home, as the 4,237-foot mountain sets the stage for reggae bands to play throughout the weekend. Ski-and-stay packages include mountain lodging and lift tickets, and start at just $109 per person. Word has spread about this annual tradition, so plan ahead; rooms book up fast. If you're not a fan of reggae music, Sugarloaf cuts its lift ticket prices to $35 for college students during the last two weeks of March. An equal mixture of variable terrain, along with 1,400 skiable acres, will keep family members happy. The ski season at Sugarloaf is known to last until the end of April. Fortunately, the resort offers ski and stay packages starting at just $69 per person all season long. The resort is located approximately two hours from Portland and has flight service out of Sugarloaf Regional Airport.
And if spring calls you away from groomed runs out to the backcountry (and avalanche territory), try visiting Tuckerman and Huntington Ravine in New Hampshire. Located in the Cutler River Drainage on the southeast shoulder of 6,288-foot Mount Washington, this area receives more than 70,000 visitors per year and was the birthplace of extreme skiing. A bowl-shaped geological feature, the ravine averages snow depths of 55 feet in the deepest spots, providing a late-spring skiing opportunity from late March all through May. While there are no lifts to speak of, skiers flock here to hike up the steep slope for runs back down the spring corn. Avalanches are always a possibility, so watch for posted warnings and know how to travel safely through the backcountry. To reach Tuckerman's drive 15 miles north of North Conway on Route 16 to the Pinkham Notch Visitor Center. From there you'll be able to hike 2.4 miles to the mouth of Tuckerman Ravine. The average hike is approximately three hours, so bring warm clothing, proper gear, food, water, and plenty of sunscreen.–Amy A. Clark