Where's a good place to hike in Colorado over Labor Day weekend?
I'm planning to visit Colorado for three weeks starting Labor Day weekend. Do you have any hiking recommendations? I open to multi-day backpacking, as well as day hikes or overnight hikes to a mountain location. Jason Manchester, England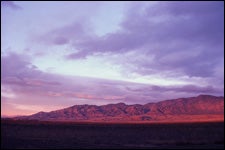 Heading out the door? Read this article on the new Outside+ app available now on iOS devices for members! Download the app.
Colorado. The land of 14ers, that being peaks over 14,000 feet—54 to be exact. It's also home to the Continental Divide and some of the tallest peaks in North America. The dominant peak, Mount Elbert, stands at a whopping 14,433 feet. That's some serious elevation—the entire state sits 3,200 feet above sea level—so plan on spending a few days acclimating in Denver (your likely gateway) before heading into the backcountry. Or, consider a lower-elevation first jaunt on your three-week tour, and then build up to the sky-scraping mountains.
Great Sand Dunes National Park and mountains

The unexpected face of the Rocky Mountain State: Great Sand Dunes National Park
In the southeastern corner of the state, 150 miles south of Denver, sits the Great Sand Dunes National Park and Preserve. At over 39 square miles, this midwestern oasis is home to North America's tallest sand dunes. Formed by bellowing winds streaming from the nearby Sangre de Cristo Mountains and opposing storm winds from the San Luis Valley, the large dunes continue to shift shapes with the forceful collision of jet streams. Start by heading for 650-foot High Dune, near the Visitor Center. There are no trails here, but my advice is to follow the ridges as you ascend the dunes where the hard, packed sand will help you conserve your energy. At the summit, take in the views of Sangre de Cristo and San Juan mountain ranges, both with peaks over 13,000 feet. Then continue hiking west to Star Dune, which rises 100 feet above High Dune, qualifying it as the tallest in North America. On your descents, let gravity take over and roll down, slide, or leap. After bagging both dunes you'll have traveled about four miles, but the views and off-trail experience is well worth shaking the sand from your hiking shoes for the next few days. From Denver, drive south on I-25 to Walsenburg, west on 160, and then north on Highway 150. Park at the Visitor Center and pay the $3 entrance fee, or snag a spot at the first come, first serve $14 Pinyon Flats campground, one of 88 spots among the cottonwood and pine trees that provide much-needed shade (www.nps.gov/grsa/index.htm, 719.378.6399).
To get a taste of the high country without staring up at 14,000-foot peaks, head northwest to the Lost Lakes Trail, where you'll spend three days on a 19.6-mile hike that loops through the Flat Tops Wilderness, a series of mountains dominated by the 11,070-foot White River Plateau. This lava-capped dome is more prominent from higher elevations along the trail, such as the 11,600-foot Devil's Causeway. And while the Devil's Causeway is only a slim portion of the trail, it's bound to get your heart pumping. The narrow ridge gets its name from a three-foot-wide boulder crossing that drops 1,500 feet on either side, a shortcut that shaves off about two miles from the loop—and will give you a righteous adrenalin rush. The rest of the trail lies amidst deep blue alpine lakes, lush wildflower meadows, and a variety of wildlife including elk, deer, and coyotes. You'll travel anywhere from 10,200 up to 12,000 feet in elevation, so take it slow, bring your bug spray, and duck for cover if you see impending thunderclouds. The trail is pretty well defined, but bring a map [www.fs.fed.us/r2/whiteriver/recreation/wilderness/flattops/index.shtml]. To get to the trailhead from Denver, take I-70 west to Glenwood Springs (where you'll also find the nearest ranger station) and head north to Stillwater Resevoir.
And if you just can't get those 14ers out of your mind, then head to Pike's Peak. A sparkle in gold miners' eyes back in the 1850s, Pikes Peak is the most visited mountain in North America. Over 15,000 people attempt to reach its 14,110-foot summit every year via the Barr Trail, just ten miles west of Colorado Springs. The trailhead begins just past the cog railway depot in Manitou Springs and approaches the peak from the east over 13 miles. Beware that the summit has just 60% of the amount of oxygen at sea level, and weather is often inclement. Even so, every August over 2,000 people sign up for the Pikes Peak Half and Full Marathons in an attempt to run to the top—a climb of more than 7,700 feet; the marathoners then return back down the mountain to complete the full 26.2 miles. To be sure you're in for sunshine, check the sign at the railway depot where the summit's temperature is posted daily (www.pikespeakcolorado.com, 800.318.9505).
Or, if you want to stand on the top of Colorado, there's always Mount Elbert—not only the tallest peak in the state, but also the tallest mountain in the Rockies and the second-tallest in the contiguous United States (after California's Mount Whitney). There are several routes up this peak, so you can stretch your ascent over one night, or push it in one day. SummitPost.com has detailed information on the various ascent options. The harder ones will naturally be less crowded than the more accessible routes, but expect a small crowd at the summit on optimal-weather days (but considerably less than on Pike's Peak)
And please, when hiking the high country of Colorado, don't underestimate the weather. Bring foul-weather gear (rain jackets and pants, as well as a warm hat and an extra layer) as the temperatures and conditions can change with little warning. Also, pack enough water and food should the weather sock in and force you to stay on the mountain longer than you'd initially expected—you'll be glad you did when you see that thunder head rolling in.
–Amy C. Clark