Blowout
Taking down a dam used to require an act of Congress—or terror. Now it's just good business.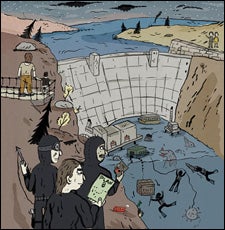 Heading out the door? Read this article on the new Outside+ app available now on iOS devices for members! Download the app.
ED ABBEY'S 1975 eco-fantasy The Monkey Wrench Gang centered on a plot to use four explosives-rigged houseboats and one black bikini (a distraction) to blow up Glen Canyon Dam. It was the classic, unsurprising conflict between wilderness lovers and the Man. But in recent years, dismantling dams has gotten paddlers, curmudgeons, biologists, and utility companies—wait for it—agreeing. Starting in late July, the removal of 47-foot-high Marmot Dam, on Oregon's Sandy River, will renew 11.5 miles of quality Class IV whitewater and 100 miles of steelhead habitat. The project will kick off eight takedowns in the next five years in the Pacific Northwest—including Glines Canyon Dam, on the Elwha, the tallest U.S. dam ever demolished.
And One Step Back
Dam-threatened rapids are much closer than Chile's Futaleufú. British Columbia's classic kayak stream, Ashlu Creek, near Whistler, has a dam under construction. The province, though known for its beautiful landscape, has notoriously lax environmental policies.
Currently, more than 100 B.C. streams are slated for damming. Local paddler Bryan Smith's reactionary documentary
49 Megawatts
(
therangelife.com
) chronicles the Ashlu's demise.
Illustration

Why, with such high energy costs, the change of heart? In short, an even scarier price tag. A 1986 change to the Federal Power Act made it illegal to keep ignoring the environmental degradation; now, with many of the country's 76,000-plus dams approaching retirement age, it's cheaper to scrap one than bring it in line with federal regulations. As a result, more than 200 dams have been removed across the country since 1999. Fifty-eight came down last year alone. "You look long and hard at it and ask, 'Is [breaching] sane, given that we're trying to deal with climate change?' " says John Esler, acting director of hydrolicensing for Marmot Dam owner Portland General Electric. "But our customers really want us to do it. They would be shocked if we had an opportunity to do this and didn't take it."
Here are 16 other breaches in the works.
WASHINGTON

Glines Canyon Dam, Elwha River: In a few decades, the hundreds of thousands of salmon that once swam the Elwha could return, along with fishing access via a hiking route in Olympic National Park.
Condit Dam, White Salmon River: Removal of the 125-foot Condit Dam would give this steep river five more miles to kayak and likely bring back historic runs of salmon and steelhead.
Snake River: Salmon recovery on the Snake and Idaho's Salmon River got a boost from a recent appeals-court ruling that requires federal agencies to reconsider their plan of action. Among the options is American Rivers' proposal to breach four behemoth dams downstream of Clarkston.
CALIFORNIA
Klamath River: Owner PacifiCorp is negotiating with stakeholders while the feds work on a final environmental-impact statement. The 350 new miles of running river would boost chinook and coho salmon runs and sustain fishing communities in California and Oregon.
MAINE
Veazie Dam and Great Works Dam, Penobscot River: Two removals will restore 11 sea-run fish species (including Atlantic salmon) and open 12 miles for paddling, from the base of the Milford Dam to the tidewater.
PENNSYLVANIA
Wittlinger Dam, Yellow Breeches Creek: Removal this year of the Wittlinger Dam will expand a popular trout fishery by 35 miles and create a water trail for paddlers on the Yellow Breeches.
NORTH CAROLINA
Dillsboro Dam, Tuckasegee River: A breach will mean the possibility of a whitewater park in the town of Dillsboro and provide more freshwater for the endangered Appalachian elktoe mussel. The dam should come down in the next year.
SOUTH CAROLINA
Woodside I and II dams, Twelvemile Creek: Two of three dams are slated for removal. Whitewater connoisseurs say the bedrock bodes well for a lower-gradient version of Georgia's classic Tallulah Gorge.