The 6 Best Cycling Tours in Europe
Home of the Tour de France and the bicycle, the continent is best explored on two wheels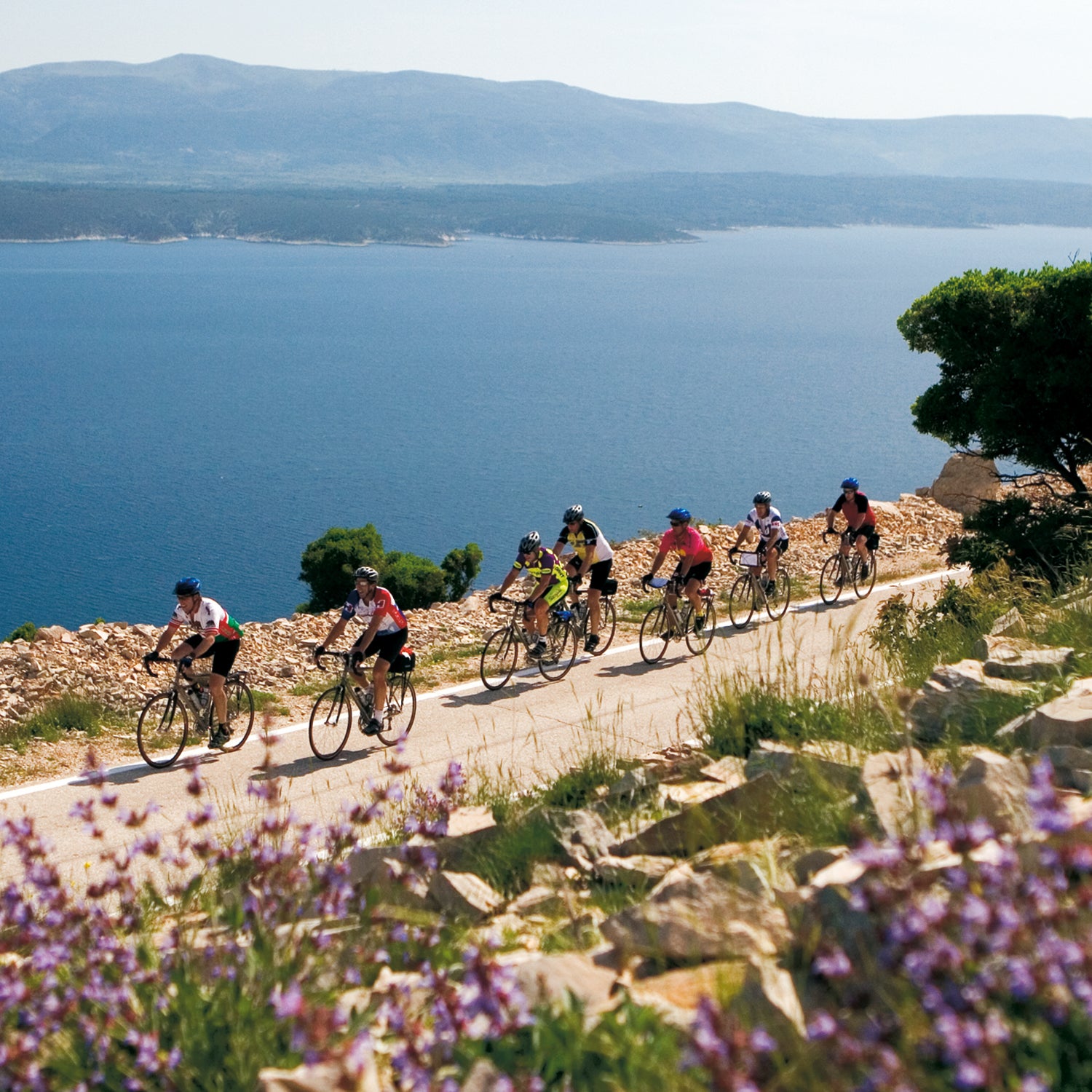 Courtesy of Backroads(Photo)
Heading out the door? Read this article on the new Outside+ app available now on iOS devices for members! Download the app.
Europe is the birthplace of the bicycle, though exactly where it was first invented is up for debate (the French contend the inventor was a Frenchman, the English say he was one of theirs, and the Scots throw in a claim, too). Cycling culture runs deep in Europe, making it one of the best destinations for a two-wheeled tour. The locals will not only respect you on the road, they'll also embrace you in the pub, taverna, or café for taking the time to explore their countries in such a civilized manner.
The trips listed below are fully supported, meaning they include vehicles en route to pick you up if you need help and mechanics to fix your bike if it breaks. The tour guides have extensive knowledge of the area and can, if necessary, offer encouragement during a long day. Here are six trips to put on your calendar.
The Napoleon Expedition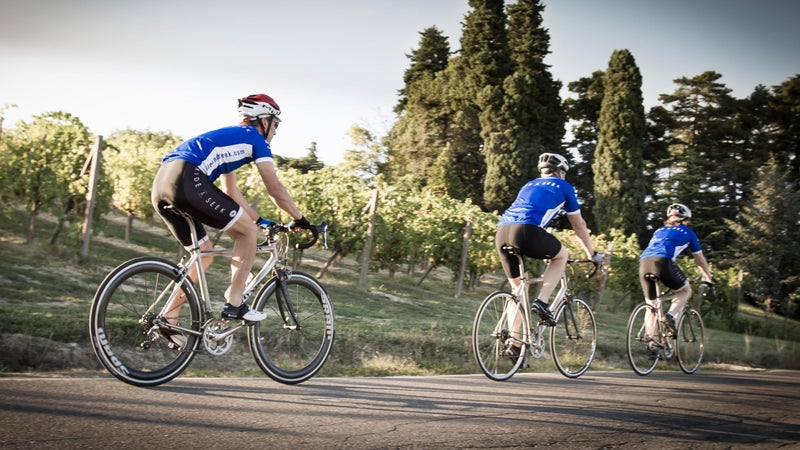 Paris to Moscow: Ride & Seek Bicycle Adventures
This epic 45-day, 2,736-mile route from Ride & Seek Bicycle Adventures roughly traces Napoleon's 1812 Russian Campaign. It begins in Paris with a spin down the Champs-Élysées, followed by aperitifs under the shadow of the Arc de Triomphe before departing for Germany, Poland, Lithuania, Latvia, Estonia, and Russia—through rolling vineyards, deep forests, medieval villages, and historic cities. As you enter Moscow on the last day, know that you're guaranteed a much warmer welcome than the diminutive Corsican received when he triumphantly ended his march in Red Square. Note: If 45 days are more than you can commit to, the tour is composed of six one-week stages, so you can do as many (or as few) as you like.
Details: $14,745 for entire tour, $2,605 for each stage; prices based on double occupancy. Fully supported/guided. Includes breakfasts, some lunches, and most dinners.
l'Etape du Tour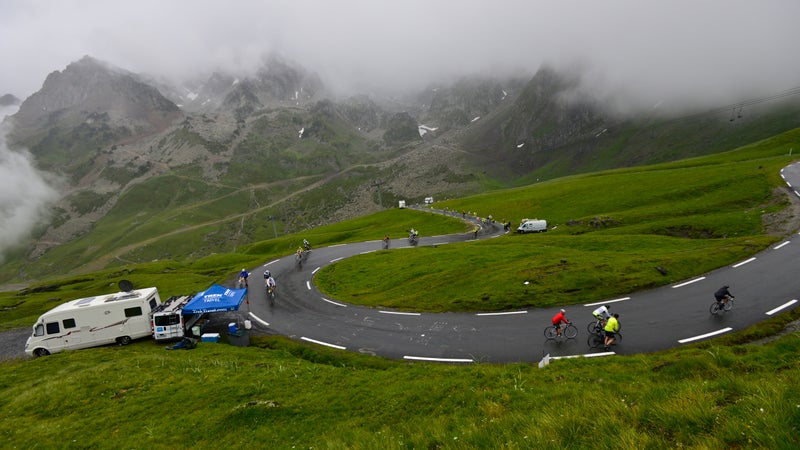 France: Trek Travel
Each year since 1993, more than 10,000 cyclists have registered for l'Etape du Tour, a one-day event that allows amateurs to ride one of the mountain stages of that year's Tour de France while the pros have a rest day. On this five- or seven-day guided tour from Trek Travel, each day features routes that were stages in previous Tours, culminating in a guaranteed spot in l'Etape du Tour, which in 2015 will be a 87-mile day climbing Col de Chaussy, Col de la Croix de Fer, Col du Mollard, and a summit finish at La Toussuire. This year, Trek team rider and 2010 Tour de France winner Andy Schleck will ride along with guests for the entire week.
Details: $4,699 for seven days, $4,199 for five days per person; prices based on double occupancy. Fully supported/guided. Includes breakfasts, some lunches, and most dinners.
---
Land's End to John O'Groats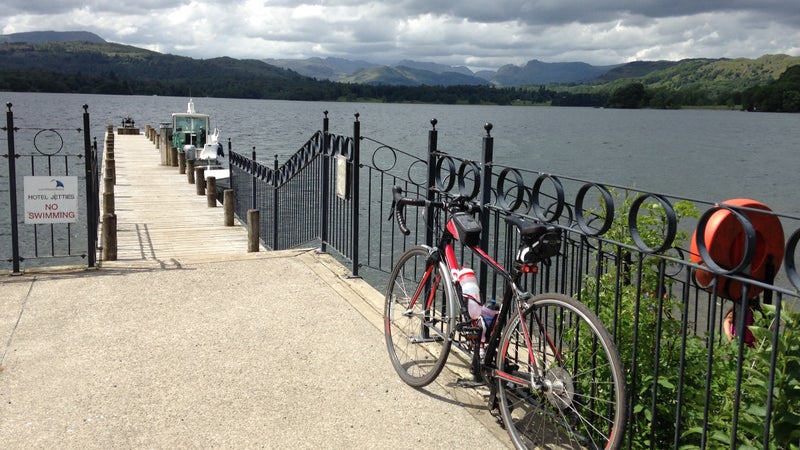 United Kingdom: Peak Tours
Starting from the very southwest tip of England and ending almost 1,000 miles away in the northeast reaches of Scotland, this 14-day ride from Peak Tours rolls through patchwork-quilt farmlands in the south, craggy mountains and pristine lakes of the Lake District, and the barren moors of northern Scotland. Whenever possible, the route avoids main roads in favor of lovely flowered country lanes and quiet back roads that lead to out-of-the-way villages and centuries-old inns.
Details: $2,400 to $3,486, depending on choice of accommodations. Fully supported. Includes all breakfasts and lunches; dinners are on your own.
---
The Danube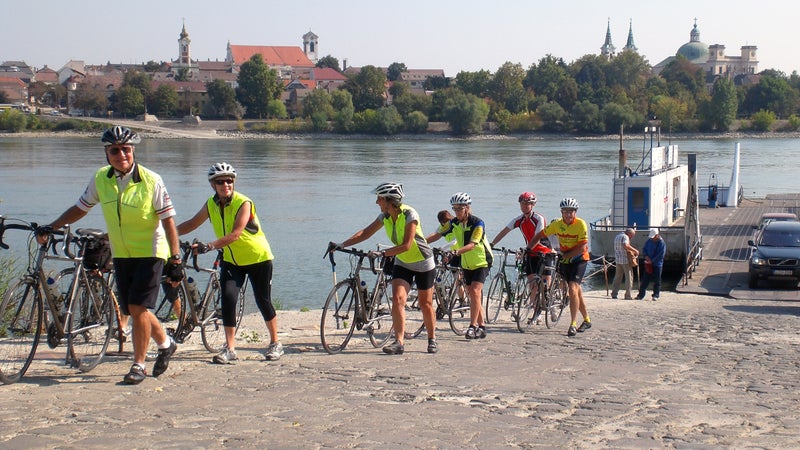 Germany, Austria, Slovakia, Hungary: Experience Plus
There's a good reason the Danube River is one of the most popular rides in Europe: Almost anyone can do it. There are no hills to speak of, and most of the riding is on a network of paved paths that follow the river as it passes through the Eastern European countryside and two of Europe's most storied capitals, Vienna and Budapest (there's a rest day in Vienna). This 13-day, 526-mile ride (named by National Geographic Traveler as one of the "50 Tours of a Lifetime") from Experience Plus begins in Germany and winds past impressive Bavarian monasteries, verdant Austrian vineyards, and pristine Hungarian villages before ending in the imperial gem that is Budapest.
Details: $5,500. Fully supported/guided. Includes use of a 27- to 30-gear titanium bike or an aluminum tandem with e-bike option, all breakfasts, and half of your dinners.
---
Sacred Sites of Greece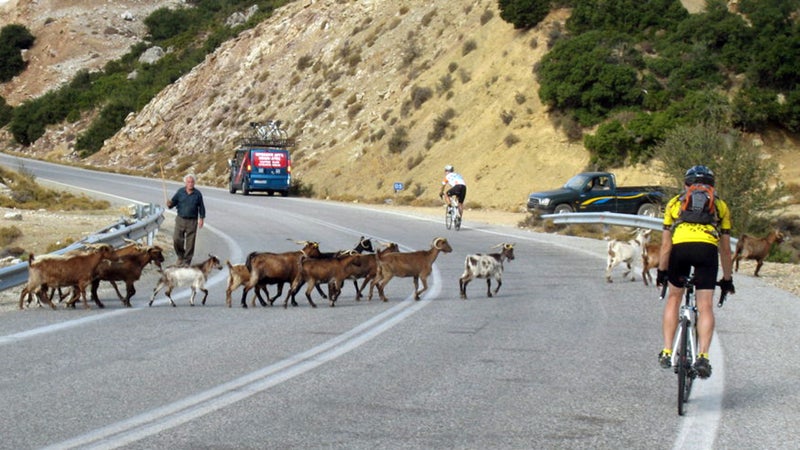 Peloponnese: Cycle Greece
Cycle Greece's eight-day tour (one of Bicycling magazine's "best tours" in 2009) travels through arguably the most beautiful part of mainland Greece and offers both long (358 miles) and short (237 miles) options. Stretches in the saddle are broken up by stops at some of the Greek's most famous sites, including the Olympic grounds where the first games commenced in 796 B.C. Also included are tours of Epidavros, the most famous healing center in the classical world, and the ancient city of Mycenae.
Details: $2,340, based on double occupancy. Fully supported/guided. Includes use of a Specialized 27-gear road bike, entrance fees and private tours of several sites, and all dinners (with house wine).
---
Dalmation Coast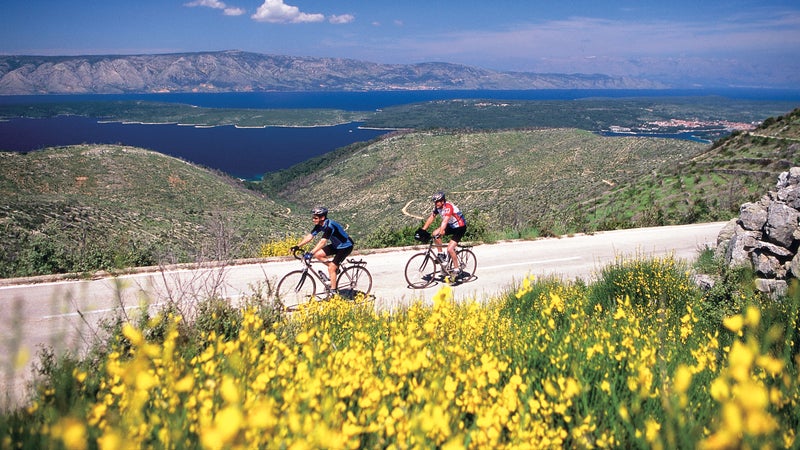 Croatia: Backroads
"The Mediterranean as It Once Was" has been Croatia's tagline for years. The country touts its beautiful beaches, lavender and olive groves, and mashup of Roman, Byzantine, French, Ottoman, and Slavic architecture. Backroads' six-day tour island hops from Brac to Hvar (the Cannes of Croatia) to Korcula. The leisurely length (106- or 192-mile options) means there's plenty of time at the end of the day for a dip in the gorgeous blue-green sea. The final day is spent in historic Dubrovnik, the "Pearl of the Adriatic."
Details: $3,998 to $4,598, depending on dates; based on double occupancy. Fully supported/guided. Includes all meals except two lunches and one dinner.
Lead Photo: Courtesy of Backroads