7 Great Winter Backpacking Trips
Travel south and stay warm for a long walk on these worthy winter trails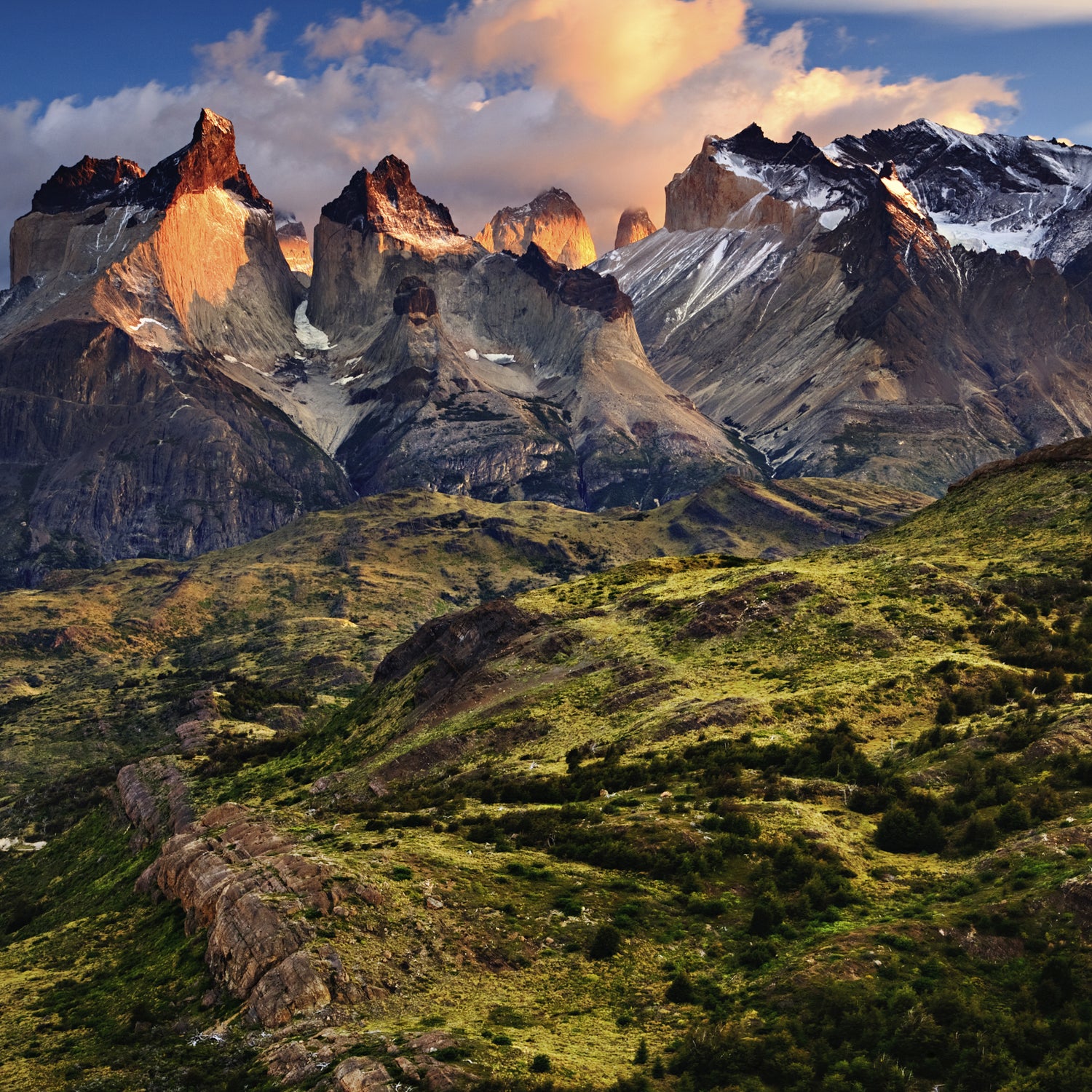 Heading out the door? Read this article on the new Outside+ app available now on iOS devices for members! Download the app.
Don't put your tent in storage just yet. During our colder months, some great southern hemisphere trails shine and a few too-hot-for-summer circuits open up in our southerly states and in the Caribbean. From a couple of weeks to a few days, here are some worthy long walks to take this winter that don't involve snow.
W Trek, Patagonia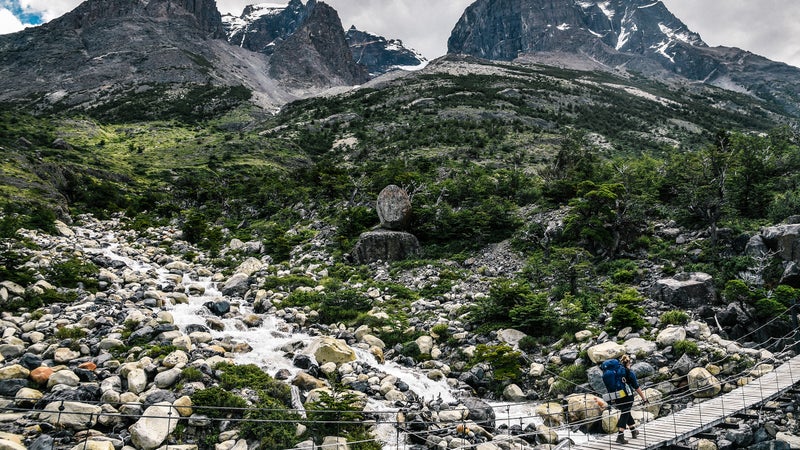 35 miles; 4 days; November to March
On the W Trek in Chile's Torres Del Paine National Park, you're never far from view of the iconic, glaciated granite spires that sore eight thousand feet into the air above Patagonia. The trek boasts stunning mountain scenery: turquoise alpine lakes, enormous glaciers, and beech forests. Weather on this track is notoriously temperamental but is most stable during our winter. Intrepid runs tours for the uninitiated (from $3,545), but if you've been on an overnight and feel comfortable navigating in a Spanish-speaking country, you can do it yourself. Tack on a few more days to do the Circuit—a 10-day, 52-mile journey around the entire Torres Del Paine National Park, including the W.
---
Ozark Highlands Trail, Arkansas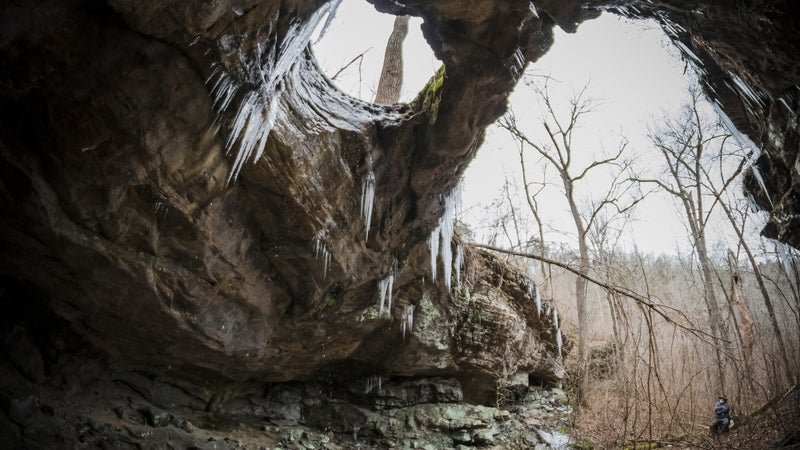 165 contiguous miles (218 total); 10 to 14 days; October to early February
The Ozark Highlands Trail is one of the few American trails etched into the wilderness mostly by hikers, who completed a large portion of system after federal funding stopped flowing in the early 1980s. Switchbacks and connectors sling you east and west over ridgelines and flat topped mountains (maxing out at 2,380 feet), littered with creeks, ponds, and a forest of red cedars, white oak, and pawpaw groves. In summer, the water sources tend to dry up but the humidity soars. It's doable in fall and spring—just be wary of the cold and wet March and April weather—but if you go in winter, when the days are in the mid-50s and night's at around freezing, you'll have the place all to yourself. Stock up in Fayetteville about 45 minutes away. Only have a few days? The 37 mile stretch between Fairview and Ozone is especially beautiful.
---
Tongariro Northern Circuit, New Zealand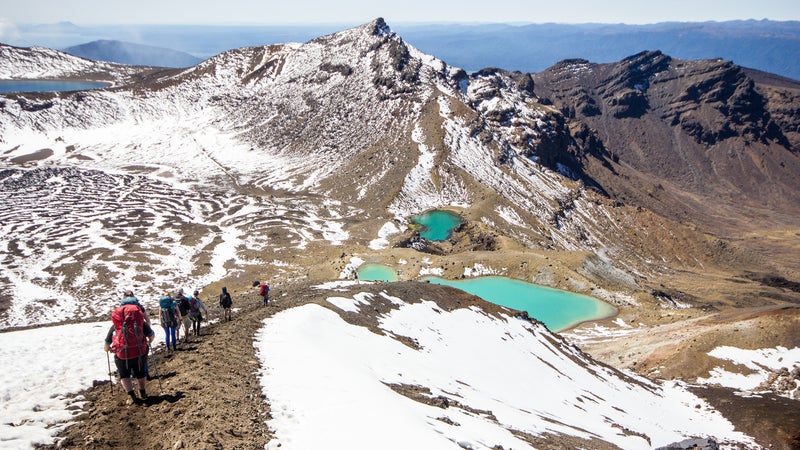 27 miles; 3 to 4 days; December to April
Tongariro Crossing is a 12-mile path that shows off New Zealand's most otherworldly capabilities—if you've seen The Lord of the Rings, you'll know it as Mordor. Plenty do it on an eight-hour day hike, but there are another two or three days of less crowded emerald lakes, volcanic peaks, and golden tussock-filled valleys in the wilderness beyond. If you plan to hike the entire out, you'll need a permit, which will start to sell out towards the end of the year. You can use the backcountry hut system, which have heat and water during the southern hemisphere summer.
---
Black Canyon Trail, Arizona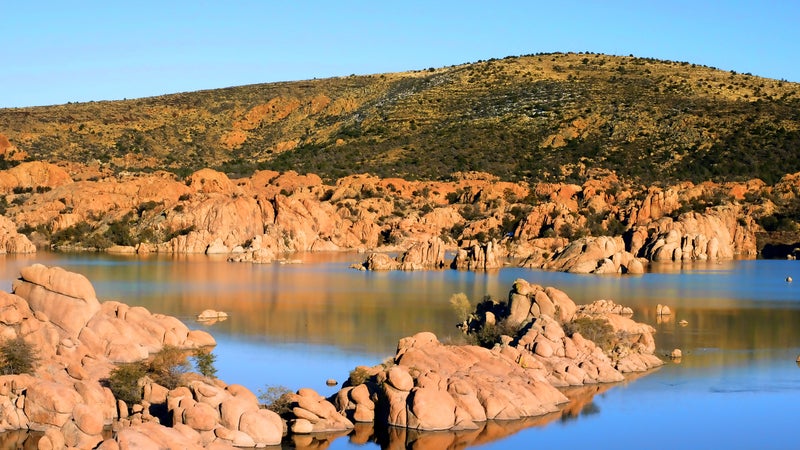 82 miles; 7 days; November to April
What began as an early Native American trading route became a stagecoach path on the frontier, a livestock road in the 20th century, and, as of 2008, a National Recreational Trail, run by the Bureau of Land Management. The bike-friendly trail winds along the floor of saguaro-clad dessert at the feet of the Bradshaw mountains and through classic frontier scenery. Stock up in Prescott or Phoenix, which are both about 40 miles away from the trailhead. And even though it'll be nice and warm, with temperatures ranging from 40 to 70 degrees, wear good long pants and boots—this is rattlesnake country.
---
South Coast Track, Tasmania, Australia
40 miles; 6 to 8 days; December to April
What was once a journey of survival for shipwrecked sailors is now an undulating playground of empty gold-sand beaches, primitive jungles, and the high alpine passes of the Ironbound Mountains. The trailhead to one of the roughest hikes on the island of Tasmania—the South Coast Track—is reached only via air: fly into Melaleuca, a remote finger of land in southwest Tasmania, from Cambridge airport, located in the greater area of Hobart. You'll need a permit and supplies, which you can get through Par Avion, the airline that operates the route. If you'd like a guide, Tasmanian Expeditions (from $2,695) has been running small group expeditions since the 1980s.
---
Mountains of the Moon, Uganda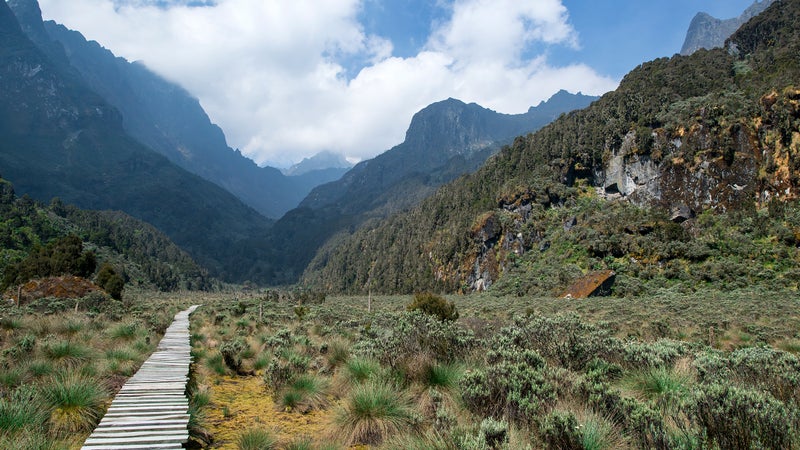 43 miles; 8 to 9 days; December to March
Think of the Mountains of the Moon trail as the longer, more remote alternative African alpine summit to Kilimanjaro. The trek, which originates in Rwenzori national park, nine hours' drive west of the capital of Kampala, includes the summit of Margherita Peak, Africa's third highest at 16,762 feet, with views over southwestern Uganda's snow-capped Rwenzori Mountains. Our winter is the only season where you won't need crampons to summit Margherita; it's also the best chance to see the rare Rwenzori leopard. Pick up a guide in the capital of Kampala, or book ahead of time with World Expeditions, which leads guided 13-day tours that include gorilla tracking.
---
Waitukubuli Trail, Dominica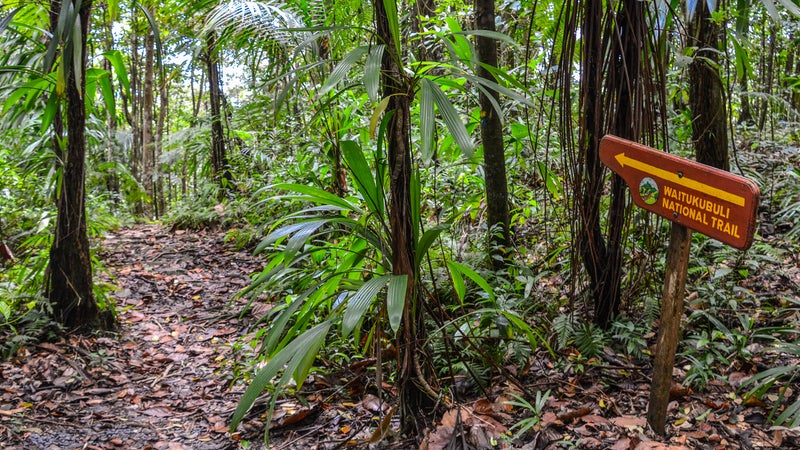 115 miles; 14 days; January to May
The Caribbean's longest walking trail is driest and coolest in winter. It snakes through Morne Trois Pitons National Park, known for its boiling lake and waterfalls, and crosses the Central Forest Reserve and northern jungle, before skirting the northern coast to Cabrits National Park, where you can jump into the Caribbean and check out Dominica's oldest fort. Along the way you'll stay in local communities, either camping, at bed and breakfasts, or in home stays. It's fairly simple to do this one alone—the Park will help you prepare food and accommodations, but you can also find a guide in Soufriere, the town closest to the trailhead.
Lead Photo: gcoles/iStock