The Decider
Pasquale Scaturro never wanted to be a glorified "tour-bus" driver. For him, leading expeditions, like rafting Ethiopia's Omo River, is a glorious hobby. He picks a spot on the globe, invites his friends, dons his 19th-century-explorer hat, and relishes being the man in change.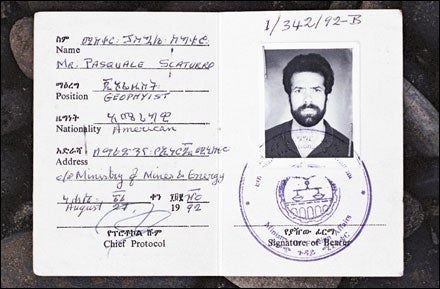 Heading out the door? Read this article on the new Outside+ app available now on iOS devices for members! Download the app.
PASQUALE SCATURRO LEADS TWO LIVES. A big, rough-edged, passionate guy with a salty mouth and a Sicilian surname, Scaturro is an exploration geophysicist who travels the world prospecting for oil reserves. This is Scaturro's soldier-of-fortune persona, a role that has taken him to such dicey locales as the Ogaden, the lawless wasteland between Ethiopia and Somalia, and the former Soviet republic of Georgia, which he calls "the kidnapping capital of the world." The work can be dangerous-he needed military protection on both those jobs-and he's well compensated for it. He recently earned his pilot's license and has his eye on a Cessna 206. His house in suburban Denver is paid off. He owns a 35,000-acre ranch in Namibia and keeps a Land Rover there, tricked out for safaris. He's in peak physical condition, is happily married, and has three grown children from a previous marriage, five grandchildren, and a wide circle of friends and contacts around the globe. Life is good.
Travel Ethiopia

Scaturro cleans up on the banks of the Omo
Travel Ethiopia

Scaturro and crew on the Lower Omo
Travel Ethiopia

A Bodi man in a dugout canoe
Travel Ethiopia

Members of the Gofa tribe with spears for sale
Travel Ethiopia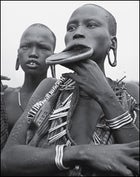 Women from the Mursi tribe
Travel Ethiopia

Scaturro and Petros consulting the map
Travel Ethiopia

On the Omo's upper section
Rare moment of Scaturro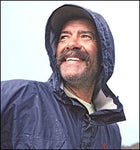 Scaturro in a rare moment of downtime
Ethiopia Map

But it's also short, as he likes to observe, and at 54, having reached a point at which others might be tempted to ease up, Scaturro has an internal doomsday clock that's racing like there's no tomorrow.
"He has this time thing going," says his wife, Kim. "It's not like a midlife crisis, but he knows his body is going to give out at some point." Before that happens, his apparent goal is to cram in as many experiences as possible-in the mold of his 19th-century heroes, Nile explorers Samuel Baker and Richard Francis Burton.
Scaturro's hobby, which seems to be morphing into a full-time second career, is organizing and leading extreme expeditions, as in extremely long, challenging, remote, logistically complicated, or never before accomplished-sometimes all of the above. He calls his business Exploration Specialists International, which covers just about everything he does, for both fun and profit. Working 25 percent of his time as a geophysicist allows him to spend the other 75 percent indulging his wanderlust. He's been to Everest three times and summited on his second attempt, in 1998. In 2001, he led a large team to the mountain with the principal objective of putting the first blind climber, Erik Weihenmayer, on the summit. Scaturro was forced to turn back at 27,500 feet, due to a relapse of malaria that he had picked up in Africa, but Weihenmayer made it to the top and safely back down-along with 19 teammates, including 64-year-old Sherman Bull, who at the time was the oldest climber to have scaled Everest.
Three years later, in 2004, Scaturro became an adventure celebrity himself when the Imax film-production companies MacGillivray Freeman and Orbita Max recruited him to lead an expedition with the audacious goal of navigating the Blue Nile from its source in the Ethiopian highlands to the Mediterranean Sea, an unprecedented journey of roughly 3,500 miles. Bandits had murdered a number of people on previous expeditions, and ferocious rapids in the river's upper gorges had claimed others. But it was the length of the trip (114 days), particularly the desert passages across Sudan and Egypt, that presented the most daunting challenge. Producer Greg MacGillivray was sure monotony itself would defeat Scaturro and the expedition's cameraman, Gordon Brown.
"My fear was that any mere mortal would turn back out of sheer boredom," says MacGillivray. "But Pasquale never lost steam. He kept moving. He said he would do it, for me, for Gordon. I don't know any other person besides him who could have pulled it off." MacGillivray places Scaturro into an elite adventure league with super-alpinist Ed Viesturs and oceanographer Robert Ballard, who found the wreck of the Titanic. "Pasquale is one of those people who take on challenges that are almost unachievable and then push beyond that," MacGillivray says. "If it were easy, they wouldn't be interested."
Scaturro's starring role in Mystery of the Nile propelled him into a glamorous, hectic orbit. MacGillivray made him director of mountain operations for The Alps, a 2007 Imax documentary about climber John Harlin's attempt to scale the Eiger's north face, the hazardous rock wall that claimed his father's life. Back home, Scaturro was in demand as a speaker. One week he popped up in Boston lecturing executives on corporate team-building, the next he was in Albuquerque introducing the Nile movie's local premiere.
Serious money came knocking when an investment group asked if he was interested in looking for oil in Nigeria, Libya, and Kurdistan. "Kurdistan?" he snorted. "Don't you mean northern Iraq? In other words, you want me to work in the three most fucked-up places on the planet for two years?" Thanks, he said, but he had better things to do.
Namely, running Ethiopia's Omo River with his Colorado rafting buddies. As he conceived the expedition, the team would be lim­ited to eight people and two rafts. They would spend about two weeks on the river, a run he'd done twice before, in 1994 and 2001. But in typical Scaturro fashion, he proposed parking the rafts on the Lower Omo and trekking 60 miles across the Boma Plateau into southern Sudan-a region he calls "perhaps the last wilderness area in Africa." Afterwards, they'd keep boating to the Omo's terminus, in Kenya's Lake Turkana. The journey would span roughly 600 miles.
"Last time I was on the Omo," Scaturro wrote in an e-mail to me, "I decided that I wouldn't return unless it was to explore the area to the west of the river. This is that trip."
Southern Sudan? An area awash in automatic weapons, where a protracted civil war had only recently ended?
Not to worry, Scaturro said: He had arranged for a military escort. "We'll be met at the border by a colonel in the SPLA. Dude, you should come."
"OK, EVERYBODY, LISTEN UP!" Scaturro barked in a booming, gravelly voice. He was standing by the bow of his gray Avon Pro raft, dressed in a clean khaki field shirt, shorts, and flip-flops, about to deliver his morning pep talk. It was around 10 a.m. on the eighth day of the trip, in late 2006, and we were about to shove off from the previous night's camp, a narrow, terraced beach that crowded into the Omo's tangled riverine forest. Across the water, a troop of nervous baboons clambered on a cliff face festooned with tropical greenery. We were coming down out of the mountains here, some 160 river miles below our put-in, and Scaturro was worried about falling behind schedule. For the past three days, he'd been dogging the Ethiopian staff to shake a leg in the morning and get the coffee on the campfire. Without a caffeine buzz, he insisted, we would never get under way earlier.
"Tomorrow, coffee will be ready at six o'clock," he said, shooting a glance at our late-rising logistics manager, Petros Sisay, who'd rolled out that morning a full half-hour after Scaturro. "When you hear that coffee is ready, I want you all to pack your personal gear and clear your tents. We need to be on the river by eight o'clock."
Considering the size of our group-19 of us, including five Ethiopian staff-a departure that early was going to be a stretch. With six more people and two more boats than Scaturro initially had planned, we weren't what you'd call fast-and-light. Our camps looked like deluxe Colorado River bivouacs, and the front storage bin of our booze barge, a classic old 18-foot Avon Spirit, was filled to the brim with clanking bottles, mostly local beer but also wine, whiskey, and a deadly off-brand ouzo. After a delirious party one night upriver, there had been so many empties strewn around the fire pit that Scaturro had declared a moratorium on happy hour.
To be fair, our late departure wasn't entirely Petros's fault. But by then the pudgy, garrulous cultural anthropologist and tour guide had become everybody's favorite whipping boy. He'd sold himself to Scaturro on the strength of his academic credentials and purported expertise on the Omo Valley's tribes-the Bodi, Bumi, and Mursi, among others. That remained to be seen, since we hadn't come to any villages yet. But as a manager he'd already proven undependable. He'd arrived at the Bele Bridge, our first resupply spot, two days upriver, with plenty of food and cold beer but without the mounting hardware for an outboard motor that we'd need to power through the Lower Omo's sluggish meanders.
"We ain't going nowhere on the lower river without those pipes, Petros!" Scaturro had exploded. "How many times did I tell you, 'On penalty of death, don't forget those parts'? Jesus Christ! I said it 20 times and should have said it 21."
"I delegated this responsibility," Petros explained lamely. Scaturro stomped off, placed a satellite call to our outfitter, Red Jackal tours, and arranged to have the parts driven overnight to the next road access, about 20 miles downriver.
As a leader, Scaturro can be overbearing and foulmouthed, salting his orders with run-on profanities that would make a Soprano blush. In his view, an expedition team has one decider-in-chief-him-and when he bellows an order, you'd better jump. But he knows he's not infallible.
"My definition of a great team is one that continues to function when the leader goes down, like I did on Everest," he says. "The leader's role is to pick a team, train them, and then make himself irrelevant."
Despite his outbursts, he seems to thrive on fixing snafus and coaxing the best out of people. Between oil and gas gigs and what he calls his "high-profile" expeditions, he loves nothing more than bringing together comrades and casual acquaintances on a do-it-yourself adventure, for which everyone shares the cost. He's a pied piper to an ever-changing entourage of climbers, rafters, trekkers, and ordinary travelers who would follow him just about anywhere.
"He's a great team leader," says Mike Prosser, a bearish, gray-bearded river-equipment manufacturer who ran the upper Blue Nile with Scaturro and jumped at the invitation to row the Omo. "He can be demanding and he'll get in your face, but five minutes later he'll put his arm around you and it's over."
Twenty-five years ago, Scaturro considered guiding as a career but decided against taking passengers down the same rivers or up the same slopes again and again, like a glorified tour-bus operator. Instead, he sees his role as a catalyst, coach, and master of ceremonies. When we'd all met up in Addis Ababa a couple of weeks earlier, he'd assigned key tasks like rigging rafts to the boatmen and crew, while everyone else eagerly pitched in. On shopping excursions, he led the way into Addis's sprawling open-air market, the Mercato, ordering large quantities of provisions, dickering, and clearly relishing the role of tour leader and consummate Africa hand. At noisy team dinners, Scaturro was lord of the banquet to his adoring subjects, spinning stories about his trips on the Omo ("mud two feet deep in camp") and the Ogaden ("the asshole pulled the pin and held the grenade on our hood"). It probably wouldn't have mattered if they were in Addis or Anchorage, as long as they were with the man they knew as "PV," short for Pasquale Vincent.
"I've never met anyone with his energy and drive," says Steve Jones, one of our lead boatmen. Jones had logged nearly 90 trips down the Colorado as a commercial guide in the 1980s and later went to Chile with Scaturro to raft the Bío-Bío. "These expeditions are not fun a hundred percent of the time," he says. "The trips get long, people can get sick and irritable. Pasquale seems to have a larger appetite for these tough expeditions than anyone I know."
Our third raft was piloted by another of Scaturro's old friends, Kurt Hoppe, an ultrafit oil-exploration consultant who'd rowed part of the Blue Nile with him. For assistant boatmen, he'd tapped two young guys, Zach Gill and Zach Baird- "Big Zach and Pro Zach"-who were like sons to him. The rest of us looked like package tourists-a lawyer and her computer-scientist husband, a veterinarian, a software salesman, a marketing exec, and a business-school professor.
On the Nile expedition, Scaturro's Ethiopian staff had secretly called him chakwala, which in Amharic means something like "impatient and pushy." But two had agreed to be rehired: Yalew Mteku, his agile little factotum; and Baye Gebreselassie, our security guard, a laconic soldier who looks like Denzel Washington. Scaturro had also recruited Robel Petros, a seasoned crewman, and Tesomen Gesla, our cook.
After five days, we rolled out of Addis in an air-conditioned Mercedes coach followed by a cargo truck stuffed with rolled-up boats and gear, heading for the Great Rift Valley and the put-in bridge.
"God, I'm tired," Scaturro said. "I can't wait to get on the river."
BELOW THE PUT-IN, we entered a lost world inhabited only by insects, birds, and other wildlife. Tsetse flies and mosquitoes render the upper reaches of the Omo Valley inhospitable to humans and livestock. The people were a thousand feet above us on the Ethiopian Plateau, Scaturro said, where there were scores of grass-hut villages. The river was brown, wide, and choppy, clipping along at five miles an hour in a channel lined by gleaming black boulders that looked like colossal lumps of coal. Colobus monkeys with striking black-and-white coats leaped through the treetops, while hippos lolled in the shallows.
When he heard about the Omo in 1976, three years after Sobek Expeditions had made the first descent, Scaturro was 23, married, and holding down jobs as a general contractor and night cook while studying geology at Northern Arizona University, in Flagstaff. On a trip to the Grand Canyon, Gary Mercado, a classmate who'd been a Colorado River guide, described his recent adventures in Ethiopia as a Sobek boatman. One of these, on the Baro River, had been a catastrophe. Rounding the first bend below the put-in, the team's rafts had plunged over a waterfall and flipped, drowning a client.
Scaturro was more envious of the adventure than horrified by the tragedy. "I thought, My God, that's the greatest story I ever heard. I was so fucking jealous."
After graduating in 1980, Scaturro moved to Denver and went to work for Amoco as a geophysicist. After four years, he struck out on his own, taking lucrative consulting jobs that left him with enough freedom and money to take off on adventures. During an ascent of Argentina's 22,834-foot Aconcagua, he found himself at Camp 1, two miles ahead of his teammates. To kill time, he made tea and organized the camp himself.
"I decided most mountaineers didn't know shit about logistics and organizing expeditions," he says, "so I started doing it myself." He guided friends on Aconcagua twice more before trying the Himalayas, the Karakoram, and high-altitude peaks in Russia and Alaska, including Mount McKinley. He led private rafting expeditions as well, running some of the same rivers Sobek had pioneered.
For his first Bío-Bío trip, Scaturro borrowed Sobek oar boats, customized them with raft frames he designed himself, and ran the river Grand Canyon style. He helped produce an ESPN film about the Bío-Bío in 1991, to raise awareness of the dam projects that were about to ruin it. "If God created the perfect river," he told me, "it was the Bío-Bío."
I took that as a figure of speech, since the only other time I'd heard Scaturro use the word God on our expedition had been with damn. I never would have guessed he used to be a churchgoing man-a Baptist deacon, no less. But he and his first wife had been devout Christians, both raised in deeply religious families. (Growing up in Hollywood, Scaturro shared a bedroom with four brothers in a bungalow behind his father's Sunset Boulevard trattoria, Vince's Little Star Restaurant, which was right near Paramount Studios.) His marriage broke up after 17 years, in 1989. His wife's spiritualism had grown increasingly fervent, he says, to the point that it interfered with their relationship. He'd been donating heavily to the church but stopped when he suspected the elders were scamming him in a building project, quit the congregation, renounced organized religion, and split with his wife. "I feel like I had to go through that period," he says.
Relaxing in camp on the Omo one evening, Scaturro said, "When you take away the guilt trip of religion and knock down the walls, you have to ask yourself, 'What are my boundaries?' I get out here and I can see more clearly. It's like being on a straight stretch of river."
Mostly, though, Scaturro kept focused on our progress. Every afternoon he would sit at a folding table to update his daily river log and annotate a computer-generated topo map of the river that he'd produced at home. The map was about 15 feet long and 18 inches wide. It showed the river corridor in fine detail but omitted one critical feature: a massive new hydroelectric plant being built about 45 miles below the put-in. It was only after reaching Addis that we'd heard rumors about it. The project is part of the government's scheme to harness every major river in Ethiopia.
On the night before we reached the plant, sitting around the campfire with wine in hand, Scaturro slipped into a reflective mood. "Are the Ethiopian people better off with the dams or not?" he asked. "I don't know."
There was no equivocating the next morning when we rounded the first bend and saw what was happening. Roads that had been bulldozed down from above on both sides of the river were about to converge at the narrowest point in the canyon. The channel was being pinched off by tons of rock debris supporting the ends of a temporary bridge. In a week, the bridge would be finished, the river blocked. Along the right bank was an enormous poured-concrete turbine plant. A second generating plant and a nearly 800-foot-high dam would be located about a hundred miles downstream. By 2011, when both projects are scheduled to be online, the most spectacular part of the Omo Valley will be lost forever.
Scaturro scowled. "There aren't going to be any free-flowing rivers left in the world," he grumbled. "All that will remain is cesspools. We may be the last generation to have these river adventures." As we shot the rapids in the narrowing gap at the bridge site, he roared, "Yahoo, baby! The last run on the Omo!"
THE OMO'S MOST CHALLENGING RAPID, about 175 miles below the put-in, is called Tis Isat ("Smoke of Fire") Falls South. When we pulled over to scout the drop, on day nine, we were a slightly different team. Tom Bateman, our sharp-witted management professor, had left after an old foot injury flared up. We'd picked up photographer Liz Gilbert and a sweet Greek tourist named Simoni Zafiropoulou. A tall, middle-aged blonde who favored flamboyant jewelry, she'd met us at our hotel in Addis and, to everyone's shock, popped up at the resupply bridge, carrying her clothing in garbage bags. She was desperate to join the team. What could Scaturro say?
Scaturro consulted a sketch of the rapid in his 2001 river log, taking careful note of a keeper hole that couldn't be seen from where we stood. He warned the other boatmen. Liz said she wanted photos of the other rafts in the rapid. No problem, Scaturro said. He would eddy out at the bottom of the run, after clearing the hole.
Simoni, Liz, and I sat in the bow of Scaturro's boat, while Yalew lounged on a pile of drybags lashed to the stern. Scaturro told us to crouch in the bilge and hold tight to the grab lines. Straining at the oars, he ferried across the channel, pivoted downstream, and let the river do the rest. The boat bumped and crunched over rocky shoals, hung up briefly, then continued sweeping down through the left-trending curve. Scaturro was standing at the oars, making minor course corrections, when he glanced sideways to scope out the best way into the eddy. When he looked back, he screamed, "Hold on! Hold on!" He'd forgotten about the keeper hole.
I was on the raft's downstream side, which plunged into the hole first and slammed into a standing wave. A wall of water crashed over my back. The boat tilted at a steep angle as backwash drove the downstream tube underwater. A weird roaring sound filled the air. We were trapped and about to flip.
Instinctively, Scaturro dropped the oars and moved to the high side. "Get in the back of the boat!" he yelled. "Get in the back!" He grabbed Simoni and Liz by the scruffs of their life jackets and yanked them into the middle of the raft.
Suddenly weightless, the bow popped up and leaped over the backwash. We were all right.
Scaturro looked shaken. Our close call was a disturbing flashback to near misses that he'd vowed would never happen again. One had occurred about a month into the Nile expedition, in the river's ominous Black Gorge.
In Gordon Brown's retelling of that 2004 episode, he was scouting in his kayak and ran a long rapid with a 12-foot pour-over that couldn't be seen from upriver. Scaturro followed in his raft, but a mixup in signals sent him careering over the drop into a nasty hole. Scaturro threw himself on the raft's high side to prevent it from flipping. He washed out of the hole, but the raft following him, piloted by Chilean photographer Michel L'Huillier, a whitewater novice, dropped into the pit sideways and capsized, pitching everyone aboard into the river and nearly drowning the trip's cook.
The Imax movie shows L'Huillier's flip but not the subsequent shouting match between Brown and Scaturro. The two got into it as the rattled Ethiopian camp staff looked on. Scaturro said he didn't see Brown's signals; Brown thought Scaturro had ignored them. When Brown accused Scaturro of being reckless with people's lives, he touched a nerve. Two of Scaturro's teammates had perished on previous expeditions, both in 1993: climber Greg Gordon, who slipped to his death on Pumori, the 23,494-foot peak next to Everest; and Harriet Nicholson, the fiancée of one of his clients, who drowned on a rafting holiday on the Yukon's Alsek River. Nicholson's death was especially troubling, because she'd been riding in Scaturro's boat, which flipped in a deep hole that he saw too late. Years later, the deaths still haunt him.
Our near miss at Tis Isat happened for the same reason as the Alsek accident. "In both instances," Scaturro says, "I was paying attention to other things rather than concentrating on the river, something I try never to do, but it does happen."
Tis Isat hadn't quite finished with us. The moment we reached shore, we heard a piercing emergency whistle. Scaturro grabbed two throw bags of coiled rescue line and dashed upriver, hopping across the sharp, black boulders in his flip-flops. It was only a false alarm: one man briefly overboard.
"I need a rest," Scaturro said afterwards. "I need lunch."
Petros didn't take the hint.
"Petros, lunch!" Scaturro hollered. "I am still the goddamn expedition leader, and I want lunch."
That night in camp, perhaps to make a point to Petros, he handed napkins to everyone after dessert. Five minutes later he was fast asleep, slumped in a chair by the campfire with his chin on his chest.
IN THE MILES BELOW the Tis Isat falls, the river's current stalled. To make time, we began motoring. The first tribal village we encountered was a Bodi settlement. Petros's command of their language was limited, but he gathered that a stick-fighting contest was about to take place, in which young suitors whack each other silly with poles that have phallus-shaped tips. The winner gets the girl.
Scaturro suggested we take photos from the boats and move on. We were on a tight schedule. At a Mursi village 30 miles downstream, Liz, the photographer, put her foot down. The women were wearing lip plates, and she wanted time to shoot them. Scaturro cut the throttle and steered toward shore. He told Petros to get off and negotiate a deal with the elders: one price, unlimited photos.
"Leave your daypack here so they don't know that it's your bank," Scaturro told him.
Petros scrambled out of the boat, still carrying his rucksack. Two young men arrived by dugout. As lean as gazelles, they were naked but covered themselves with blankets. Their upper arms were dotted with scars, which were self-inflicted to show how many enemies they'd defeated in battle. One of them carried an assault rifle.
Petros gave us the high sign.
"OK, everybody, go ahead," Scaturro said. We piled off with our cameras. The deal was 70 birr, about $9, for as many photos as we wanted. "Don't anybody pull out any money, or it's all over," Scaturro shouted. "Petros will pay."
After five minutes, a commotion developed. Petros was rummaging in his backpack for money while a gray-haired Mursi elder standing beside him peeled off crisp one-birr notes from a stack and handed them out to a knot of clamoring women. They were demanding two birr per photo.
"All right, back in the boats," Scaturro screamed. "Now! Petros, get that fucking backpack on board."
We hurried to the rafts. Zach Gill, our massively strong, six-foot-five assistant boatman, stayed ashore tending the bow line. "Shove off! Shove off!" Scaturro yelled. The women wouldn't have it. They surrounded Gill and held fast to the line, haranguing us.
Suddenly, there was the metallic ker-chank of a round being chambered. One of the angry young men pacing the banks was brandishing a loaded Kalashnikov.
Scaturro turned and calmly said to our security guard, "Baye." Baye understood immediately; he moved to his drybag and started pulling out socks, shirts, and finally his 9mm service pistol, which he cocked and held barrel-down by his thigh.
Another gunman appeared. "John Ricci, get up here," Scaturro barked. "If that guy loads a round, jump him." An Ironman triathlete, Ricci was, at 235 pounds, the bulkiest man on the team. Even if the Mursi were bluffing, I couldn't believe Scaturro would take such a risk. Ricci stepped to the bow and folded his arms. The second gunman backed off.
But money was still an issue. "Petros, get some money up here, right now," Scaturro yelled. Petros remained frozen in place.
We were at a tense standoff. At last, Robel pulled out his own wallet and palavered with the gunmen in Amharic. They settled for 12 birr, the equivalent of $1.50. We were free to leave.
FOUR DAYS LATER, I left the expedition, along with six others who had commitments at home. We found out by e-mail that the remaining team members had reached Lake Turkana, but there had been no trekking, no colonel, and no SPLA escort. Instead, they had waited three days at a riverside missionary station for a truck that Petros had insisted was coming, then had driven to a border outpost called Kibbish Wells. Petros had gotten sick and moaned that he was dying. Scaturro had slipped him a sleeping pill to shut him up.
After he got home, Scaturro e-mailed a final thank-you to everyone on the team. "I have never been with a commercial or private group in such difficult conditions and had such a wonderful time," he wrote.
"I know the trip I want to take now," Scaturro told me later. "I want to go back next year, take a dugout across the lower river, and start walking. It'll be a 400-kilometer walk. I'm convinced that if there are any authentic tribes left in Africa, we'll find them."
But that would have to wait. Last July, Scaturro flew to Pakistan to join the Shared Summits Expedition on K2. In September, he led a team down Ethiopia's Tekeze, portaging around a dam that will choke off that river. He ended 2007 in the Middle East, working with a television crew producing a series on the Arab countries.
Meanwhile, his wish list is ever-expanding: Raft the Mekong from source to sea, walk the length of Russia's Kamchatka Peninsula, sail the South Pacific, drive from Cape Town to Lon­don. He and Weihenmayer are talking about putting up a new route on New Guinea's Carstensz Pyramid, one of the Seven Summits.
"I'm not afraid of dying," Scaturro says. "I'm afraid of dying before I do everything I want to do. People always ask me, 'How do you do it, and how can I do it?' I tell them that we've been born into the greatest country on earth. All we have to do is to get rid of our fear and control the guilt-family guilt, church guilt, work guilt-and take advantage of the opportunity. When I hear, 'I can't go, my grass will die,' I say, 'Tear out the grass and let's go adventuring.'
"Because in the end, it's all about friends and memories, baby."
Access + Resources
ETHIOPIA
GETTING THERE: Ethiopian Airlines flies direct from Washington, D.C., to Addis Ababa for about $1,600 round-trip (ethiopianairlines.com). WHEN TO GO: September through February, following the rainy season, when the countryside is full of wildflowers.
WHAT TO DO & WHERE TO STAY:
Great Rift Valley
RAFT THE OMO – Remote River Expeditions has plans to raft the upper canyon this October, from Gibe Farm to Bele Bridge, an 80-mile journey that will take you down one of the Omo s last raftable stretches ($2,100; remoterivers.com). DISCOVER ETHIOPIAN CULTURE – After you set up base camp at Murulle Omo Explorer s Lodge, on the Lower Omo, Ethiopian Rift Valley Safaris will take you to local villages of the Dorze and Hamar people (from $1,300 for ten days; ethiopianriftvalleysafaris.com).
Simien National Park
HIKE THE SIMIEN MOUNTAINS – Join Mountain Travel Sobek on its 16-day Ethiopian trekking tour and hike inside Simien National Park, topping out on 15,158-foot Ras Dashen, Ethiopia s highest peak ($4,700; mtsobek.com). SIMIEN LODGE – Dubbed Africa s highest hotel (10,696 feet), this new lodge s thatch-roof tukuls are equipped with heated floors (doubles, $110; simiens.com).
Lake Tana
DESCEND THE NILE – Raft the wild stretch between Lake Tana and Blue Nile Falls on a seven-to-ten-day trip with Nile River Safaris this October ($1,700; nileriversafaris.com).
Lakes District
BISHANGARI LODGE – On the eastern shore of Lake Langano, this eco-resort s nine godjos (bungalows) are made with papyrus, wood, and grass, and are adorned with local craftwork. The lodge can organize everything from bird-watching to mountain biking, but seeing the sunset from the resort s Tree Bar, built around a 400-year-old fig tree, is equally appealing (doubles, $90; bishangari.com).
Bale Mountains National Park
TRACK A WOLF – The Ethiopian wolf, one of the planet s most endangered species, persists in a small section of the Bale Mountains above 10,500 feet. Track the elusive canid with Naturetrek, which offers a 13-day safari from London for about $3,900 (naturetrek.co.uk).
GETTING AROUND: Ethiopian Airlines offers regular flights to more than a dozen cities throughout the country. Red Jackal Tour Operator, in Addis Ababa, rents Land Cruisers from $90 per day, with a driver (red-jackal.net).
Ryan Krogh