Giving Large
Real adventure means making a difference. Check out these ways to make philanthropy a part of your trip—and dare to get inspired.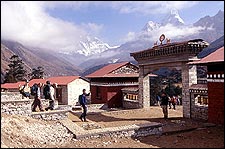 courtesy, Wilderness Travel
Heading out the door? Read this article on the new Outside+ app available now on iOS devices for members! Download the app.
It might be a reaction to the unsettling state of world politics, but we at Outside have noticed a renaissance of creativity and innovation in our world as travel outfitters, gear companies, and adventure athletes roll up their sleeves, open their wallets, and donate their time to help change our planet for the better. L.L. Bean, for instance, gives money (and its employees volunteer) to maintain the Appalachian Trail, while kayaker Brad Ludden runs a paddling camp for teens with cancer. Sophisticated explorers and total-commitment athletes have always known a secret: that engaging with the world on the deepest level, whether it's a matter of risk or empathy, makes for the greatest adventure. Once we began investigating this story, the phenomenon became even more exciting and impressive. What follows is a brief sampling of what's going on out there. Take a look and become part of it.
Asia Transpacific Journeys

Asia Transpacific Journeys
Global Exchange

Global Exchange
i to i

i-to-i in Costa Rica
brad ludden first descents

Kayaking with Brad Ludden and young adults with cancer
Myths and Mountains

Myths and Mountains
Dr. Sanduk Ruit

Himalayan Cataract Project Co-Director Dr. Sanduk Ruit performs a rural exam
Wilderness Travel

Wilderness Travel

Conrad Anker
Alex Lowe Charitable Foundation
406-282-7803 | www.alexlowe.org
As a board member of the Alex Lowe Charitable Foundation, alpinist Conrad Anker works with his wife (and Lowe's widow), Jennifer, climber Jon Krakauer, and others to honor the memory of Alex Lowe, who died in a 1999 avalanche while climbing in Tibet. The foundation raises money to support a climbing institute in Mongolia and a Sherpa training camp in Nepal's Khumbu region that's designed to improve locals' mountaineering skills.

Lance Armstrong
Lance Armstrong Foundation
512-236-8820 | www.laf.org
Cancer survivor Lance Armstrong established the foundation that bears his name in 1997 as a resource for other patients and survivors. In 2004, LAF awarded more than $1 million to 40 nonprofit organizations that support cancer survivorship and education, and launched the phenomenally successful Live Strong yellow-bracelet campaign: More than 25 million of the fundraising rubber wristbands were sold, at one dollar a pop, between May and November of last year.

Asia Transpacific Journeys
800-642-2742 | www.asiatranspacific.com
Because this outfitter's Asia Transpacific Foundation runs entirely on staff volunteer hours, almost every cent of the roughly $275,000 donated since 1998 has gone to its beneficiaries. ATJ contributes a percentage of its annual profits to the foundation, which funds projects like the Im Jai House for AIDS orphans, in Hang Dong, Thailand.

Burton Snowboards
802-651-0326 | www.burton.com
Since 1995, more than 8,300 at-risk kids in ten cities, from New York to Seattle, have hit the slopes thanks to the Burton Chill program. Funded by Burton, with contributions from corporate sponsors and individual donors, Chill outfits teens from group homes and inner-city environments and takes them boarding once a week for six weeks.
Clif Bar
800-254-3227 | www.clifbar.com
Clif divides 1 percent of its profits—nearly $900,000 in cash and product donations a year—to environmental and recreation advocacy groups. Through its participation in the Project 2080 program, more than 80 percent of Clif's 150 employees volunteer with local service groups like Habitat for Humanity, collectively giving more than 2,080 hours per year—the equivalent of one person being employed as a volunteer full-time.

Eco-resorts
866-326-7376 | www.eco-resorts.com
A longtime advocate for responsible travel in East Africa, this trailblazing safari company specializes in do-good itineraries. Travelers on the Volunteer Vacation work at a Kenyan children's home weekday mornings and spend afternoons and weekends exploring the Malindi-Watamu biosphere, the Masai Mara National Reserve, and Lamu Island.

Geographic Expeditions
800-777-8183 | www.geoex.com
On a fundraising expedition to Malawi and Tanzania last spring, Geographic Expeditions clients helped raise $145,000 for Save the Children's Adopt-a-Village program. This and similar journeys give travelers a firsthand look at the projects of nonprofit aid organizations. On top of that, the 25-year-old company gives 10 percent of its profits to a wide range of international charities.

Global Exchange
415-575-5520 | www.globalexchange.org
Once you've actually crouched in the makeshift shack that serves as home for a maquiladora worker in Tijuana, Mexico, you'll have a better sense of the challenges faced by people around the world. That's one philosophy behind this human-rights group's travel division, Reality Tours, which since 1989 has sent Americans to work alongside Nicaraguan coffee workers, discuss terrorism with Afghan college students, and witness the effects of globalization worldwide.

Volunteer Vacation Classics
These nonprofit groups pioneered the concept of a "volunteer vacation"—and continue to offer adventures that combine hard work and big rewards. HABITAT FOR HUMANITY Sign on for a 7- to 20-day Global Village trip and you'll help build homes for needy families in one of 60 countries (including the U.S.). 229-924-6935, ext. 2549, www.habitat.org/gv » EARTHWATCH INSTITUTE: Nearly 76,000 volunteers have worked on an Earthwatch conservation or community project since 1971. Try their 14-day trip in Ghana's Red Volta River Valley, where you'll help scientists track elephants and develop a wildlife-management plan. 800-776-0188, www.earthwatch.org » OCEANIC SOCIETY EXPEDITIONS: Help biologists train locals to conduct wildlife studies that may lead to biosphere-reserve protection for Belize's Turneffe Atoll. The society offers 18 hands-on, one- to three-week research expeditions in 2005. 800-326-7491, www.oceanicsociety.org » SIERRA CLUB OUTINGS: Restore historic Adirondack canoe routes or help repair the Kanab Creek Trail in the Grand Canyon on one of 90 weeklong service trips in the U.S. and abroad. The club's philanthropic travel tradition dates back to 1958. 415-977-5522, www.sierraclub.org/outings
Horny Toad
805-957-1474 | www.hornytoad.com
Horny Toad's outdoor clothing and accessories are shipped by folks who otherwise might have trouble finding sustainable employment. Through the Planet Access program, developed in partnership with Chicago's Search Development Center in 1998, Horny Toad's main distribution warehouse, in Waukegan, Illinois, is staffed entirely by developmentally disabled employees.

i-to-i
800-985-4864 | www.i-to-i.com
The latest additions to i-to-i's long list of volunteer vacations: coaching basketball, tennis, and soccer at schools and orphanages in Ghana, India, Tanzania, and Thailand. This decade-old company also offers three-week to six-month community development projects where travelers can earn Teaching English as a Foreign Language certification while working with hearing-impaired children in Bolivia or helping out at a hospital in Mongolia.

Lindblad Expeditions
800-397-3348 | www.expeditions.com
Known for its eco-conscious, naturalist-led island expeditions, this small-ship cruise operator raises more than $450,000 in traveler donations yearly. Its incentive: Travelers who give $250 or more to causes like the Galápagos Conservation Fund or the Opening Hearts Project, which supports a village of Tarahumara Indians in Mexico's Copper Canyon, get a matching discount on their next voyage.

L.L. Bean
800-441-5731 | www.llbean.com
Freeport, Maine–based L.L. Bean works to keep the Pine Tree State pristine. Since 1999, the company has distributed $3 million to local conservation and recreation groups, including the Maine Appalachian Trail Club and the Appalachian Trail Conference. Employees do their part, too—they've volunteered 31,000 hours over the past 25 years to maintain a remote section of the grand old footpath.

Altruistic Alliances
Outdoor-industry leaders—many of which are mentioned in these pages—have a tradition of banding together to protect our country's most pristine playgrounds. The CONSERVATION ALLIANCE (303-262-3322, www.conservationalliance.com)—with 75 current members, from gear makers to vacation lodges—supports grassroots environmental groups that fight development in North America's wildlands. Since 1989, the alliance has awarded more than $4 million to nonprofits like West Virginia's Friends of the Blackwater. Founded in 1990, the ACCESS FUND (303-545-6772, www.accessfund.org) works with land-management agencies and environmental organizations to protect climbing areas and develop environment-friendly climbing policies in places like Joshua Tree National Park and Idaho's Castle Rock State Park. The fund's 200 corporate partners include equipment manufacturers, retailers, and climbing gyms.
Brad Ludden
First Descents
970-476-9400 | www.firstdescents.org
Pro kayaker Brad Ludden started his First Descents kayak camp for young adults with cancer in 2001, after realizing how much the sport had helped a friend learn to deal with the disease. Participants spend a week paddling, fishing, hiking, biking, and riding horses in Colorado's Vail Valley—and leave with greater confidence, courage, and patience.

Medicines Global
310-556-0809 | www.medicinesglobal.org
"Can you imagine what it would be like if every traveler going into Africa took one tube of antibacterial cream?" Janice Belson wonders aloud. If it seems like an unusual fantasy, consider that the 62-year-old's fledgling organization has helped distribute nearly $2.5 million in medical supplies to hospitals and village health posts worldwide since 1999. The strategy: Convince adventure travelers to pack an extra first-aid kit to drop off at a clinic in need. So far, hundreds have heeded the call, shuttling everything from Band-Aids to brand-name antibiotics. This month, Belson will embark on a three-week expedition with four South-Central Los Angeles high school students, bringing more than $1 million in pharmaceuticals to Sri Lanka.

Greg Mortenson
Central Asia Institute
877-585-7841 | www.ikat.org
Mountaineer Greg Mortenson cofounded this Bozeman, Montana–based nonprofit in 1996 to promote education and literacy in Central Asia—especially among women. To date, he's helped build more than 40 schools, which serve 21,000 students in northern Afghanistan and Pakistan.

Mountain Travel Sobek
888-687-6235 | www.mtsobek.com
To encourage ecotourism that benefits regional economies, Mountain Travel Sobek has teamed up with the Nature Conservancy to teach river-guiding skills to locals along the Yangtze River, in China's Yunnan Province. The 36-year-old adventure-travel company regularly contributes money to organizations like the Charles Darwin Foundation and the Earth Action Institute.
Myths and Mountains
800-670-6984 | mythsandmountains.com
In the 14 years since Myths and Mountains president Antonia Neubauer started the Rural Education and Development (READ) program, an altruistic arm of her adventure business, it has built, stocked, and staffed 35 libraries throughout Nepal, and five more are in the works for 2005. Private donations—many from the company's globe-trotting clients—and local contributions fund the construction of each $30,000 facility.

Nike
800-344-6453 | www.nikebiz.com
Nike gives strong: The shoemaking superpower helped launch the Lance Armstrong Foundation's Live Strong campaign in May 2004, paying to manufacture the first five million yellow bracelets and throwing in a $1 million donation to support cancer research and education programs. And that's just a fraction of the $37.3 million Nike gave in 2004; each year the company donates 3 percent of its pretax profits to some 4,500 social and environmental causes around the world.

The North Face
310-652-8455 | www.thenorthface.com
The company's Global Giving Philanthropic Expedition Program helps people in areas where North Face–sponsored expeditions take place: For every 1,000 feet a team climbs, the company donates $100 to local charities. In 2004, The North Face began offering low-interest loans to Pakistani women working to start their own businesses.

Patagonia
805-643-8616 | www.patagonia.com
Yvon Chouinard founded Patagonia in 1974, vowing to use his business "to inspire and implement solutions to the environmental crisis." Thirty years later, the company is still a model of eco-stewardship. Patagonia donates 10 percent of pretax profits (or 1 percent of gross sales, whichever is greater) to support grassroots environmental causes—since 1985, it's dished out $20 million to 1,000 groups, from the Oregon-based Alliance for Sustainable Jobs and the Environment to Japan's River Policy Network. And Chouinard has inspired other companies to be equally generous: One Percent for the Planet (www.onepercentfortheplanet.org), the business alliance he cofounded in 2001 with Craig Mathews, of the Montana-based fly-fishing outfitter Blue Ribbon Flies, now has 74 members, who contributed more than $3.5 million in 2004 to save wildlands around the world.
Ross Powers
Ross Powers Foundation
207-775-1500 | www.rosspowersfoundation.org
Snowboarder Ross Powers, who won halfpipe gold in the 2002 Winter Olympics, appreciates the scholarship that allowed him to attend Vermont's prestigious Stratton Mountain School. So he funnels profits from his annual snowboarding camp into the Ross Powers Foundation, which helps talented but financially challenged Vermont athletes enroll in the schools of their choice. Since 2001, he's paid out $30,000 in tuition and living expenses.

Marilyn Price
Trips for Kids
415-458-2986 | www.tripsforkids.org
Each year, thanks to mountain-biking pioneer Marilyn Price, more than 5,000 inner-city and underprivileged kids experience the rush of singletrack. Price founded the nonprofit Trips for Kids in 1988, taking a group of San Francisco teens riding in the wilds of Marin County. Today, 41 chapters in 21 states organize daylong rides and after-school environmental education programs.

Recreational Equipment Inc. (REI)
800-426-4840 | www.rei.com
In 2004, REI distributed $2 million in grants to outdoor and mentoring programs for kids (like Big City Mountaineers, which leads wilderness adventures for urban teens), employee-nominated enviro causes like the Continental Divide Trail Alliance and Leave No Trace, and recreation advocacy groups, such as the American Hiking Society.

Jessie Stone
Soft Power Health
softpowerhealth@hotmail.com
When she's not running rivers, pro kayaker Jessie Stone, M.D., works to educate people in Uganda about malaria prevention—about 16 million people there are struck with the disease each year. Her nonprofit group, Soft Power Health, sells subsidized mosquito nets and distributes mosquito repellent to villagers. In late 2004, Stone headed to Uganda to help build a malaria clinic in the village of Kyabirwa.
Geoff Tabin
Himalayan Cataract Project
802-847-3843 | www.cureblindness.org
Doctors aren't sure exactly why, but the high-altitude regions of Central Asia have some of the highest rates of cataract-caused blindness in the world—nearly half of the people in Tibet lose their vision by age 70. Yet as Geoff Tabin, an American ophthalmologist and pioneer of Everest's east face, knew when he cofounded the Himalayan Cataract Project in 1995, cataracts are preventable and treatable with proper medical care. The HCP, based at the Tilganga Eye Center, in Kathmandu, trains local doctors to repair cataracts using the latest microsurgery techniques and organizes mobile medical camps to perform surgeries in remote areas. The progress has been stunning: In 1993, 1,000 people in Nepal had advanced cataract microsurgery; in 2003, almost 118,000 received the treatment. "Working to eliminate needless blindness," says Tabin, "has given a purpose to my medical career."

The Timberland Company
800-258-0855 | www.timberland.com
Timberland encourages its 5,400 employees to get out there and give—on the company's time. Through the Path of Service program, workers spend 40 paid hours a year volunteering with service groups (like Share Our Strength, which fights hunger) in the U.S. and 29 other countries; after three years on the job, they can apply for a "service sabbatical" and spend up to six months working full-time with their favorite nonprofit.

Travelers Philanthropy
202-347-9203 | www.travelersphilanthropy.org
In a meeting of altruistic minds at Stanford University last spring, 80 members of the tourism, academic, and NGO worlds powwowed on the subject of global giving. The gathering jump-started Travelers Philanthropy, a group—led by the Center on Ecotourism and Sustainable Development—that conducts research and compiles case studies to help travelers and tour operators plan successful aid projects worldwide.

Tubbs Snowshoe Company
800-882-2748 | www.tubbssnowshoes.com
Tubbs has a special commitment to women, from designing female-friendly snowshoes to funding breast-cancer research. Last year, the company donated $65,000 to the Susan G. Komen Breast Cancer Foundation, a quarter of it coming from sales of Tubbs women's gear. Tubbs also sponsors 3K and 5K Romp to Stomp Out Breast Cancer snowshoe events in Colorado, Utah, Oregon, and Vermont.
Wilderness Travel
800-368-2794 | wildernesstravel.com
For the past five years, Wilderness Travel has footed half of the $7,500 annual operating bill for a Sherpa dental clinic in Namche Bazaar, in Nepal's Everest region. But giving is no new concept for this 27-year-old travel company, which has helped shape industrywide policies, such as funneling traveler donations to nonprofit groups like the American Himalayan Foundation and providing porters in Peru, Tanzania, and Nepal with health insurance, warm coats, and sturdy boots.

Wildland Adventures
800-345-4453 | www.wildland.com
Last year, Wildland Adventures clients pooled $6,000 to rebuild a collapsed well in a Masai village they had visited in Kenya. That was typical—95 percent of Wildland's travelers help fund causes picked by local guides and company president Kurt Kutay, who directs the Traveler's Conservation Trust and helped pioneer Inca Trail cleanups in the 1980s.

W.L. Gore & Associates
410-506-2647 | www.gore.com
Some of the best resources outdoor companies can offer are their own top-shelf products. That's why Gore regularly donates thousands of Gore-Tex blankets and ponchos to the Red Cross. After the 9/11 attacks, the company airlifted 2,400 jackets, overalls, and pairs of boots and gloves—$365,000 worth of gear in all—to rescuers at ground zero.

Contributors: Jason Daley and Kimberly Lisagor. Additional reporting by Catharine Livingston, Gordy Megroz, and Jason Stevenson.
Trending on Outside Online