The New Classic Walking Safari
In Zambia, you'll find wildlife the way it used to be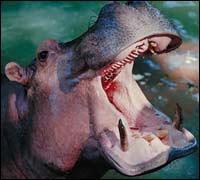 Digital Stock
Heading out the door? Read this article on the new Outside+ app available now on iOS devices for members! Download the app.
Chibembe camp, Zambia 2:00 a.m. startled awake by a loud crash, I lie still, pulse racing. Then I hear it again: something thrashing the sausage tree outside my tent. Curiosity overcomes terror; I grope my way to the canvas wall, lift the fabric, and poke my head out. In the moonless gloom I make out a thick pillar about five feet away. The tree? No, too close. Finally my eyes adjust to the starlight, and the pillar resolves itself into the left hind leg of an elephant. It's tearing branches off the tree and munching them up. I look at the leg again and an irrational impulse seizes me: I could touch it!




I scoot farther out and extend my arm. Not quite. I squirm until I'm stretched out as far as I can possibly be. The leg's six inches away, now four—but then it shifts out of reach. Dang. I debate another try, but the significance of the leg's new position hits me. I look up. Seven feet above my face is an elephant anus. Somewhere ahead of it, a stomach the size of a 50-gallon oil drum rumbles. Instantly I decide that "Oh, about four inches" will be an acceptable answer when someone back home asks how close I came to a wild elephant.
The managers of Zambia's game parks, it hardly needs saying, do not encourage guests to reach out and touch the animals, particularly the five-ton variety. And I really needn't have risked a gruesome obituary to have an inspirational encounter with an elephant there. Zambia may well be the finest place in Africa to experience game viewing the way it used to be: in small groups, often on foot, in parks that are truly wild. And all of it, as a result, up close and personal. Not once during the month I spent there did I see feeding lions surrounded by zebra-striped minibuses. Often, our guides and a handful of other guests were the only humans for hundreds of miles. But like so many of Africa's wonders, this abundant wildlife has a sad back-story.
Slightly larger than Texas, Zambia sits between the war-ravaged countries of Angola and Mozambique in southern central Africa. For years after independence from Britain in 1964, Zambia's autocratic rulers, fat on copper revenues, scoffed at tourism. Enormous national parks and game management areas (GMAs) languished almost unvisited except by poachers, who extirpated the country's black rhinos and cut its elephant population by 90 percent while other game flourished in obscurity. Then, in the 1970s and 1980s, worldwide copper prices plunged, also plunging Zambia into crisis. Years of high inflation and high unemployment followed, and the parks remained empty.
After the 1990 CITES (Convention on International Trade in Endangered Species, where a ban on the sale of ivory was signed) and multiparty elections in 1991, things began to improve—if slowly. Now, a decade later, under President Frederick Chiluba, the national debt remains staggering and food prices continue to exceed what many Zambian families can afford, but corruption is reportedly "under control" (not getting any worse), the elephant population is waxing, and there are even rumors (fueled by occasional footprints) that a few black rhinos survive deep in the remote North Luangwa area. What's more, Chiluba's administration has decided tourism can grow the Zambian economy, help sustain its wildlife parks, and raise money needed to address the country's crushing social problems (Zambia has the continent's highest concentration of AIDS orphans, and has been inundated by thousands of refugees from Angola). According to a 1999 article in Zambia's Financial Times, revenues from tourism now exceed $150 million per year, and in 1996 accounted for one fifth of the growth in the nation's economy. The relief my tourist dollars might bring was important to keep in mind as I flew over poor towns en route to the country's spectacular game parks and their luxurious accommodations.
Zambia's habitats vary considerably, from lush riverine canopies along the Zambezi River—which originates in northwest Zambia and forms part of its southern border—to the intermittent shade of deciduous thorn forests, to open, Serengeti-like velds. You could choose to stay in one camp and never run short of things to see, but given the geographical diversity, it's better to pick several and spend three to four days in each. I started in the Luangwa River Valley in the northeast, flew (virtually all inter-park commuting is by Cessna) to Kafue National Park in the west, and then ventured on to Lower Zambezi National Park in the south.You can drive from park to park, but the distances aren't short, and as one guide said, referring to Zambian potholes, "You can tell the drunk drivers here; they're the only ones who go straight."
The full scope of the "walking safari" hit me as I crouched behind a shrub with four other wide-eyed guests, watching a lioness sleeping under a mopane tree. She was all of 50 yards away.
We sat quietly, quiet enough to hear the pinches of dust one of our scouts used to test the direction of the wind. He carried an old Mauser rifle, there for insurance but almost never needed. Finally, he gestured it was time to leave. We crawled away, leaving the lioness unaware she'd been spied upon.
Such unobtrusive, walk-in encounters are the signature activity of the camps scattered along the Luangwa River. Although most of the camps also offer driving safaris (especially at night, when foot travel through the bush is a bad idea), the drives aren't nearly as intimate. When you pull up in a Land Rover, the animals know you're coming. What the night drives do offer are compelling and even eerie glimpses in the guide's spotlight: a crocodile laying eggs on the riverbank; a hunting civet (it looks a bit like the love child of a raccoon and a junkyard dog); a pennant-winged nightjar—a whippoorwill—like bird with 20-inch-long wing feathers—fluttering up in the beam like a kite shivering in a high wind.
The basic layout of the camps I visited in South Luangwa National Park—Chibembe, Tafika, and Chinzombo—was the same: a luxurious base lodge with one or more satellite camps. At Chinzombo, guests are driven to the outlying camps; but Chibembe's are situated where there are no tracks at all, so you walk to each (four to five miles) while your luggage is carried ahead by porters. Mornings and afternoons are devoted to six-mile loop hikes with a guide, an armed scout, and a porter who carries the makings for tea in a box on his head.
Along the Luangwa, the Africa I had daydreamed about while reading H. Rider Haggard as a boy came alive. We walked for hours in the warm sun of the African spring, and in the near distance saw impalas, zebras, a few elephants, wildebeests, and giraffes, as well as the ever-present vervet monkeys catching air between branches. Overhead, gray louries, called "go-away birds," really did croak Go-way! Go-way!
From Chibembe Camp it's a 30-minute flight upriver to Mwaleshi, one of only two camps in the 1,800-square-mile North Luangwa National Park. Rod and Guz, a young couple who are typical of the hosts I enjoyed in every camp, met us on arrival. Gracious, outgoing, awesomely well-versed in natural history, the two lead an itinerant life, managing wilderness camps during the dry season and guiding trips down the Luangwa River during the wet. We tracked lions in the morning, elephants in the afternoon, and one day climbed part of the 4,600-foot Muchinga Escarpment to a waterfall with a deep swimming hole that, Rod assured us, only occasionally conceals a hippo.
I brought back a nice souvenir from Mwaleshi, a plaster cast I made from the footprint of a large male lion. It took the entire pound of plaster powder I'd brought with me (normally sufficient for three or four impressions of Arizona cougar tracks). I didn't have to go far to find the print. It was in the mud in front of my shower.
Over breakfast at Busanga Plains Tented Camp in Kafue National Park, I mentioned a fascination with Cape buffalo (the world's meanest cattle) to Justin Matterson, director of the camp's parent company, Chilongozi Safaris. Matterson, an expat Brit, came to Africa in 1995 on a three-month contract for a youth charity, and stayed on to canoe the entire length of the Zambezi. Then he went to work for Chilongozi. As I talked about the Cape buffalo, he listened for a bit, then plopped his slouch hat on his head and said, "Right, let's go."
Collaring another guest, we piled into the Land Rover and roared off, past herds of roan antelope and puku, under baobab trees and circling vultures, to where the last of the forest clumps gave way to limitless plain. We stopped and scanned the horizon with binoculars, spotting a family of warthogs and a secretary bird. We drove on for another mile or two, took another look…and there they were. Three hundred Cape buffalo moving like a vast black amoeba over the grass. We idled the Land Rover as close as we dared and watched for an hour, eyed in return by three massive bulls on flanking guard duty.
Matterson delivers this what's-your-pleasure game viewing with nonchalant elán. In a way, Kafue makes it too easy: Each year, the Lufupa River floods the plains of Kafue, rendering them an impassable morass. When the river recedes, the plains explode in tall grass, attracting thousands of grazing animals—as well as the cats that dine on them.
Nor is there any shortage of dazzling fowl. As I was packing to meet the Cessna, a lilac-breasted roller flew down and perched in front of my tent, its iridescent purple, green, and sky-blue feathers flashing in the early sun like a necklace of mixed jewels. I held my breath until it flew up and vanished over the grass.
Fish eagles had just begun calling when we lowered three canoes into the Chifungulu Channel. It was dawn at Sausage Tree Camp, and my first sight of the place after flying in late the previous evening from Kafue. We planned an all-day paddle—a rafting safari—down the Zambezi.
If the nodders in our party weren't awakened by the sight of crocodiles sliding into the water at our approach, they certainly were when we surprised a three-foot monitor lizard perched on a high overhanging branch. It misstepped making its getaway and performed a spectacular cartwheeling plunge into the water between our canoes. Mike, our guide, seemed unconcerned by crocs and somersaulting lizards, but hippos—hippos are another matter—so he stayed in the lead to keep an eye on them.
The first 30 or so hippos we encountered merely glared at us before grudgingly moving aside, but we soon met our match, a quintet arrayed in phalanx across the channel, blowing and puffing and absolutely refusing to budge. We landed upstream and portaged the heavy Fiberglass canoes past the group while they snorted, perhaps in amusement. (Later I heard that one of the guides, on a solo canoeing outing, tried to bluff his way past these same five hippos. Afterward, he swam to shore unscathed and recovered both halves of his canoe downstream.)
A ponga—a no-frills, v-bottom motor boat—collected us at dusk and took us back up the channel in the dark. We were guided as we went by millions of fireflies whose flashing marked the banks like landing lights on an airstrip. The camp greeted us with the surreal vision of a linen-covered dining table set on the bank, aglow in candlelight and sparkling crystal. As the Southern Cross slid toward the western horizon, I fell asleep to the sound of lions calling back and forth across the channel.
We Got Game
Walks (and drives and canoe trips) on the wild side
The Republic of Zambia, named for the Zambezi River, lies just beneath the seventh southern parallel and boasts 19 national parks. Its dry season runs from May until October, and July through October is considered the best time to visit. In September and October, animals are easier to find because they congregate around the last remaining water holes; however, it can be stiflingly hot (90-plus Fahrenheit).
WHAT TO PACK
Keep it light. One bag, plus a carry-on, as space is extremely limited in the Cessnas that fly to the camps. All camps have daily laundry service, so you can get by with a change or two of clothes. White clothing is verboten on game walks (it spooks some animals and sends them running).
BEFORE YOU GO
You'll need hepatitis and typhus shots, and you'll need to take malaria prophylactics while there. The Centers for Disease Control (800-311-3455) recommends Lariam (mefloquine hydrochloride). Consult your doctor. The best malaria prevention, of course, is to avoid being bitten by mosquitoes.
GETTING THERE
South African Airways (800-722-9675) has flights from Atlanta to Johannesburg (from $1299 round trip), connecting from there to Lusaka, Zambia's capital. Beyond Lusaka you'll be flying in smaller aircraft.
OUTFITTERS
Africa Calls (505-982-1976; safari@africacalls.com) is a great resource, as is the Association of Professional Safari Guides (800-251-7255; http://www.safariguides.com). Tongabezi Expeditions (011-260-3-323235; http://www.tongabezi.com) runs Tongabezi Lodge ($250-$375 per person per night, depending on the season). Chilongozi Safaris ($250; 260-1-265814; http://www.chilongozi.com) has three camps. Chinzombo Safaris ($260; 260-1-225076) operates a lodge and two bush camps. Taita Falcon Lodge (260-3-321850) starts at $120. All quoted prices include meals.