Strange Bird
Need something (or somebody) flown around Africa without a lot of questions? Can you pay with bricks of cash? Then you want old-school bush pilot Tim Roman, a man with Kurtzian ambitions, a deft touch on jungle runways, and a place on every smart dictator's speed dial.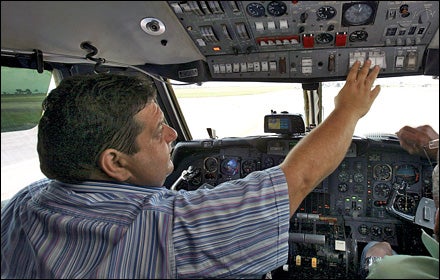 Heading out the door? Read this article on the new Outside+ app available now on iOS devices for members! Download the app.
Tim Roman punches a button atop the glass coffee-table-cum-fish-tank in his living room. An electronic chime echoes through the house, and out shuffles his cook. "Ribs tonight, Crispin," Roman says.
Africa

Africa

Roman in the cockpit of his Gulfstream II in Kinshana
"Yes, boss," Crispin says with a bow.
"And two Cokes," Roman adds, sucking on a Marlboro. "They got the best Cokes in this country. All local sugar. None of that corn syrup." He takes another puff and laughs. "It's great. I push a button and they bring me a Coke!"
"This country" is the Democratic Republic of the Congo, formerly Zaire. Roman's spacious house sits behind high walls topped with coils of razor wire in Kinshasa, a teeming city of eight million on the verge of chaos. It's November 2006, and three months ago the country held its first democratic elections since 1960, a $500 million project overseen by the United Nations. Joseph Kabila and his main rival, Jean-Pierre Bemba—a former personal assistant to the long-deposed dictator Mobutu Sese Seko—were forced into a runoff just a week ago, and the votes are still being counted.
Kabila is expected to win, and Roman is part of Kabila's circle of contacts. No one knows how Bemba will react if he loses, but in a place like Congo, he who loses—and we're talking about not just one man but his whole posse, including armed militias and their access to diamonds and gold—loses everything. Out on Kinshasa's streets there are thousands of UN troops in sandbagged machine-gun nests, set amid chickens and burned cars and spiraling columns of smoke. Kinshasa is so crumbling and crowded that it looks like the set for some post-apocalyptic Hollywood extravaganza. This house has been attacked twice, and twice Roman has returned fire.
"I got the razor wire on the inside," he says, swigging his Coke. "That way, they'll get tangled up when they hit the ground." Right now all is relatively calm inside the boss's place: CNN is cranking loudly, the A/C is humming, a white toy poodle, Boxy, is jumping on the sofa, and Roman, a hyperactive American expat, is juggling two cell phones that never stop ringing. No leaving the house today; he's down with a touch of malaria. He's 43 and big, really big. Fat. There's just no other word for it. But despite his massive bulk, there's something attractive about his large brown eyes and expressive face, something grizzly-bear cute. His voice is deep, gravelly, and his small hands are lively when he talks.
The phone rings, Roman sighs, and—no hello, no pleasantries—just starts talking. "So he's got malaria? So big fucking deal! If he's sick, tell him to go to the fucking hospital. Here. If he goes home, he's not coming back."
Roman hangs up, exasperated. One of his American engineers says he's sick, but Roman isn't buying it. "He's in love!" he croons in a baby voice. "Can you believe it? He buys a menyapa in the village—not a queen who lives in Kinshasa but a woman who lives in a mud hut—and he's in love and wants to bring her home!"
Roman is creating an empire in Congo. He's got a thousand guys working for him, building roads and bridges in the middle of the jungle. A 50,000-acre farm. A two-million-acre mining concession. A "country house" at a lovely bend in the river that he bought from "a chief for two hundred bucks and a bag of beans." He's got Wimbi Dira Airways, an airline hauling 1,000 tons of cargo and 3,000 passengers a month. Not so long ago he was just a flying cowboy, free. Now he's stuck on the ground—a big man in Africa trying, as he says, "to control the uncontrollable," addicted to the adventure, addicted to the perks of the expat life, but entwined in something so big and complex that it's hard to get a handle on. He's got vicious heartburn, the malaria comes and goes, he's having trouble sleeping thanks to all the pressure. He's got a wife in Pennsylvania whom he hasn't seen in eight months, and he's fed up with the endless strain, but he's half African himself now.
Suddenly CNN falls silent; the A/C stops. The power is out. Roman cocks his head and curses. There's a bleep, and the generator roars to life. He nods. The phone rings again. This time Roman is all obsequiousness.
"Yes, sir. Yes, sir. Where would you like to go, sir? One question, sir: Do you have clearance to land? I'll text you in one minute, sir." He hangs up. "Fuck," he says. "The minister of finance. And I don't have a copilot. Do you have a pilot's license?" he asks me. A flurry of calls and in ten minutes it's done. "OK, we're set. Anybody else I would have said 'Fuck you,' but he writes the checks, you know. We're going to Nigeria. The minister needs to see the president."
THEY ARE THE WORST OF THE WORST, violent hellholes where the last person you'd expect to find living large is some small-town American. Congo is a country the size of Western Europe, with only 300 miles of paved roads. It's a country reeling from 32 years of despotic one-man rule and another ten of civil war, a place where, in late 2006, 18,000 heavily armed UN troops were trying to keep the peace long enough to hold the elections. And where, the grapevine said, there was this guy from Pennsylvania making big money and having the time of his life.
"I'm sitting here watching Six Feet Under and the pool and hot tub are ten feet away," Roman said when I called him from the U.S. "What's not to like? Come on out for a visit. I make the best damn martini on the continent!"
Roman arrived in Nairobi, Kenya, in late 1996, when the heart of Africa was pumping blood. In Rwanda, the Hutu had recently hacked to death 500,000 of their Tutsi countrymen. The Tutsi chased many of the murderous Hutu across the border into eastern Zaire, where more than a million of them gathered around the town of Goma. That was the beginning of the end of Zaire and its storied big man, Mobutu Sese Seko. It was also the beginning of Roman, a white guy from Hazleton, Pennsylvania, who helped take over a country.
When he arrived, Roman was 33 and knew nothing about Africa. But he had a thirst for adventure and he'd been around, to put it mildly. His father operated a farm, a construction company, and an airport-services operation in Hazleton. Flying and working—that's all young Tim did. By age 17 he had a private multi-engine-airplane license. Later, he became a fire-bomber pilot for the U.S. Forest Service, flew for USAir, and started a construction business and aircraft-maintenance shop in his off hours. When he got laid off from USAir in 1992, he bought his first Nord 262—a French-made two-engine turboprop with high wings, good for hauling cargo or passengers on and off short landing strips. Then a friend in the maintenance business told him about a Colombian he knew who had a Nord in Panama that had been shot up in the 1989 U.S. invasion.
That's how Roman found his true calling, the perfect business for a pilot who loved money but didn't mind a little discomfort. Wherever there is chaos and violence on the ground, you'll find men (and a few women) like Roman: Westerners with airplanes—complex, expensive machines that soar over roadblocks and pirates and borders and rapacious rebel armies and trackless jungles. Sometimes they work on their own, sometimes they do dirty work for governments or governments-in-waiting. Sometimes they do a little of everything. They're gods, of a sort, not bound to the land. If things get too bad, they just take wing and fly away.
Roman went to Panama in '92, got the plane running, and flew it to Bogotá. The Colombian needed airplanes to fly "things." The Nord was perfect, so Roman bought 13 more. But then the Colombian and his partners ran into a bit of trouble—one was arrested, the other killed. Suddenly Roman had a bunch of planes and not enough business, so he leased them to operators in Honduras, Guatemala, and Kenya, where he went to personally train the crew in the aircraft's operation and maintenance.
Africa is even more tangled than South America. Roman wasn't flying tourists over game parks; he was flying the amphetamine-like drug khat into Mogadishu, Somalia, where he got shot at, he says, "every fucking day." And Zaire, just a few countries away, was not just a blank nothingness of jungle and desperate people; it was one of the richest places on earth. Under its jungles and savannas, in its immense rivers, lie gold and diamonds and copper, uranium and cobalt and oil. Riches so immense they boggle the mind and aid the rise and fall of nations thousands of miles away.
When the Hutu fled to Zaire, all hell broke loose. Zairean rebel Laurent-Désiré Kabila, a native of eastern Zaire, had been fighting Mobutu for some 30 years. Kabila's Alliance of Democratic Forces for the Liberation of Congo-Zaire was born, backed by Rwanda and Uganda, and full-fledged war broke out in eastern Zaire.
In Nairobi, Roman watched. The guns of Mogadishu didn't bother him as much as not getting paid—after three months in Nairobi he still hadn't received the monthly leasing fee for his airplane. He could file suit to repossess the aircraft, but Roman sensed a better opportunity: Some passengers needed to get from the Rwandan city of Kigali to Goma, the Hutu stronghold. He fired up the Nord and took off, his Kenyan copilot and the plane's Kenyan "owner" fully expecting the Nord back in Nairobi in a day or so. But Roman wasn't coming back. He was seizing his own plane and flying it to the safest place he could think of—the middle of a violent African war zone, a place without rules or laws about who owns what, a place where more than four million people would die over the next few years.
Roman flew to Kigali, picked up his passengers, and flew on to Goma, in the thick of the war. The thing was, everyone spoke French. "I was fucked," Roman says. But, while standing around on the airport's ramp, he fell into conversation with the sole English speaker, a young Congolese man named Joseph. They talked, they laughed, they shot the shit. That afternoon a Mercedes SUV pulled up and the driver waved Roman over. Joseph was inside, as was an older man. "We have a mission for you," they said. "Can you do it?"
"If I know what it is," Roman said, "I can do anything."
They asked him to fly three dead and two wounded to a country that Roman won't name. "In the dark," he was told.
"Not at night," Roman said. "But I'll take off at 5 a.m. in the dark and land in the light."
Joseph, it turned out, was Joseph Kabila; the older man was his father, Laurent. When Roman dropped off his cargo, his mechanic and the Kenyan copilot ran away—"They were scared shitless," he says—and Roman returned with a load of weapons. And never stopped. For the next five months, Kabila's forces marched south and west toward Kinshasa, aided by Rwanda and Uganda.
"I did frontline support and hip-hopped my way to every dirt strip from Goma to Kinshasa," Roman says. Bukavu. Kisangani. Lubumbashi. One shithole after another, a big fat white American smack in the heart of an epic African war and loving every minute of it. "I am an adrenaline junkie with a high tolerance for aggravation," he says.
He flew rebel VIPs and weapons, under fire, to strips without navigation aids, strips that had been mortared, through thick African smoke and tropical thunderstorms that were "harum-scarum violent motherfuckers." He slept in the plane, slept under the plane, ate whatever they fed him. He flew giant 105-millimeter howitzer shells, 30 to a load, two loads a day. In May 1997, Kabila's forces swept into Kinshasa and Mobutu fled the country. Kabila became president. Zaire became Congo. The U.S. embassy was in lockdown behind double rows of steel girders and a fortress of walls and barbed wire—but there was Roman, out and about.
"I left the bank in a Toyota pickup filled with sacks of cash," he says, "and drove through Kinshasa sitting on top of the money with a soldier holding an AK-47."
IT'S 6:30 A.M. WHEN ROMAN picks me up in his chauffeur-driven Mercedes. We race through the streets of Kinshasa, swerving around potholes that could disable a bus and immense piles of fermenting garbage. Barefoot people are thwacking mangoes out of trees, and gnarled women are tending gardens in the median strips. The city is Bemba territory, and it's tense. A pro-Bemba handbill is being passed around that rails against Kabila for being a puppet of the muzunga—whites from the World Bank and the UN—and calls on the people to rise up. "This place is gonna be on fire!" Roman says, laughing.
We drive through the "red zone"—where Bemba loyalists rioted in August 2006, killing 34—pick up copilot Bruce Watson, and head for N'djili airport, 16 miles east of the city. Watson is 61, thin and gray-haired, an Australian citizen who's barely set foot in Australia, having lived his whole life in Congo. The former chief pilot for Air Zaire, he's got 23,000 hours of stick time—"an all-star in the flying game of Africa," Roman says—and is now chief pilot for Roman's airline. The road to the airport passes through a "cité," a slum so dense it seems impossible. There are tens of thousands of people on the roadside, hanging on to the roofs and bumpers of minivans, running through the street. The car windows are up, the doors locked, the side-view mirrors pulled in tight. "They'll rip the mirrors right off the car," Roman says.
"Ever heard of the word lapidation?" asks Watson. "It means being stoned to death. That's what they do here."
We pass the airport, turn up a side road, come to a gate manned by soldiers packing AK's. "Presidente!" yells Roman. They salute, the gate swings open, and we roll onto the flight line, right up to a small executive jet that looks like it's seen better days. Soldiers are everywhere. A skinny guy opens the plane and starts wiping down the stairs; Roman checks the flaps, peers into the engine, and whips out a stack of $100 bills, which he hands to the fuelers.
Suddenly four men in dark suits appear, accompanied by more soldiers—the DRC's minister of finance, the Nigerian ambassador to the DRC, and two bodyguards. Watson is already in the copilot's seat. Roman sees the men into the plane, stows their bags, and motions me in. The plane is tiny—six leather seats—and threadbare. It's 30 years old, the gold carpet is stained gray, and I squish a cockroach as I strap into a flight attendant's seat behind the cockpit.
Ten minutes later we're up, breaking through heavy clouds into sharp sunlight, climbing to 31,000 feet at 440 knots. The heat and humidity and pathos of Kinshasa are gone. We are free. Roman fires up a Marlboro.
SOON AFTER LAURENT KABILA took over Congo in 1997, he called Roman in for a meeting. "He asked me to get a small jet," Roman says. He bought the Sabreliner we're flying in now—and later a Gulfstream II—and became the unofficial official state pilot. Mobutu was out, Kabila was in; it was time for peace. But this was Africa, and the two countries that had helped Kabila were exacting their rewards in the east, sucking diamonds out of the country. Kabila believed his power was secure; in July 1998, with the stroke of a pen, he sacked his Rwandan chief of staff and ordered all Rwandans and Ugandans out of the country. The second Congo war began. Rebels allied with Rwanda and Uganda hijacked a 707, filled it full of troops, and flew it to Kitona, on the Atlantic coast. Within weeks they and other troops had marched on Kinshasa, cut power to the city, and taken over half the airport.
Kabila reached out to his neighbors, and Roman and Watson went to work. With power out and roads blocked, a helicopter plucked Roman from his house and flew him to the airport; it was shot down two flights later. Roman used the Sabreliner to shuttle generals to Namibia, Angola, Zimbabwe, and Sudan, while Kabila hunted frantically for troops and weapons.
"The airport was on fire, and the rebels had RPGs and American-made Stingers, so I'd take off in the dark at full power right on the deck until I was three or four miles out, then I'd streak to 13,000 feet." He flew to Johannesburg and back twice a day, 16 hours nonstop. That month he flew 180 hours in all. (In the U.S., the FAA limits commercial pilots to 100 hours a month.) The shuttling paid off: Troops and weapons poured in from Angola and Zimbabwe and Chad, flown by Watson, who carried more than 500 troops per load in a 707. Amid the frantic flights a Congolese diplomat named Kikaya Bin Karubi came face to face with Tim Roman for the first time.
"I was flying to Zimbabwe," Karubi recalls, "and I was asked by the president to look after the pilot, and I was shown Tim. I said, 'What kind of pilot is this?' Laurent-Désiré Kabila had been a rebel his whole life. He was known for his anti-American sentiment, and this was a huge contradiction in my mind. I said to the president, 'Who is this man? Do you trust him? He could be working for the CIA!' And the president said, 'I trust him with my life.' Tim took many risks and flew many dangerous missions. He played an important role in our country."
Kinshasa was soon secure, but the old man's days were numbered. In 2001 Roman was downtown when his telephone rang. "There's a problem," said the caller. "Go to the airport. Now."
By the time he got there, rumors were flying: The president had been shot by one of his bodyguards and was hurt bad. "The airport was in lockdown," says Roman. "My mechanics ran away like dogs and my driver jumped out of the car at 50 miles an hour." Soon the phone rang again. It was Joseph Kabila. The old man was dead. "Don't move the airplane," he told Roman, "unless it's my voice." Roman sat in the plane for three days. When things finally calmed down, Joseph, at 29, had become the youngest president of potentially the richest country in Africa. Over the next few years Roman flew to every country on the continent—South Africa, Chad, Algeria, Libya, everywhere. "I met the colonel—Qaddafi—three times." And he made, he says, "millions and millions of dollars."
TWO AND A HALF HOURS AFTER taking off from Kinshasa, we land in Abuja, Nigeria. After refueling—Roman pays with 31 $100 bills—we park the plane next to a brand-new Nigerian air force 737. A red carpet leads our group to a building filled with more red carpet, Oriental rugs, and clusters of cushy leather chairs. The minister and the ambassador sit in one group, we sit in another, and we wait. And wait. We drink tea out of bone china embossed with the presidential crest; we ogle the horseless presidential horse guard, dressed in knee-high black leather boots, red tunics with brass buttons, and white pith helmets topped with spear points.
Africa is about waiting, and Roman can sit like this for days, barely moving, barely speaking, an improbable figure in size 54 Levi's and white Nike sneakers. "Once I flew to Algiers for a ten-minute meeting and we waited for a week," he says, shrugging his massive shoulders.
But Watson is a talker, filling the dead air with tales of Stanley and Livingstone, Congo's beauty in colonial days, and the politics of dictators and minerals. "Mobutu in Congo, Pinochet in Chile," Watson says, leaning in close, the sound of conspiracy in his whisper. "Why'd the U.S. support them for so long? Uranium. It's right at the surface in both places. The minute they found uranium in Australia, Mobutu and Pinochet were gone. In the eighties, the Soviets were taking over Angola, and I made ten flights between Congo and Brussels in a DC-8 carrying 40 tons of uranium in kegs."
Late in the afternoon a cadre of generals arrive. We stand. In sweeps Olusegun Obasanjo, the president of Nigeria, decked out in flowing green robes and a little green Kewpie hat. He gives us a wave and a thousand-watt smile, shakes hands with the minister; the Africans disappear into an adjoining room. Ten minutes later it's over. Obasanjo glides down the red carpet into his jet and we pile into cars, racing down Bill Clinton Drive toward downtown Abuja.
"Nigeria is English, right?" says Roman, lighting a cigarette. "Maybe they've got bacon here. You can't get good bacon in Kinshasa."
"And lamb," says Watson, sucking on a cigar.
Compared with Kinshasa, Abuja looks like Paris. The Hilton is polished and vast. The lobby is packed. There are American oilmen in khakis and polos, Nigerians in diaphanous robes, Arabs in caftans. The minister needs to be in a suite, his guards need to be next door, and each of us needs a room. But the hotel is full, and one of the guards, a small, angular fellow with a gold police badge on his belt and an automatic on his hip, can't speak English. Roman—massive, gruff, sweating—bends down, props his belly on the desk, leans in, and turns on his mysterious charm. Suddenly he's a harmless boy, his little hands doing an innocent dance. The woman behind the desk is batting her eyes, laughing, flirting back. And then—poof!—the rooms are found. The guard counts out 35 hundreds from a two-inch-thick wad and we're set.
The next morning, when Roman tries to fire up the Sabreliner, it's dead. The starter on one of the engines is broken. In a flurry of phone calls he locates a spare in Kinshasa and finds a jet in Lagos. In all, he's told, it will cost $30,000 to have the jet come pick up the minister, fly him to Kinshasa, pick up the part, and take it to Lagos, where it can ship commercial to Abuja.
We pace, we drink tea, the minister frets, Roman works the phone, and late that afternoon the jet arrives. The bodyguard reaches for his banded stacks of hundreds, forks over two bricks of $10,000 each, the minister flies away, and we head back to the odd netherworld of the Abuja Hilton. We wait two more days, eating Mongolian barbecue and drinking in the bar as a Little Richard look-alike shimmies onstage. I hear Roman tell someone he's "the last warrior in Africa," and we make one foray into the city—to buy eight pounds of bacon and two large legs of lamb.
By the time we roar out of Abuja, it's three in the afternoon on day four. Soon we're at 39,000 feet and the continent unfolds like a carpet of green cut with shimmering blue rivers. This business of flying in your own plane in Africa is addictive. We're suddenly unstuck from the stickiest place on earth. As Roman is fond of saying, "What's not to like?"
IF ROMAN HAD CONFINED himself to flying and gone home after he'd made his money, he could be sitting on a boat in the Caribbean with a cold beer, millions in the bank, and a bunch of good yarns to spin. But he wanted more. So when things settled down (more or less), Roman returned to his roots—the construction business. With his family building roads in the States, Roman thought, why not build some in Congo?
It's dawn when we head to the airport for a one-hour commercial flight to a place called Kikwit to see his biggest project. The moment we land—piling into a four-wheel-drive pickup and heading out—it all becomes clear. Building roads is nothing like flying. To fly is to be untethered, a privateer, an adventurer. To build roads is to be stuck.
We're into the bush in minutes, weaving around potholes and ditches and bicyclists and women carrying loads of charcoal and branches on their heads, into a world of sticks and mud and trees. The pavement ends and we slow to a crawl. The driver is grinding the gears, inching around holes, and Roman is growing apoplectic.
"Vite! Vite!" he yells. "Fucking monkey—he can't drive. Stop. Arrêtes. Pull over, you idiot." He kicks the driver into the backseat and takes over, roaring through the mud and dirt.
For this project, which is funded by the Congolese government and the World Bank to the tune of $21 million, Roman is building 150 miles of road and four bridges, the largest 1,200 feet long. He imported 150 pieces of heavy machinery that took six months to bring in by river and road. Now it's on the verge of falling apart, of spinning out of control, all for a road that some bureaucrat somewhere imagined would transform a country. Every one of Roman's 25 GM trucks has been destroyed by brutal roads and careless driving. He's using 75,000 gallons of fuel a month, and it takes 40 days to get it to the job site … if it gets there at all.
"Can you imagine what that does to your cash flow?" he says. He erected a satellite dish at the camp, but it was ruined by lightning. His workers are siphoning off the hydraulic fluid and selling it as diesel; it rains constantly, a downpour that turns everything to gray peanut butter.
After three hours we reach the road he's been building, and it's worse than the one we were just on, nothing but canyons of ruts. We pass villages containing a handful of mud huts, an inscrutable world that makes Roman seem like a speck of dust. "The trucks are ten-ton trucks carrying 30 tons, and they destroy the road the day after we scrape 'em," he says. We inch and bump and then race along wildly where the road permits. People leap out of the way; Roman narrowly misses goats and dogs and children but aims for the chickens.
"Got that fucker," he yells as we hear a momentary thump. "No one builds roads in the middle of nowhere anymore. Man's work. People come out here and suddenly they're working for the Peace Corps or something. But I'm gonna scare 'em today. We gotta get this fucker done or I'm gonna run out of cash."
After eight hours we reach the head of the project, where his equipment has plowed a red-earth line through thick green bush. He's almost Kurtzian now, being driven mad by the place, caught in its web. "We're a thousand goddamned miles from anywhere, chief," he says, "and there ain't no Wal-Mart." In the cockpit of his airplane, Roman is necessary—only he can fly it. Out here he's subject to a thousand African vagaries that he can't control, and the frustration is driving him nuts.
He slides to a stop by a huge Caterpillar shovel that's silent. "Quel problem?" he shouts to a terrified Congolese driver. "Quel problem?" The driver's eyes are wide with fear; he tries to explain. Roman cuts him off. "Get in that fucking machine!" he screams. "Now. Start it up. Now."
The guy climbs in and tries to move the shovel. "Fuck, the seal is broken," Roman says. "That's brand-new. You're fired. Back to Kinshasa for you." Then he jumps in the car and careens away to the mission station where his camp is based to hunker down with his foreman.
AS DARKNESS FALLS in the camp, Roman gets word from Kinshasa. The election results are in: Kabila has won, Bemba is claiming fraud, and the city is bracing for trouble. "We gotta get out of here," Roman says. "If the shit hits the fan, I gotta be there. If planes stop flying we could get stuck out here for weeks and weeks."
At midnight we pile into the truck and go. It's pitch black. Pouring rain. The road is almost impassable. We crawl through the night, Roman berating the driver. "You fucking asshole!" he shouts.
After nine hours of kidney-thumping automotive violence we roll into Kikwit and Roman's cell phone lights up. "Shit, the chagas—street people loyal to Bemba—have taken over the cité," he tells us. "The embassy is in lockdown." As his camp manager fights for seats on the airplane at the ticket office, streams of soldiers jog along the street, hundreds of them, all heading in one direction.
"You see these guys?" Roman asks. "There are too many in one place. They're massing, and they don't belong to the chief—they're all from the west. I don't trust Bemba." It's an eerie scene. Their boots are clomping on the pavement in a steady beat, Roman is covered in dirt and sweat, unshaven. The camp manager emerges: no seats until the second flight.
"There will be no fucking second flight, and we'll be lucky if there's a first," Roman barks. "That son of a bitch just wants money. Tell him I'll call his boss in Kinshasa and get us on that fucking flight." Ten minutes later the manager emerges with two tickets. As we pile into the truck, a soldier with mirrored sunglasses comes up to us and starts shouting. "Fuck him," Roman says. "And drive." We ignore the soldier and take off. Roman tells the manager, "The airport will be safe, but when you drop us off go straight back to the camp, immediately."
Three hours later we're back in Kinshasa, cruising through a largely deserted city. The block in front of Bemba's headquarters is full of guys throwing rocks, 15 UN armored personnel carriers lined up one street over. But other than that, the city is calm, with no apparent need for an embassy lockdown.
"Americans are pussies," Roman says. "Let's go home." The gates to his home swing open, Boxy the poodle comes bounding up, and the house smells delicious. "Check this out," he says, dragging me into the kitchen. "Wanna smell split-pea soup like your mama used to make?"
Suddenly the phone rings. It's Joseph Kabila. The president. "Yes, sir," Roman says. "Yes, sir. Congratulations. Now you've got a country to build. Yes, sir."
"Shit," Roman says when he hangs up. "He wants to build 10,000 kilometers of road in the next ten years. And prisons. He wants to build prisons."
He pauses a moment and stares into space. The pool is shimmering. The walls high. "God," he says, lighting a cigarette, "I made millions and millions flying for these guys and I just poured it back into the country. Sometimes I just want to go home, do something different. I'm worn down. But I've been to just about every country in the world, stayed at every Four Seasons hotel, slit kilos of coke with my finger, flown jets. What else could I do now? Where else could I go?"
He hits the button, the chime sounds, and Crispin comes out with a bow.
"Yes, boss?"
"How about a couple of martinis?"