Where the Zoo Comes to You
A family of four takes on the Big Five in Kenya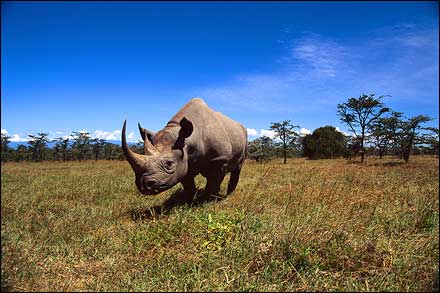 Corbis
Heading out the door? Read this article on the new Outside+ app available now on iOS devices for members! Download the app.
As our Land Rover climbs the steep road out of Kenya's Rift Valley toward Aberdare National Park, the switchbacks become tighter and Dixon Kariuki, our driver-guide, shifts into a lower gear. Yesterday we were broiling in the sun at Lake Baringo; now, as we approach the park's 12,000-foot peaks, the weather turns first damp and misty, then cold and rainy and, finally, freezing and sleety. When hail falls, Isaac Arumbi, our cook, laughs with glee: He rarely sees snow.
Kenya safari

I Spy: The elusive leopard
Kenya safari

Eye to Eye: Elephants in Masai Mara
Map of Kenya

May of Kenya by Evan Hecox
We enter a thick bamboo forest where old man's beard, a wispy emerald-colored lichen, drapes the ghostly-looking trees. Black-and-white colobus monkeys, chattering loudly, run in front of the Land Rover. In the red earth by the side of the road, we see where elephants have gouged out the soil with their tusks in search of salt and other minerals. Fresh dung is all over the road.
Just as I'm thinking how thrilling it would be to see one up close, we round a bend and nearly plow into a towering bull with enormous, gleaming tusks. Surprised and angry, he blocks our way, shaking his head and flapping his ears threateningly. Will he charge? Unwilling to wait and find out, Dixon backs the vehicle around a curve.
My husband, Amyas, our two daughters, Saskia and Tamzen, and I sit silently, waiting. Dixon inches around the bend. The bull is still there, walking along the road and eating. We back up once more. After another minute or so, a car descends past us and the driver says the coast is clear. Later, at the park gate, a ranger laughs when he hears our tale. "That elephant is often there on the road scaring people," he says, "but he has never hurt anybody."
A LITTLE HARMLESS ADVENTURE was exactly what we had signed on for: a two-week, no-frills family safari to Kenya last August that Amyas and I hoped would allow our children to interact with wild animals in ways more profound than staring at them through a zoo enclosure. The girls are more knowledgeable about Africa than the average American kid, since their father has been obsessed with the place since childhood. He traveled the continent after college and worked as a safari guide in Botswana. Then he parlayed his knowledge of the bush, as well as of Africa's arts and cultures, into a career as a dealer of African art in New York. After honeymooning in Tanzania and Zanzibar, we visited Africa a few more times before becoming parents. Now that the girls were seven and nine, we figured the time was ripe to take them on their first safari.
Kenya was a logical choice, since neither Amyas nor I had been there—but we didn't want a luxury safari with Out of Africa trimmings. After some guidebook and online research, we found affordable, Nairobi-based Kenia Tours and Safaris. Amyas and I told owner Ashvin Bhatt where we wished to go, and that we wanted to travel on our own, not with a group. He obligingly worked with us to design an itinerary. "You're going on a rough-and-tumble camping safari. No electricity, no TV, just 24-hour nature network," he said during our pre-safari briefing in Nairobi.
The trip began in the Masai Mara National Reserve, the northern extension of Tanzania's Serengeti National Park, and then moved on to Lake Naivasha, in the Rift Valley. This was followed by Kakamega Forest, near Lake Victoria, the only extant pocket of rainforest remaining in Kenya. Next came three more lakes—Baringo, Bogoria, and Nakuru—each rippling in the expanse of the Rift Valley. After that were the Aberdare Mountains, a range with alpine moorlands of heather, giant lobelias, and cascading waterfalls. Before returning to Nairobi, we allowed ourselves one night of luxury at Sweetwaters Tented Camp, a swanky property in a private game reserve covering some 22,000 acres smack on the equator, with front-row views of 17,058-foot Mount Kenya.
No fence separates the Mara's rolling grasslands from the Serengeti, which enables the world's greatest wildlife migration to occur, year in and year out. From July through October, some 1.5 million wildebeests, accompanied by hundreds of thousands of zebras, travel north into the Mara in search of fresh grass. As far as Saskia and Tamzen could tell, every member of this multitude was swarming around our Land Rover, especially wildebeests, walking single file or clumped together watching us watch them. The girls started counting the animals but soon gave up, happier just to count the different species—long-lashed giraffes, a pack of baboons scampering across the road, and massive Cape buffalo, their horns the shape of a fifties bob.
The most exciting day in the Masai Mara, the girls announced, was the one when we witnessed amorous lions and, later, a cheetah overtaking a Grant's gazelle. We spotted the cheetah from a distance and raced toward her as she began her chase. In a flash, she tackled the gazelle, sinking her teeth into its neck and carrying it off to her five fuzzy, gray-haired cubs, constantly on the alert to make sure no lion or hyena dashed in to make off with her prize.
For the most part, these extraordinary events enthralled the girls, who scrambled for their cameras and binoculars. At other times, their blasé attitude toward their remarkable surroundings appalled Amyas and me, though Dixon, a father of six and a veteran of many family safaris, laughed it off. Somehow, the girls found listening to the latest Hilary Duff CD, reading Lemony Snicket, or bouncing around in or—as was more often the case—atop the Land Rover more compelling than watching a family of banded mongooses or a shy pair of dik-diks.
Occasionally, when we asked Dixon to stop the vehicle for a closer look at wildlife, Saskia or Tamzen would blithely say, "Oh, we've already seen that"—in other words, if they'd seen an animal once, the thrill was gone forever. We coaxed them into paying attention for longer time spans so that they could watch an animal's behavior change over, say, 10 or 15 minutes. Sometimes they grew frustrated when they couldn't spot something through their binoculars. ("The lion is where? Under what tree? I don't see anything!") They fixated on the vulture feeding frenzy that occurred over the gazelle carcass after the cheetah and cubs left, especially when I said it reminded me of their reaction whenever I gave them a treat to share.
Their boundless energy and enthusiasm needed outlets besides cartwheeling off our vehicle—excursions on foot, for instance. A favorite was a hike near Lake Naivasha through Ol Njorowa, a narrow gorge of volcanic rock in Hell's Gate, one of the few national parks in Kenya where visitors are allowed to get out of their vehicles and explore on their own. Later that day, we got a bonus hike when we toured Crescent Island, a private game reserve in Lake Naivasha where we walked among waterbuck, zebras, giraffes, gazelles, and wildebeests. There were no predators, just herbivores grazing against a stunning backdrop of yellow-fever acacias, cactuses, massive agave and aloe plants, and groves of lofty papyrus.
ON A WALK THROUGH the Kakamega Forest, we discovered that bigger isn't always better when it comes to game viewing. We were looking at the canopy, where blue monkeys bounded along branches set like filigree against the sky, when Amyas pointed out what appeared to be a snake on the path ahead of us. But he was only teasing: Closer inspection revealed it to be a sinuous column of safari ants busily marching across the trail. Small ants carrying bits of food and other loads formed the inside of the column, while larger, more aggressive ones stood guard on the outside, ready to attack by climbing up on our shoes if we approached too closely.
Saskia and Tamzen were most captivated by dangerous predators that scared the pants off them—for example, hippos and crocodiles, both of which we saw in spades during a boat ride on Baringo, one of the largest freshwater lakes in the Rift Valley. Things started out benignly enough as we glided past Njemps fishermen wading waist-deep in the shallows. Soon, small monitor lizards and crocs appeared, lazing on beds of water hyacinth. When we passed too near a huge croc, it snapped shut its mouthful of sinister teeth, hissed, and slid into the water with a loud splash.
"Where is it?" asked Tamzen nervously.
She couldn't see below the surface, because the water was an opaque brown. We were careful to keep our distance from a band of cavorting hippos whose heads appeared above the surface. Although they were just playing, opening their mouths wide in displays and mock-biting one another, our guide casually mentioned that they would chase the boat if they felt threatened. Said Saskia, "I'm outta here!"
THE GIRLS GOT A SECOND WIND for animal watching at Lake Nakuru, a gem of a national park where they whipped out their life lists to mark that they'd completed their sightings of the Big Five (Cape buffalo, lion, elephant, leopard, rhino): First, a leopard walked in front of our vehicle and disappeared back into the forest; later, we watched white rhinos graze before a backdrop of bird life on the floodplain. At Sweetwaters, they got to pet a tame black rhino named Morani, encased in an armor of thick skin, and visit its chimpanzee sanctuary, the only one of its kind in Kenya, which was started with the help of the Jane Goodall Institute.
Our accommodations and food proved to be as varied as the animals we encountered along the way. Kenia Tours has its own campsite in the Mara, which, as Ashvin warned us, is basic. Twenty permanent tents (each with two beds and a mosquito net), an open-sided dining shack, and shower and toilet stalls encircle a central area where we sat around a campfire in the evenings. Flashlights and vapor lights provided the only other illumination.
Elsewhere, conditions were similar. Isaac kept us well fed and, like a mother hen clucking about her chicks, was always concerned that we weren't eating enough. Lunch and dinner often began with soup, followed by, say, chicken and rice, pasta, or beef stew, each meal served with potatoes and vegetables, or perhaps samosas and chapatis.
By the time we pulled into Sweetwaters, the girls and I were more than ready for the posh surroundings and such well-deserved niceties as being served glasses of a fresh tamarind drink upon arrival and finding flowers sprinkled on the pillows at turndown.
Throughout the moments of high drama, quiet observation, and questionable behavior—both the girls' and the animals'—Amyas and I could see that Saskia and Tamzen were absorbing our love of Africa. Confirmation of this came on our final day in Nairobi, when we said goodbye to Dixon. Saskia, who had appointed herself his assistant during the safari, said, "I want it to be two weeks ago!" and burst into tears as she hugged him. The upshot? I'm already planning next summer's trip to Botswana.
Kenia Tours and Safaris (011-254-20-223699, www.keniatours.com) is the ideal outfitter for an intrepid family that prefers independent travel. We set up a customized itinerary with the owner, Ashvin Bhatt (kenia@africaonline.co.ke), but the company also offers a range of scheduled family trips throughout Kenya, with accommodations ranging from upscale hotels, lodges, and tented camps to simpler facilities. The ten-day Best of Kenya visits the Masai Mara, Lake Naivasha, Amboseli National Park, Tsavo West National Park, and Mombasa (camping, $695 per person; lodges, $1,095; kids 12 and under are half-price). In addition to those spots, the 15-day Royal Safari includes the Aberdares, Samburu National Reserve, Mount Kenya, Lake Nakuru, and Lake Baringo ($1,495–$2,550 per person). Other reputable companies that run more luxurious family trips in Kenya include Micato Safaris (800-642-2861, www.micato.com), Abercrombie & Kent (800-323-7308, www.abercrombiekent.com), and Wildland Adventures (800-345-4453, www.wildland.com).