Alaska's Secret Island Realm
Keep the GPS handy, fly rod at the ready, and don't forget your rubber boots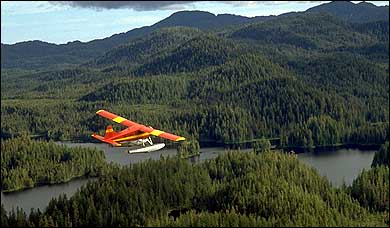 Heading out the door? Read this article on the new Outside+ app available now on iOS devices for members! Download the app.
UP UNTIL EARLY EVENING, when the oak tiller of our 32-foot sailboat, Antares, snapped off, leaving us adrift in the rock-studded seas of Imperial Passage, it had been a nearly perfect day. That morning, two old college buddies—Toby Koffman, 29, a marine technician and the owner of Antares, and Andrew Levine, 28, a law student—and I had awoken to a cloudless sky, a rare treasure in the usually sopping climes of southeast Alaska. Four days into a 12-day adventure, we had anchored in a sheltered bay on the west coast of Chichagof Island, surrounded on three sides by steep, densely forested slopes rising to 3,000-foot granite peaks.
southeast alaska, misty fjords, glacier bay, grizzly

Glacial pace: Paddling through Glacier Bay
southeast alaska, misty fjords, glacier bay, grizzly

Ursine Among Us: One of Alaska's great grizzlies
southeast alaska, misty fjords, glacier bay, grizzly

One-way ticket to paradise: The only way is to fly into the southeast

As we sat in the morning sun eating pancakes, thousands of salmon splashed across the bay toward the mouth of the Black River. We decided to follow them—first by dinghy, then on foot. Half an hour upstream, at a wide bend, we clambered 70 feet up an enormous Sitka spruce overlooking a gravel beach covered with grizzly tracks and salmon bones. After rigging safety harnesses and seats with lines from the boat, we sat up there for almost two hours, scoping for bears (they were apparently taking the day off) and watching bald eagles glide below us. On the hike downriver, I plucked two Dolly Varden from among the salmon herd, bagging them for dinner.

A strong breeze was coming off the ocean when we reached Antares, so we decided to take a chance. It had been a sublime day—what could go wrong? We donned storm gear, howling with glee at the anticipation of a ripping sail north to White Sulphur Springs, where we'd dine like warriors on fresh fish and have a hot soak.

Then Toby fell on the tiller. We'd left the bay and were barreling westward down the passage on the strength of 20-knot winds when Toby slipped and—crack!

A moment of stunned silence followed by recognition, followed by "Holy shit!"

"It's OK!" Toby hollered. "I should be able to use the sails to angle us past the rocks. We need to get offshore."

Offshore?!

"There's nothing to ram in the open ocean," he said.
SO IT GOES IN SOUTHEAST ALASKA. One moment you're savoring a pristine wilderness; the next you're scrambling to save your ass. Also known as Alaska's panhandle, or just "Southeast," the region dangles off the western edge of British Columbia. On the map it's a frayed green fringe punctuated by toothy peaks and massive glaciers that give way to the Alexander Archipelago, a dense network of some 1,100 islands blanketed with towering Sitka spruce and cedar. Stretching 400 miles north to south, from Glacier Bay to Misty Fjords, and about 100 miles across, Southeast encompasses the 16.8-million-acre Tongass National Forest—the core of the world's largest temperate rainforest—and enough bears, whales, otters, eagles, and salmon to make you feel like you've been genetically shortchanged for not being born with fur, blubber, or feathers. (For now there are almost no roads, but that could soon change: Last December the Bush administration exempted the Tongass from the Clinton-era "roadless rule.")

But beware: Southeast is wet. Rainfall in the southern region averages 140 inches a year, nearly four times as much as in Seattle. Every town is a port, so going anywhere means boarding a boat. Which is to say, rubber boots are the footwear of choice. The 71,000 hardy permanent residents seem impervious to anything but the heaviest downpours. In 1996, at the end of my first trip to Southeast, I'd spent three days waiting for a ferry in the fishing town of Petersburg, feeling like a wimp each time I left my hotel room in a Gore-Tex jacket. The locals never wore more than cotton sweatshirts.

That summer I'd completed a 28-day, 360-mile kayaking expedition through Misty Fjords National Monument and a stretch of the Inside Passage between Ketchikan and Petersburg. Six years later, I'd sailed with Toby between the same two towns for ten days along a slightly more exposed route. Last summer I wanted to explore the more rugged outer coast to the north. So, after Toby, Andrew, and I met in Sitka—a tidy town of 8,800 featuring 150-year-old Russian architecture—we set sail for the West Chichagof-Yakobi Wilderness, a 265,000-acre expanse dotted with hundreds of barrier islands that serve as rookeries for murres and auklets, rocky hangouts for seals, and feeding grounds for humpback whales. We had our own boat, fishing gear, binoculars, bear spray, and three pounds of fine Italian salami. Come hell or high water—and both did—we would survive.
WHAT WE WANTED most of all was to see bears. Well, that and to sail from one backwater cove to the next and charge through the old-growth rainforest and up empty alpine peaks. Our wishes were granted immediately. On the first day after leaving Sitka, we stepped ashore on the northern tip of Baranof Island and spotted a grizzly sow and two cubs scavenging on a broad tidal flat. We sailed farther north the next morning, heading for Mount Lydonia, a 3,262-foot oceanfront peak that Andrew concluded from our topo map we could climb "in a long afternoon." Turning Antares into a bay near the mountain's base, we spied a lone griz patrolling a grassy beach. As we drew closer, it stood to get a better look at us, its round ears giving it an odd Mickey Mouse appearance, then snorted and disappeared into the forest. Four hours later, we stood muddy and panting on Lydonia's slick granite shoulders, gaping at the view of the Alaska mainland, where, some 100 miles north, the white slopes of 15,300-foot Mount Fairweather burst from the far side of Glacier Bay.

The next day brought our tiller mishap in Imperial Passage. But an hour after we headed out to sea, Toby had remedied our predicament by MacGyvering a replacement from plumbing parts and rope. We dropped anchor in Mirror Harbor, near White Sulphur Springs, at 8 p.m. and took the next day off to soak in the clear, 110-degree waters at the Forest Service-maintained bathhouse, sharing space with seven other pilgrims and splashing in the huge tide pools nearby.

That evening we rendezvoused with Chris Howard, a rambunctious 37-year-old fisherman turned adventure outfitter who had motored down to meet us from his home in Pelican. Our plan was to hike into Chichagof's inland lakes with Chris's lightweight collapsible canoes. The first mission took us north to Lake Elfendahl, a daylong there-and-back involving a short motorboat ride, a bushwhack along the Porcupine River, a paddle to the far end of the lake, and a frigid swim.

The next day, we headed south to the mouth of the Goulding River, where we launched a backbreaking seven-hour portage up through steep forest to the Goulding Lake Forest Service cabin. At one point, we rounded a blind corner and startled a gigantic grizzly sow and her cub as they crossed a shallow, rocky creek. Stopped dead in our tracks just 30 feet above them, we instinctively burst into the noisemaking routine we had concocted to prevent surprise bear encounters—me blowing a whistle, Toby honking a plastic horn, and Andrew feebly clapping and singing funk tunes. The bears and our guide were equally stunned; mama and cub bolted across the river and up a far bank, while Chris nearly wet himself with laughter. (The three of us would later conclude that taking such an aggressive posture with a big grizzly after you've already surprised it might not be the best move.)

We finally reached the cabin in the late afternoon, just in time to scan the surrounding peaks for hiking routes before a heavy fog settled in. Built on a narrow spit of land dividing Otter Lake from Goulding Lake, the cabin proved to be the perfect base. Out back is the hulking 2,500-foot massif of Big Chief; out front are the lakes and the route downriver, which includes two waterfalls and some prime cutthroat trout fishing. We pulled dinner from below the lower falls and spent another day crossing Otter Lake and exploring the boggy headwaters of the Steelhead River.

We spotted four more grizzlies during our rainy return trip down the Goulding. One smaller bear, about three years old, lingered near the river mouth as if he were hoping to bum a ride back to Peli- can, where Andrew and I would catch a floatplane to Juneau the next day.

"Poor guy," said Toby. "His mom probably ran him off this spring."

Sad as he looked, I found it hard to feel sorry for him. An endless buffet of salmon was heading in his direction and wouldn't slow down for another month. Upstream were falls and lakes, a forest full of ripe berries, and, once we were gone, not a single human.

"I don't know," I said. "I think he's got it pretty good."
Getting There Alaska Airlines (800-252-7522, www.alaskaair.com) flies into the major Southeast towns ($575 round-trip from New York to Juneau). The Alaska Marine Highway (800-642-0066, www.ferryalaska.com) runs twice-weekly ferries along the Inside Passage from Bellingham, Washington, accessing 14 cities. The 61-hour trip to Juneau costs $262 per person.

1. Up and Down the Outer Coast
Hyperactive outfitter Chris Howard packs boatloads into this seven-day trip: From the Greentop Forest Service Cabin on the southwestern tip of Yakobi Island to a camp near White Sulphur Springs on Chichagof Island, you'll sea-kayak salmon-choked sloughs, fish for king salmon and halibut, hike through virgin forest, and canoe alpine lakes. ($3,500 for two people from Pelican, all-inclusive; 877-254-8433, www.howardcharters.com)

2. Cruising the Inside Passage
Maximize adventure and comfort in equal proportions on an eight-day Lindblad Expeditions cruise between Juneau and Sitka aboard the MV Sea Lion or MV Sea Bird. These 152-foot, 70-passenger sister ships are staffed with five pro naturalists, so the trips focus on guided hikes, kayak outings, and wildlife encounters (including a day of gawking at Steller sea lions in Glacier Bay National Park and a morning cruise up Tracy Arm to the base of Sawyer Glacier), instead of shuffleboard and champagne. (From $3,840 per person from Juneau, June to August; 800-397-3348, www.expeditions.com)

3. Exploring Glaciers and Fjords
Captain Jim Kyle's 62-foot wooden motorboat, Home Shore, is the ideal roving base camp for up to six passengers. The circumnavigation of Baranof Island gets you far from civilization, cruising 30-mile-long fjords that cut deep into the island's mountainous and glaciated interior and kayaking along the island's eastern "Waterfall Coast." ($2,400-$3,000 per person from Sitka, ten scheduled trips each summer; 360-592-2375, www.homeshore.com)

4. A Cabin in the Woods
Of the more than 100 Forest Service cabins in Southeast, two fly-in-by-charter-plane sites stand out: Goulding Lake Cabin, in the heart of the West Chichagof-Yakobi Wilderness, and Swan Lake Cabin, below the glaciated Cosmos Range, on the mainland 18 air miles northwest of Petersburg, near Thomas Bay. Cabins cost $35 per night, with bunk space for seven but no water or electricity. (Bring your own food, sleeping bags, and cooking gear.) Reserve through the National Recreation Reservation Service (877-444-6777, www.reserveusa.com). Contact Alaska Sea Planes (888-350-8277, www.akseaplanes.com) for information on charter flights.

5. Kayaking Misty Fjords
The northern waters of this stunning 2.3-million-acre national monument are visited by only a few dozen intrepid sea kayakers each year. Be prepared to feel small as you paddle beneath 3,000-foot granite walls or encounter pods of orcas in Behm Canal, your main thoroughfare for paddling Misty. If you have solid kayaking skills, Ketchikan-based outfitter Southeast Sea Kayaks (800-287-1607, www.kayakketchikan.com) will set you up on a ten-day self-guided tour, with most nights spent in Forest Service cabins ($600 for a double kayak, plus $200 for a boat shuttle into the fjord). Novices can be led on a five-day trip through Walker Cove and Rudyerd Bay. ($1,390 per person, all-inclusive from Ketchikan)