America's Nordic Skiing Meccas
The sport has long been the cardio cousin to carving lines alpine style. But, people are finally beginning to realize that it's actually a lot of fun! Especially if you hit up one of the trails listed here.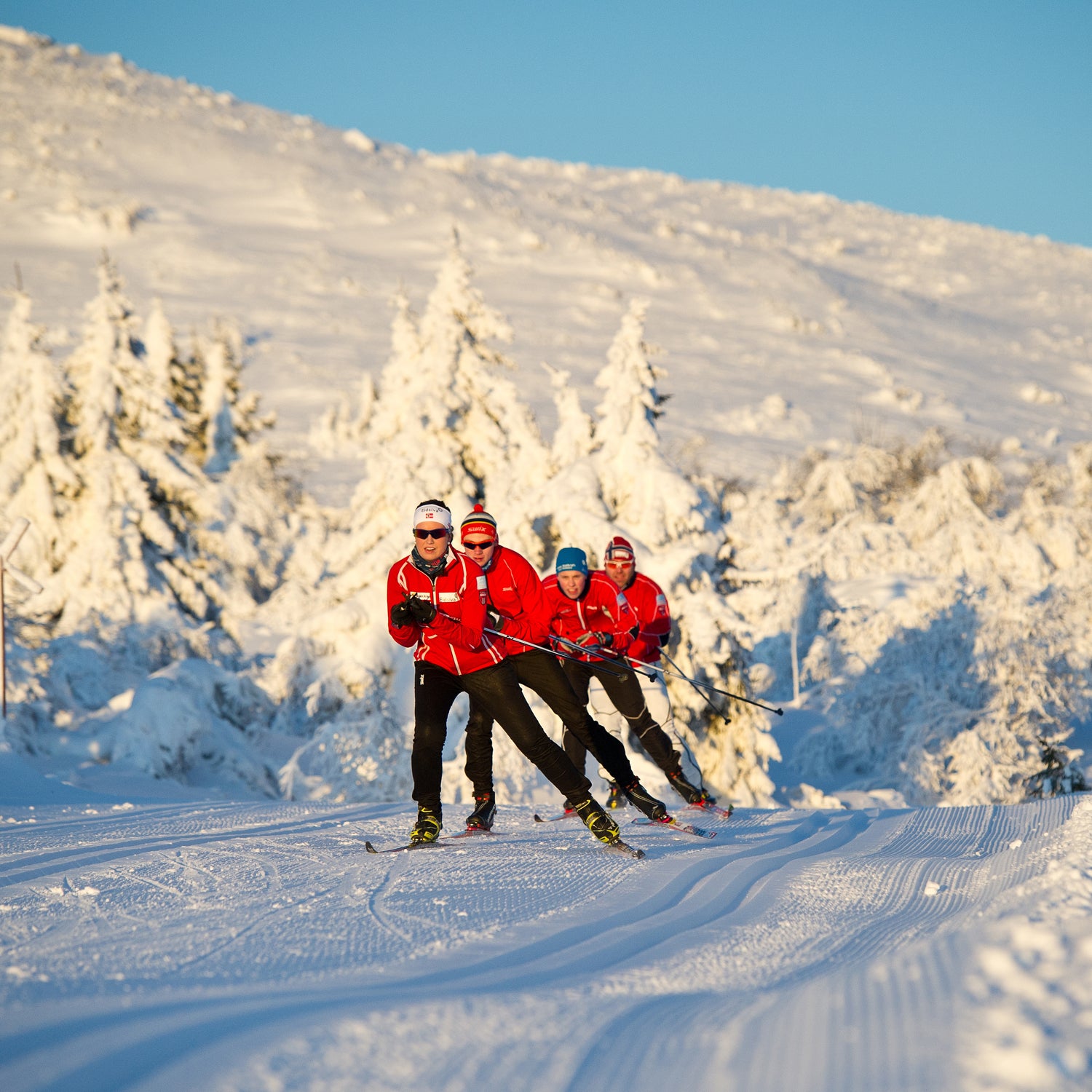 Ola Matsson(Photo)
Heading out the door? Read this article on the new Outside+ app available now on iOS devices for members! Download the app.
Nordic skiing began about 8,000 years ago in Russia but it's taken until now for the sport to start really catching on in the U.S. The proof is everywhere: Citizen races are booking out months in advance, alpine resorts are grooming new classical and skate-skiing trails (an offshoot of Nordic Skiing that developed in the '70s), and Americans are finally competing with the powerhouse Europeans. Earlier this month, Liz Stephen placed fifth in Italy's multi-stage Tour de Ski, the highest result ever for an American. And shortly after that, she came in second in the Cross Country World Cup.
Why is this cardio-intense sport, formerly practiced only by diehard Nordic fanatics, being embraced by the masses? One reason could be that it kills winter depression and improves both mind and body health. According to the soon to be published "Birkie Health Survey," a study of 24,000 past participants in the American Birkebeiner, the largest cross-country ski marathon in North America, it's the best sport there is for both physical and mental well-being. Nordic skiing exclusively "provides whole body activation, excellent neurological benefits from repetitive movements that require careful coordination, and multiple psychological benefits, including empowering people to break free from winter isolation," Dr. Paul Anderson, a preventative medicine expert at The Mayo Clinic who conducted the Birkie Health Survey, told Outside. "Plus, it's beautiful to glide through the woods."
Nordic skiing is also a lot easier on the joints compared to alpine skiing and is a fraction of the cost, with a pass averaging $10 to $20 for the majority of groomed trails. Most importantly, gliding across corduroy is the most exhilarating, if lung-busting adrenaline rush on snow. But don't take our word for it, try it here:
Beginners, Start Here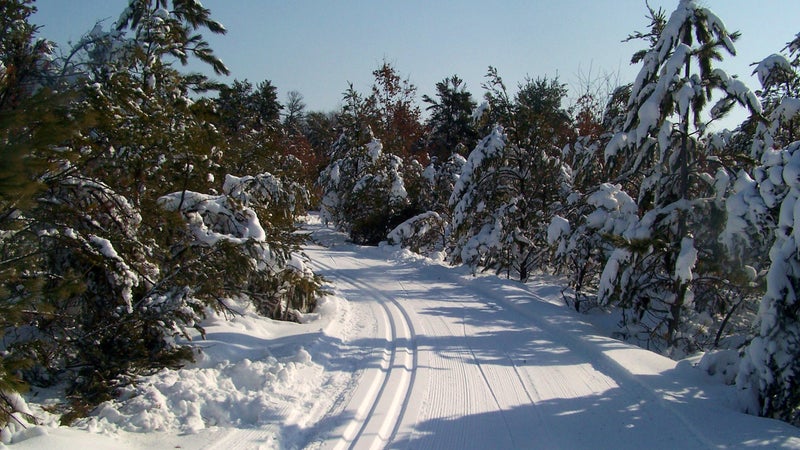 Cross-Country Ski Headquarters (Roscommon, Michigan)
For 40 years, this family-owned 18k trail system 2.5 hours north of Detroit has been solely devoted to Nordic skiing. It's obvious in the meticulous care the owners take with daily grooming on trails that wend through the deep Michigan woods. With four certified full-time PSIA instructors on site, beginner to intermediate terrain, a rental quiver of high-quality skis, and a ski shop stocked with the latest Nordic gear, it's almost a guarantee that beginners will walk away glowing with the joy of a newfound love. If they don't, they can get the glow by parking in front of the two-story fieldstone fireplace in the Day Lodge with a steaming bowl of chile and a side of fresh organic bread. Nearby, The Springbrook Inn offers free trail passes, an on-site tiki bar, and your choice of an in-room fireplace or Jacuzzi.
---
Where to Go to Train Like a Pro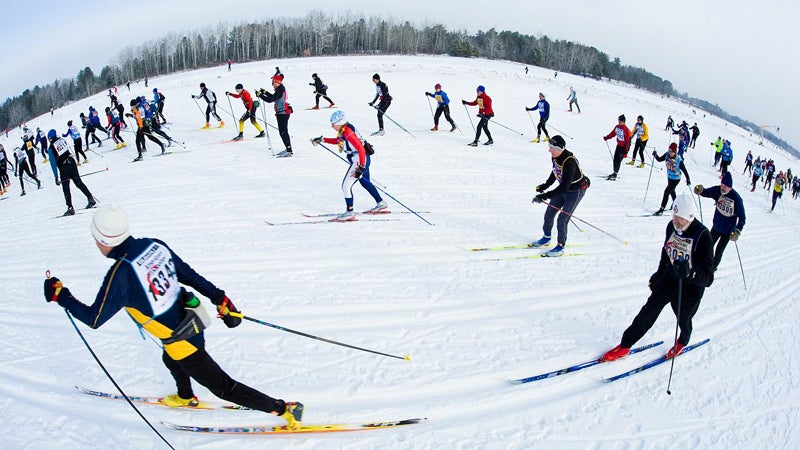 The Birkie Trail (Hayward to Cable, Wisconsin)
One hundred and fifty miles northeast of Minneapolis is the 107k Birkie Trail System, a 30-foot-wide groomed ribbon of snow on which almost 11,000 skiers will race on February 21 in the 51k skate and 55k classic American Birkebeiner. It may be in the Midwest, but don't be fooled into thinking this trail is flat. Topping out at 1,730 feet there's a reason its endless series of hills that stretch from Cable to Hayward have names like "Bitch" and "Firetower"—the course climbs 4,500 feet and feels like a roller coaster. After such a workout, your post-ski beer will never have tasted better. Try a Keeweenaw Widow Maker black ale on tap at Rivers Eatery. Less than a mile from the "OO" trailhead, at the halfway point of the Birkie Trail, is the Forest Moon Bed & Breakfast with a stone fireplace and generous breakfasts.
---
Take Skiing Out of the Woods and Into the City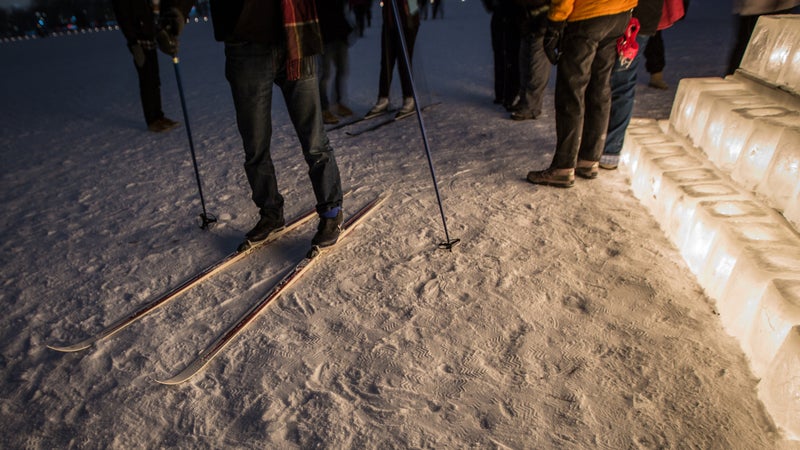 City of Lakes Loppet Ski Festival (Minneapolis, Minnesota)
This three-day "urban cross-country ski festival," starting January 30, takes skiing out of the woods and into the center of the city. Competitive racers and Nordic putzers alike can partake in events like a 21k classic race, a skate-ski marathon, or Saturday night's "Luminary Loppet": ski, snowshoe, or walk an illuminated path around Lake of the Isles, pass ice sculptures and fire dancers, and stop for hot cocoa along the way. One lake over, at Lake Calhoun, warm up under the big tent with live bands and Surly beer. The sleek downtown Le Meridien Chambers boutique hotel is close to the action and has a state-of-the-art gym for when the temperature takes a dive. And bring your friends! Fat biking, snowshoeing, dog sledding and skijouring are all welcome.
---
Clock Olympian Feats on These Biathlon Byways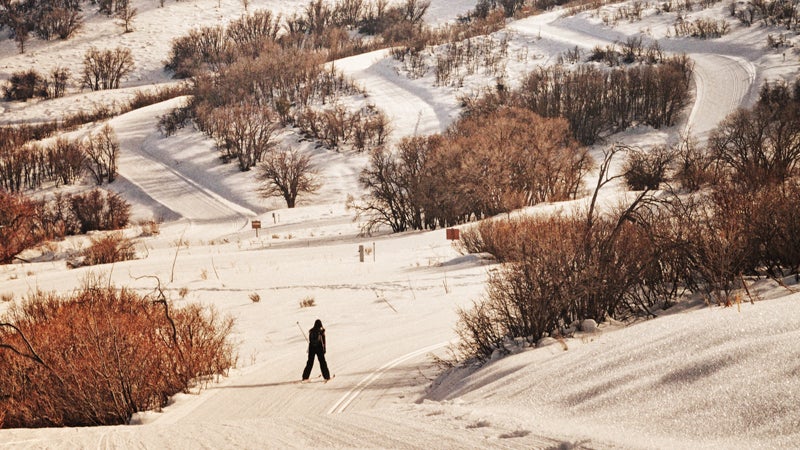 Soldier Hollow (Wasatch Mountain State Park, Utah)
Remember Soldier Hollow? It was the venue for the 2002 Olympic cross-country skiing and winter biathlon events (rifle shooting plus Nordic skiing), and has since hosted World Championship and National Championships. That means that the facilities are still top-notch. There are 31 kilometers of well maintained skating and tracked trails and you can take a shot at hitting the bulls-eye on the biathlon range using a 22-caliber Olympic rifle (safety course required). Before or after, rest up at a Douglas fir day lodge with floor-to-ceiling views of the Wasatch Mountains. Looking to upgrade your quiver? The rental shop is a Rossignol demo center, so you'll get expert help. Stay at the Old Town Guest House, a cozy, four-bedroom inn 30 minutes north in Park City. We recommend McConky's Suite, which sleeps four and takes up the entire second floor.
---
Conquer the Beast Out East
Craftsbury Outdoor Center (Craftsbury Common, Vermont)
With 105k of groomed and skating and classical trails that lope through fields and forests, Craftsbury Outdoor Center is like a Norman Rockwell painting in Spandex. Founded in 1976, almost 40 years later the goal at this East Coast institution, located 1.5 hours northeast of Burlington in the center of the Northeast Kingdom, is still to deliver the best groomed trails on the East Coast. Armed with three PistenBully groomers, three snowmaking guns, and groomers known for their obsessive-compulsive attention to detail, Craftsbury can keep its promise. There's rarely a bad snow day here between November and March. For an Esprit de Corps weekend, bunk in a basic room with a shared bath and eat three hearty, communal meals per day, often made from local produce and meat raised on site. For more privacy, rent a lakeside cottage.
---
Try High-Altitude Training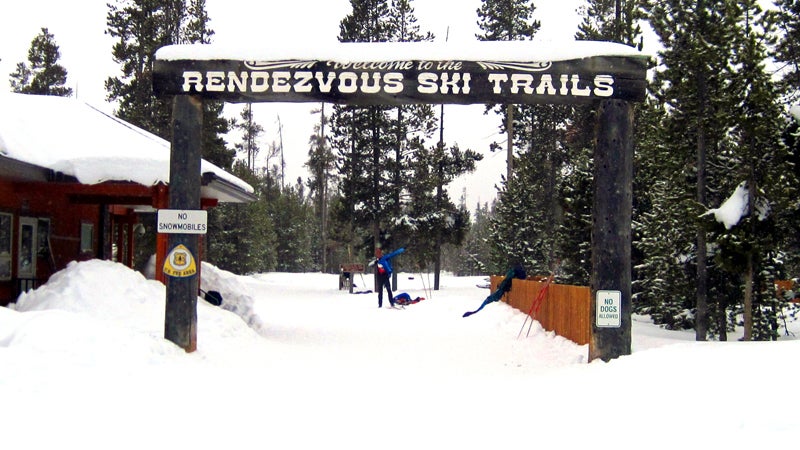 Rendezvous Ski Trails (West Yellowstone, Montana)
This village, which sits at the western entrance of Yellowstone National Park just 30 miles northwest of Old Faithful, has always been a pre-season training Mecca for Nordic skiers, thanks to its consistent snow from November to April. It's also not hurt by the 40K of impeccably groomed Rendezvous Ski Trails that sit at 6,600 feet above sea level on a plateau. While they're high, the trails are still flat enough to practice skating technique, like the V-1, V-2, and the V-2 Alternate. Stop off at Freeheel and Wheel, two blocks from the National Park entrance to buy or rent gear and a steaming Zebra Mocha before hitting the trails. The new Explorer Cabins have kitchenettes and free Wi-Fi.
Lead Photo: Ola Matsson
Trending on Outside Online