And a Cast of Thousands
An adventurer's guide to animal migrations—the greatest shows on earth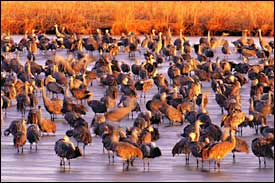 Heading out the door? Read this article on the new Outside+ app available now on iOS devices for members! Download the app.
AT ANY GIVEN moment, in every corner of the globe, in the air, through the water, and across the land, animals are performing Herculean feats of migration. Every spring, millions of blackpoll warblers, each five inches long and weighing barely half an ounce, complete a 50-day, 6,800-mile journey across the Americas, flying from the Amazon to western Canada and Alaska. To achieve a similar level of metabolic exertion, a human would have to run more than 40 back-to-back marathons at a sprinter's pace. Or consider the 500,000 Magellanic penguins that swim 2,000 miles from as far north as Rio de Janeiro to a tiny patch of beach in central Argentina each September at speeds of up to six miles per hour. To match this, a human would need to swim faster then Ian Thorpe—for nearly two weeks straight. And then there are the more than one million wildebeests and the 300,000 zebras that travel 250 miles across Africa's Serengeti Plain twice each year. (Imagine the entire population of Houston getting up one day and thundering, en masse, to Dallas.)


Although these animal pageants go back millennia (the flight paths used by North America's sandhill cranes are more than nine million years old), other great migrations have been extinguished or are mustering smaller and smaller numbers. The huge herds of American buffalo are long gone. And the vast aggregations of salmon that once migrated by the millions up the Columbia River to Red Fish Lake, Idaho, dwindled to just a single fish in 1992 (thanks to conservation efforts, the numbers are now rebounding).
To help you witness one of these magnificent wildlife spectacles for yourself, we present eight of the most colorful and inspiring animal migrations the world has to offer. From bats to whales and wildebeests to butterflies, you've never seen animals move like this.
Wildebeasts and Zebras
When it comes to large, charismatic animals on the go, nothing compares to East Africa's Serengeti. Each year more than a million wildebeests and up to 300,000 zebras, marching nose-to-tail in lines that extend as far as the eye can see, inscribe a counterclockwise loop across the savanna from Tanzania's Ngorongoro Crater to Kenya's Masai Mara National Reserve. Visitors who watch this spectacle can expect all the high drama and unhinged theatrics of a Puccini opera. Among the highlights: the height of the wildebeests' calving season, a three-week window in January or February in which 90 percent of the pregnant cows give birth, enacting the miracle of life while laying out a Vegas-style buffet for hordes of ravenous hyenas and lions; and the crossings of rivers like the Mara and the Grumeti, when wildebeests and zebras play Russian roulette by swimming through croc-infested waters. The exodus north typically begins in April; in October—or thereabouts—the animals turn themselves around and retrace their steps.

See for Yourself: Go on an outfitted Kenyan safari in July, August, or September, or a Tanzanian safari from December through March. Land Rover­sed trips allow you to get within 15 feet of the animals safely. A safari with mobile tented camps provides the most flexibility. Contact Mountain Travel­ek (888-687-6235; www.mtsobek .com); Geographic Expeditions (800-777-8183; www.geoex.com); Abercrombie & Kent (800-323-7308; www.abercrombiekent.com); or The Africa Adventure Company (800-882-9453; www.africaadventure.com).
Magellanic Penguins
For four months of the year, the beaches of Punta Tombo, 930 miles south of Buenos Aires, lie undisturbed beneath the Argentine sun. Then come the penguins—approximately 500,000 of them, the largest gathering of Magellanic penguins in the world. Moving like a wave of hydrodynamic perfection, alone or in groups of 30 to 40, they've traveled up to 2,000 miles from feeding grounds as far north as Rio de Janeiro to find new supplies of anchovies, squid, and crustaceans. Braying like mules, they waddle ashore beginning in September, ready to court, mate, and molt. At first glance the penguins look like identical, animated lawn ornaments. But walk the gravel paths of the 600-acre Punta Tombo Wildlife Reserve and you'll see that each bird has its own unique markings and mannerisms. Within weeks, they shed their worn-out feathers, covering the coastline with snowy down, and replace them with new watertight layers. The birds are donning fresh swimsuits for their return trip north in December, when they'll leave the pingüera in peace.

See for Yourself: Argentina-based tour operator Causana Viajes (011-54-2965-455044; www.causana.com.ar), founded by a former ranger at the rookery, offers three-day wildlife-watching trips to Punta Tombo and nearby Peninsula Valdés (from $340 per person, including hotel accommodations and transportation from Puerto Madryn, 110 miles north of Punta Tombo). It's also easy to visit Punta Tombo on your own; the reserve is 60 miles south of the international airport in Trelew.
Caribou
Each March or April, 129,000 caribou leave their wintering grounds on the Porcupine River in the Canadian Yukon, point their noses northwest, and don't stop until, ten days, 350 miles, and an entire mountain range later, they reach a shimmering strip of tundra in Alaska's Arctic National Wildlife Refuge. Here the sun never quite sets, and the cotton grass is vibrant enough to qualify as God's own green shag rug. During their six- to seven-week stay, the caribou give birth, devour the grasses, and escape the ubiquitous mosquitoes by thrashing in the icy waters of the Beaufort Sea. They fill the air with their curious moos, make the ground vibrate with their shovel-size hooves, and dodge the wolves and grizzlies that trail in their wake. But as soon as the calves can keep pace with their elders, the herds vanish like smoke, Yukon-bound. Unfortunately, the caribou calving grounds occupy a section of the refuge that oil companies in nearby Prudhoe Bay have been eyeing for years. This summer, Congress votes on an energy bill that may open the area to drilling—activity that environmentalists warn could disturb the pregnant cows and alter the migration pattern. Upshot: Visit soon.

See for Yourself: Several Alaska outfitters run trips that coincide with the caribou migration. Try Spring Caribou Basecamp, June 4­10, with Arctic Treks ($2,550 per person; 907-455-6502; www.arctictreksadventures.com). To go on your own, make arrangements with a bush-plane service (from $300 per hour) such as Coyote Air (800-252-0603) or Wright Air Service (907-474-0502), both in Fairbanks.
Mexican Free-Tailed Bats
With a 12-inch wingspan and a drag flap on its tail that retracts for faster flying, a Mexican free-tailed bat can easily cover 50 miles in a night. Each spring, 100 million of them migrate more than 1,000 miles from central and northern Mexico (and some from as far as Chile) to the limestone caves of the Texas Hill Country, where the females give birth to scads of inchlong bat pups. By May, the caves are crammed with bats—up to 300 per square foot—and carpeted yards-deep with crunchy guano. "The cave walls look just like fur," says Brian Keeley, a biologist with Austin-based Bat Conservation International. "The summertime maternity colonies of Texas are literally the largest, most dense concentrations of mammals on Planet Earth." Each day at dusk, the lactating mother bats emerge in massive cumulations of clicks, flaps, and flesh—a slam-dunk viewing opportunity for humans—to eat their own body weight (half an ounce) in insects. In September, they leave the colonyand ride the cold fronts south, to caves like Queva la Boca, near Monterey, Mexico.

See for Yourself: Naturalists from The Nature Conservancy of Texas lead tours at the Eckert James River Bat Cave near Mason, Texas, from May to September (no charge, 512-263-9201; www.tnc.org). Or try a guided trip to the state's biggest bat cave, Bracken, just north of San Antonio, with Bat Conservation International (free, for members only; membership $35 per year; 915-347-5970; www.batcon.org). Allergic to Texas? Watch the bats via the National Weather Service Doppler radar system at www.nws.noaa.gov.
Pacific Loggerhead Turtles
Until five years ago, the Pacific loggerhead turtles of Baja California presented a herpeto-logical enigma: Not a single nest had ever been found on North American sand. But in 1996, after two fruitless years spent scouring beaches from Guatemala to California in search of nesting evidence, researcher Wallace J. Nichols had a last-ditch theory. Knowing that turtles found off Japan are genetically similar to those off Baja and that an adult loggerhead will always return to its birthplace to lay eggs, he glued a $1,500 satellite beacon to the back of an adult Mexican turtle named Adelita and released her. "It was kind of in the back of my mind, 'Hey, wouldn't it be neat if she swam to Japan?'" says Nichols. "But I didn't think she'd make a beeline for it." Sure enough, paddling at speeds of up to a foot per second, Adelita reached the Nipponese coastline 12 months later, proving that loggerheads make an incredible 7,000-mile transpacific migration.

See for Yourself: Spend a week working with experts at the sea-turtle research station in Bahía de los Angeles, on the Gulf of California 350 miles south of San Diego—trips with One World Workforce start at $750 per person (800-451-9564; www.1ww.org). Or watch them on the other side of the Pacific: The Sea Turtle Association of Japan (011-81-72-864-0335; www.umigame.org) can set up tours of the nesting beaches on Yaku Shima island, 60 miles south of Kyushu. For more on sea-turtle protection, contact Wildcoast (831-426-0337; www.wildcoast.net).
Monarch Butterflies
They may look fragile, with rice-paper-thin wings and bodies no larger than Bic pen caps, but each summer, millions of North American monarch butterflies transform themselves into Ironman-worthy endurance athletes for one of the most grueling migrations in the insect world. In late August, legions of young monarchs living east of the Rocky Mountains hit the skies for a 60-day, 2,000-mile trip south. They cruise over America's Bible Belt, covering up to 30 miles a day and collecting stores of fat that rival those of Japanese sumo champions as they feed on marigolds, foxgloves, and buttercups. By December, more than 300 million butterflies have landed in the oyamel pines in the mountains of south-central Mexico. They cling to the evergreens in dense clusters like bright orange-and-black shingles, their collective body mass (an astonishing 400,000 pounds) bending and snapping the tree limbs. Sadly, not everyone appreciates the monarchs' beauty: Illegal logging operations threaten their Mexican habitat.

See for Yourself: Hike the steep trails of El Rosario Butterfly Sanctuary, 100 miles west of Mexico City, near the village of Angangueo, from December through March (admission $5 per person; for more information, call the Mexican Tourism Board at 800-446-3942). Camping is not allowed in the sanctuary, but you'll find basic accommodations in Angangueo. Natural Habitat Adventures offers six-day hiking and horseback-riding trips through El Rosario and the nearby Sierra Chincua Sanctuary in January, February, and March ($1,995 per person; 800-543-8917; www.nathab.com).
Southern Right Whales
According to Roger Payne, president of the Massachusetts-based Whale Conservation Institute, a southern right whale migrates far enough over its lifetime to circle the globe seven times—though because the exact migratory routes remain a mystery, he can't be sure it's not even farther. Random sightings in the South Atlantic Ocean suggest that these 80-ton elephants of the sea spend part of the year hovering around plankton blooms near the Antarctic Circle. What is certain is where they go each austral winter: In July, hundreds of right whales surface along the coast of South Africa. Spend a few hours on the five-mile clifftop trail above Hermanus, 75 miles east of Cape Town on Walker Bay, and you'll spot up to 70 of the hulking mammals, their shadowy, 60-foot silhouettes so close that you can see the huge white calluses on their foreheads. Mothers hug the shoreline with their one-ton infants to avoid the marauding killer whales; the more carefree members of the species breach, float on their backs, and use their 12-foot-wide flukes to catch the wind and sail hundreds of feet across the harbor. When the Antarctic storms subside, in December, the whales follow the cold currents back south.

See for Yourself: Stay at the Nelshof Blue Beach House in Hermanus and you can watch the whales right from your veranda ($43 per person per night; 011-27-28-3140201; www.hermanus.co.za/accom). Or call Ocean Blue Adventures for a two-hour or half-day land- or boat-based whale-watching trip ($20­$60; 011-27-44-5335083).
Sandhill Cranes
Late February is avian spring break on an 80-mile stretch of the Platte River—at least for some 500,000 sandhill cranes on their 3,500-mile migration from Mexico and Texas to their summer nesting grounds in Siberia, Alaska, and Arctic Canada. This six-week-long party in the marshlands of central Nebraska draws nearly 90 percent of the world's sandhill crane population, eager to gorge on snails, insects, and leftover grain littering the surrounding farmland as they bulk up (by as much as 25 percent) for the remainder of the arduous journey north. In the mornings, flocks of cranes with crimson foreheads and long, knobby legs wheel out of the riverbed, skimming above the heads of spectators as they fan out to forage for food and engage in nine-million-year-old courtship rituals: bowing, leaping, and displaying six-foot wingspans. The real studs saucily toss sticks and corncobs with their beaks. At night the massive birds wing their way back to the Platte, announcing their arrival with sharp, guttural crows before splashing down in droves (up to 12,000 birds per half-mile) and s ettling in for the night.

See for Yourself: The Crane Meadows Nature Center in Wood River, Nebraska (308-382-1820), and the National Audubon Society's Lillian Annette Rowe Bird Sanctuary in Gibbon (308-468-5282) offer crane-watching walks on the Platte in March and early April ($15, two hours).Or sign on for a five-day bird-watching trip along the Platte and Missouri Rivers with Victor Emanuel Nature Tours ($795 per person; 800-328-8368; www.ventbird.com).

Written and reported by Philip D. Armour, Jason Daley, Kevin Fedarko, Eric Hansen, and Chris Keyes
Meet Mr. Migration
Allen Bechky, 54, spent 20 years running Mountain Travel­Sobek's Africa department, wrote two definitive books on adventuring in Africa, and now guides custom animal-watching tours all over the world. We chased him down at his home near Berkeley.
Your success as a guide depends on your sense of where the animals are migrating and when. How do you make these calls?
The Serengeti is such a big place–you're looking at a good 5,000 square miles of plains. I'd say the trick is to play it somewhat by ear: Schedule camps in several different locales, and have the mobility and the will to go exploring far afield.


Have you ever struck out completely?

No. I think if you have the right spirit, it's impossible to strike out. Last year I did a safari in the beginning of May, and there was hardly a wildebeest to be seen. But we found a group of male cheetahs, four brothers. They jumped on the hood of my vehicle to use it as a vantage point, much as they would a termite mound. Eventually, this little baby wildebeest that had lost its mother ran toward us, bleating. The thing came within a hundred feet and these cheetahs nailed it, right there in front of us.
Any particularly memorable moments?

The first time I went to the Serengeti, I rented a VW Bug with a couple of friends. We had no idea where the hell we were going. We were driving around the plains in the dark and literally drove right through the middle of the migration. All we saw were thousands of eyes. Disembodied eyes, gleaming in the headlights. It was overwhelming.


How long do you see yourself doing this?
Probably forever. It's quite moving when there are animals in every direction as far as the eye can see. It's a vision of ages past that never ceases to stir me.
Gridflock
Where the birds are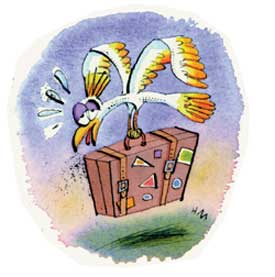 Want to ratchet up your life list in a hurry? Head for these migratory bottlenecks—places where geography, air currents, or weather patterns concentrate millions of migrating birds, from hundreds of different species, along a single avian interstate.

Point Pelee National Park
Where: Leamington, Ontario
When: April-­May
What: After the long haul across Lake Erie, migrating yellowthroats, widgeons, and waxwings–370 species in all—stop for refuge on this narrow spit of land. Call: 519-322-2365


Cape May Point State Park
Where: Cape May Point, New Jersey

When: April-­May
What: Millions of song and seabirds en route from South and Central America to the United States and Canada—more than 400 species, including loons and marsh wrens—take a breather here after their spring flights up the Atlantic Coast. Call: 609-884-2159
Hawk Mountain Sanctuary
Where: Kempton, Pennsylvania

When: August-­December
What: Trot your spotting scope up 1,540-foot Hawk Mountain to watch goshawks, ospreys, and peregrine falcons as they head for South America. Call: 610-756-6000
Strange Trips
Some migrations are less epic than others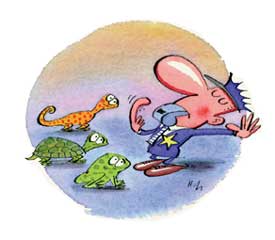 Reptile and Amphibian Crawl—In March and September, rangers in the Shawnee National Forest in Illinois close three miles of Forest Road 345 to protect 50 species of reptiles and amphibians, from stinkpot turtles to southern leopard frogs, as they crawl 1,200 feet between the 800-acre LaRue Swamp and hibernation spots below the Pine Hills bluffs.


Eel Ordeal—Eels from eastern Canada and the United States swim thousands of miles across the Atlantic each year to spawn in the warm waters of the Sargasso Sea. Then they die. Their young drift back to North American streams, where they huddle in slippery masses several miles long.
Garter-Snake Orgy—Some 20,000 red-sided garter snakes slither out of the grasslands and into warm, 12-foot-deep limestone pits near Narcisse, Manitoba, each September. In April, the garters coalesce in a mass of writhing, mating serpent flesh before heading back to the Canadian prairie.


Lemming Uprising—Every three to four years, when food supplies dwindle, the lemmings of Norway's coastal mountains storm from their burrows in gangs. The rodents scamper down roadways, blitzkrieging cities and forests.


Crab Carnival—In November and December, millions of red crabs overrun 52-square-mile Christmas Island in the Indian Ocean. They crawl up to nine miles from their rainforest homes, swarming through towns and getting into cupboards and cookie jars before depositing their eggs near the sea.