Back of the Bus: Q&A with Ray LeMoine and Jeff Neumann, authors of Babylon by Bus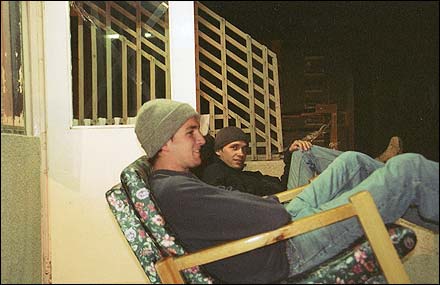 Heading out the door? Read this article on the new Outside+ app available now on iOS devices for members! Download the app.
Befuddled and heartbroken after watching the New York Yankees end their beloved Boston Red Sox's 2003 playoff run, Jeff Neumann and Ray LeMoine needed to get away. Far away. So, using the money they'd earned from selling "Yankees Suck" T-shirts in Boston, they hopped a plane to Jordan and bussed it into war-torn Iraq. Their upcoming book, Babylon by Bus, excerpted in "Everybody Must Get Zoned" in Outside's August 2006 issue, chronicles the duo's three months in the Green Zone and offers a true behind-the-scenes look at the people and events you won't see on CNN. Outside's Gordy Megroz spoke to Neumann and LeMoine about where they've been, how they got there, and where they're going next.
Babylon by Bus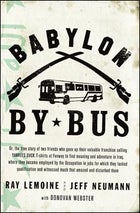 Outside: You guys have known each other for quite a while. How did you meet?
Ray: We were involved in the punk scene growing up, and we met at a concert in lower Manhattan when I was in high school and Jeff had just gotten out of high school. I was a roadie for a band and Jeff was in a band. Then Jeff moved to Boston in '97 and we reconnected.
Outside: And you guys obviously shared a passion for the Red Sox.
Jeff: Yeah, we would go to almost every home game. We went to every Pedro (Martinez) home start.
Ray: We knew the scalpers really well. They were our friends (as much as you can be friends with scumbags). It was an amazing time to be a baseball fan in Boston. For a while, we were vendors inside, too.
Outside: Is that when you came up with the "Yankees Suck" T-shirts?
Ray: Yeah, everybody was chanting "Yankees suck," so I was like, why don't we put it on a shirt? This one kid agreed to do it with me so we had 300 shirts made in New Jersey. When the crowds came out of the game onto Lansdowne Street, we sold all of them.
Outside: You must have turned a pretty penny. How much are we talking about?
Ray: A lawyer's salary. Let's put it this way, if I had started it by myself and I didn't have three partners, I probably would be sitting on a pretty serious fortune.
Outside: But instead, you guys used the money to travel to Iraq. What sparked the wanderlust?
Ray: Both of us have been doing it since we were in high school at least across America. There's a romance to it. We would go on tour in high school with bands and travel across America.
Jeff: Then I went to Europe, Japan
Ray: A million places.
Outside: Got a favorite spot?
Ray: Before, we just traveled to see places. Now we're attracted to places that have social unrest. If you see enough of the world, especially if you've been to these conflict zones, you realize what you like. I like places where there's a strong social dynamic.
Outside: Speaking of conflict zones, you guys decided it was time to head into a war zone when the Red Sox lost to the Yankees in game seven of the 2003 playoffs. Seems like you were going from one conflict zone to another. What, do you have some kind of death wish?
Ray: No! We figured if journalists and other people were there, then why couldn't we go? Plus, we had the money, so
Outside: How did you get in?
Ray: There was no border patrol in Iraq. You're like, 'wait a second, isn't this country supposed to be at war?' There wasn't even barbwire. Anybody could cross into Iraq in January 2004. It was harder to get into the 2004 World Series at Busch Stadium in St. Louis.
Outside: How so?
Ray: When we got back from Iraq, we drove to St. Louis for the World Series, but we couldn't get tickets for game four. (Note: the Red Sox clinched the 2004 World Series by winning game four of their playoff series against the St. Louis Cardinals.) So we did this thing we call "the run in." There was a caterer going in and we just ran at full speed behind him and made it in. In Iraq, we just walked in.
Outside: So, you're in Iraq. Now what?
Jeff: We walked into the convention center the first day we were there and were milling around asking questions about where we could get jobs. We split off and Ray went into the Iraqi Assistance Center and met Jody Lautenschlager and she pretty much hired us on the spot. She was running the Iraqi Assistance Center and what was to become the NGO Assistance Office. Jody was tough. She gets whatever she wants and usually with the best intentions.
Outside: Sounds like you met a lot of characters over there.
Jeff: Hayder Meheesen was probably the best friend we made. Before we had gotten there, he and his friends had built 20 or so soccer fields in Sadr City. Came in every single day and worked for free. They genuinely cared about their community. It sounds corny, but he was inspiring.
Ray: Heather Coyne was one of the most dynamic people that we met. She was part of what we call the 9/11 generation of soldiers. An amazing, amazing, group of people cut from all classes of American society. People that were so enraged by what happened on 9/11 that they enlisted, and I think these people ended up being the best thing we had over there.
Jeff: Heather also set us up with some of our housing. We lived in a back hallway in the main Republican Palace. It was partitioned off with cubical-style walls. It was Ray, myself, and Sergeant Jensen.
Outside: Wait, you were living in one of Saddam Hussein's palaces?
Jeff: Yeah! It was crazy! It was huge! Huge doors, mosaics everywhere, everything was marble. Saddam Hussein's initials were on everything even toilet-paper rolls. His throne was still in there. We'd hang out on his couches. One of the rooms that had been converted into bunks had paintings of scuds with an Iraqi flag headed toward Israel. Out back was Saddam's pool with an Olympic high-dive and on the bottom there used to be a mosaic of his face. They drained it and painted the tiles with blue, then refilled it. We would swim out there every day.
Outside: Saddam would be so pissed if he knew you two infidels were swimming in one of his pools.
Jeff: Oh yeah. Diving into his pool. Pissing in the pool. I have pictures of us jumping off his high-dive.
Outside: It wasn't all fun and games though. Any really scary moments?
Ray: When we got there, Westerners could still walk around without being target=ed. Baghdad's a huge city. Its population is something like six million but it's spread across a pretty serious amount of land. So if you stayed in the right areas you were OK. There was one time when we were up in Kirkuk, which was supposed to be at peace, and we look out the window and there's a raging battle going on between the Kurds. Mostly, we never feared for our lives because we were naïve and we didn't know how bad it was getting. Looking back, we should have been much more careful.
Outside: So was it more dangerous to be a Red Sox fan in the middle of Yankee Stadium than it was to be an American in the middle of Baghdad?
Ray: At that point, yes. If you're a Red Sox fan in the bleachers at Yankee Stadium, you'll get your ass kicked. In Baghdad we didn't have a problem. But now it's much different. When we were there, there were hundreds and hundreds of media people. Now everybody's gone. Around April 2004 is when everything changed.
Outside: And that's when you guys decided to get out of there.
Ray: We were target=ed for assassination so we had to leave.
Outside: You were "target=ed for assassination?!" Why?
Ray: We held a big inter-Iraqi meeting inside the Green Zone that average Iraqi citizens could come to. So it was a target=. We were told that our meetings had been infiltrated and there were three bomb attempts there. We kind of shrugged it off but after we left, the guy who took over our program was killed.
Outside: So when did you finally leave?
Ray: We left on April fourth. They call it Black Sunday. It's the day Fallujah went off too. Then we went to Jordan. We'd planned to go back to Iraq, but in Jordan we got into a fight with a newspaper vendor because I was reading a newspaper I hadn't paid for and we were arrested and sent to jail. We were sentenced to 11 years. But we had a connection at the U.S. embassy in Jordan. So we called him and the embassy got us out. Then the army told us we couldn't go back to Baghdad, so we went to Israel, then to Vegas for a friend's bachelor party and wedding. Terrible idea. Horrifying. I'm scared of Vegas now.
Outside: So, then you decided to write Babylon by Bus.
Jeff: Yeah, we started writing the book in NY over the summer (of 2005), then at the end of the summer we went down to a cabin in Virginia and stayed there for a month and a half. Then we decided to take a break, so we rented a Mustang and drove through the South for a couple of weeks. We finished it up in NY.
Outside: Our sources tell us Kevin Federline (Britney Spears's husband) had a large role to play in the writing process. What's that all about?
Jeff: (Laughs) K-Fed was inspiration, man. We would go to the Wal-Mart about 50 miles from the cabin in Virginia, like once a week. Otherwise we were way out in the woods, and our getting back in touch with reality was celebrity gossip magazines. We were psyched on K-Fed's style. We thought he was a cool guy.
Outside: What's next for you guys? Maybe sell some "Insurgency Sucks" T-shirts in Baghdad?
Ray: Yeah, in Arabic.
Jeff: (Laughs) I doubt it.