Everest Sherpas Issue Demands
The climbing season may not be closed for business just yet this season, but it may be tough to convince the mountain's most important climbers to carry on.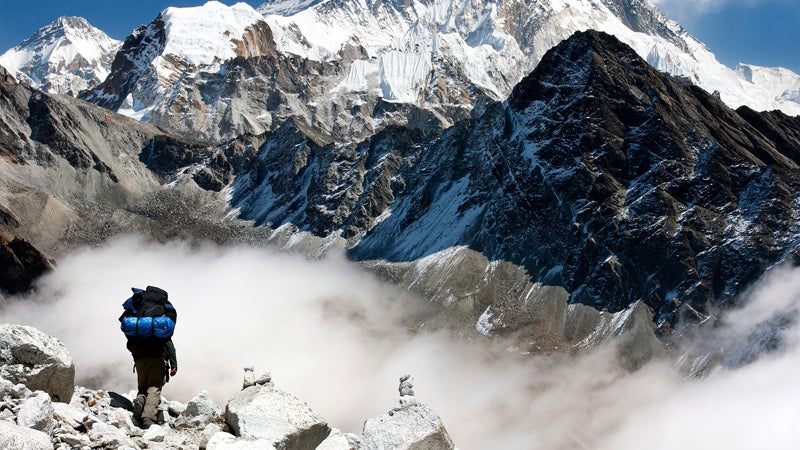 Daniel Prudek/ThinkStock(Photo)
Heading out the door? Read this article on the new Outside+ app available now on iOS devices for members! Download the app.
The 2014 Everest climbing season is in limbo and will probably stay that way for the next few days, but it's too early to hang a "closed for business" sign on the world's highest peak. Though one prominent outfitter has announced that it's shutting down operations for the spring—Seattle-based Alpine Ascents International (AAI)—many others are still mulling over what to do next.
This process is playing out amid a Base Camp atmosphere that remains incredibly tense just days after the deadliest avalanche in Everest history, which killed 16 high-altitude porters, nearly all of them ethnic Sherpas. Over the weekend, Nepal's National Mountain Guide Association (NMGA)—a prominent group representing climbing Sherpas—presented the government of Nepal with a 13-point list of demands that it says must be met if Everest's workforce is going to stay on the mountain this year. The list was accompanied by stinging words from Pasang Sherpa, general secretary of NMGA, who said Nepal's government has behaved abysmally in the aftermath of this historic catastrophe.
"We discussed this issue and felt that our government ignored us," he said. "On Sunday, they called off the search operation. How can we step over the dead bodies of our fellow Sherpas to climb Everest? The Tourism Ministry didn't have a single official at the Base Camp when the disaster occurred. Until now, not a single official has reached there. While they are eager to collect revenues, they don't care about us. Therefore, we want our demands to be fulfilled as soon as possible. Promises won't help this time around."
The Sherpas, led by NMGA, are asking for an increase in the amount paid to the families of each fallen climber. Initially, the government promised about $400 on top of the $11,000 in insurance that each Sherpa is required to carry. Additionally, they want land in Kathmandu on which to build a memorial to the climbers, coverage of all medical bills for those injured in the accident, $10,000 in long-term disability pay for any of the injured who can no longer work, 30 percent of the royalties from all climbing permits, and an increase in the required accidental death insurance from $11,000 to about $22,000.
One thing the Sherpas are not officially asking for (yet) is a blanket shutdown of the 2014 climbing season. But one American guide on the mountain, who asked that his name not be used, wrote in an email to Outside that there will be pressure to comply if the majority of Sherpas decide not to climb this year. "The Sherpas have threatened teams that want to stay and climb the mountain with whatever means necessary to prevent them from climbing," he wrote. "I cannot believe that it has come to this."
"I think this will be really bad for the Sherpa community," this climber continued, "because in forcefully shutting down the season teams likely may choose to go to the North Side in the future."
While the government weighs the NMGA's demands, expeditions and individual climbers are in the process of deciding whether it makes sense to go on in the wake of the deadly avalanche. In an April 21 post on AAI's Everest expedition blog labeled "DECISIONS," the outfitter mourned the loss of five Sherpas on its team (Nima Sherpa, Mingma Nuru Sherpa, Ang Tshering Sherpa, Tenzing Chottar Sherpa, and Dorje Sherpa), saying that the shock of the tragedy forced a tough group assessment. Gordon Janow, AAI's Seattle-based director of programs, told Outside that ending the climb was a hard decision to make, and that it required factoring in all the effort and resources that clients and AAI staff had put in to be there.
"It wasn't easy, because we want to be sympathetic to all parties involved," he said. Janow was not able to get into specifics about the issue of refunds—that will be hashed out between the company and individual clients—but he said AAI will work hard to ensure that expedition members, some of who may be covered by trip insurance, are treated fairly, whether that means partial refunds or a discounted return expedition at some future date.
AAI was providing support to NBC as part of a Discovery Channel project aimed at capturing an attempt by climber and BASE jumper Joby Ogwyn to wingsuit off the summit of Everest in May. Discovery has canceled the stunt. Outside was unable to reach Ogwyn to find out if he's planning to attempt the climb independently.
Meanwhile, Rainier Mountaineering Inc. (RMI), another major presence on the mountain, is apparently still in the process of deciding how to react. RMI guide Dave Hahn wrote in an April 20 dispatch on its expedition blog: "[A] very difficult decision for all involved … [Fellow guide] Mark Tucker and I attended a series of somewhat tense and serious meetings between team leaders, Sherpas, and the few government representatives present in camp. It is very difficult to say what will happen going forward … Our Sherpa partners love their jobs and love to climb, but nobody is climbing now and all are struggling to come to terms with how to proceed in a way that honors those lost and protects those left alive."
Additional reporting by Grayson Schaffer and Deepak Adhikari.
More Outside Coverage of the Everest Avalanche: 
Lead Photo: Daniel Prudek/ThinkStock
Trending on Outside Online