Law and Order at 17,500 Feet
For the first time, armed police will patrol Everest Base Camp. just don't expect them to curb the growing conflicts.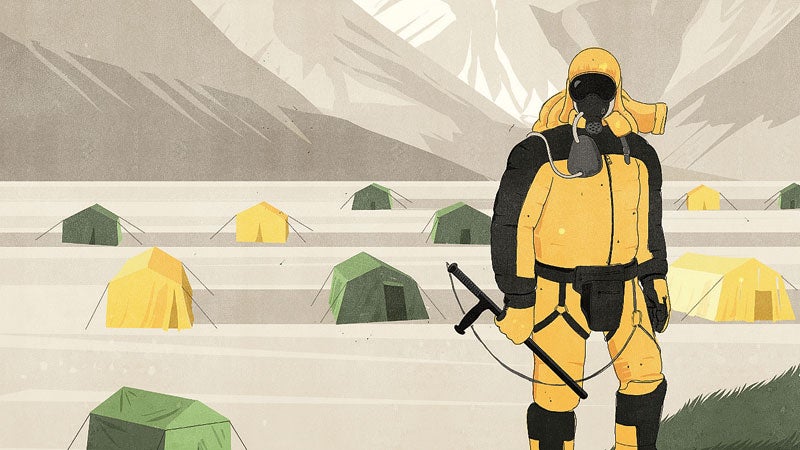 SHOUT
Heading out the door? Read this article on the new Outside+ app available now on iOS devices for members! Download the app.
For the entirety of its existence, Base Camp on Mount Everest has been self-policed. No more. After last year's brawl on the Lhotse Face, in which European alpinists Ueli Steck, Simone Moro, and Jonathan Griffith clashed with a group of Sherpas fixing ropes, Nepal's tourism ministry has decided to step in. Come April, a nine-member armed security contingent made up of Nepali soldiers and police will keep order in the temporary city, which swells to nearly 1,000 people during peak climbing season.
"By the time the first expedition team arrives in Base Camp, our group will be in place," says Maddhu Sudan Burlakoti, a joint secretary of the tourism ministry. "The team will ensure security of the climbers and also get involved in rescue operations. We'll also make sure that, in the case of such an incident, the accused doesn't get away." 
Will this sort of warning, and the presence of a police force, have any tangible effect? It seems unlikely. Most of the action on Everest takes place higher up on the mountain. Last year's brawl occurred at Camp II, nearly 4,000 vertical feet above Base Camp. 
"Unless the soldiers or police officers are trained as climbers, they won't be on the mountain," says RMI guide Dave Hahn. "That fight was a sorry little episode, but this won't do anything to prevent another one above Base Camp."
So what's the point? Many Everest vets consider the force to be little more than a publicity stunt engineered to stave off negative media attention. Everest expeditions, after all, add roughly $15 million annually, from permit fees and general spending, to Nepal's struggling economy.
"Everest gets headlines every year," says Hahn, "but I worry that this is just another layer of bureaucracy from a country having a hard time keeping the lights on in Kathmandu."
"It will be business as usual," says Russell Brice, founder of Himalayan Experience. "Everyone will work around the new rules, and very little will change."