The No Fall Zone
When freeskier Kit DesLauriers dropped in at 29,035 feet on Mount Everest in October, she became the first person to ski off the Seven Summits. Kit, her husband, Rob, and photographer Jimmy Chin also became the first Americans to ski from the top of the world's tallest mountain.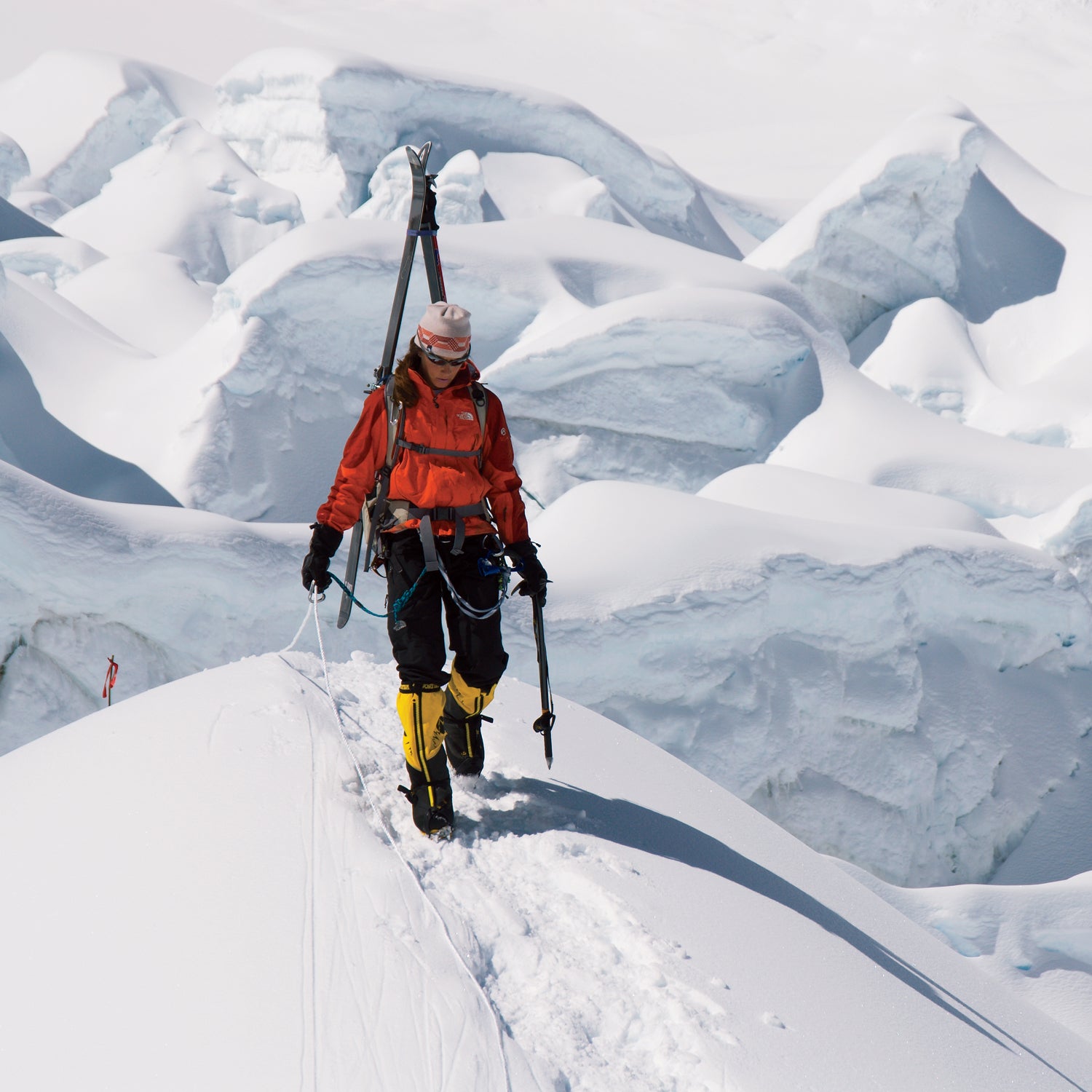 Jimmy Chin
Heading out the door? Read this article on the new Outside+ app available now on iOS devices for members! Download the app.
I left my clients on top of Mount Everest. They wanted it that way. Truth be told, Kit DesLauriers, her husband, Rob, and their great friend Jimmy Chin barely even noticed when I left. They were busy laughing, crying, taking pictures, hugging, and pointing out the far corners of the world visible at 11 a.m. on October 18, 2006, along with our crack team of nine climbing Sherpas, who'd heroically fixed every inch of the route up from our high camp at the South Col. I'd have preferred to stay and celebrate, too. Except these weren't just any clients. Each of the three was an elite athlete (Jimmy and Kit are both members of The North Face's professional team). And we had a deal: If they climbed to the top strong and responsibly, I'd let them find their own way down…on skis.
Mount Everest is not yet popular with skiers. Go figure. Perhaps it's because one must climb up first. Or the small matter that skiing Everest is life-threatening on the best day. It has been skied before. Among others, a few notable attempts include Japanese speed skier Yuichiro Miura, who in 1970 set his sights on the Lhotse Face, taking off from 26,000 feet at the South Col with a parachute, barely surviving a several-thousand-foot tumble and an Evel Knievel like disregard for fractures. More recently, Slovenian Davo Karnicar is the only person in history to have actually skied continuously from the summit to Base Camp, which he did in less than five hours in 2000. Frenchman Marco Siffredi snowboarded the Great Couloir, on the north side, in 2001, before returning to the mountain and disappearing in the effort to board the Hornbein Couloir in 2002; he was 23.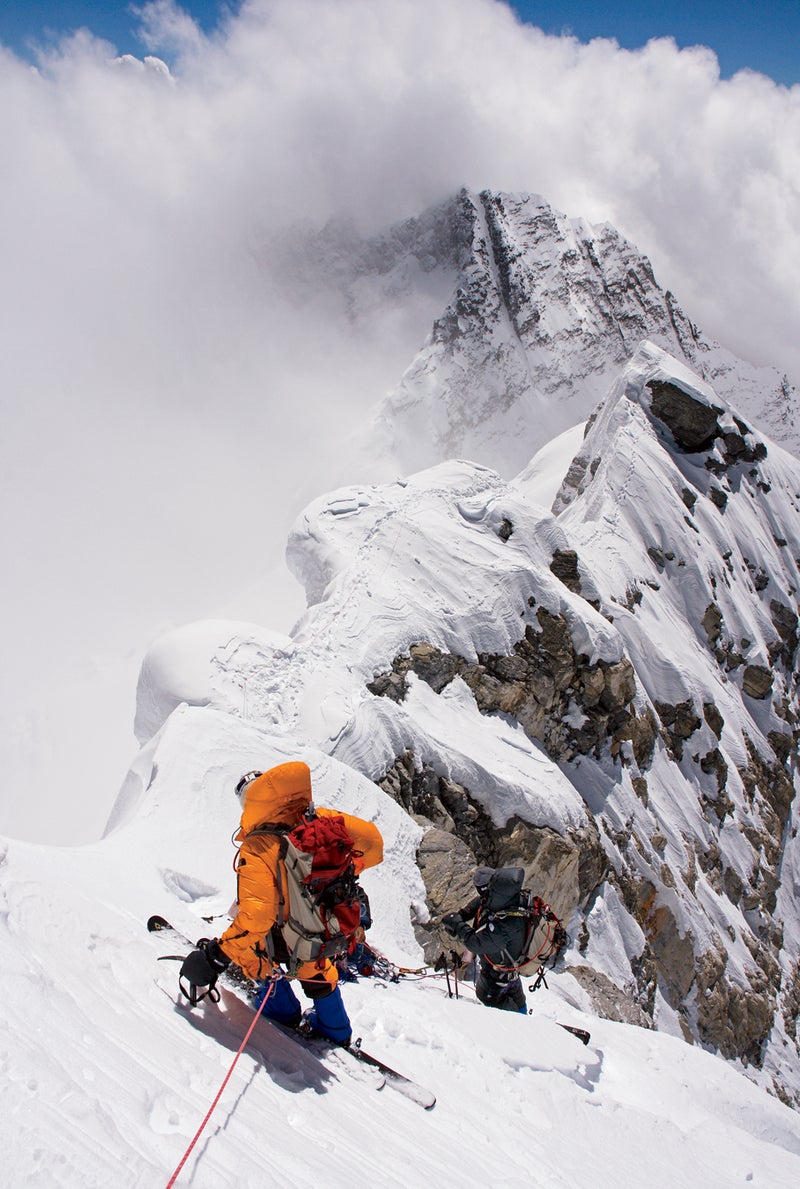 Kit, 37, the world freeskiing champion in 2004 and 2005, had her eyes on two prizes. No woman had skied Mount Everest, and no person of either gender had yet skied from each of the Seven Summits, the highest points on each continent. Everest was to be Kit's seventh. Rob, 41, was tagging along to film his wife's accomplishment, but with an illustrious career in ultra-steep skiing, he couldn't easily resist the temptation to make his own turns at 29,000 feet. Jimmy, 33, is well known for his mountain photography and had been to Everest's summit in May 2004, so, as a Jackson Hole neighbor of Rob and Kit, he was an obvious choice to get still shots. He meant to do that while skiing himself. Wally Berg, the leader of our expedition, was ably directing these efforts from Base Camp. I was the team's one-way climbing guide.
Fortuitously, my other job, when not guiding, happens to be ski patrolling, and as I climbed down from the summit toward the Hillary Step, at 28,800 feet, I rationalized that I'd simply switched hats up there on Everest. I would set up a belay anchor and position myself above the Step, then I would declare it "open" terrain for my skiers. We'd agreed that as I got my anchors set, they would ski down to me from the summit. I'd try to make sure they didn't go out of bounds—for instance, into Tibet, three inches to the left and 9,000 vertical feet down the Kangshung Face.
After ten minutes, Kit skidded to a stop just above me. Having descended the summit ridge on skis, she'd already accomplished the feat of skiing from the tops of the Seven Summits. I was impressed, but I was still worried as hell. I didn't know how she, Rob, or Jimmy would manage the next section, the Hillary Step, a 40-foot vertical rock face.
Rob showed up a moment later and very confidently tied into my belay line. His intention was to descend and traverse the Step while I safeguarded him from above. There were problems with this plan, aside from the obvious one, which involved the snow's reluctance to hang around on rock faces. Within just a few minutes, Rob was down and around a corner and I had no communication with him.This wasn't from lack of trying. We had belay signals, rope tugs, radios, and yelling at the top of our lungs as possibilities, but none seemed worth all that much when time dragged on and Rob's weight didn't come off the rope. Kit began to edge down toward the blind corner, and a few members of our Sherpa team made their way down to see what had happened to Rob. He'd made nearly all the very difficult moves needed, but then he'd run out of oxygen, meaning the last of those moves was nearly impossible with skis on. He was stuck.
Kit began to take off her skis in an awkward and steep spot. She got her crampons on and moved around the corner, putting her out of touch with me. Word got to me that Rob was out of oxygen. I wasn't terribly worried; I could see the big pile of full oxygen bottles our team had stashed about 250 feet away at the South Summit. But I was unaware of the strenuous and contorted position he was in on the Step. Eventually, the rope went slack and I pulled it back up. Jimmy was anxious to get tied in, and he immediately slid to the corner on his skis and disappeared.
Time stretched on, with only a tug here and a yell there. The rest of our climbing team clambered down past me, and I was relieved to see first Kit and later Rob making their way on foot to the South Summit oxygen depot. After I'd been in my cold belay seat for two hours, the rope finally came up free. As I deconstructed the anchors, I watched Jimmy ski across the wild traverse to the South Summit. (Jimmy had also run out of O's on the lower part of the Step and had nearly gotten flipped when his skis caught on old ropes.) I was last and now in danger of being left behind in the gathering snowstorm. I saw the gang holding skis up on top of the South Summit, and I reached for my radio. I asked them to consider that the window of opportunity for skiing was closing with the weather, the late hour, and the unexpected difficulties that the Hillary Step had presented. They accepted my cautious thinking, adding their own observations of avalanche potential. Their intention had been to ski every inch of the mountain from the summit, but life in the stratosphere requires flexibility, and their biggest goal still remained—skiing the steep and slick Lhotse Face the next morning. Our team cramponed down to high camp, at the South Col, in snow and wind, carrying skis and "arm-rappelling" the steep fixed ropes. Rob and Jimmy couldn't resist strapping on the boards for the last few hundred vertical feet into camp. I had to admit that this was a beautiful and inspiring thing to see in a late-afternoon burst of sunshine at 26,000 feet.
---
The wind came back up in the night, and at six in the morning on the 19th of October, it was tough to be enthusiastic about anything. But Kit woke up eager to ski and radioed over to the tent I was sharing with Jimmy to see how quickly he could be ready. Their goal for the day: to ski nearly 5,000 feet down the 50–degree Lhotse Face. It didn't seem to bother them that the face was a bulletproof sheet of unforgiving white and blue ice any vaguely pleasant soft snow had been sandblasted off by wind and avalanches and that there would be no way to retreat once they'd made their commitment to it. One blown edge, one missed pole plant, and they'd tumble thousands of feet to their deaths.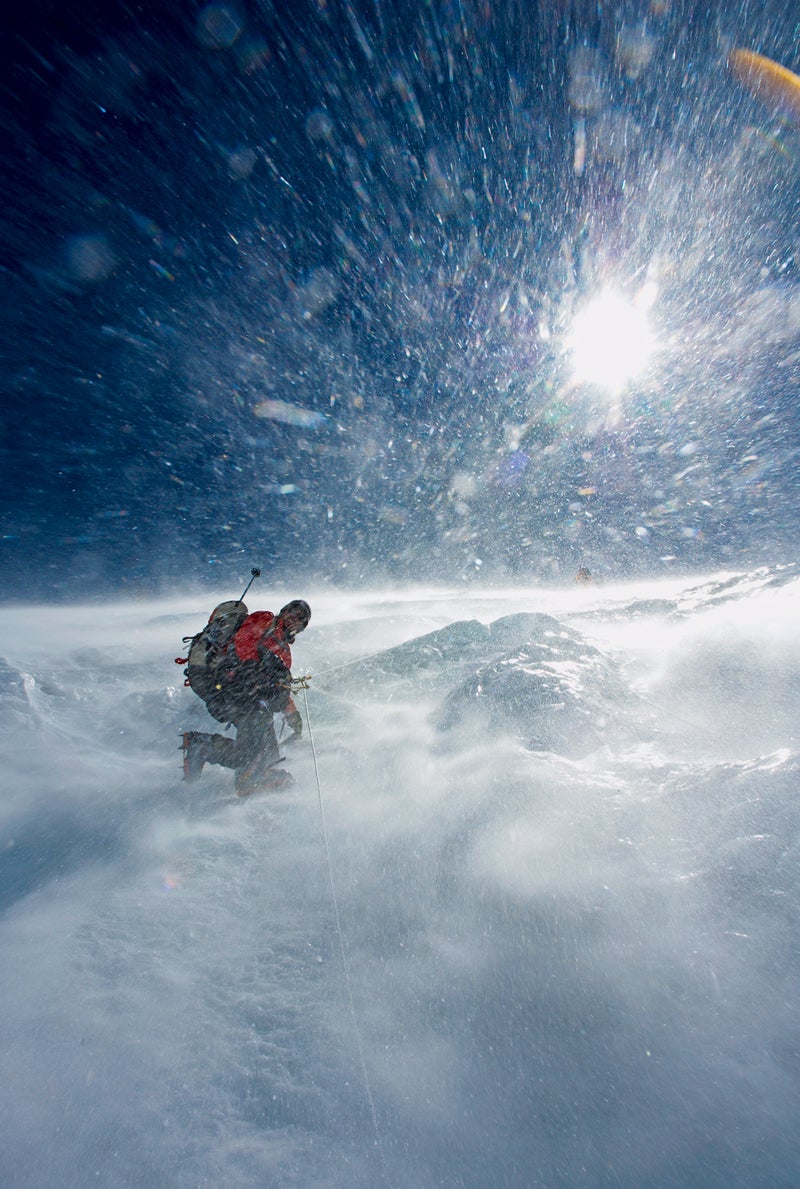 At 27,940 feet, Lhotse is the world's fourth–highest mountain (one climbs a big chunk of it to get up Everest), and the face is a sick and mean aspect of it. Fifty degrees is about 15 degrees steeper than what can normally be found on double–black–diamond ski runs in North America. Foreboding and sculpted clouds capped both Everest and Lhotse, but Rob, Kit, and Jimmy suited up, donned oxygen setups, and stepped directly from the tents into their skis. We shook hands and hugged, and they schussed away. I began my tedious descent, sans oxygen, along the ropes and tried to keep an eye on my friends. They quickly were several thousand feet below and to one side of me. From time to time I'd stop to breathe and turn my head to count the three dots on skis. At one point, my eyes played tricks on me and I thought I saw one of the dots disappear. My heart rate accelerated instantly to unworkable levels and I had to pause, taking another wrap of the rope around my arm in order to make sure all was still OK.
I've always believed that one should approach climbing objectives with the utmost humility, and I've grown to fear people who have no fear. My time with Jimmy, Rob, and Kit had convinced me that they had rational and legitimate fears, but they were smart about not indulging them. And they were equal to the challenges they faced. They were also skiing as a team, making decisions for a group and not just an individual. Those kinds of decisions, I came to see, are made more carefully, especially when you're friends, especially when you're married. The trust between them was essential. An hour and a half after leaving the col, I could see them moving across the final obstacle at the base of the face: the bergschrund, or last crevasse. Then I could see them hugging.
---
I caught them a few hours later at Camp II, where our cook, Ang Pemba, had just treated them to heaping plates of fried rice. Their turns on the face had all been deadly serious, and they described surface conditions that an ice ax could barely penetrate. Now, at 21,000 feet and relative safety again, they were almost giddy about their accomplishment—and that they'd lived through it. Kit told me of the mantra she'd developed for the day: "Like your life depends upon it." She'd repeated this during each turn on the face. When I heard Jimmy relate that he hadn't gotten all the pictures he'd wanted because he'd been too scared to put both hands on his camera and bring it up to his eyes (try this at home on a pitched roof after an ice storm and you'll realize the difficulty), I was a bit startled. Jimmy doesn't scare easily, and he doesn't miss many photos. Rob told me that at one point halfway down the face, he'd skied up to Kit, who'd related matter-of-factly that she was scared and didn't want to die. Rob said that he'd replied, "That's good," and then they both skied on down. Rob took Kit's revelation to have been just right: A sane and functional human on skis in the middle of the Lhotse Face should be both scared and not willing to die. And a husband, upon hearing that his wife is thinking correctly, should then concentrate on his own turns and his own unwillingness to die. That was, of course, the mindset required to survive.
Skiing from Camp II, they dropped 1,000 feet through the Western Cwm. They had planned to ski through and alongside the dangerous Khumbu Icefall to Base Camp. I worried again, not because I didn't think they could do it but because worrying is what I do best. But a snowstorm was making it impossible to see, so they took off their skis and hoofed it to Base Camp. There we all eventually met up and toasted with glasses of very cold champagne to unlikely success, safety, and the good things that can happen when you have the right mix of fear and confidence. They'd skied more than 6,000 technically challenging feet (about half the vertical from the summit to Base Camp).
Some will say that this wasn't a "complete" ski descent, but I'd advise those people to try it themselves, after climbing the mountain in the snowy post-monsoon season, when summits are rare. Others may ask why anyone would want to ski the mountain in the first place. Jimmy put it best when he said, "You're hanging it out there, but that's what we do. We're ski mountaineers. Sounds completely insane, I'm sure, but we're very calculated about it."
With her goal accomplished, when she returns to Jackson Hole Kit has set her sights on starting a nonprofit called the Balance Institute, providing support to people "who follow their hearts to crazy places like skiing off the summit of Mount Everest."
"But I won't ever hang up my skis," she said. "I plan to ski till I'm 100."