The North Face and GlobalGiving Nationwide Gear Drop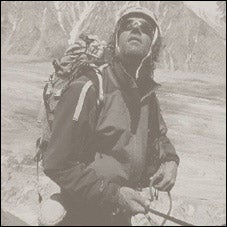 Heading out the door? Read this article on the new Outside+ app available now on iOS devices for members! Download the app.
Some two to three million people have been left homeless by the 7.6-magnitude earthquake that struck South Asia, according to a press release issued by the North Face and GlobalGiving. Here, find out where you can donate gear to the help in the relief effort. Donated gear will be collected Nov. 18 to 23 at nationwide The North Face retail stores. Donations must be clean, functional, and limited to three- and four-season tents, tarps, sleeping bags, pads, packs, waterproof and/or insulated jackets, insulated tops, or layering pieces (i.e. fleece, wool).
Willie Benegas

Willie Benegas on Latok 1, Pakistan. Photo by Damian Benegas.
During the first week of December, Willie Benegas will lead The North Face Athlete Team, which includes Renan Ozturk, Cedar Wright, and Patrick Kenny, a colleague of Benegas, to the Utar Padesh region to survey damage, assess avalanche danger to relief camps, and deliver gear to the hardest-hit villages. For more information, click here
Donate between November 18 and 23rd at any of The North Face Retail Stores:
The North Face – San Francisco
180 Post St.
San Francisco, CA 94108
(415) 433-3223

The North Face Outlet – Berkeley
1238 5th St.
Berkeley, CA 94710
(510) 526-3530

The North Face – Palo Alto
217 Alma St.
Palo Alto, CA 94301
(650) 327-1563

The North Face – Seattle
1023 1st Ave.
Seattle, WA 98104
(206) 622-4111

The North Face – Boulder
629-K So. Broadway
Boulder, CO 80303
(303) 499-1731

The North Face – Chicago
875 No. Michigan Ave
Chicago, IL 60611
(312) 337-7200

The North Face – Beverly Hills
423 North Beverly Drive
Beverly Hills, CA 90210
(310) 246-4120

The North Face – Boston
326 Newbury Street
Boston, MA 02115
(617) 536-8060

The North Face – New York
2101 Broadway
New York, NY 10023
(212) 362-1000

The North Face – Portland
1202 NW Davis Street
Portland, OR 97209
(503) 727-0200

The North Face – Tyson's Corner
7870L Tyson's Corner Center
McLean, VA 22102
(703) 917-0111

According to The North Face, those who can't make it to one of the chosen donation locations can ship their gear to:
Kashmir Earthquake Relief 1835 Apex Avenue Los Angeles, CA. 90026 USA Phone: (323) 660 5400 Fax Number: (323) 660 5447
For additional information visit www.thenorthface.com or http://www.globalgiving.com/cb/cidi/pakistan.html