Photo Essay: Mongolia
One family's 100-mile journey across the Mongolian steppe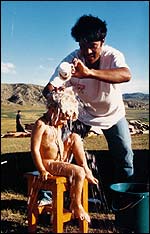 Heading out the door? Read this article on the new Outside+ app available now on iOS devices for members! Download the app.
Sometimes family life feels too cramped, and a mother yearns for open spaces: a huge desert steppe for a living-room carpet and a vast Asian sky for a ceiling. My cravings are satisfied in Mongolia, where I've traveled with my family—my husband, Thomas, and sons, Liam, six, and Galen, two—from our home in Kathmandu for each of the past three summers.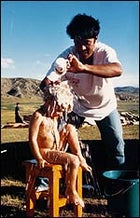 Last July we journeyed to Arkhangai, a north-central district thick with taiga forests of larch, pine, and birch. We spent two weeks in a ger, the traditional yurt of beaten felt, handmade by Mongolian friends in the Tuul River valley. Then we took an eight-day, 100-mile horseback trip through moraine hills, steppe meadows, and the Khangai Range, to sacred 10,427-foot Suvarga Mountain. Our 17-person assemblage of Australian, French, and American families (most living in Kathmandu) and guides ranged in age from two to 70, including five children.
We rode the short, lean Mongolian horses that seem able to canter and gallop forever. The kids adored the riding. Galen and a four-year-old, Gabriel, each joined a parent on a horse; the older children had their own mounts. After each day's ride, when the horses were unsaddled and left to graze, we attempted to learn Mongolian, practiced yoga, or gathered wild berries and leeks while the kids jumped back on the saddles and played until it was time for a supper of pasta or soup. We dined under the stars, made toasts with jade cups, and listened to the guides' penetrating Mongol songs of the heart: high-pitched tales of sorrow, lost love, and horses.
If a Mongol feels cramped, he'll simply grunt, "I'm going out to look for my horse." Then he might disappear for days. Every now and then, we all need to go looking for a horse.