The River Runs Deeper
Inside the boldest expedition of the 21st Century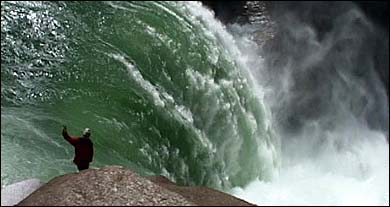 Heading out the door? Read this article on the new Outside+ app available now on iOS devices for members! Download the app.
In February 2002, seven elite whitewater kayakers, led by adventure filmmaker Scott Lindgren and sponsored by Outside, completed the first descent of Tibet's deadly Upper Tsangpo Gorge—known as the "Everest of rivers." The expedition, one of the most daunting in modern history, was chronicled by contributing editor Peter Heller ("Liquid Thunder," July 2002), who joined the massive ground support team.
Return to the River
Outside Online posted daily dispatches of Scott Lingren's team as they penetrated Tibet and braved the Tsango River.
CLICK HERE
to revisit our special online coverage—photos, text dispatches, audio slideshows, and more!

In (Rodale, $25), which debuts in mid-October, Heller, 45, expands the story, drilling to the core of what it took to get every expedition member through the remote 16,000-foot-deep gorge alive. His analysis of the stormy relationships between team members and violent clashes between the adventurers and porters reveals surprisingly volatile personal dramas behind the triumph on the water. At the center of it all is Lindgren, a tenacious alpha dog who commands his squad with ruthless intensity—a leadership style that's undeniably effective. "I want everyone a little on edge," he tells Heller after one of the many battles in which Lindgren accuses the journalist of trying to swoop in, write a bestseller, and steal the glory from a journey that took ten years to put together. "I want no fuckups."


Success on the Tsangpo has only pushed Lindgren to go further. Since coming home, he's led a big-water odyssey through South and Central Africa and completed the first descent of the Class V Upper Middle Fork of California's Kaweah River. Next on his hit list is Tibet's Indus, the only one of the four major rivers draining 22,028-foot Mount Kailas that he has yet to attempt.


An impressive tally, though hardly one that would surprise Heller. "For someone as driven and cocksure as Scott, one of the wildest forces in nature was the only thing that could get his respect," Heller writes. "Maybe that's why he needs to run rivers: to stay merely mortal."