Surviving Everest
The top of the world is getting more crowded—last spring, 94 teams visited base camp, and 535 climbers reached the summit. Rescue operations are getting more sophisticated, too, with high-altitude helicopters and, starting this year, a team of Sherpa rangers. Here's a look at where things go wrong and the support systems in place when they do.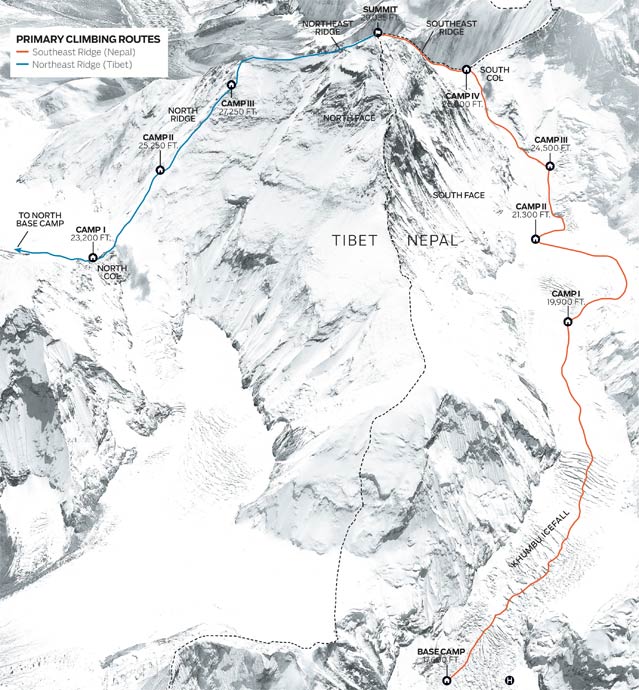 Heading out the door? Read this article on the new Outside+ app available now on iOS devices for members! Download the app.
Danger Zone: North Col to Summit
Everest deaths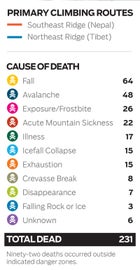 Source: The Himalayan Database
This is the most lethal section of the route from the Tibetan side of the mountain. The altitude makes carrying injured climbers impossible, and because it lies in Chinese territory, Nepal's private rescue helicopters and Sherpa rangers are not permitted.
Total Dead: 49
Cause of Death:
Fall: 14
Exhaustion: 10
Exposure/Frostbite: 9
Acute Mountain Sickness: 7
Disappearance: 6
Illness: 2
Avalanche: 1
Danger Zone: South Col to Summit
Extremely steep, this section includes the infamous Hillary Step and is prone to traffic jams and especially intense weather, like the storm that killed eight here in 1996.
Total Dead: 29
Cause of Death:
Fall: 20
Exhaustion: 4
Exposure/Frostbite: 3
Acute Mountain Sickness: 1
Illness: 1 
Safety Net: Camp IV
A pair of Sherpa rangers will do short stints here, coordinating rescues, before rotating with the Sherpas at Camp II. 
Safety Net: Camp II
Two Sherpa rangers will be stationed here throughout the spring 2012 climbing season. Outfitted with climbing tools and medical supplies, they will direct technical evacuations down the mountain and provide equipment to climbers in trouble.
Danger Zone: Khumbu Icefall
Loaded with seracs that collapse without warning, the ever shifting icefall covers some 1,800 vertical feet and takes up to six hours to cross. Many evacuations grind to a halt as climbers make their way over massive crevasses on ladders and fixed ropes.
Total Dead: 61
Cause of Death:
Icefall Collapse: 14
Avalanche: 11
Crevasse Break: 7
Exposure/Frostbite: 7
Illness: 7
Acute Mountain Sickness: 5
Fall: 5
Falling Rock or Ice: 3
Exhaustion: 1
Unknown: 1
Safety Net: Everest E.R.
This 200-square-foot medical tent is staffed by three volunteer physicians and a Sherpa. Equipment includes two hyperbaric chambers to treat altitude sickness, full-body rewarming bags, EKG monitors, IV fluids, and an oxygen concentrator. Founded in 2003 by Bozeman, Montana, doctor Luanne Freer, the clinic is supported by the Himalaya Rescue Association and donations from climbers. Beginning this year, Everest ER will also coordinate and fund a team of four Sherpa rangers stationed at various points up the mountain.
Safety Net: Helipads
Each year, residents of Base Camp construct two helicopter pads, made of rock and ice, on the most level ground available, usually a few hundred feet from the nearest expedition tents and 20 minutes by foot from Everest ER. Four helicopter companies use the pads, one of which is reserved exclusively for emergencies. The recent increase in tourist flights has prompted calls to restrict nonessential air traffic to a heliport in Lukla, 28 miles from Base Camp.
Seven Deadly Fins
The death toll on popular Himalayan peaks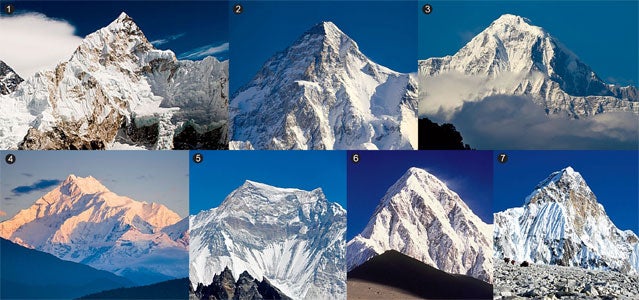 1. Everest (29,035 feet): 231 deaths
2. K2 (28,250 feet): 80 deaths
3. Annapurna (26,545 feet): 67 deaths
4. Kanchenjunga (28,169 feet): 40 deaths
5. Cho Oyu (26,906 feet): 47 deaths
6. Pumori (23,494 feet): 41 deaths
7. Ama Dablam (22,494 feet): 21 deaths
Rise of the Machines
The best single-engine helicopter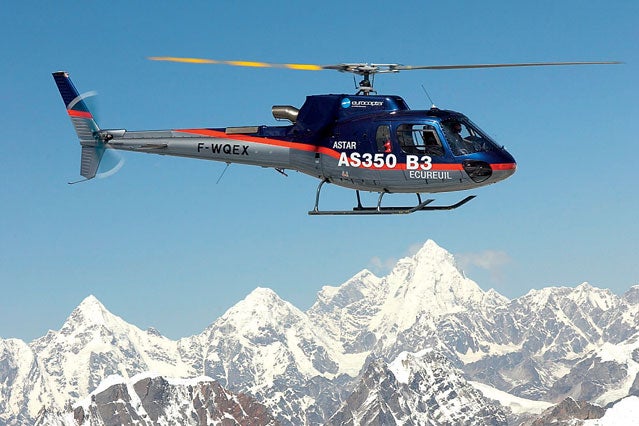 The best-performing single-engine helicopter in its class, the Eurocopter AS350 B3 has been the go-to mountain-rescue bird around the world since the late 1990s. Kathmandu-based Fishtail Air now operates several B3s in Nepal and has used them in more than a hundred evacuations. On Everest, pilots fly with minimal fuel—as little as eight gallons—to reduce weight, but that can limit flight times to less than 20 minutes. This spring, Swiss company Air Zermatt launched a five-year program to train Nepali pilots in advanced mountain-rescue techniques.
Max. Rescue Altitude: 23,000 ft.
Capacity: 4
Cost: $2 million