12 Essential Adventures in Australia and New Zealand
An expat travel writer who spent the past five years exploring the two countries reveals her 12 favorite down under trips
Heading out the door? Read this article on the new Outside+ app available now on iOS devices for members! Download the app.
Arnhem Land, Northern Territory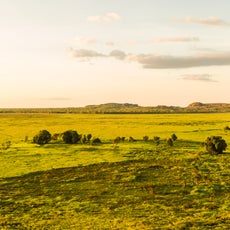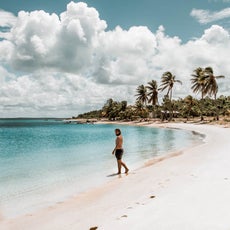 Indigenous Culture, Art, Beaches
The best thing about traveling in Australia's far north is connecting with the Aboriginal people who have roamed these canyons and coasts for some 65,000 years. Nowhere is their culture more alive than in Arnhem Land, a 37,500-square-mile preserve with rusty red coastlines, rugged escarpments, and croc-filled oxbow lakes. You can camp on the Cobourg Peninsula with a permit, but it's easier to leave the planning to professionals. On Intrepid Travel's seven-day trek through the region, you'll camp and stay in lodges, eat bush foods like mud crabs and tart billy goat plums, and listen to Aboriginal guides tell Dreamtime stories about everything from creation myths to morality. After spending the last two nights in an oceanfront cabin on Bremer Island, a haven for sea turtle hatchlings, you'll head back to the mainland to explore the Buku Art Centre, home to the region's most prized Aboriginal art.
Detour: South of Darwin, the territory's capital, paddle the gorges of Nitmiluk National Park and take a dip in the plunge pools of Edith Falls.
Ningaloo Reef, Western Australia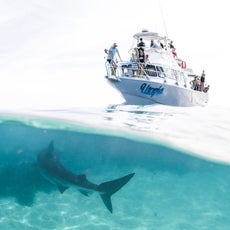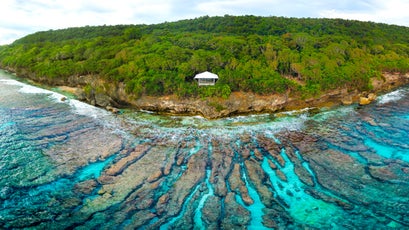 Surfing, Snorkeling, Diving
This reef compares favorably to its more famous sister on the east coast: it's home to pumping surf breaks, migrating whale sharks, and healthier coral. Pack a spare can of gas for the 707-mile drive north from Perth and hold tight as you overtake road trains—semitrucks up to six trailers long that look straight out of Mad Max. When you reach the southern end of the reef, 78 miles north of Carnarvon, relax in a palm-frond surf shack on the sand at Red Bluff (from $22), and watch for breaching whales between sets on the legendary left-hand point break. Visit between March and July and Coral Bay Eco Tours will take you snorkeling amid docile whale sharks. On your way back to Perth, stop by the Lobster Shack in Cervantes to taste the Thompson family's renowned western rock lobster, grilled on the half shell.
Detour: Book a four- or seven-day stay at Swell, a new eco-lodge on Christmas Island in the Indian Ocean, and you'll get a free outing to snorkel the reefs (from $1,983 for four nights, all-inclusive).
Northwest Tasmania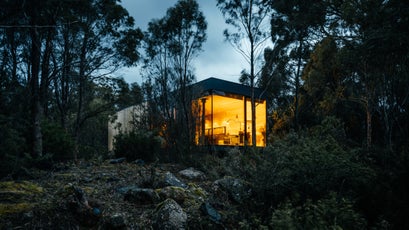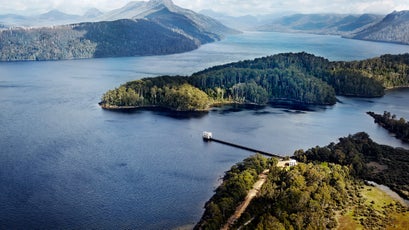 Trekking, Photography, Wildlife
Tasmania is in the midst of a cultural boom, thanks to innovative chefs, craft distillers, and a world-class modern art museum called MONA. But head to its northwest and you'll find the Tarkine, one of the largest, oldest, and least disturbed temperate rainforests in the world. Though home to such rare and endangered species as the orange bellied parrot and Tasmanian devil, most of the forest lacks protection from logging and mining. Discover why it's worth saving during a four-day excursion at Tarkine Trails' Tiger Ridge, a camp offering daily walks or photography workshops under giant stringybark gum trees. Hikers should tack on a jaunt along the 40-mile Overland Track in nearby Cradle Mountain–Lake St. Clair National Park. End the trek with a stay at Pumphouse Point, a renovated 1940s hydroelectric plant that appears to float on the inky waters of the country's deepest lake (from $213).
Detour: Take on the new Great Tasmanian Traverse and spend 37 days in the bush, including eight days rafting the Franklin River, one of the world's greatest whitewater trips.
The Red Center, Northern Territory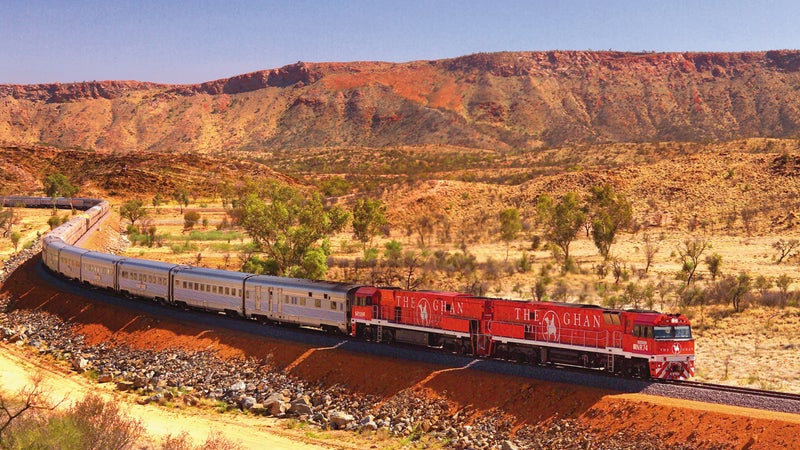 Skydiving, Overlanding, Art Installations
Uluru, the sacred monolith formerly known as Ayers Rock, pulls massive crowds to the country's geographic center, but it's still worth your time to go there. Take the scenic route from Alice Springs along red-dirt roads, stopping at Kings Creek Station to swim in a shipping container turned pool before bedding down in a glamping tent at the base of the George Gill Range (from $945, all-inclusive; campsites and safari tents available from $18). When you finally reach Uluru, admire it from the air on a sunrise skydive booked through Ayers Rock Resort. At sundown, watch it fade from pink to purple as you enjoy lamb topped with native sea parsley at the resort's Field of Light exhibition, a mesmerizing art installation of 50,000 glowing glass stalks.
Detour: Book a cabin on the Ghan for the world's longest north-to-south rail journey, bisecting Australia from Darwin to Adelaide. It's a four-day trip, but you can halve it by departing from Alice Springs (from $767, all-inclusive).
Wollemi National Park, New South Wales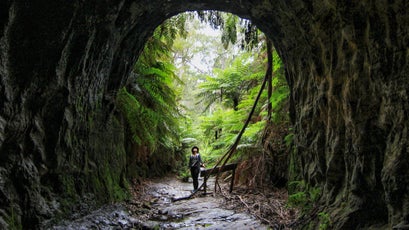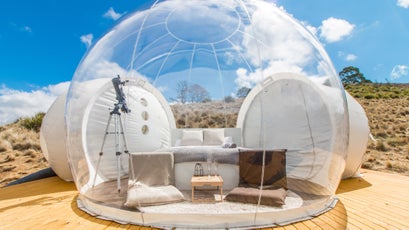 Glowworms, Villas, Hot Tubs
An hour and a half west of Sydney, you'll find the Greater Blue Mountains, a 2.6-million-acre Unesco World Heritage site known for its sandstone plateaus, undulating forests, waterfall-spilling cliffs, and mysterious blue haze that's thought to be caused by droplets of eucalyptus oil. Get off the beaten path by setting out for the fern-filled canyons of Wollemi National Park. The villas at neighboring Emirates One and Only Wolgan Valley are splurge worthy, with private plunge pools, guided hikes, and binoculars for spotting resident kangaroos and wombats (from $1,955, all-inclusive). If you'd rather point your field glasses skyward, Bubbletent Australia's three transparent domes, set 3,600 feet up the rim of nearby Capertree Valley, are perfect for stargazing or simply soaking in the wood-fired outdoor hot tubs (from $492 for two nights).
Detour: The Jenolan Caves in the southern Blue Mountains are the world's oldest known caverns. Access is easy with daily guided tours.
Gold Coast, Queensland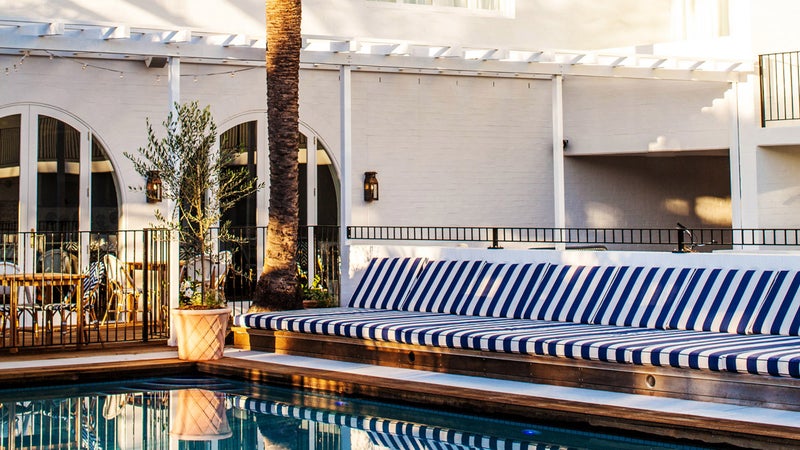 Surf Schools, Swimming Holes, Breweries
This surfer's paradise, an hour's drive from Brisbane, has a reputation for being a little too much like Las Vegas. To escape the glitz, head to the more soulful southern end of the Goldie, near Burleigh Heads. Surf Services Australia offers lessons from five-time Australian national champion Mark Richardson, who will put you on a gently peeling right-hander known as Currumbin Alley. Later, take a walk past secret swimming holes along the Ocean View Track in Burleigh Head National Park before grabbing a draft of award-winning extra pale ale at nearby Balter Brewing Company, which was cofounded by local pro surfers. Stay at the Halcyon House, a Mediterranean-style boutique hotel right off the sand in Cabarita Beach, a mellow surf town 20 minutes south of the Gold Coast in New South Wales (from $436).
Detour: A two-hour flight from Brisbane will get you to Lord Howe, a volcanic island blessed with misty cloud forests, empty kite-surfing breaks, great scuba diving, and the Seven Peaks Walk, Australia's newest Great Walk.
Flinders Ranges, South Australia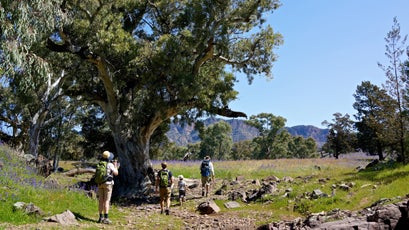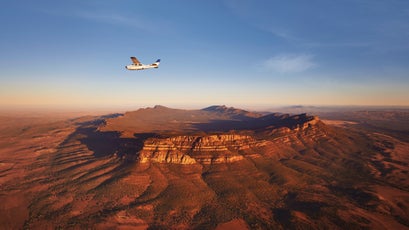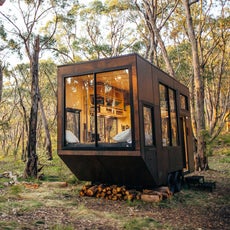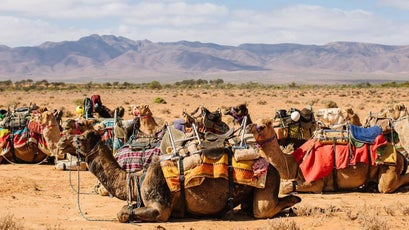 Camping, Camels, Pub Life
South Australia is known more for shorelines and Shiraz than untamed outback, but the state's mauve and ocher interior features some of the most enigmatic landscape in the country. Begin your adventure at Wilpena Pound, a massive crater-like amphitheater 270 miles north of Adelaide, which is ringed by serrated mountain peaks that were once taller than the Himalayas. Be sure to hike the 4.3-mile Wangara Lookout Trail for panoramic views of the inner basin before heading back to Wilpena Pound Resort, where you'll find a range of accommodations, including campsites (from $18). Then take to the sky on Wrightsair's flightseeing tour of the Pound, the spiny Flinders mountains, and Lake Eyre, a salt lake that fills with water and shines pink after a deluge. Lunch is at William Creek Hotel, a 131-year-old Aussie pub and the lake's closest settlement. For another truly Australian experience, keep an eye out for emus and yellow-footed rock wallabies from atop a camel during one of Camel Treks Australia's multi-day expeditions out of Beltana Station (from $1,060).
Detour: Inspired by similar retreats in the U.S., tiny-house getaway Cabn recently opened Jude, a diminutive Scandinavian-style home surrounded by the forests, farms, and wineries just outside the state's capital city in the Adelaide Hills (from $138). The glassed-in hideaway is tough to leave, but nearby Mount Lofty might lure you out for a morning run or rock climb.
Poor Knights Islands, North Island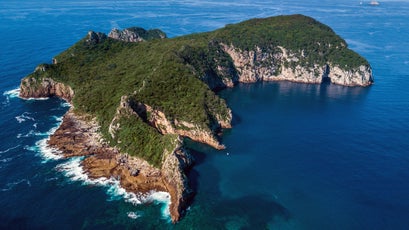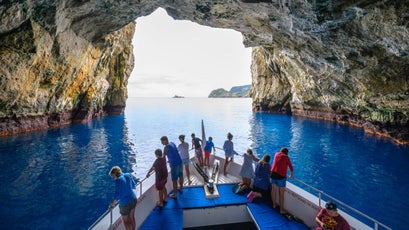 Paddleboarding, Scuba Diving, Snorkeling
Most people think all the fun happens on New Zealand's South Island. They're wrong. The waters off Poor Knights Islands, a small volcanic archipelago off the primeval Tutukaka Coast, were ranked as one of the top ten dive sites in the world by Jacques Cousteau. Moray eels hide in seaweed-covered crevices, psychedelic sea slugs rest on fan corals, and snapper, kingfish, and trevally school in the hundreds around a labyrinth of underwater tunnels, arches, and coral gardens. Dive Tutukaka offers private charters to some 100 sites, including Northern Arch, where stingrays mate and hide from orcas. Decompress on the mainland at the 6,000-acre Lodge at Kauri Cliffs, which offers a hilltop infinity pool, fishing guides, horseback riding, and helicopter tours of the craggy coastlines (from $547).
Detour: In the Bay of Islands, north of the Tutu­kaka Coast, parasail between isles and fill up on oysters and seafood chowder at the Duke of Marlborough Hotel in the village of Russell.
Mackenzie Basin, South Island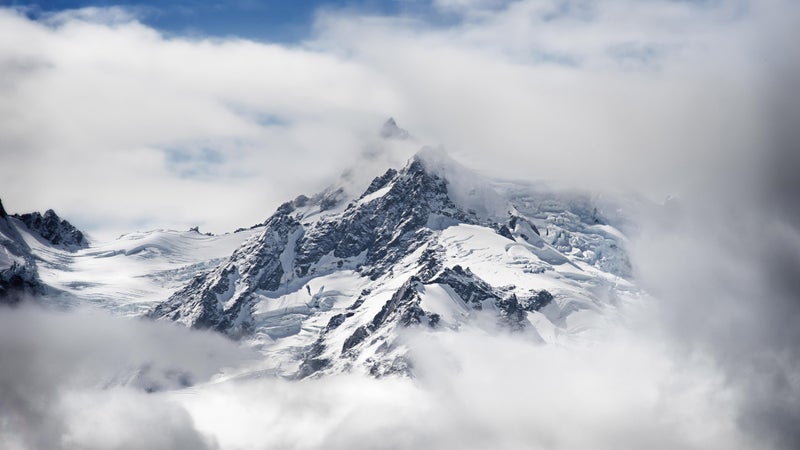 Stars, Vistas, Scenic Retreats
The peaks in this region served as Edmund Hillary's training ground for Mount Everest. While you explore 12,218-foot Aoraki–Mount Cook, starting from Lake Pukaki or the Mueller Hut, you might notice something that hasn't changed since the Kiwi explorer trekked the area—incredible stargazing. On a clear night, you'll see why the region was christened the first and largest Gold Tier reserve by the International Dark-Sky Association. Several companies run night-sky tours, but be sure to check out the planetarium and stargazing events at the Sir Edmund Hillary Alpine Center and the local wine at the Pukaki Wine Cellar and Observatory. Then soak in a cedar tub before drifting off under exotic constellations in your glass-roofed bedroom at SkyScape, a guesthouse on a working sheep farm deep inside the reserve (from $383).
Detour: If you're looking for stars in the country's north, Great Barrier Island is the world's only isle designated a Dark Sky Sanctuary.
Queenstown, South Island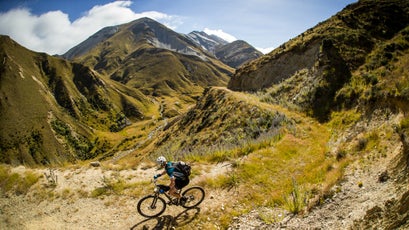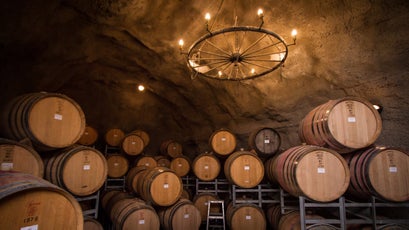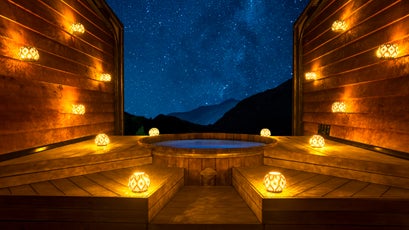 Mountain Biking, Wine, Eco-Lodges
Queenstown, New Zealand's adventure capital, has taken off as a cycling destination. Every November, the city hosts the Pioneer Mountain Bike Stage Race, where two-person teams ride 263 miles through the Southern Alps. If that's not your style, rent a hardtail from Gibbston Valley Winery and cap off a nine-mile round-trip ride along the Kawarau River with a complimentary wine and cheese lunch. The winery also rents full-suspension rigs for shredding the 25 miles of trails at neighboring Rabbit Ridge Bike Resort. When you're cycled out, recuperate in heated spring water at Onsen Hot Pools, a spa just north of Queenstown that overlooks the rapids-filled Shotover River. Then check in to Camp Glenorchy, a solar-powered lodge that opened earlier this year on the shores of Lake Wakatipu (from $161).
Detour: Riding the Roxburgh Gorge Trail in the Central Otago region, you'll wind past sheep farms, Gold Rush towns, and the Clutha Mata-au, the South Island's longest river.
Taupo Volcanic Zone, North Island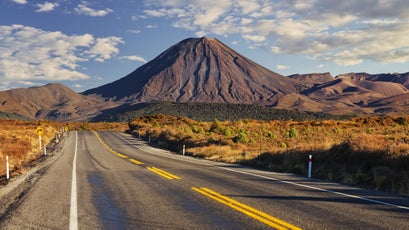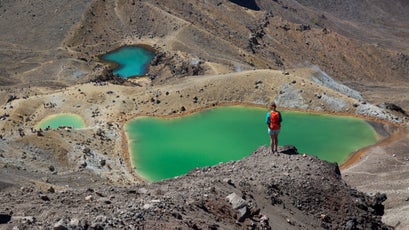 Volcanoes, Hot Springs, Summit Views
Extending from Mount Ruapehu to White Island, off the northeastern coast, this active volcanic region steams and seethes with dozens of geothermal features, ranging from the waterfall-and-hot-spring-fed Kerosene Creek to the thermal pools of the Wairakei Terraces spa. It's also pocked with calderas and punctuated by snowcapped peaks, the most well-known being Mount Tongariro, home to the stunning 12-mile Tongariro Alpine Crossing. The route can be crowded, so head out in the early morning under shooting stars—or go in winter, when crampons and an ice ax are required—and you should have the trail all to yourself. If you need a guide, Stewart Barclay, founder of Adrift Tongariro, has completed the crossing more than 2,000 times. He'll happily rise at 12:30 A.M. to lead your expedition before the rest of the mountain even wakes up.
Detour: Want to really escape the masses? Barclay also leads climbs of 9,177-foot Mount Ruapehu, the tallest peak on the North Island.
Paparoa National Park, South Island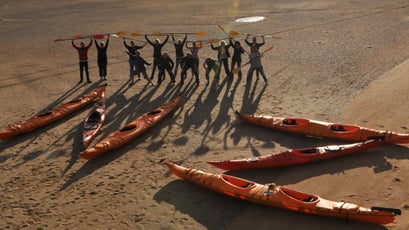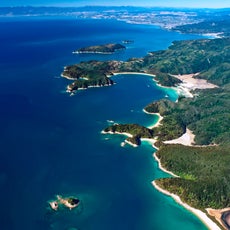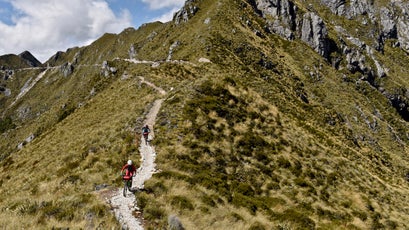 Mountain Biking, Hiking, Kayaking
The west coast of New Zealand's South Island draws travelers in search of glaciers, rainforests, whitebait (tiny delicious fish that are fried whole or frittered), and pounamu—jade stones that are an important part of Maori culture. Once the 34-mile Paparoa hut-to-hut track is finished in early 2019, it will be a hiker's and biker's paradise, too. The trail winds through beech trees and nikau palms that provide habitat for roroa, the iconic terrestrial bird better known as the great spotted kiwi. For another epic bikepacking journey, head to the 53-mile Old Ghost Road: this former mining track, which runs along the Mokihinui River and through the Lyell Range, is defined by steep climbs, exposed drop-offs, and long descents. The route is home to five huts that come with gas stoves, fireplaces, toilets, and bunk beds ($91).
Detour: In the South Island's northwest corner, Wilsons Abel Tasman offers guided kayaking trips along the Abel Tasman Coast Track, where you'll stop for day hikes and sleep on the beach (from $1,060 for three days). Recuperate at the Mussel Inn café in the town of Onekaka in Golden Bay over pan-fried tarakihi fish, green-lipped mussels, and a house-brewed Captain Cooker—a malt beer infused with manuka tree cuttings that was inspired by the first ale ever brewed in New Zealand, by none other than Captain Cook.