The Great and Wonderful Oz
So it's a vast, faraway adventure mecca,no worries, mate! Here come ten abso-bloody-lutely awesome Australian odysseys—from Sydney to the bush—plus locals' picks and all the beta you need to get there.
Heading out the door? Read this article on the new Outside+ app available now on iOS devices for members! Download the app.
Jane Smiley kicks off the snow with a report on horseback-riding through Queensland, setting you up for our top ten do-it-now dream trips:
Australia

JUMP START: A kangaroo at home in Queensland

Go Feral on Kangaroo Island



Become a Scuba-Diving Sea Star on Lizard Island



Go Deep with the Devil in Tasmania's New Look



Get Wet in the Kimberley



Embrace an Outback Station Baa-Nanza



Undergo an Aboriginal Adventure in Kakadu National Park



Embrace Sydney's Endless Summer



Take the Perfect, Cape-to-Cape Path



Take a Spin around Uluru



PLUS: How to get there and get around, luxe base camps, additional adventures, the best events of 2005-06, and the most reliable outfitters and travel resources.
Go Feral
Kangaroo Island's got fauna in spades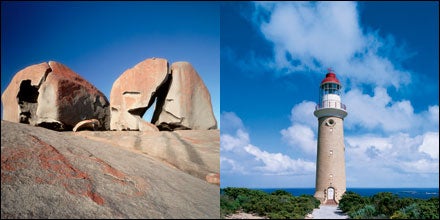 Local Hangouts
"My favorite place is the coastal town of Margaret River, 186 miles south of Perth. It's nestled in Jarrah and Karri eucalyptus trees—it's like being in an enchanted forest. My brothers are big surfers, and I get up at the crack of dawn to swim while they surf."—Isla Fisher, Perth native and actress, recently in Wedding Crashers

AFTER A PLEASURABLY hectic week in Sydney and the Blue Mountains, followed by a long, serpentine drive along the spectacular Great Ocean Road (Australia's Big Sur, between Melbourne and Adelaide), it was time for a strong dose of solitude—and for an intimate encounter with the wildlife of Oz.

Kangaroo Island's untamed west end gives you both. Ninety-six miles long, the nation's third-largest island is 70 miles southwest of Adelaide and a short ferry ride across Investigator Strait. This isolation from the mainland has preserved an abundance of native species—the island has invasive pigs and goats but lacks the cats, foxes, and rabbits that wreak havoc on indigenous wildlife elsewhere in Australia. Moreover, a third of the landscape is protected in 21 national and conservation parks. Much of the east end is rolling, pastoral lowland and farms, but Kangaroo Island tilts upward as you head west, and juts into the Indian Ocean, with sheer cliffs rising as high as 900 feet. At the far southwestern tip, there's nothing between Cape du Couedic (pronounced cootie), in Flinders Chase National Park, and Antarctica, except the Roaring Forties and 3,000 miles of open water.

The best introduction to the island's natural history is a stay at one of three century-old lighthouse keepers' cottages at Cape du Couedic; like the lighthouse itself, these were built from limestone quarried out of the Cape's own rock, strong enough to withstand the fiercest southern gales. The dim, cool, echoey interiors are furnished with funky period furniture, wood-fired cookstoves, and—according to the guestbook—ghosts. (There have been more than 50 shipwrecks along the Kangaroo Island coast, and the survivors' tales make for grisly reading.) Our only visitation came daily at dusk, when nocturnal Tammar wallabies—miniature 'roos nearly extinct on the continent—appeared at the back door, nibbling the grass.

The wallabies were only a taste of the critter action to come. Just down the road from Cape du Couedic are the high cliffs surrounding Admirals Arch, a massive open-sided cave lined with convenient haul-outs for a colony of 6,000 New Zealand fur seals, presided over by power-mad beach-master males. Despite violent breakers and an intense reek of seal poo, wooden walkways and stairs allow unparalleled viewing of the bellowing, frolicking, moshing, and bickering populace. (Seal Bay, on the island's southern coast, is another great place to ogle pinnipeds; rangers escort groups on walks to view Australian sea lions—some scarred by encounters with great white sharks—and, if you're lucky, their pups.)

Elsewhere in Flinders Chase National Park, we were approached by a few harmless K.I. kangaroos (a subspecies of the western gray) that were interested in our water. But soon we were staring up: Koalas, wedged in the forks of a eucalyptus tree, were swiveling their teddy-bear heads in slow motion, staring down at us. And that was just in the parking lot of the visitor center.

On the Rocky River hike, which starts at the center and takes you along dense bush trails to blinds along the Platypus Waterholes Walk, you're likely to spot Cape Barren geese, goannas, and wallabies crossing your path. The fur-bearing, egg-laying platypuses are more elusive, but we were thrilled to see the bubbles rising from their underwater dens.

The birdwatching was first-rate during our entire week on Kangaroo Island, the highlight being our sighting of a white-bellied sea eagle soaring low over the dusty Playford Highway, on the north shore. The only disappointment: Our late-afternoon ferry from Penneshaw back to the mainland sailed before we had a chance to watch the nightly parade of fairy penguins returning to their harborside nests after a day spent at sea. Next time.

For bookings at the lighthouse cottages and information about Flinders Chase National Park, 011-61-8-8559-7235, www.environment.sa.gov.au/parks. Kangaroo Island information, 011-61-8-8553-1185, www.tourkangarooisland.com.au.
Sea Star
The Great Barrier Reef's greatest hit—Lizard Island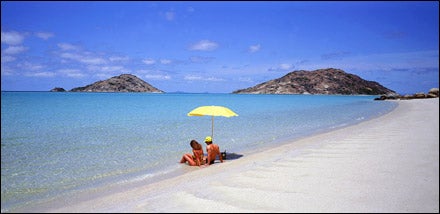 Local Hangouts
"Any mad American touring the country by car will not be disappointed by Mungo National Park, beautiful desert country six hours' drive from Melbourne in western New South Wales. You can camp or stay in a lodge, but be sure to take a supply of petrol, as there is no gas for a considerable way."—Thomas Keneally, Sydney-based booker prize–winning author of Schindler's Ark

ASK AUSSIES the ultimate Great Barrier Reef trip and they'll sigh for Lizard Island, a resort in the middle of the world's most stellar dive sites, with enough high style to lure the likes of Vince Vaughn and a honeymooning Russell Crowe. A light plane ferries guests an hour north of Cairns, skimming over interlocking reefs until the green, coral-ringed isle rises 17 miles off the coast. Part of six-island Lizard Island National Park, the 2,500-acre paradise is shared by only 80 resort guests, four scientists at the island's research station, a handful of campers, and a few moored yachties. Once the plane departs, silence descends, broken only by the coos of bar-shouldered doves and the popping of corks for the welcome libation.

The digs are equally glam: a string of villas along a white-powder beach framed by smooth boulders, the favorite basking spots for statuesque goannas, the Aussie monitor lizards that give the island its name. Each cabana is a miniature temple to nature, with timber floors, a sundeck, and the blue horizon filling every view.

Amazingly, some visitors make it no farther than the Azure Spa, for a seaweed mud mask, or the open-air restaurant, to scarf up mangrove jack reef fish. The water draws the rest: Lizard sits on top of the reef, so you can dash straight from your villa to snorkel over a rookery of yard-wide giant clams. And it's only 50 minutes by powerboat to the fabled outer reef, the fertile coral ribbons where you can spot the largest fish. In one hyperactive day, I dived the Cod Hole, where 150-pound potato cod tore bait from my fingers; cruised with the predators of Shark Alley; and swam with dwarf minke whales. Then it was back to the resort for sips of Bollinger while the lizards eyed me contentedly from their rocks.

From US$584 per person per night, including meals and many activities; 800-225-9849, www.lizardisland.com.au. Lizard Island National Park, 011-61-7-3405-0970, www.qld.gov.au/camping.
Devil's Deep
Tasmania's luxe new look
freycinet lodge

View from outside the Bay Restaurant
PADDLE A SEA KAYAK on Coles Bay, off the stunning east coast of Tasmania, and the only sound you'll hear is the slice of your blade through the water. Or the squeaking of dolphins at your bow. Or maybe the plink of your jig just before you haul in a squid for dinner.
Welcome to "Tassie," a pleasure-packed paradise filled with vast wilderness areas, spectacular beaches, and an ever-expanding number of deluxe eco-lodges, expeditions, and adventure ops.
Situated about 150 miles south of the mainland, Tassie was once considered the Appalachia of Australia—a derided island outback with a timber economy and no pizzazz. But thanks to the state's growing commitment to courting eco-tourists and protecting landscapes (national parks and preserves make up more than 40 percent of the island), Tasmania's wild character is paying off. In the past five years, the number of climbers, paddlers, divers, and other visitors has increased by 50 percent.
Spend a day on the eastern shore, along the Freycinet Peninsula, and it's easy to see why. You can swim, bushwalk, or wildlife-watch on gorgeous Wineglass Bay, then retreat to the Freycinet Lodge to slurp down local oysters with boutique Tasmanian wines. Or sea-kayak on Great Oyster Bay with Freycinet Adventures, and enjoy upscale camping and canapes on the white sands of Hazards Beach. Before the bliss overload sends you to sleep, you'll be lucky to hear one more thing: the scuffle of wallabies and wombats foraging in the bush.
Doubles at Freycinet Lodge, US$248–$377; 011-61-3-6257-0101, www.freycinetlodge.com.au. Half-day-to-five-day sea-kayaking trips with Freycinet Adventures, US$65–$1,066; 011-61-3-6257-0500, www.adventurestasmania.com.
Lush Life
When the Kimberley goes green, it's a splash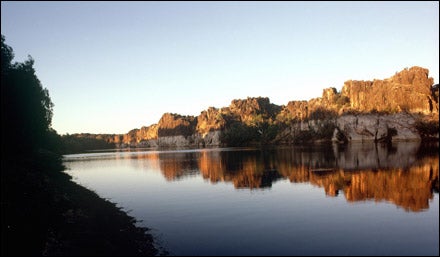 "YOU CAN'T GET much more outback than the Kimberley," says 60-year-old Russell Willis, of Darwin-based Willis's Walkabouts. And though this vast wilderness in northwestern Australia remains largely inaccessible, it has attained mythic status among Aussies. It could be its pioneer history, rife with cattle rustlers and gold speculators, or maybe it's the sheer grandeur. From white-sand beaches to endless red-rock canyons, the Kimberley has it all—except crowds. "Imagine a scenic area the size of Arizona with only 30,000 people," says Willis. Then there's "the Wet." From May through October, the Kimberley is bone-dry, but a metamorphosis occurs in November, when the rainy season hits: Boab trees leaf out, waterfalls gush, and shallow gorge pools become deep, inviting swimming holes.
One of the best ways to see the area at its greenest is in January and February on Willis's 16-day canoe-and-hiking trip into the interior. After a few days exploring the valleys, gorges, waterfalls, and Aboriginal art around the town of Kununurra, you spend five days paddling the Ord River about 34 miles, from Lake Argyle—a birder's paradise of purple-crowned fairy-wrens, yellow-rumped mannikins, and 200 other species—back to Kununurra. You'll cruise past freshwater crocs, rock wallabies, and flying foxes, stopping for optional two-to-four-hour cross-country hikes to the top of the canyon. "There are no trails in this part of the world," says Willis. "It's pure scrub bashing 100 percent of the way."
From Kununurra, groups are choppered into Keep River National Park, 354 square miles in the Northern Territory, a land of mind-blowing red-rock arches peppered with palm trees. With a comfortable camp—private tents and a three-course dinner—and the Keep massif as your base, you'll boulder, climb to caves filled with Aboriginal rock art, and cool off in waterfall pools. Yes, sometimes inaccessibility is a very good thing.
US$2,358 per person; 011-61-8-8985-2134, www.bushwalkingholidays.com.au. Keep River National Park, 011-61-8-9167-8827, www.nt.gov.au/ntg/attracts.shtml.
Baa-Nanza
Home on the woolly Flinders Ranges
SILVER-HAIRED RANCHER Dean Rasheed plunges his Land Cruiser into the deep stream. Water slaps the windshield and licks the side-view mirrors. Rasheed, 60, lets out a howl and turns onto a steep track, where a family of western gray kangaroos grazes among his 7,500 sheep. Rasheed calls this work. He drives this road a few times a week to monitor his flock and give tours of Arkaba Station, his stunning 63,000-acre sheep ranch in the Flinders Ranges of South Australia. I have arrived in the outback.
The Flinders are not big mountains (the highest is 3,832-foot St. Mary Peak). But they have their majesty—rolling red-clay hills scattered with pale-green blue bush, sheer rock faces, and caves with Aboriginal art. Travelers who want to taste the real outback—where wildlife are the neighbors and the earth is boss—come here, to the Rasheeds' place. Dean and his wife, Lizzie, accommodate four guests in ranch-house bedrooms with Flinders views and fill you up with home-baked bread, mutton, kangaroo, and fine South Australia wines.
Then there's the outdoors—jaw-dropping gorges in nearby Flinders Ranges National Park and the rock formations of 32-square-mile Wilpena Pound. Or you can work: herding sheep, cleaning troughs, or, if you arrive in September, playing barber in the 19th-century shearing shed. When you're on Arkaba, amid endless acres, the outback invades your soul, and you understand its ultimate attraction: space.
US$318 per person per night, including meals and activities; 011-61-8-8648-0004, www.wilpenapound.com.au/accommodation/arkaba.htm.
Bush Tucker
Aboriginal adventure in Kakadu National Park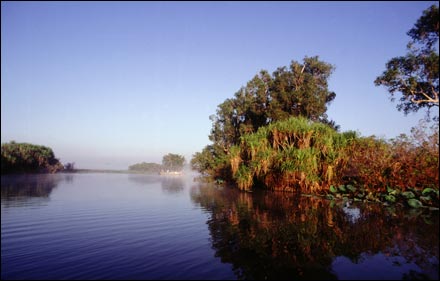 Local Hangouts
Melbourne native Cate Blanchett escapes the city's hot, dry climate at Elwood Beach, a family-friendly spot four miles south of the city on Port Phillip Bay; the actress learned to bodysurf at Portsea Back Beach, 60 miles south of Melbourne on the tip of the Mornington Peninsula.

SAB LORD is demonstrating a traditional bush remedy for sore throats. Grabbing a nest of green ants from a paperbark tree, the 45-year-old safari guide explains that these nests work nicely for a quick vitamin-C fix. Grinning impishly, he flattens the fist-size morsel, rolls it into a ball, pops it into his mouth, and begins sucking the lemony enzymes from the ants' posteriors. Within seconds, he spits out the remnants of his snack and offers a fresh nest to a rapt audience of novice bush foragers.

The small group has gathered in Kakadu National Park—a 4.9-million-acre expanse of red cliffs etched with ancient rock carvings, and verdant wetlands rich in birdlife and croc-infested billabongs, 186 miles east of Darwin in the Northern Territory—to learn about Yolngu (East Arnhem Land Aboriginals) beliefs and practices. Lord, an ex-pro rugby player, a white guy, and owner of Lords Kakadu & Arnhemland Safaris, would be an unlikely guide to indigenous culture except for one key fact: Thanks to a childhood spent on a water-buffalo station in Kakadu, he was ceremonially adopted by an Aboriginal family in the Mamakala community.

He learned the ant-nest trick—and plenty more about indigenous foods, or "bush tucker"—from his adoptive grandmother, Rosie Lundduy. Four feet nine inches tall and utterly engaging ("Leeches are some tasty tucker!" she cries), Lundduy is one of several Aborigines leading food-foraging tours through Kakadu and adjoining Arnhem Land, a 24-million-acre Aboriginal-owned wilderness.

The entertaining duo of Lord and Lundduy will help you carve a digging stick to root up bush yams and demonstrate how to strip pandanus leaves—also used for weaving bags—to get to the artichoke-flavored hearts. You can sleep out in the bush, relaxing at night in a fully equipped safari camp, or opt for day trips and the comfort of one of the park's six hotels. But whatever you do, leave your taste for Taco Bell at home.

Lords Kakadu & Arnhemland Safaris' custom Maningrida Arnhem Cultural Tour includes a bush-tucker course and a sunset barbecue; 011-61-8-8948-2200, www.lords-safaris.com.
It Rips
Sydney's endless summer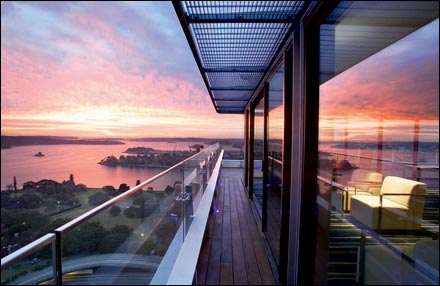 Local Hangouts
"There's superb cold-water diving at the entrance to Melbourne's Port Phillip Bay. After World War I, a whole fleet of British submarines were scuttled there. I count an early-morning descent to the 'Intact Submarine' as one of the most magical dives I've ever made—the sea anemones glow a brilliant yellow in the bright underwater sun."—Tony Wheeler, Melbourne-based cofounder of Lonely Planet Publications

WHAT COULD BE BETTER, when you know the surf's cranking, than waking up to a room-service cappuccino under a feather quilt at the InterContinental, overlooking Sydney's spectacular harbor? Or pulling on boardshorts and descending to the lobby, where the concierge procured you a Cohiba the night before? The entire bellhop corps seems drawn from the local surfer population, so don't be surprised if one tanned 'hop tells you the morning surf report while another picks out a board from your quiver, which they've politely stored in the luggage room.

Then it's time to catch the ferry to Manly, a quaint beach town at the northern mouth of Sydney Harbour, where there's nothing left to do but paddle into first-class beach-break surf.

Think of it as the Ultimate Urban Pleasures Surf Safari, the best way on earth to get your warm-water waves and high-end sushi, too. Numerous world champions have been minted on these breaks, including female shredder Layne Beachley. A drive north from Manly brings you to clean beach breaks like Freshwater, Curl Curl, and North Narrabeen. Drive south from Sydney's Bondi Beach, near Aussie actor Heath Ledger's home, and there's another string of great breaks en route to lunch at the Pavilion Cafe, in Maroubra Beach.

Après-surf, kick back at Sydney's Newport Arms, the classic surfer pub. Or stroll to Rockpool for celebrity chef Neil Perry's salad of wild greenlip abalone, mussels, clams, tea-smoked oysters, and fine noodles. You just might be ready to get tubed again in the morning.

Doubles at the InterContinental, from US$228; 011-61-2-9253-9000, www.icsydney.com.au. Dinner for two at Rockpool, US$192–$230; 011-61-2-9252-1888, www.rockpool.com. Manly's Dripping Wet Surf co. rents boards for US$35 a day; 011-61-2-9977-3549, www.drippingwetsurf.com.
Path Perfect
On the Cape to Cape Track, you walk alone
Local Hangouts
Melbourne native Cate Blanchett escapes the city's hot, dry climate at Elwood Beach, a family-friendly spot four miles south of the city on Port Phillip Bay; the actress learned to bodysurf at Portsea Back Beach, 60 miles south of Melbourne on the tip of the Mornington Peninsula.

TAKE A SUN-WASHED coastline with white-sand beaches, add a wildflower-filled 83-mile trail along limestone cliffs—with warm surf below and, a brief jaunt away, prized wines to sip—and you've got an overcrowded tourist trap, right? Wrong, mate, if you're on the Cape to Cape Track, in 49,400-acre Leeuwin-Naturaliste National Park, between Cape Naturaliste and Cape Leeuwin.

Located in one of the most isolated coastal areas on earth—three hours south of Perth in Australia's southwestern corner—the track and parkland are barely on the radar for most travelers.

But just minutes from the trail by car lies the trendy town of Margaret River, a hot new epicenter of epicureanism and home to some of Australia's best wineries. And just a mile and a half away are the cushy chalets of the Merribrook Retreat, whose owners, veteran guide Richard Firth and his wife, Lorraine, run a variety of Cape to Cape trips.

The Firths' six-day trek winds through headlands above sculpted dunes, empty beaches, and world-class surf breaks. Watch for southern right and humpback whales during migration season, from October to December. Or let Firth rappel you 150 feet down into one of the park's huge limestone caves.

At day's end, a chilled wine will be ready to pour, and Firth, a skilled cook, will snag seafood for that night's dinner from your own private coastline.

Merribrook Retreat's six-day Cape to Cape walks cost US$1,422 (based on double occupancy); doubles at Merribrook start at US$177, including breakfast; 011-61-8-9755-5599, www.merribrook.com.au. Check out www.capetocapetrack.com.au for do-it-yourself information.
Spinning Uluru
The monolithic Ayers Rock gets some respect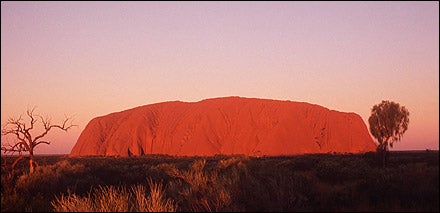 AYERS ROCK IS LIKE an inverse Grand Canyon. Instead of a giant chasm, the near-six-mile-circumference, 1,115-foot-high, 300- to 400-million-year-old arkose sandstone monolith sticks out of the surrounding outback like a giant mood ring. Clashing perceptions of Australia's iconic symbol are a good measure of the outback's politically charged temperament. In the eighties, the Australian government returned 327,578-acre Uluru-Kata Tjuta National Park to the local Anangu Aboriginals, who changed the rock's name back to Uluru. Then they leased the parkland back to the government, giving the 400,000 annual tourists continued access to the steep, mile-long hiking trail that trespasses a sacred Aboriginal site en route to the top.
But just "because it's there" doesn't mean you have to summit. In fact, dodge a karmic bullet by circumnavigating Uluru instead. On a perfect late-September day, I cycled the six-mile-plus ribbon of pavement around Uluru. Sure enough, as the sun sank, this massive shade-shifter absorbed the universe. Lap one was brilliant yellow. Lap two was bright orange. Lap three was deep purple. By that last lap, it was evident that Uluru was in an ebullient mood—and so was I.
Stay nearby at Longitude 131°, a luxe tented camp (US$690 per person, all-inclusive, based on double occupancy; 011-61-2-8296-8010, www.longitude131.com.au). Ayers Rock Campground offers mountain-bike rentals for US$23 per day (011-61-8-8957-7001, www.ayersrockresort.com.au/arrcamp).
Essential Australia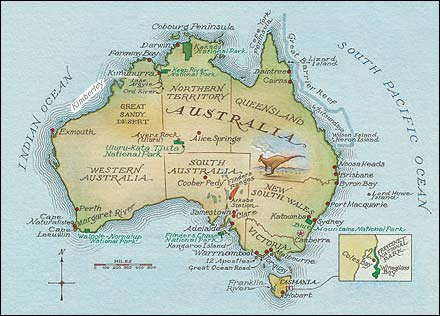 GETTING THERE*
With the QUANTAS AIRPASS, you can fly nonstop from L.A. to Sydney, Melbourne, or Brisbane for $999–$1,599 (800-348-8145, www.qantasvacations.com); purchase includes three domestic flights within Australia. AIR TAHITI NUI (877-824-4846, www.tahiti-newzealand-australia.com) flies from L.A. to Sydney for $998, and from New York for $1,198, including stops in Tahiti and Auckland, New Zealand.
PRIME TIME
Hit the south during Australia's legendary summer (December–February), or enjoy the less steamy months in the tropical north between May and October.
GETTING AROUND
To do Australia right, you need to cover a lot of ground. QUANTAS operates out of 59 cities (800-227-4500, www.qantas.com); VIRGIN BLUE hits 23 destinations (011-61-7-3295-2296, www.virginblue.com.au). Ride from Melbourne to Cairns with the EAST COAST DISCOVERY PASS (valid for six months; $302), or take a three-night, 2,700-mile transcontinental rail journey on the Indian Pacific to see the spectacular country between Sydney and Perth (from $330 per person; ATS TOURSs, 310-643-0044, www.railaustralia.com.au). Considering Oz's vast distances and incredible national parks, camper vans are a popular option for road trips. KEA CAMPERS offers decked-out, pop-up rides from $46 per day (011-61-2-8707-5500, www.keacampers.com/australia). Avis, Budget, Hertz, and National all rent cars; rates start at $27 per day.
LUXURY BASE CAMPS
DAINTREE ECO LODGE & SPA, Daintree, Queensland. Sleep in one of 15 tree houses on stilts at this award-winning 30-acre eco-resort, where you can explore the world's oldest living rainforest or dive into the nearby Great Barrier Reef. Doubles from $349, including breakfast (011-61-7-4098-6100, www.daintree-ecolodge.com.au).
NORTH BUNDALEER, Jamestown, South Australia. This restored four-room 1901 mansion sits on 470 acres near the 17-mile Riesling Trail, which leads pedalers to tasting rooms at Clare Valley wineries ($19 per day; Clare Valley Cycle Hire, 011-61-8-8842-2782, www.clarevalleycyclehire.com.au). Doubles from $369, including meals and drinks (011-61-8-8665-4024, www.northbundaleer.com.au).
FARAWAY BAY, THE BUSH CAMP, Western Australia. Set in a secluded cove on the Kimberley Coast, this permanent camp of eight cabins combines wilderness luxury with awesome scenery—think crocodiles and dolphins cavorting off a white-sand beach backed by red cliffs. Open April 1–October 31; $1,500 per person for two nights, including air transfer from Kununurra, meals, drinks, and excursions (011-61-8-9169-1214, www.farawaybay.com.au).
ECHOES BOUTIQUE HOTEL AND RESTAURANT, Katoomba, New South Wales. All 13 suites in this eclectic hotel have panoramic views of the craggy buttes and temperate rainforests of the Blue Mountains, a World Heritage site. Explore the stunning sandstone range by rock-climbing with High N Wild Mountain Adventures (half-days from $84; 011-61-2-4782-6224, www.high-n-wild.com.au). Doubles from $258 (011-61-2-4782-1966, www.echoeshotel.com.au).
CAPELLA LODGE, Lord Howe Island, New South Wales. Overlooking both the lagoon and the signature green mountains of Lord Howe Island, 434 miles northeast of Sydney, the Capella Lodge offers Zenlike suites, an insane adventure menu, and exceptional dining. Doubles from $346, including breakfast, dinner, and airport transfers (011-61-2-9918-4355, www.lordhowe.com).
SEVEN SPIRIT BAY WILDERNESS LODGE , Cobourg Peninsula, Northern Territory. This rainforest eco-lodge in Garig Gunak Barlu National Park has 23 hexagonal "habitats"—swank screened bungalows with garden showers secluded in the bush. Open March 17–December 15. Doubles from $995 for two nights, including round-trip flights from Darwin, all meals, and wildlife safaris to see buffalo, crocodiles, and cockatoos (011-61-8-8979-0281, www.sevenspiritbay.com.au).
Essential Australia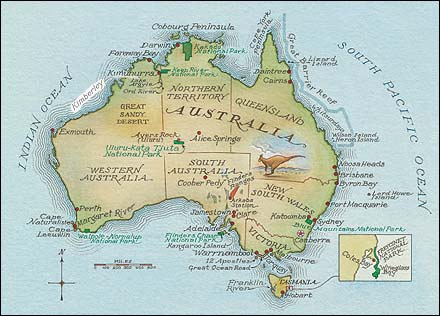 MORE EXPLORING
SAIL AND DIVE THE WHITSUNDAYS: Island-hop this archipelago of 74 coral-fringed, rainforested isles on the Great Barrier Reef aboard Bliss, a skippered 60-foot yacht that sleeps six (double cabin from $1,346 for three nights, with meals; diving is extra; 011-61-7-4946-5433, www.prosail.com.au).
DRIVE THE GREAT OCEAN ROAD: Roll the 219 miles between Torquay and Warrnambool on one of the world's best drives, past old lighthouses and the famous 12 Apostles rock formation (011-61-3-5222-2900, www.greatoceanrd.org.au).
COMMUNE WITH THE TINGLE FORESTS: Get dwarfed in Walpole-Nornalup National Park's Valley of the Giants, Australia's answer to the Redwoods, 280 miles south of Perth (011-61-8-9840-1027, www.calm.wa.gov.au).
RUN THE FRANKLIN RIVER: Take a mind-blowing nine-day whitewater trip with Tasmanian Expeditions through pristine Tasmanian wilderness ($1,761 per person; 011-61-3-6339-3999, www.tas-ex.com).
OFF-ROAD ON THE CAPE YORK PENINSULA: Ford rivers, dodge crocs, and bathe in waterfalls. Getabout 4WD Adventures offers 16-day guided, self-drive camping trips from Cairns to Cape York ($3,947 for two; 011-61-2-9831-8385, www.getabout.com.au). BIKE THE OUTBACK: For the full Mad Max tour, try Wayward Bus Touring Company's new "Outbike" tour, a fully supported two-week cycle from Alice Springs to Coober Pedy ($1,553; 011-61-8-8410-8833, www.outbike.com.au).
DIVE WITH WHALE SHARKS: From April to July, migrating whale sharks converge on Western Australia's central coast near Exmouth ($284 per day with the Exmouth Diving Centre; 011-61-8-9949-1201, www.exmouthdiving.com.au).
INDULGE IN THE WILSON ISLAND EXPERIENCE: Spend five days at permanent luxury camps on two coral cays, Heron Island and Wilson Island, on the Great Barrier Reef ($1,533 per person, including meals; 011-61-2-8296-8010, www.voyages.com.au).
KITEBOARD IN ST. KILDA: Melbourne's hip beach 'hood is a magnet for kiteboarders and windsurfers. RPS, a local surf shop, offers half-day lessons for $192 (011-61-3-9525-6475, www.rpstheboardstore.com).
SURF BYRON BAY: Paddle out to Tallows, Byron's hallowed beach break. Byron Bay Surf School rents boards for $23 per day (011-61-2-6680-9761, www.byronbaysurfschool.com). Then chill at the Byron at Byron Resort and Spa (doubles from $230; 011-61-1-300-554-362, www.thebyronatbyron.com.au).
BEST EVENTS, 2005-2006
MELBOURNE CUP CARNIVAL (October 29–November 5): Experience Australia's version of the Kentucky Derby. COMMONWEALTH GAMES (March 15–26): These Olympic-style games, which occur once every four years, come to Melbourne in 2006. IRONMAN AUSTRALIA TRIATHLON (April 2): Hundreds of finely sculpted masochists race in Port Macquarie, New South Wales. RIP CURL PRO at Bells Beach (mid-April): Surfers and wannabes descend on Victoria during Australia's top pro-surfing contest. SYDNEY FILM FESTIVAL (June): Rub shoulders with Nicole Kidman, Baz Luhrmann, and Cate Blanchett in the heart of Sydney. HOG'S BREATH RACE WEEK (August 10–17): It's party time when one of Australia's most competitive regattas kicks off in the Whitsundays.
OUTFITTERS
OUTBACK ENCOUNTER is one of Australia's premier luxury tour operators (011-61-8-8354-4405, www.outbackencounter.com). WILDERNESS AUSTRALIA specializes in custom guided safaris (011-61-2-9231-2113, www.wildernessaustralia.com.au). BACKROADS runs a nine-day multisport adventure in Queensland (800-462-2848, www.backroads.com). WILDERNESS TRAVEL offers 12-day Wild Australia and 10-day Wild Tasmania trips (800-368-2794, www.wildernesstravel.com).
RESOURCES
For general information, visit www.australia.com. And to try to make sense of Aussie slang, pick up a copy of A Dictionary of Australian Colloquialisms (Oxford).