Sirens of the South Pacific
Dreaming of Oceania's island paradise? Here's how to feed your fantasy.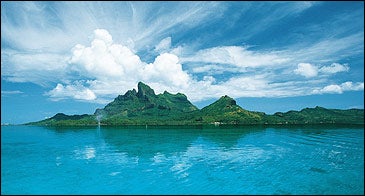 Heading out the door? Read this article on the new Outside+ app available now on iOS devices for members! Download the app.
GET THERE
For more information on South Seas adventures, including trip outfitters, archived articles, and more,
CLICK HERE

We searched the South Pacific for the ultimate in tropical paradise. Now grab your hammock and sunblock and go!


Exploring Hiva Oa


Basking on Namenalala


Kicking Back on Moorea


Sailing Polynesia and Beyond


PLUS: A South Seas Castaway Adventure Guide




Show Me the Mana
Gauguin found it on Hiva Oa. So can you.
Access + Resources
Air Tahiti serves Hiva Oa daily ($489 round-trip; 011-689-864-242,
www.airtahiti-vt.com
) from Papeete, Tahiti. Pearl Resorts' Hanakee Hiva Oa Pearl Lodge in Atuona (doubles, $200; 800-841-4145,
www.pearlresorts.com
) has 20 bungalows and suites with stellar views of the island of Tahuata. For considerably less, try the Temetiu Village Pension ($50-$80 per person per night; 011-689-927-302; e-mail, heitaagabyfeli@mail.pf), only a 20-minute walk from Atuona. Hiva Oa Tours (011-689-927-004; e-mail, roga@mail.pf) in Atuona can arrange hiking or four-wheel-drive tours of the island. Rent mountain bikes at the Hanakee Hiva Oa Pearl Lodge. Tour operators are scarce in the Marquesa…
PEPERU, A MOP-GIANT of a Marquesan man, his cousin Siano, and I have been hiking for four hours through the steamy jungle when he turns around and whispers, "The first time I came here, I got chicken pox—from the mana."

I expected our destination, an ancient ceremonial site, to hold an air of mystery, but I didn't realize that the mana, or supernatural power, would unleash an infectious disease.

"You don't mean goose bumps, do you?" I ask, remembering that English is only one of Peperu's four languages.

"That's it," Peperu says.

We're hiking in the interior of the 77-square-mile volcanic fang of Hiva Oa, the second-largest island in the Marquesas archipelago, about 800 miles northeast of Tahiti. From the rocky seashore, the terrain vaults to 4,000-foot peaks that top out in a razor-sharp central ridge. Only about 1,800 people inhabit Hiva Oa, all but a handful in the town of Atuona, on the southern coast. True, Atuona now has a swank Pearl resort, paved roads, and Pringles, but due to its distance from everywhere, the ten-island chain is mostly left to itself. Aiming to immerse myself in local lifestyle, I stay at the family-run Temetiu Village Pension, on a hill overlooking the Bay of Traitors a half-mile east of Atuona. The bungalow is modest but spotless, and my gracious host, Gabriel Heitaa, serves tasty traditional meals of fresh tuna and lobster, or wild pig and breadfruit from the jungle.

Lured by tales of islanders living in a state of grace, artist Paul Gauguin sailed to the Marquesas in 1901 and died on Hiva Oa in 1903, 100 years ago this May. The island still reeks of the sensuality and mystique Gauguin captured on his canvases: Wild horses race across fern- covered hillsides, and even casual hikes through glades of pandanus lead to ancient ceremonial sites. Little in the way of outfitted sporting adventure exists, but you can always rent a mountain bike to tackle the singletrack pig trails lacing the bush, or find a local who will take you on a dive excursion to the sea caves that punctuate the coast.

But it's the vertical terrain and the lost world it conceals that make Hiva Oa worth a visit. In the 200 years following the first European contact, in 1595, slave traders and disease decimated the Marquesas. An entire culture was ravaged, leaving vestiges of its history standing in the jungle.
Peperu and Siano lead me to a ridge where, shrouded in lush vegetation, low walls of stacked stone support rectangular platforms. On one a slab forms a seatback—a chieftain's chaise. Nearby lies the worn but unmistakable shape of a pestle, left where it was discarded hundreds of years ago. Lichen-softened stone panels display bas-relief forms of carved tikis— figurines of ancient gods. Siano shows me a fantastically twisted gray-green boulder that chieftains once held on to while seeking divine guidance. I palm the boulder and am overwhelmed by the sense that the stone is touching me back. This, I understand at once, is mana. Looking down at my forearms, I find them covered with bumps. Once again, it seems, the mana has inspired a wicked case of Marquesan chicken pox.
It's Namenalala-Land!
Taming the dragon under Fiji's Heavenly Skies
Access + Resources
Air Pacific (800-227-4446) and Air New Zealand (310-338-0120) fly directly to Nadi International Airport from Los Angeles for about $1,575. Once in Nadi, either fly one hour to Savusavu on Air Fiji ($95 one-way; 877-247-3454) and then take the 90-minute boat ride to Namenalala ($98 per person), or take a seaplane from Nadi to Namenalala ($195 per person). Joan Moody will set up all of the intra-Fiji travel.
You'll stay in one of the six bures at Moody's Namena (011-679-8813-764; fax, 011-679-8812-366;
www.moodysnamenafiji.com
) for $195 per person per night. Everything (meals, wine with dinner, sea kayaks, fishing) is included except additional alcohol and scuba diving, which costs $95 per person per day. Bring your…

The beast in its lair: Fiji lying in wait
A FEW MONTHS BEFORE I WALKED DOWN THE AISLE, I had become obsessed with finding the perfect place. I wanted our honeymoon to be nothing short of miraculous. Happily, the gods forgave my hubris and plopped us on Namenalala.

Our first glimpse of the island was from a 15-foot fishing boat that carried us 25 miles across the Koro Sea from Savusavu, Fiji. We squinted into the bright sunshine at the lush, mile-long, sleeping-dragon-shaped island and saw a week of perfect moments on the five pristine beaches, the 19-mile ring of barrier reef, and the three miles of hiking trails. Namenalala was uninhabited until 1983, when an intrepid American couple, Tom and Joan Moody, took out a 99-year lease on the 110-acre island and built a ten-acre resort. In place of manicured grounds and air-conditioned rooms, there are wildly overgrown landscapes, twisted, hilly walkways, and six bures (cottages) built on stilts, each with five sets of sliding doors to let in the breeze.

Throughout our stay, we couldn't get enough of the aquamarine, 80-degree ocean. A 15-minute ride in a dive boat brought us to some of Fiji's best scuba sites—Fish Patch was our favorite, and Karl the dive master took us there every morning to explore the Grand Canyon, a mile-deep underwater wall where, at about 80 feet, we could swim amid huge schools of trevally and wait for white-tip, gray-tip, and hammerhead sharks to swish by.

After lunch the first day, hungry for more time in the drink, we grabbed our goggles and jumped back in. The fringe of Namenalala is covered by cashmere-soft beaches—the sand made from exoskeletons of shellfish that have been crushed into powder. We snorkeled from one beach, three-quarters of a mile around the tip of the island, to the next beach, hovering to wave our hands over the giant clams' Day-Glo-green mouths and watch them snap shut. Forty minutes later we crawled up on shore, gasping like guppies (but pretending to be shipwrecked sailors).

The next afternoon, after early-morning yoga on the deck and our midmorning trip to the Fish Patch, we set out by sea kayak. It took us half a day to circle the island, due in part to my secret backseat lily-dipping and pendulum-swing steering.

Despite the island's size, we managed to spend all of the next afternoon hiking. One trail led through thick fig-tree roots, berry-covered bushes, and massive flame trees to the island's 400-foot crest. Because this was the perfect place, we arrived at the Dragon's Head, a sloping bulb at the tip of the island, at the perfect time to enjoy the sunset. The sky was streaked with wide, red fingernail marks of clouds, and what seemed like hundreds of red-footed boobies and lesser frigates called overhead. They were all going somewhere with great purpose, but it was hard to imagine there was a better place to be.
Think Naked
Baja, Pt. II
Passing through an opening in the hedge, we saw an empty volleyball court, an open-air bar, and a vast star-shaped hot tub. I counted 30 naked and oiled people soaking up sun, standing, sprawled on loungers, sitting and sipping drinks. They generally ranged in age from their thirties to their sixties: pudgy, skinny, tanned, pale, droopy, firm, you name it.


We said hello to one group. Liisa draped her towel over an adjacent chaise lounge. No hesitation. Off came her top. Down went her bottom. Smiles all around. I tried to remember the axiom of scuba diving: Don't lose control of your breathing. "The only tan-line I want," she announced, "is from my wedding ring.


This was not what I imagined nudism to be, at least not the blasé variety in which naturists sit naked and splay-legged in mixed company playing shuffleboard and rummy, almost trying to prove that nothing is off. But neither did we sense the overt expectation of swingers. Instead, the people here seemed to be in some personal, racy in-between. They were flashers, they were voyeurs. The proximity of other naked bodies added a certain frisson of possibility, but the targets of people's hedonism seemed their own partners. A woman and her man would stare at each other with the flushing pride of prom dates, perpetually startled and pleased by the absence of costume. Liisa and I realized that most of the couples on this side of the oleander hedge were madly in love&3151;and found daring the buff in the Mexican sunshine a remarkably loving thing. So while I don't know if I'll ever feel completely normal about it, I discovered that being naked in public with my wife was just all right with me—thrilling, but relaxing, too.