Sleeping with Giants
Now you can explore Easter Island's famed stone statues in style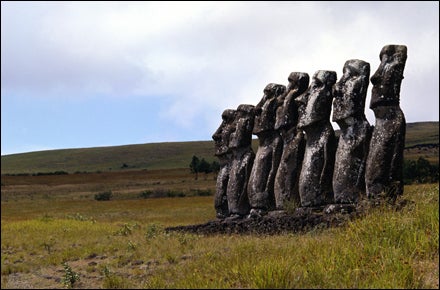 Heading out the door? Read this article on the new Outside+ app available now on iOS devices for members! Download the app.
LUXURY HAS FINALLY LANDED on one of the earth's most isolated spots. With the recent introduction of Casas Rapa Nui, on Easter Island—a 64-square-mile volcanic speck midway between Chile and Tahiti in the South Pacific—visitors can finally enjoy this outpost in upscale digs. Run by Explora, well known for its beautiful lodges in Chile's Torres del Paine National Park and the Atacama Desert, Casas Rapa Nui uses the same winning formula of adventure by day (Easter Island guests explore hundreds of the 15-ton moai statues that the island is famous for) and pisco sours and plush down comforters by night.
The lodge has nine spacious rooms with rattan-and-wood furnishings, and its dining room and adjacent bar serve up fresh-caught swordfish and tuna accompanied by ever flowing Chilean wine. But all this ambience is just a stopgap: By 2007, Explora will have completed a 30-room lodge with a wellness area, swimming pool, and terrace restaurant offering South Pacific views. The real reason to go, of course, is to investigate the stone monoliths and the vanished culture that built them. Explora organizes a dozen guided excursions, like trekking along cliffs honeycombed with abandoned dwellings and caves, biking the trails hugging the island's southern coast, and swimming at the sandy beach where Captain James Cook once waded ashore. After a few days of soaking up the island's mysterious vibe, when your tattooed local guide tells you that his ancestors levitated the statues with nothing but mana (Polynesian magic), you just might believe it.
The best time to go is during the carnival atmosphere of the Tapati Rapa Nui Festival, which this year runs February 2 to 18. LAN Airlines (866-435-9526, www.lan.com) flies round-trip to Easter Island from Santiago for about $700. Three to seven nights at Casas Rapa Nui from $1,230 per person, all-inclusive based on double occupancy; 011-56-2-2066060, www.explora.com.