One-Mile Challenge
The Best (Free) Road Trip Apps
Up your #vanlife game with these apps that help you find camping spots, compare gas prices, and avoid city traffic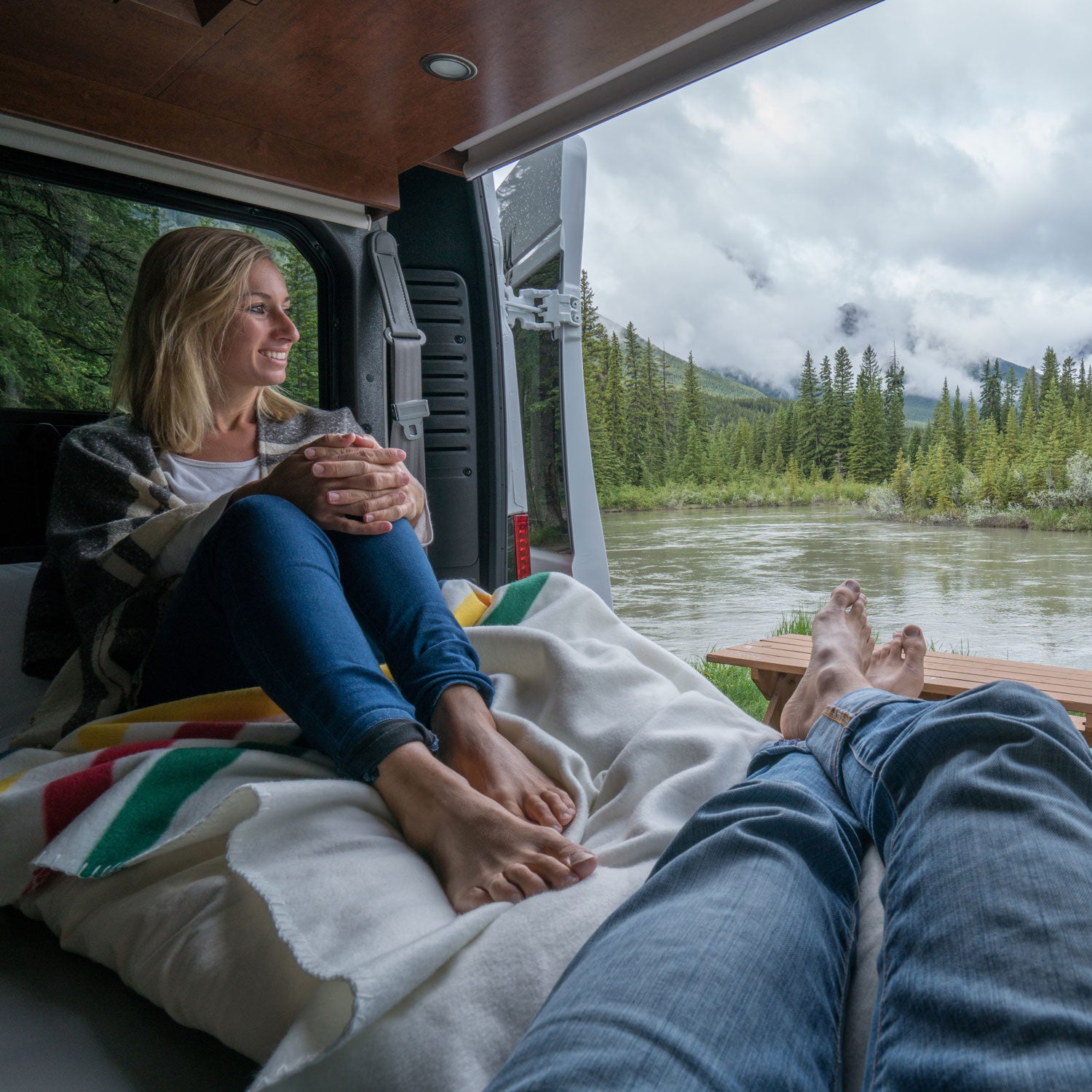 Heading out the door? Read this article on the new Outside+ app available now on iOS devices for members! Download the app.
My boyfriend (now husband) and I once circled America in our Sprinter van. We learned a lot in that yearlong road trip: how to find ideal urban camping spots (hint: it involves Zillow and tall hedges), how to pee in a bucket in a moving vehicle, and how to make 27 different one-pan stir-fries. But we also learned how incredibly reliant we are on technology—not always in a bad way. As much as we used the trip as an opportunity to unplug, we relied on our smartphones to plan our routes and figure out where to eat, sleep, and play. Here are the apps that became essential to our road-trip success.
For the Planners
Roadtrippers
If you like to have a plan before embarking on a long, multileg journey, this is the app (iOS and Android) for you. Just enter your destinations, and the app will calculate trip time, mileage, and approximate gas cost. Then view the map of your route and toggle on attractions, restaurants, outdoor recreation spots, camping, vacation rentals, and more along the way. Add any of these to your trip to view relevant information like hours of operation, directions, and reviews.
Find a Bed
HotelTonight
If you're not a camper—or just need a break/shower/air conditioning for a night—this app (iOS and Android) is great for finding last-minute hotel deals. All listed hotels are at least three stars and are peer-rated and categorized as basic, solid, hip, or luxe. In the Florida Keys, we got a four-star super-fancy hotel (luxe) on the beach for under $200; in Brooklyn, we got an upscale three-star with robes and a view (hip) for just over $100. While we haven't had a bad deal yet, there is one drawback: You can't pick your room type, so you might end up with two double beds or a not-so-stellar view.
Traffic Reports
Waze
While Apple Maps will tell you if the traffic goes from good to bad, Waze (iOS and Android) relies on the community to give you up-to-the-minute, user-sourced information on traffic, accidents, hazards, speed limits, and police warnings. It's great for finding alternative routes through traffic in unfamiliar cities.
Virtual Adventure Travel Agent
The Outbound
When you're in a new area and don't have local recommendations for what to do, eat, or see, this app (iOS) steps up with information on hikes, cliff jumps, or stand-up paddle put-ins. Every activity recommendation includes detailed trip reports, trail descriptions, packing lists, mileage, and suggested skill level, all written and submitted by app users local to the area. Users can comment with their own reviews of the trail, beach, or cliff in question. Outbound staff continually fact-check to make sure the info is accurate. It's a great way to discover new adventures, even close to home.
Fuel Up
GasBuddy
Before downloading this app (iOS and Android), we would use Apple Maps to find gas stations. One day, we were in the middle of nowhere and our tank was on empty. We drove ten miles out of the way to a station, only to discover it didn't have diesel. Luckily, we made it to the next station, which did. But the experience compelled us to download GasBuddy, which finds gas stations on your route, compares prices, and gives directions. You can also filter to see only those with diesel.
Non-App Honorable Mention
Hipcamp.com
If you're in a remote area with nowhere to camp, or all the campsites are full, and you're willing to pay ($25 and up), try Hipcamp.com. It doesn't have an app, but the website is worth bookmarking. Like Airbnb for camping, the site lets you search for camping on locals' properties. Find spots with RV hookups, glamping opportunities, or just a pretty piece of land to pitch a tent for the night. We used Hipcamp to find an urban farm in Detroit to park our van instead of "camping" on the street. We met wonderful people who gave us great recommendations that made it well worth the cost.
Lead Photo: swissmediavision/iStock