The Best Slopeside Ski Escapes
The best lodging for skiers are close to the action but feel far away from it all. These are the perfect abodes to return to after carving up the slopes.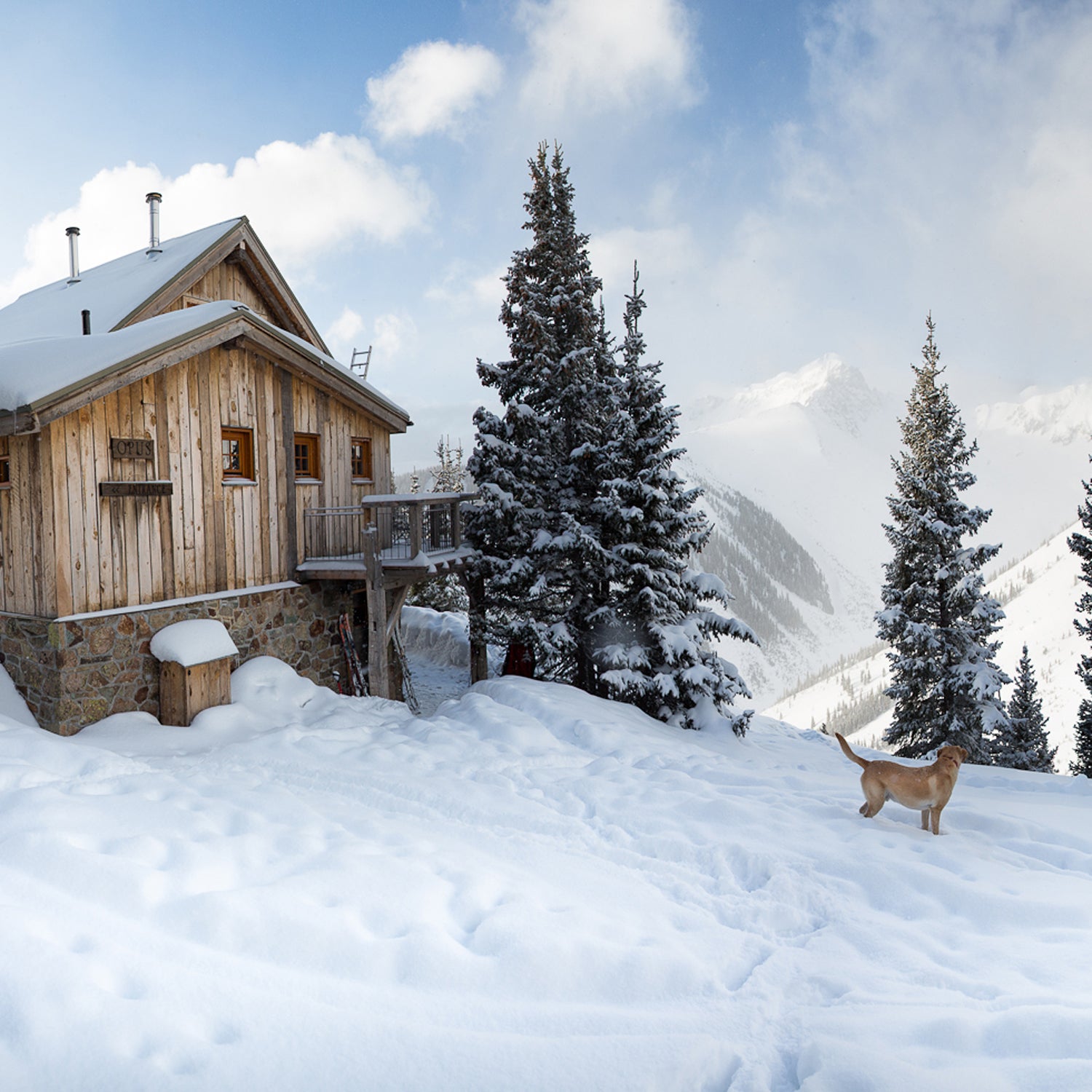 Grayson Schaffer(Photo)
Heading out the door? Read this article on the new Outside+ app available now on iOS devices for members! Download the app.
Ski-in/ski-out can mean any number of things. Sometimes it's a cookie-cutter condo, miles up a cat road. But at its best, slopeside lodging means a cozy hideaway that translates to first dibs on a powder day. These are some of our favorites.
White Wolf Cabins
Red Mountain, British Columbia
Rossland, B.C. is one of the most underrated ski towns in the world. Red Mountain is never crowded, and it's flush with pillow drops, steep lines, and perfectly spaced trees. The B.C. locals tend to live pretty fast and loose, so there could be squatters living in cabins on the hill, but if you want to play by the rules, the White Wolf Cabin, right at the base of the Silverlode chair, is the closest on-hill lodging. It's also one of the nicest. The four-bedroom cabin has plenty of space, not to mention a private hot tub. Plus, you're walking distance to Rafters, an all-time favorite après bar.
Trapper's Cabin
Beaver Creek, Colorado Beaver
Creek's slogan is "Not Exactly Roughing It," and nowhere is that more true than the mid-mountain Trapper's Cabin, which sleeps 10. It's at the top of the Strawberry Park lift, right next to the McCoy Park Nordic center, so you have access to downhill and cross-country skiing right out the door. Rental of the four-bedroom cabin includes high-elevation views of the Gore Range, snow cat rides, and an on-hand chef, cabin keeper, and "roustabout." We're not exactly sure what the roustabout's job entails but we're pretty sure they're there to prevent you from roughing it.
The Bubble House
Sainte Foy Tarentaise, France
If you're shooting for romantic, the Bubble House might be your best slopeside option. The tiny stone cottage only sleeps two, which can be a good thing. The ancient hut has been redone, so, it feels modern, and it has a big outdoor deck for grilling and stargazing. The slopes of Sainte Foy are right outside, and Val d'Isere, Tignes, Les Arcs, and La Rosiere are all within shooting range.
Rock Springs Yurt
Jackson Hole, Wyoming
Jackson Hole is known for its lift-accessed backcountry. On sunny stable mornings, you'll often see a long line of skiers heading out the gates at the top of the Rendezvous Peak tram. You can turn a tram lap into an overnight adventure by booking the Rock Springs Yurt. The Yurt, which is at the bottom of Rock Springs Canyon, sleeps eight, and there's a yurtmiester on hand to feed you and stoke the stove. Before the lifts open, you can tour the terrain around the yurt.
Snowpine Lodge Alta
Alta, Utah
Lodging in Little Cottonwood Canyon is notoriously unexciting. Nothing has changed there in a really long time and options are pretty limited. But there's been one change lately: the Snowpine Lodge at Alta. It's the oldest hotel building in the canyon, but it had been out of operation for a while, and there are rumors that it's haunted. In 2012 the patriarch of the Pratts, a big Mormon family, bought it as a ski house for all of his grandkids. They still show up whenever they want, but he's decided to run it as a hotel, too. It still kind of feels like a family ski house, if your family was way more pulled together than average and had very nice sheets. Plus, the food is good, and you're slopeside at Alta.
Morino Lodge
Hakuba, Japan
When Craig Oldring first went to Japan, 14 years ago, he was expecting to fall in love with the culture, but he didn't realize he'd be blown away by the snowboarding, too. "I was surprised when I got to Hakuba and saw snowfall like I'd never seen back in Canada—and we're talking BC West Coast—and the kind of terrain I'd expected to see in Alaska, not Japan. The place was epic and empty," he says. He stayed, and, because he couldn't just ride all the time, opened the laid back Morino Lodge. The lodge is a short walk from the Happo gondola and close to the famous Monkey Onsen, where snow monkeys hang out near the hot springs.
Cowboy Heaven Cabins
Big Sky, Montana
Montana is prime cabin country, so it makes sense that there would be awesome on-hill cabins at Big Sky. The three log cabins that make up Cowboy Heaven get you easy access to both Big Sky and Moonlight. They're right next to the Iron Horse lift. They each have huge kitchens and private hot tubs on the deck, so you can ski right into après mode.
The Bavarian
Taos, New Mexico 
Maybe it's the beer, but skiing has a long-standing fascination with Bavarian villages(See also: Leavenworth, WA; Vail, CO). That's abundantly clear at The Bavarian, on the hill at Taos, at the base of the Kachina lift. The lodge, which was opened by German expat Thomas Schulze, does not shy away from beer and brats culture. Its relatively new adjoining chalets are slightly less kitchy, but still give you easy access to the bar, and the steeps of Kachina Peak.
Crystal Cabin
Crystal Mountain, Washington
Due to forest service permits, most ski resorts in the Northwest have remained relatively underdeveloped. That's great in a lot of ways, but it means that your lodging options are limited. At Crystal Mountain, you can stay at a few private home above the Gold Hills lift, like the Crystal Cabin, which sleeps nine and has a game room and a sauna. You can ride the lift to the A-frame cabin, or skin or snowmobile in after hours.
Bode Miller's Cabin
New Hampshire
It's not exactly slopeside, but staying in Bode Miller's New Hampshire cabin, down the road from his home hill of Cannon Mountain, is still prime real estate. The four-bedroom cabin, which Miller's wife Morgan is renting out through Airbnb, is built around a tree trunk, and has a huge open kitchen. It's close to the slopes of Bretton Woods, too, and it has electricity and heat, unlike the cabin Bode grew up in. Plus—you just rented Bode Miller's cabin.
Lead Photo: Grayson Schaffer
Trending on Outside Online