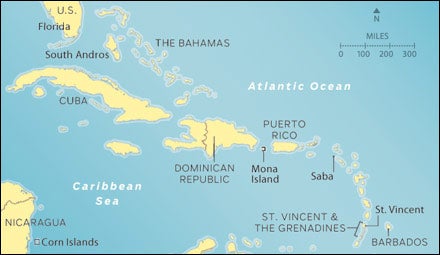 Heading out the door? Read this article on the new Outside+ app available now on iOS devices for members! Download the app.
Getting far, far, far away from it all is easier—and cheaper—than you think. Presenting seven adventure-packed Caribbean island escapes.
The Over-Under
SABA, NETHERLANDS ANTILLES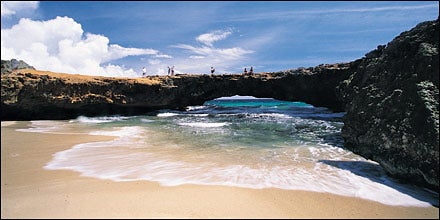 The most challenging part of a trip to Saba, a five-square-mile volcanic island 28 miles southwest of St. Maarten, is the arrival. Saba has the shortest commercial runway—1,312 feet—in the world. Think of it as an aircraft carrier made of rainforest and cliffs. But once you touch down, your toughest decision is whether to hike into a cloudforest or dive among coral-covered seamounts. Base yourself in a hot-tub-equipped cottage at Dutch marine biologist Tom van't Hof's Ecolodge Rendez-Vous (doubles, $85; ecolodge-saba.com). Then hike past sweeping ocean vistas on the way up 2,877-foot Mount Scenery. Post-hike, head for the centrally located village of Windwardside, home to Sea Saba Advanced Dive Center. The outfitter leads half-day snorkeling trips and four-day scuba-certification courses in Saba National Marine Park, which van't Hof founded 20 years ago (snorkeling trips, $35; dive course, $450; seasaba.com). Winair flies daily from St. Maarten to Saba (from $150; fly-winair.com).
Surf and Slip
BARBADOS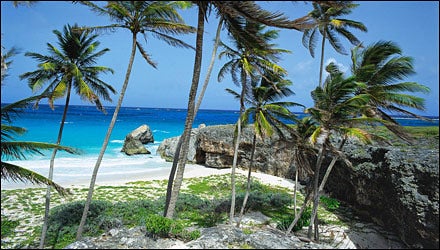 Among diehard surfers, Barbados is famous for Soup Bowl, a nasty curl off the eastern shore. Less known—and far more appealing for mortals—are the dozens of forgiving swells surrounding the 166-square-mile island. Newbies will find Freights Bay, near Barbados's southern tip, plenty welcoming. Fryers Well, outside of Speightstown, is a good intermediate option. And Tropicana, a left-hand break north of Holetown, offers hairball thrills. Seek lessons from Christ Church Parish–based surf master Melanie Pitcher ($70; surfbarbados.com). On land, do as the locals do: Drink the world's best rum. First, hit the Mount Gay distillery (mountgay.com), where charred-oak barrels give the rum its caramel flavor. Then make for the parish of St. James, home to the John Moore bar, one of Barbados's finest rum shacks. Here, cricket matches are fiercely debated over strong punch and grilled bonita. A solid oceanside crash pad is the Peach & Quiet, in Inch Marlow (doubles from $110; peach­andquiet.com).
Little Big League
DOMINICAN REPUBLIC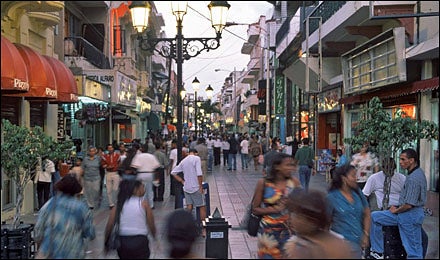 In this nation of 9.5 million, béisbol is not the pastime we know in the States. It's a way of life. Discover as much in Santo Domingo's training grounds, where teams like Aguilas Cibaeñas play in front of crowds that make the Fenway faithful look like sushi eaters (tickets generally cost less than $20; schedule available at lidom.com). The pro season runs from October through January, but baseball never stops. Coming this winter? Head to Boca Chica, 45 minutes east of Santo Domingo, and see tomorrow's stars at the New York Mets' new 37-acre training complex. For off-field thrills, drive 2.5 hours north to the adventure ranch Rancho Baiguate, outside Jarabocoa (doubles, $145; rancho­bai­gua­te.com). The guides here are versatile. One day they'll float you eight miles down the Class II Yaque del Norte River ($50). The next, they'll start a multi-day trip up 10,417-foot Pico Duarte, the Caribbean's tallest peak ($385).
Where the Wild Things Are
MONA ISLAND, PUERTO RICO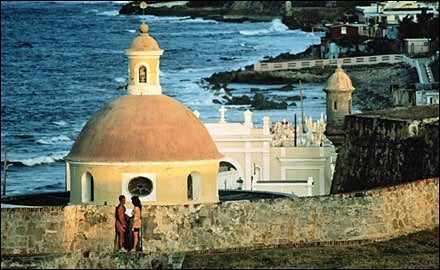 Think of this as Puerto Rico's version of the Galápagos. Mona Island, 46 miles west of Cabo Rojo, is open to just a few hundred visitors at a time, with the only overnight stays at campsites along its white-sand beach. Inland, nearly 90 percent of the terrain is 200-foot cliffs, riddled with half-mile-deep caverns. These contain the skeletons of many a conquistador and pirate. (Legend has it Captain Kidd once stayed here.) But come for the wildlife. On a four-day trip with mainland-based Acampa Adventure Tours, let four-foot Mona iguanas come to you like poodles, chase after blue-footed boobies, and spy on feral boars (you can also hunt them with bow and arrow in winter). Acampa arranges pickups throughout Puerto Rico, and trips should be booked one month in advance (roughly $750 per person for groups of ten; acampapr.com).
Ghost Fish
SOUTH ANDROS ISLAND, BAHAMAS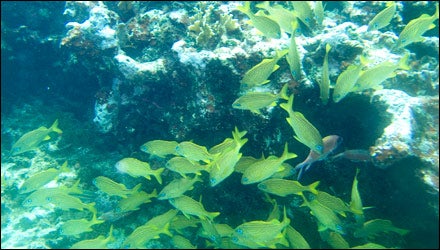 Bonefish are hard to catch. Don't let anyone tell you differently. They look alternately like the white sand and mirrory water they swim between, and hooking them can require pinpoint casts of up to 70 feet. And that's the easy part—they fight like Japanese motorcycles. A good guide is not just recommended but necessary. Raised within sight of the water they traffic, the crew at Andros South, a fishing-first lodge situated on the eastern shore of South Andros, are as good as it gets. Expect about ten of the hardest-fighting fish you've ever encountered on a fly rod, every day. Back at the no-frills lodge, munch on conch fritters and swill Kalik (Bahamian beer) as the sun gets low. Three-day trips from $2,000 (androssouth.com).
Blue Yonder
ST. VINCENT AND THE GRENADINES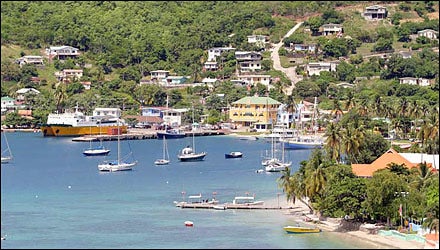 The 32 islands and cays of St. Vincent and the Grenadines offer the most varied cruising in the Caribbean. Find Barefoot Yacht Charters, the region's best outfitter, off the southern tip of St. Vincent. Their six-night, American Sailing Association–certified cruise school, aboard a 40-foot yacht, teaches guests to clear the anchor, trim the main, and laze on the beaches of Mayreau ($1,300; barefoot­yachts.com). Already skippered? Hire a sail from Barefoot and drift ($1,800 per week). Your destination: the 16-square-mile Tobago Cays Marine Park, home to a sand-bottom lagoon and six island playgrounds (tobagocays.com). Kick your feet up, bounce between islands, and tell your friend the hawksbill turtle you're never going home.
Time Out
CORN ISLANDS, NICARAGUA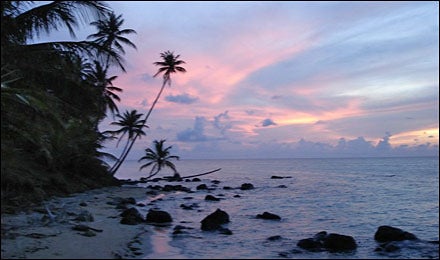 Two chunks of sand 40 miles east of Nica­ragua, the Corn Islands are the Caribbean in its primal state. Beaches are empty and wet-T-shirt contests won't make landfall for another 20 years. What to do? Just wander around with a snorkel, a cerveza, and a grin. The puddle-jumper from Managua leaves twice daily for the airstrip on Grand Corn ($165 round-trip; lacostena.com.ni). The "Grand" part is relative—the island is about four square miles. Dive Nautilus runs trips out to a sunken 400-year-old Spanish galleon ($20; divebigcorn.com). Sleep in a bungalow at Casa Canada, where the owners arrange guided jungle hikes (cabanas from $115; casa-canada.com). For dinner, spiny Caribbean lobster runs about $15 at the restaurants near the dock (try Lidia's Place). A trip to Little Corn, a patch of sand 30 minutes north via speedboat, is a must. The Dive Little Corn shop rents snorkeling gear (from $15; divelittlecorn.com). Crash at Casa Iguana, a wind-and-solar-powered eco-lodge (doubles from $35; casaiguana.net).