License to Chill
Ten handpicked resorts that are rich in sun-drenched beauty, high on adventure, and fine-tuned for luxury.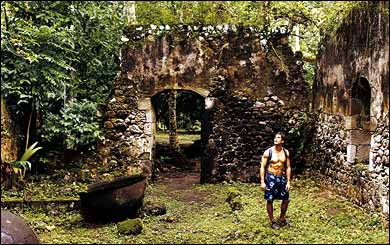 Heading out the door? Read this article on the new Outside+ app available now on iOS devices for members! Download the app.
To zero in on the most idyllic resorts this side of paradise, we dispatched a crack squad of writers to the Caribbean. They came back with a hit list of places where creature comforts and adventure are not mutually exclusive. Now it's your turn.
Laluna, Grenada: A Minimalist's Idea of Maximum Bliss
By Katie Arnold
The Hermitage, Nevis: Frangipani Breezes, Volano Views
By Janine Sieja
Anse Chastanet, St. Lucia: This Is Jungle Luxe
By Randy Wayne White
Tiamo Resorts, The Bahamas: Check Your Blackberry at the Door and Get Way, Way Offline
By Hampton Sides
Punta Caracol Acqua Lodge, Panama: The Lullaby of Lapping Waves
By Bonnie Tsui
Bitter End Yacht Club, Virgin Gorda: Fat Sails in the Sunset
By Grant Davis
Maroma Resort and Spa, Mexico: A Mystical Hideaway on the Mayan Riviera
By Sally Schumaier
Caneel Bay, St. John: The True-Blue Classic
By Mike Grudowski
Turtle Inn, Belize: The Godfather's Resort
By Karen Karbo
Jake's, Jamaica: How Does It Feel to Be One of the Beautiful People?
By Lisa Anne Auerbach
PLUS: The Essential Eight
Swimming in Mosquito Bay, sailing the Grenadines, climbing 10,000-foot Pico Duarte, and five other don't-miss dream outings.
Laluna
A minimalist's idea of maximum bliss
Caribbean Resort, Grenada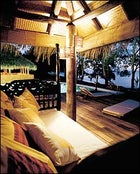 Caribe, anyone? Laluna's mod seaside lounge overlooking Portici Bay.
ON OUR THIRD MORNING IN GRENADA, we roasted the Chicken. Then we did what any sensible traveler in the Caribbean would do: We beelined it back to Laluna, a sublime refuge tucked into a hidden bay on the island's southwest coast, and made straight for the sea. We were ridiculously filthy, splattered with mud from a three-hour mountain-bike ride with Chicken—a wiry, calf-strong Grenadian guide who's such a fanatic cyclist, he'd already pedaled 25 miles before breakfast. (No wonder we beat him up the hills.) Salty but clean, we retired to the private plunge pool on our cottage's wide wooden deck, taking in the uninterrupted view of Portici Bay. Time to debate the next move: Grab a book and sprawl across the teak settee on the veranda, wander down to the open-air lounge for a cold Caribe and a game of backgammon, loll poolside on a chaise, or have a massage? There's only one house rule at this tiny, tony anti-resort: Make yourself at home. After three days, we felt so at home, we thought we were home—that is, if home were a stylish, thatch-roofed cabana notched into a hillside above an empty crescent of Caribbean beach. In our dreams.

The Good Life // Designed in 2001 by Gabriella Giuntoli, the Italian architect for Giorgio Armani's villa on an island off Sicily, Laluna has a pared-down, natural aesthetic: Indonesian teak-chic meets spare Italian elegance. All 16 one- and two-bedroom concrete cottages—painted in cheerful shades of pumpkin, lapis, teal, and plum—are well-appointed but unfussy: Balinese four-poster beds draped with sheer muslin panels, earth-colored floors covered with sea-grass rugs, open-air bathrooms with mod metal fixtures. The same soothing mix of wood, cane, cotton, and thatch prevails in the resort's beachfront courtyard. On one end is the breezy restaurant, where Italian chef Benedetto La Fiura cooks up Carib-Continental dishes like callaloo soup (an island specialty made from dasheen, a tuber with spinachlike leaves, and nutmeg) and mushroom risotto. On the other is the open-air lounge, with a fully stocked bar and comfy Indonesian daybeds with plump throw pillows, and low tables that double as footrests. Between the two is pure R&R: a sleek square pool with a perfect curve of beach beyond.

Jaw Dropper // Swinging the cottage's mahogany-and-glass doors wide open at night and being lulled to sleep by the wind in the bougainvillea and the gentle rolling of waves below.

Sports on-Site // There's no set agenda at Laluna, but there's plenty to do. Guests with sailing experience can take out one of two Hobie Cats, as well as single and double sea kayaks, for the easy cruise to Morne Rouge Bay, the next cove over. There's a small stash of snorkeling equipment available (keep an eye out for yellow-and-black-striped sergeant majors near the rocky points at either end of the beach) and Specialized mountain bikes for tooling around.

Beyond the Sand // Fight the urge to cocoon at Laluna and head inland and upward to Grand Étang Forest Reserve, a 3,800-acre tract of rainforest at 2,350 feet, along the island's jungly spine. We spent a day in the charming company of 64-year-old Telfor Bedeau, known to all as the father of Grenada hiking. He led us on a four-hour ramble around Lake Grand ƒtang, a rogue crater left over from the island's volcanic past, and along an overgrown tunnel of a trail to a series of five waterfalls (popularly, if erroneously, dubbed the Seven Sisters) and up a hidden path to a bonus cascade called Honeymoon Falls (half-day hikes, $20 per person; 473-442-6200). At A&E Tours, Chicken guides half-day, full-day, and multi-day mountain-bike rides along the coast or through the reserve (our three-hour pedal from the harbor capital of St. George's over the serpentine, near-vertical Grenville Vale Road cost $25 per person, including bike rental; 473-435-1444, www.grenadaguide.com/aetours).

The Fine Print // American Eagle (800-433-7300; www.aa.com) flies the two and a half hours to Grenada daily from San Juan, Puerto Rico (round-trip from Chicago, about $785); Air Jamaica (800-523-5585; www.airjamaica.com) flies nonstop from New York's JFK four days a week (about $400). From December 20 to April 13, rates at Laluna (473-439-0001, www.laluna.com) start at $530 per night, double occupancy, including water activities and bikes (the price drops to $290 in summer). A modified meal plan (breakfast and dinner) is $65 per person per day. Henry's Safari Tours can take care of your on-island transportation and guiding needs (473-444-5313, www.spiceisle.com/safari).
The Hermitage
Frangipani breezes, volcano view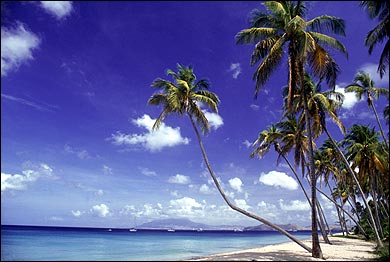 THE SOUNDTRACK TO NEVIS, a volcanic bit of emerald-green pointing skyward in the West Indies, lacks a badass steel-drum reggae riff. Nevis, blessedly, is not that Caribbean. Its rhythms require closer attention: nocturnal, chirping bell frogs and murmuring trade winds that rustle the coconut palms and spread the sweetness of frangipani across 50 square miles of overgrown hills and dignified former sugarcane plantations. The most charming of these mansions, the Hermitage, is perched 800 feet above sea level on the southern flanks of dormant-for-now 3,232-foot Nevis Peak. The 15 gingerbread cottages and 340-year-old British colonial lodge are embellished with pastel-shuttered windows and four-poster canopy beds. Despite this dollhouse decor, you won't feel embarrassed to take your lunch of grilled-flying-fish salad on the veranda after a muddy five-hour hike up the volcano. Just hose yourself off in the front yard first. The Good Life // Amiable American transplants Richard and Maureen Lupinacci bought the Hermitage 33 years ago. Its Great House, reputed to be the oldest wooden building in the Caribbean, is where guests dine by candlelight or sidle over to the bar for rum punch at cocktail hour. (The free-flowing mixture of dark Cavalier rum, syrup, lemon juice, and a dash of cinnamon is part of why the refined Hermitage vibe never crosses over into stuffiness.) Most of the cottages are restored originals—whitewashed, light-filled retreats furnished with regional antiques. All have hammock-equipped balconies for horizontal views of Nevis Peak and the white clouds that usually shroud its summit. The three-acre grounds are dotted with citrus, mango, and cashew trees, and have two pools and a tennis court.

Jaw Dropper // Roam trails crisscrossing the Gingerland District on one of the lodge's 16 thoroughbreds, or charge up Saddle Hill to an old lookout used by British admiral Horatio Nelson in the 1780s.

Sports on-Site // Explore the terraced gardens of lilies, ginger, and hibiscus or take the ten-minute shuttle to four-mile Pinney's Beach, the loveliest of Nevis's sandy stretches. Just a quarter-mile from the inn is the trailhead for the mile-long climb to the summit of Nevis Peak (contact Top to Bottom; $35 per person; 869-469-9080).

Beyond the Sand // A wild donkey—an odd trail obstacle—brayed his displeasure as I pedaled the sea-grape-lined singletrack of Tower Hill. Windsurf 'n' Mountain Bike Nevis (869-469-9682, www.windsurfingnevis.com, www.mountainbikenevis.com) offers half-day rides from $40, including use of a Trek front-suspension bike. At Oualie Beach, on the island's northwestern coast, let marine biologist Barbara Whitman introduce you to four-eyed butterfly fish, goat fish, flame coral, and pink sea anemones. Under the Sea (869-469-1291, www.undertheseanevis.com) charges $40 for a three-hour snorkel, including gear.

The Fine Print // American Airlines (800-433-7300, www.aa.com) is the only major U.S. carrier serving Nevis. The daily flight from San Juan, Puerto Rico, takes an hour and 15 minutes (round-trip airfare from New York City costs about $725; from Denver, about $980). From December 15 to April 15, rates at the Hermitage (800-682-4025, www.hermitagenevis.com) start at $325 for a double, including a full breakfast (low-season rates from $170).
Anse Chastanet
This is jungle luxe
Caribbean Resort, St. Lucia

Petit Piton looms as Anse Chastanet's yacht heads out for a day at sea.
Caribbean Resort, St. Lucia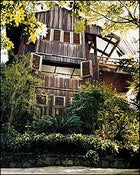 Walls optional: a hillside villa at Anse Chastanet
MY FIRST DAWN on St. Lucia, a big teardrop of an island wedged between Martinique and St. Vincent in the Lesser Antilles, was disappointing. I'd flown in on the dark of the moon and arrived at Anse Chastanet, a 600-acre resort perched on the rugged southwestern shore, too late to see anything but a macrodome of stars. The next morning, I awoke to warblers singing in the cedars and the scent of begonia shifting in the trade wind. My villa-size room, I realized, barely had walls. Wait, it gets worse. Below was a bay so clear, the coral shimmered like a field of wildflowers. Twin peaks spired out of the forest. The rockier one, 2,461-foot Petit Piton, was unavoidably phallic. Gros Piton, at 2,619 feet, was more rounded and feminine. I looked from the Pitons to the beach, then at my empty bed. What a blunder! Here I was in the most achingly romantic setting in all my years … and I was alone.

The Good Life // I didn't feel weepy for long. The resort has a five-star list of activities to match the cuisine (spiced-carrot-and-coconut soup, grilled dorado, mango trifle), an attentive 250-person staff (serving no more than 100 guests), and pleasantly esoteric options at the Kai Belté spa. (Try a wosh cho hot-stone massage.) Trou au Diable, a thatch-roofed bistro, sits on a half-mile of secluded beach, while the Piton Restaurant is set among the 49 villas up the hill. My Hillside Deluxe room, with its louvered doors and green heartwood furniture, was like a tree house built by Swiss castaways. Very rich Swiss castaways. But considering the absence of phones or TVs, they didn't seem to mind being stranded on St. Lucia.

Jaw Dropper // Tucking into a plate of locally raised lamb and fresh snapper cooked under the stars by chef Jon Bentham on an antique cane-sugar pot the size of a kettledrum.

Sports on-Site // Anse Chastanet is famous for spectacular diving; there's a Platinum/PADI Scuba and Water Sports Center, and boats ferry you out to several world-class dive sites along the Pinnacles reef. But I chose to explore a lesser-known offering: 12 miles of mountain-bike trails winding through the ruins of a 19th-century French sugarcane-and-cocoa plantation next door. Full disclosure: I expected crappy equipment but a fun ride. What I got was a first-class trail system partially designed by NORBA phenom Tinker Juarez and my choice of 50 Cannondale F800s, all fitted with hydraulic shocks and brakes. The ride, over rolling jungle paths, was excellent—I broke a sweat but still had time to stop and pick wild avocados, bananas, and guavas.

Beyond the Sand // Ever bagged a Piton? Me neither. The climbs are notoriously steep and muddy, but if you're game, the front desk recommends a guide named Meneau Herman ($50 a person for the day). For the rest of us, there are ample opportunities to explore St. Lucia via horse or sea kayak. On my last day, I hit the water with Xavier Vernantius, the head kayak guide. Born on St. Lucia, Xavier, 33, knew all the secret caves to explore. As we paddled around a rocky outcropping called Fairyland, the view of the Pitons in the distance left me speechless. "I grew up here, and I still find them beautiful," Xavier said.

The Fine Print // US Airways (800-622-1015, www.usairways.com) flies to St. Lucia from New York City for about $700, from Chicago for $760. From December 20 to April 7, a double at Anse Chastanet (758-459-7000, www.ansechastanet.com) costs $455 per night, including breakfast and dinner ($220 per night in the off-season, not including meals). The spa and scuba diving are extra.
Tiamo Resorts
Check your Blackberry at the door and get way, way offline
THE MOST IMPRESSIVE thing about Tiamo is how unimpressive it is. Even as my sea taxi pulled up to the unassuming scallop of beach on the southern half of Andros, I still couldn't see the resort that was right in front of me. Once ashore, I had to wade through thickets of sea grapes and gumbo-limbo trees to find the central lodge—an unpretentious wooden structure with screened porches and a corrugated metal roof. Was this the place? The sleepy Brazilian jazz seeping out the front door said yes. Hacked out of the Bahamian bush and opened in 2001 by Mike and Petagay Hartman, Tiamo is a fascinating—and so far successful—experiment to test whether assiduous eco-consciousness can coexist with rustic luxury. The ethos here is part Gilligan's Island, part Buckminster Fuller. With only 11 open-air bungalows, powered by the sun and outfitted with compost toilets, everything is small-scale, low-impact, phosphate-free, and relentlessly off the grid. Accessible only by boat or seaplane, the resort sits on 12 acres of pristine beach along an inland waterway, surrounded by 125 acres of preserved wilderness. There are no air conditioners, no TVs, none of the whirs and bleeps of the digital age. Nope, at Tiamo, messages are delivered strictly by iguanagram. The Good Life // By day, watch a heron or one of the resident iguanas trundle by your screened porch. At night, the hemp curtains billow in the breeze. The bright-green-and-yellow louvered shutters, exposed copper pipes, and bare-metal faucet levers are sleekly utilitarian. My solar-heated beach-rock shower looked out on a mighty specimen of local cactus known as—I kid you not—the Bahamian dildo. The lodge has the same casual vibe. Browse for dog-eared paperbacks and board games in the library; dine on sesame seared tuna and mahi-mahi with mango beurre blanc at the large communal table; or simply fritter the evening away at the rattan bar, clutching a mind-warming Petagay Punch as a local "rake-and-scrape" band sings you back to bed.




Jaw Dropper // A spectacular network of "blue holes" riddle the limestone bedrock all over southern Andros. Kayak out to the Crack, a fabulously deep gash in the seafloor where two temperature zones collide in a thermocline, and snorkel or dive the nutrient-rich broth alongside hosts of wrasse, lobster, sea cucumbers, and freakishly large angelfish.

Sports on-Site // Tiamo is not a destination for hyperactive folks who expect a brisk regimen of "activities." Basically, Mike shows up at breakfast and says, "What do you want to do today?" Choose between swimming, bonefishing, kayaking, snorkeling, scuba diving, bushwhacking, or my new favorite sport, extreme hammocking. Hikes (led by Shona Paterson, the on-staff marine biologist) are free, as are snorkel trips to the blue holes. There's a modest fleet of trimarans and sea kayaks at the ready. But the most elaborate activity is … horseshoes. Somehow, that says it all.

Beyond the Sand // Andros boasts some of the finest bonefishing in the world, and Mike can easily hook you up with a guide ($350 per boat for a full day; each boat holds two anglers). Ask for Captain Jolly Boy, a corpulent former bar owner turned Baptist preacher who stalks "the gray ghost" with all the biblical fervor of Ahab. "I feel you, Mr. Bones!" Jolly Boy whispers as he poles the flats. For divers, the Andros Barrier Reef, one of the world's largest contiguous reefs, lies less than a mile offshore; its sheer wall, home to thousands of species of fish, drops nearly 6,000 feet into the Tongue of the Ocean. Scuba excursions motor out daily, but you must be PADI-certified ($100 for a one-tank dive, $145 for two tanks).

The Fine Print // Delta (800-241-4141, www.delta.com) and American Airlines (800-433-7300, www.aa.com) fly to Nassau from L.A. and New York for $600 or less. From there, make the 20-minute hop with Western Air (242-377-2222, www.westernairbahamas.com) to Andros; flights are about $100 round-trip. The bungalows at Tiamo (242-357-2489, www.tiamoresorts.com) cost $275 per person, double occupancy ($360 per person, single occupancy) year-round; rates include everything but your bar tab, bonefishing, and scuba diving. The resort is closed August 1 through September 30.
Punta Caracol Acqua Lodge
The lullaby of lapping waves
Caribbean Resort, Isla Colon, Panama

The H20 cure: cabanas on stilts at Punta Caracol
TRANQUILO IS THE OPERATIVE WORD at Punta Caracol, located just off the serenely beautiful island of Isla Colón, an hour's flight by puddle jumper from Panama City and a 15-minute boat ride from the small town of Bocas del Toro. Sheltered by the surrounding archipelago and, about three miles away, mainland Panama, the resort's six two-story thatch-roofed cabanas are suspended over the water on wooden stilts, spiraling out from a long central walkway to face Almirante Bay. Each solar-powered duplex has its own private terrace and deck, and the sound of lapping water lulls you to sleep. This vision of calm luxury perched at the edge of the world is just what founder and Barcelona native José-Luís Bordas had in mind when he designed Punta Caracol in 1997 as his final project for business school. At dusk on my first evening, I'd already showered and dressed for dinner, yet I couldn't help heeding the call of bath-temperature, cerulean water. In record time, I changed back into my swimsuit and threw myself—with a war whoop—off the back deck. It's the kind of place where glittering-green tropical fish jump up to meet you in rapid-fire succession and bioluminescent plankton are the only lights shimmering offshore after sunset. Every detail of the resort, from hand-woven hanging textiles to fresh papaya and pineapple-covered panqueques at breakfast, is well executed by Bordas's competent local staff. At the end of my four-day idyll, I could tell him honestly, "Es mi idea del paraíso, también." The Good Life // Each bungalow has native-hardwood floors and French doors that open to the bay, as well as wooden lounge chairs and woven floor mats. Bathrooms are lined with clay tiles with a lime-green-and-plátano-yellow trim—brightly Caribbean without being gaudy. Upstairs, the open-air bedroom has a canopied king-size bed with natural-cotton drapes that double as mosquito nets, but you won't need them; the cool breezes off the water at night are enough to blow pesky insects away. As for eats, you won't find fresher seafood: The open-air restaurant-cum-lounge—also on stilts over the water— gets regular deliveries from local fishermen cruising by with just-caught lobster and red snapper, weighed with a portable scale brought out from behind the bar. A must-have: grilled lobster with tomatoes stuffed with rice, fish, and vegetables. (Chase it down with a warm, sweet pineapple slice glazed with caramelized sugar.)

Jaw Dropper // While you're dining alfresco on flame-grilled shrimp, you can watch dolphins, pelicans, and parrot fish trolling for dinner on the reef below.

Sports on-Site // Swim, snorkel, or paddle in clear, calm Caribbean water along a mile of coral-reef coastline; there's no beach at Punta Caracol, but your cabana's private dock is just as enticing. It's an easy paddle inland, via cayuco (traditional wooden canoe), to Isla Colón's mangrove swamps—home to howler and white-face monkeys and the unbelievably slow-moving two-toed sloth, or oso perezoso ("lazy bear").

Beyond the Sand // Pilar Bordas, the miracle-working sister of José-Luís, can arrange outdoor activities on demand: surfing at Bluff Beach, on the far side of Isla Colón; mountain-biking across the center of the island; scuba-diving with queen angelfish near San Cr'stobal Island, four miles away (two-tank dives with Starfleet Scuba, $50; 011-507-757-9630, www.explorepanama.com/starfleet.htm). Hire a guide for the 40-minute boat ride to Bastimentos Island National Marine Park, where you can hike through sugarcane to Red Frog Beach ($30 per person).

The Fine Print // American Airlines (800-433-7300, www.aa.com) flies direct from Miami to Panama City for about $300 round-trip. From there, Aeroperlas (011-507-315-7500, www.aeroperlas.com) has two flights daily to Bocas del Toro for $116 round-trip. The Centers for Disease Control recommends a yellow-fever vaccination and the antimalarial drug chloroquine for travel to the Bocos del Toro region. Double-occupancy rates at Punta Caracol in high season (December 16 to May 15) start at $265, including breakfast, dinner, airport transfers, and use of cayucos and snorkel equipment (from $215, off-season; 011-507-612-1088, www.puntacaracol.com).
Bitter End Yacht Club
Fat sails in the sunset
Caribbean Resort, Virgin Gorda, BVI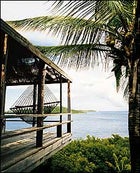 Even type A's need some downtime: the Bitter End
Caribbean Resort, Virgin Gorda, BVI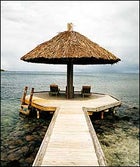 The North Pier deck at Virgin Gorda's Bitter End Yacht Club
THE BITTER END, ON THE REMOTE NORTHEASTERN TIP of Virgin Gorda, is a sprawling community of people with one thing on their minds: boating. In addition to the club's 78 rooms, freshwater swimming pool, and teakwood Clubhouse restaurant, there's a marina with charter-boat service, a dive shop, a market, a pub, and 70 boat moorings. All the action takes place offshore, specifically in the protected waters of three-square-mile North Sound, with the club's flotilla of 100-plus vessels, ranging from sea kayaks and windsurfers to Hobie Cats and 30-foot oceangoing yachts. This is no mellow-rum-drinks-on-your-private-beach kind of resort: It's a playground for Type A's in topsiders.
The Good Life // The best rooms are the 48 cottages set on a steep hillside, with wraparound decks and views of Eustacia Reef (30 air-conditioned suites climb the sunset side of the hill). Meals (think surf-and-turf) are served under the blue canopies of the Clubhouse.
Jaw Dropper // The staff at the BEYC remembers everyone. It had been two years since my last visit, yet when I walked to breakfast, watersports staffers greeted me by my first name.
Sports on-Site // Thanks to warm water and 15- to 20-knot winds, North Sound is the perfect place to hone your tacks and jibes. Private sailing lessons for beginners cost $25 per hour, and advanced sailing sessions run $50 per class. Use of all the small boats is included in your stay, as are snorkeling trips to nearby reefs. Two-tank dives cost $85, all equipment except wetsuit included, and deep-sea fishing for blue marlin runs $275 a day.
Beyond the Sand // The 30-minute hike to the top of 1,359-foot Gorda Peak offers a commanding view of the entire Virgin Islands region. Don't miss a trip to the famous Baths, a jumbled collection of giant boulders and knee-deep tide pools.
The Fine Print // Round-trip airfare on American Airlines (800-433-7300, www.aa.com) from New York to Tortola's Beef Island Airport is $525. From January 5 to April 30, the five-night Admiral's Package at the BEYC ($2,925 to $3,850; 800-872-2392, www.beyc.com) includes three meals a day for two (low season, $2,150 to $2,625). The annual Pro-Am Regatta ($2,940) takes place the first week of November.
Maroma Resort & Spa
A mystical hideaway on the Mayan Riviera
Caribbean Resort, Yucatan, Mexico

Your palapa or mine? Get a massage or just toll in the sun on Playa Maroma.
EVER SINCE ARCHITECT José Luis Moreno followed a machete-beaten path through 200 acres of tropical jungle, in 1976, to build this exclusive beachfront resort, Maroma has been deliberately hard to find—tucked off an unmarked gravel road, 20 miles south of Cancún. On my first evening, I followed the flickering lights of a thousand candles along a maze of stone walkways, wandering through gardens of orchids and palm trees until I found myself on a narrow crescent of fine white sand: a heavenly border between jungle and sea.

The Good Life // Designed simply, the 64 rooms in ten low-lying, white-stucco buildings are an elegant mix of saltillo tile, handwoven rugs and bedspreads, mahogany beams, and bamboo shutters. Dine on fresh grilled snapper at the cavernous El Sol restaurant or on the beach-view terrace. Jaw Dropper // The world's second-longest barrier reef, which runs 450 miles from Cancún to Honduras and teems with coral and fish, is just 200 yards offshore.

Sports on-Site // At the beach kiosk, set up snorkeling and reef-diving trips, sea-kayaking excursions, and day sailing on a 27-foot catamaran ($15 to $120 per person). On land, mountain-bike through 250 acres of protected jungle. Spa offerings include a two-hour Maya steam bath and cleansing ceremony ($90), yoga classes, and nine types of massage ($50 to $120).

Beyond the Sand // The Yucatán is cratered with more than 700 cenotes—limestone sinkholes that offer otherworldly snorkeling, diving, and rappelling opportunities. The resort can arrange a trip 40 miles south to Dos Ojos cenote for $90.

The Fine Print // Continental Airlines (800-523-3273, www.continental.com) flies from Houston to Cancún for $400 round-trip; American Airlines (800-433-7300, www.aa.com) flies nonstop from New York for about $700. Double-occupancy rates at Maroma (866-454-9351, www.maromahotel.com) start at $400 in high season (November 14 to December 18 and January 4 to May 15) and $340 in low season.
Caneel Bay
The true-blue classic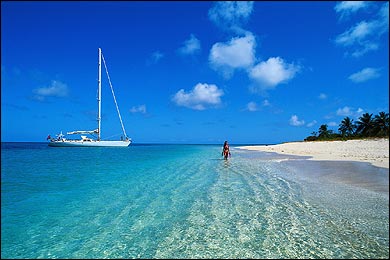 WITHOUT A DOUBT, ST. JOHN'S alluring natural charms get star billing at Caneel Bay. Frigate birds, as angular as pterodactyls, soar over no fewer than seven stunningly pristine on-site strands, from vest-pocket hideaways like Paradise Beach, which you can have all to yourself, to Caneel Beach, shaded by coconut palms and sea grapes and sprawled out in front of the resort's main lobby. Some 170 manicured acres are cordoned off from the rest of the island—and the rest of the world, it seems—by a trio of 800-foot-high forested ridges. Philanthropist and conservationist Laurance Rockefeller founded Caneel Bay in the fifties, and the place still feels like a summer camp for blue bloods. There's no shortage of diversions—day trips to the British Virgins, guided shoreline hikes, couples yoga at the resort's Self Centre. But most of the clientele seem to be seeking stillness and seclusion rather than pampering. Rooms contain no phones, TVs, radios, or even alarm clocks. Management, for its part, tries mightily to preserve an old-money sense of decorum: Collars for gents, please, even on the tennis courts, and evening resort wear for ladies. Expect to see plenty of newlyweds, espadrille-shod martini sippers, and the occasional jackass: Wild donkeys sometimes roam past just in time for cocktails.

The Good Life // Architecture keeps a low profile here. Low-slung rows of 166 guest rooms—done up in dark wood, Indonesian wicker, and botanical prints—are scattered around the property in clusters of a dozen or so and linked by winding footpaths. As a rule, the food in the four dining rooms is tasty if not particularly innovative; standouts include the steaks, aged and tender, the breakfast buffet served on an open-air terrace overlooking Caneel Beach, and the 265-bottle wine list at the Turtle Bay Estate House.

Jaw Dropper // Request one of 20 rooms along Scott Beach. After you've spent hours snorkeling with hubcap-size hawksbill turtles, your private deck offers a front-row seat for virtuoso sunsets that give way to the lights of St. Thomas, four miles across the sound.

Sports on-Site // Aside from the 11 tennis courts, built into a terraced hillside, a compact fitness center, and a small pool near the courts, most action takes place on the coral formations a hundred yards from the waterline. Use of snorkel gear—plus a generous selection of sailboards, kayaks, and small sailboats—is complimentary.

Beyond the Sand // Two-thirds of St. John's 20 square miles fall within Virgin Islands National Park. Sample them by renting a jeep (from $65 a day at Sun-n-Sand Car Rentals, available at Caneel Bay from 9 to 10 a.m. daily) and heading for the Reef Bay Trail, at 2.4 miles the longest of the park's 20 hikes. Other options include half- and full-day sails to some of St. John's excellent anchorages, and sea-kayak excursions to offshore cays ($60 to $70 per person through Caneel Bay).

The Fine Print // Most major U.S. airlines fly direct to St. Thomas from various East Coast cities (about $550 round-trip from New York); Caneel Bay guests go by ferry to the resort. From December 17 to March 15, rates at Caneel Bay (340-776-6111, www.caneelbay.com) start at $450, double occupancy ($300 in low season).
Turtle Inn
The Godfather's eco-resort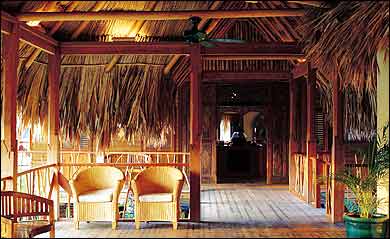 I SIT AT THE DESK OF TURTLE INN'S VILLA ONE, staring through wooden shutters at the Caribbean, hoping for some Maya magic. Turtle Inn is owned by Francis Ford Coppola, and he was here, on the southern coast of Belize, working at this very desk, only a few weeks ago. I'm a huge fan of Mr. Francis (as he's called by the people who work here). I love the Godfather trilogy, but what I really love is Villa One's outdoor garden shower, designed by the auteur himself, surrounded by a high wall built by Maya stonemasons and illuminated with Balinese lanterns. I also love the Italian-for-the-tropics cuisine—white pizza topped with garlic and arugula grown from Sicilian seeds in Turtle Inn's garden, soup made from local lobster—served in the snazzy open-air restaurant. A few nights at the inn, I thought, and maybe I'd absorb some of the creative mojo.

The Good Life // The 18 bungalows, all steps from the beach, are built in the style of traditional Balinese thatched huts, with large screened decks, ample living spaces, and ornate carved doors imported from Bali. The lovely Belizean wait staff (one soft-spoken boy responds to requests with "Don't worry; I gotcha") wear white linen shirts and sarongs. Marie Sharp's Belizean Heat Habanero Pepper Sauce is on every table, the perfect addition to the spaghetti carbonara. All proof that here at the Turtle Inn, the weird fusion of Balinese- Belizean-Coppola culture actually works. Jaw Dropper // The inn is located near the end of Placencia Peninsula—a 16-mile noodle of land with the Placencia Lagoon on one side and the sea on the other. At the Turtle Inn dive shop, on the lagoon, an American crocodile named Jeff has taken up residency near the boat dock. He's not housebroken, but he'll pose for pictures.

Sports on-Site // The thatch-roofed bar is about 20 yards from every bungalow, on the ocean's edge, which allows for a pleasant daily routine: Snorkel a bit, collapse on your chaise, order Turtle Juice (a house specialty made with coconut rum), kayak a mile or so up to Rum Point and back, collapse on your chaise, snorkel, Turtle Juice, rinse, repeat. Some of Belize's finest beaches—narrow, sandy, palm-fringed—grace the peninsula. When you feel in need of an outing, beach-cruiser bikes are available for riding into the tiny Creole village of Placencia, a mile down the road. Or, from the inn's dive shop, head out to Belize's barrier reef—prime location for diving or saltwater fly-fishing. The rub is that it's an hourlong speedboat ride on sometimes choppy waters. But once out there, it's not unusual to see spotted rays or even nurse sharks cruising along a 2,000-foot wall, or for anglers to hook bonefish, tarpon, or snook.

Beyond the Sand // Turtle Inn is a great base for venturing into the jungle. The front desk can arrange day trips to Cockscomb Basin Wildlife Sanctuary (the world's first jaguar reserve) and a number of large Maya ruins. Monkey River is 45 minutes to the south by boat, through mangrove estuaries that are home to manatees. While cruising upriver, you'll encounter tiger herons, gargantuan butterflies, six-foot iguanas, and howler monkeys.

The Fine Print // American Airlines (800-433-7300, www.aa.com) flies to Belize City for about $500 round-trip from both Miami and Dallas. From there, it's a 35-minute flight on Maya Island Air ($140 round-trip; 800-225-6732, www.mayaairways.com) to the Placencia airstrip. From January 4 to April 30 (excluding the week of Easter), seafront cottages at Turtle Inn (800-746-3743, www.turtleinn.com) are $300 per night, double occupancy, including Continental breakfast and use of bikes and sea kayaks (from $200 per night in low season).
Jake's
How does it feel to be one of the beautiful people?
Caribbean Resort, Jamaica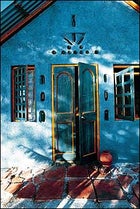 You can almost see the Pelican Bar from here: a cottage at Jake's
"IF WE DON'T ENCOURAGE GUESTS to leave the property, they wouldn't," says owner Jason Henzell. He ought to know. Ten years ago, Henzell, 34, and his mother, Sally, opened a small restaurant on six acres overlooking Calabash Bay and named it after a local parrot. A small guest house followed, and each year, as the Henzells' gospel of sophisticated laziness spreads beyond the fishing village of Treasure Beach (pop. 600), on Jamaica's southwestern shore, more rooms are added. Which only makes it easier to give in to inertia. Lounging under the acacia trees next to the tiled saltwater pool, a pair of still-pale English thirty-somethings allow that they've been devouring books from the well-stocked library for four days. They reel with shock when my boyfriend and I start naming off the places we've been (Great Pedro Bluff! Black River fruit market!) and the things we've seen (dolphins! crocodiles!) and eaten (grilled conch! jerk crab!) in just two days. Soon, they wobble off on mountain bikes, determined to find out what they've been missing.

The Good Life // From modest wooden cabins with funky mosaic bathtubs to bright adobe bungalows topped with open-air rooftop chill zones, the 15 cottages at Jake's are a mélange of Moroccan style and iconoclastic tiling—all sans TVs or phones but avec CD players. (The bar has a stellar music collection for your listening pleasure.) Lucky us, our pink palace came with a wooden porch overlooking the surf and an outdoor shower with claw-foot tub, plus swanky Aveda potions. There are two chow houses: Jake's, the poolside bistro, where the coffee's delivered fresh daily by a woman who roasts it over a wood fire; and Jack Sprat's, a beachfront joint where Fabulous (yep, that's his name) serves up jerk crab and coconut ice cream, and a DJ spins dance-hall reggae into the wee hours.

Jaw Dropper // A pilgrimage to Shirley Genus's wooden zareba—basically a hut with a sauna—is required. Strip down next to a steaming terra-cotta pot filled with a healing soup of organically grown lemongrass and other herbs, then sweat like the dickens. Afterward, let Shirley hit all the pressure points ($30 for steam bath, $60 for massage; book through Jake's).

Sports on-Site // Sea-kayak or snorkel through the rocky maze that hugs the beach. (Kayaks are free; snorkel gear can be rented at the bar for $10 a day.) Or hire a local to take you out fishing for snapper, jack, kingfish, and grouper; trips can be arranged at the front desk ($35 an hour per person).

Beyond the Sand // One day, on our way to ogle crocodiles along the Black River, 16 miles northwest, our boat chugged past the Pelican Bar, a tiny shack on a lick of sand. Our captain shouted out a lunch order to Floyd, the owner, and on the way back we parked, waded ashore, and dug into $6 plates of steamed fish, grilled onions, doughy white bread, and bottles of Red Stripe ($35 per person for Black River boat tours; book through Jake's).

The Fine Print // Air Jamaica (800-523-5585; www.airjamaica.com) flies round-trip to Montego Bay from New York for about $600, from L.A. for $800. From December 19 to April 20, a double-occupancy room at Jake's (877-526-2428, www.islandoutpost.com/jakes) costs $95 to $395, meals not included ($75 to $325 in low season).
The Essential Eight
Had enough paradise? Add some intensity to your Caribbean life list.
Kayak the Exuma Cays Exuma Cays Land and Sea Park, in the Bahamas, spans 176 square miles of reeftop emerald water that laps the marine caves and white-sand beaches of hundreds of undeveloped limestone islands. Shallow, calm seas are perfect for paddling, snorkeling, and swimming. Do all three on a nine-day trip with Ecosummer Expeditions. ($1,695; 800-465-8884, www.ecosummer.com)

Climb Pico Duarte More travelers each year are tackling the Caribbean's tallest peak. At 10,414 feet, the rocky summit of Pico Duarte rises up from the tropical lowlands of Armando Bermudez National Park, along the Dominican Republic's Cordillera Central. Iguana Mama runs a three-day, 29-mile mule trek to the top. ($450; 800-849-4720, www.iguanamama.com)

Hike to Boiling Lake Deep in the heart of Dominica, hot magma warms the rocks and pushes volcanic gas through vents to keep one of the world's largest boiling lakes at an eerie, gray simmer. Getting there requires a muddy three-hour rainforest slog on seldom-signed paths. Reserve a guide through Ken's Hinterland Adventure Tours. ($40; 767-448-4850, www.kenshinterlandtours.com) Swim in Mosquito Bay Every night, a bright concentration of bioluminescent organisms lights up Mosquito Bay, on the south side of Vieques, just east of Puerto Rico. Paddle 15 minutes from shore with Blue Caribe Kayaks, then jump overboard for a glow-in-the-dark swim. ($23; 787-741-2522, www.enchanted-isle.com/bluecaribe)

Sail the Grenadines The unspoiled Grenadines—30 small islands, 24 of them uninhabited, from St. Vincent to Union Island—have long been favorite waters of the yachting elite. Now you can sail them without chartering an entire boat: Reserve one of five cabins aboard Setanta Travel's 56-foot luxury catamarans for a seven-day cruise. ($3,990 per week per cabin, double occupancy; 784-528-6022, www.setantatravel.net)

Dive the Bloody Bay Wall Just off Little Cayman's north shore, the seafloor takes a half-mile-deep plunge along Bloody Bay Wall, where you're sure to spy huge eagle rays and hawksbill turtles. Paradise Divers offers two-tank boat dives. ($80; 877-322-9626, www.paradise-divers.com)

Kitesurf Aruba Plan a pilgrimage to Aruba's arid eastern shore, where 80-degree water and consistent winds make Boca Grandi the ultimate surf zone for seasoned kiters. Vela's Dare2Fly offers a three-day introductory course in calmer waters ($350; 800-223-5443, www.dare2fly.com).

Fish the Sian Ka'an Biosphere Reserve In the protected white-sand flats on the south side of 90-square-mile Ascensi—n Bay, in the Yucatán, bonefish run wild. Sign on for a week of guided fishing, eating, and lodging at the funky, thatched cabanas of Cuzan Bonefish Flats. ($1,999 per person, double occupancy; 011-52-983-83-403-58, www.flyfishmx.com)