Soccer in the World's Most Violent City: The Great Mall of San Pedro Sula
Ryan O'Hanlon is down in Honduras to cover the U.S. Men's National Soccer Team's opening World Cup qualifying match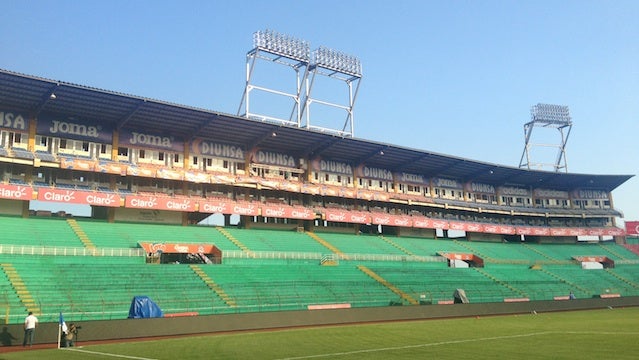 Heading out the door? Read this article on the new Outside+ app available now on iOS devices for members! Download the app.
Some truths about countries: they have people, they have/say they have "a government," and if they have a mall, that mall is terrible. That's a redundancy, sure, because every mall is terrible. They're all too clean, too big, and either too loud or too quiet. There's a food court, too many nearly-identical clothing stores with vaguely-suggestive first-name names, and always a Cinnabon. Always a goddamn Cinnabon—even in San Pedro Sula.
Game On
Ryan O'Hanlon will file dispatches from Honduras, where he is covering the U.S. Men's National Soccer Team's opening World Cup qualifying match, all week.
#1
.
Why Are You Here?
This being, you know, The Murder Capital of the World, (Jay-Z was wrong, unless he secretly grew up here) we've been told to not leave the hotel so we don't get mugged and to then not resist said mugging if it happens because we will be assaulted with either a pistol or a knife and possibly murdered. The only place we can go safely, we're told, is the mall next door. (Note: one commenter called me a "candyass," and he/she is correct.) The one with the coned-off parking spot with a stork-holding-a-baby sign (I don't know, new-born-baby parking?) and the FOODCOURT and CARRION lettering on the outside walls. (I expected a warehouse filled with carcasses. What I got was a Honduran Sears.)
There was a coffee-and-donuts place called DK'D Donuts with suspiciously-similar-to-Dunkin-Donuts magenta and off-orange colors. An electronics store that looked like a bootleg Apple store—same silver, smooth-edges vibe—but claimed to be an "authorized Apple retailer." Donald's Barber Shop, which looked like a jewelry store but had taxi-cab and fire-truck seats for kids. The part-Nike-store-part-regular-athletic store that sold mostly FC Barcelona gear and had only two stands-worth of Honduras stuff. (One of the employees followed us around the entire store, keeping a constant three-foot buffer.) And the Ace "hardware" store that sold food, a bunch of children's toys, and had five (total) bottles of liquor for sale at the register.
Once we found the movie theater, hidden on the third floor and closed—but showing Duro de Matar, El Vuelto, and Lincoln when open—it was time to go. Our search for water and non-beef-jerky snacks was a failure. We walked out, while a guy wearing a bulletproof vest and carrying a gun pushed an old man in a wheelchair through the door.
U.S. SOCCER HELD THE day-before-the-game press conference at our hotel because all the journalists are here and because it's the least San Pedro Sula place in San Pedro Sula. All the rooms have flat screens, shower-baths, white comforters with those annoying half-blankets draped over the top, and all those other nice-hotel things you'd expect from some big American city. There's a pool, a patio with ceiling fans, a workout room, and three fancy-ish restaurants. The walls are pretty high, too. While here, we're in San Pedro Sula only in the widest, non-geographical sense. 
The press conference was every press conference: journalists asking questions because they have to write stories and players/coaches answering questions because they have to answer questions. No one really wants to be there, but everyone's always been there, so it keeps happening. I don't know. Maybe not for the Honduran media, who outnumbered Americans with somewhere around 30 people and about nine television cameras. Their cameras clicked from beginning to end, and they asked most of their questions through a translator sitting next to coach Jurgen Klinsmann, who was flanked on the other side by midfielder Michael Bradley.
Klinsmann and Bradley each have sort of interesting stories. Klinsmann is a German, who lives in California and supposedly uses a helicopter as a means of transportation. He's one of the greatest German players of all time and was a member of their most recent World Cup-winning team from 1990. He then coached Germany to an unexpected third-place finish in the 2006 World Cup. After that, he coached Bayern Munich, the biggest and best club in Germany (sometimes referred to as FC Hollywood), for less than one season, as he was fired with five games left. And Germany has done even better without him and with his assistant from 2006 as the head coach. So, in general, people are unconvinced.
Bradley is the son of the man Klinsmann replaced, now-former U.S. coach Bob Bradley. While he's only 25, Bradley's played 72 games (that is a high number) for the U.S. At first, some troll-types said Bradley was only being selected because his dad was the coach—all this while he was playing and playing well in the Netherlands and Germany, for teams much better than the U.S. Bradley is now a starting center midfielder for Roma, which is in Rome, which is in Italy. They're one of the biggest and most historically-successful clubs in the country, and Bradley is widely considered (and just is) one of the two best American players, along with Clint Dempsey.
They're interesting stories, but only in the sense that it'll be interesting to see how their careers play out. Nothing gets added to them from a press conference—barring some table-flipping, cameraman-punching, or journalist-choking. The interesting thing about this, besides the idea of the U.S. playing an interesting sport and trying to qualify for maybe the most interesting sporting event in the world, is where they have to do it. Toward the end of the press conference, Bradley was asked about what it's like to have to play such an important game in an area surrounded by security concerns:
"It doesn't affect us at all."
LATER, WE'RE AT THE stadium: Estadio Olímpico Metropolitano. The only time we're encouraged to leave the hotel is when we're riding in a police motorcade, and that's how we got there: in a coach bus behind the team's coach bus, surrounded by police vans, police motorcycles, and blaring sirens. Being inconspicuous does not matter when it comes to being safe. It's about as close as we could get to just carrying the hotel to the stadium, it seems.
Everyone on the street turns and looks because that's what you do when you see two big buses surrounded by police, no matter where you are. One guy in a wifebeater, sitting on a motorcycle, gave the convoy a thumbs down, and a maybe-seven-year-old girl grabbed the bars of a fence, jumped up and down, and looked like she was yelling. Everyone else just turned their heads and went back to being wherever they were. We passed some stray dogs, a place called Power Chicken, and a bunch of school buses that were being refurbished with tinted windows and a Jesus-Christ-wearing-a-crown-of-thorns decal, and then we were there.
The team has one training session before tomorrow's game, and before that, there's something called a mixed zone, which is pretty much the soccer-press equivalent of a petting zoo. Basically, there's a 20-to-30-foot bit of fence up outside the locker room. Journalists, cameramen, camerawomen, and whoever else managed to get into the stadium on one side, players on the other. And it's then a 20-minute scramble to ask as many questions as you can, but players are outnumbered by media by about 20 to one, and there is no ratio for media to fence space because you can't divide by zero. There's no room. Cameramen are swinging their cameras freely, somehow not smacking anyone in the face.
Jozy Altidore, a striker who plays in the Netherlands, spoke about getting racially abused during a game last week, saying, "All you can really do is hope it doesn't happen again … and move on from it." (His reaction to it has been amazingly restrained all along.) He respects the Honduran team and hopes to start tomorrow. Geoff Cameron, a central defender who plays in England and is the one sure starter for half of the two central-defense slots, talked about going out tomorrow with the right attitude, communicating, and matching the intensity of his opponents. He also said, "You never know what's being thrown at you, and you have to adjust on the fly," which is maybe something that can be applied beyond the field here, but is not at all what he meant. The Honduran media flocked to the team's few Spanish-speaking players, and Clint Dempsey, the star of the team and the person everyone wants to talk to, talked to no one. We now know nothing we didn't know before.
For a good 20 seconds, I was sandwiched by two sweaty stomachs underneath the tucked-in polo shirts of two large Honduran men who wanted to hear from Altidore. It's a weird cattle-drive-type thing—just read back that last sentence—but I guess this seems like the only way to do it since no one's leaving the hotels, other than for the game. Just throw everyone in a tight space, put a fence in between them, and see what happens.
After that, training began and we—something like 50 Hondurans and 20 Americans—were allowed to watch from one of the end lines. The warm-up takes more time than that, so we didn't see much from the players, but the stadium was weirdly beautiful. Or at least the idea of it was. And not in that Fenway or Wrigley way—distinct, classic designs—but in the way that this place contrasts everything around it, yet still is very much of this place. It hasn't been renovated in a long time—if ever—and it's most definitely not "classic," just sort of old and rusty and old. If it were in the middle of the city, it'd look like everything else around it—kind of sad and aged, a sheen of dirt over everything—only sadder and older and dirtier. But the stadium's a little ways outside the city, just past two giant green fields where people were pulling horses that clearly didn't want to be pulled, some 25 minutes from our hotel.
The stadium itself is this over-colored (blues, reds, oranges, yellows, and greens) and over-advertised-on bowl (Claro is everywhere), but it's also this solid thing that's just sort of there, in the sun, with this bright green grass (surprisingly long and surprisingly plentiful), taller than everything around, other than the mountains a few miles away. Opposite the mountain-side, there's not much at all, and you can look through the openings in the stands on one end and see nothing but sky. The mountains were covered by some light clouds, but you could still see their outline and the sun shone through just enough to brighten things up without making everyone sweat. There was a small breeze. A bunch of kids played soccer on a field you could see through the entrance. Some good things were pretty obvious: almost-perfect weather, the crazy greenness of it all, the breadth of the mountains, kids doing an active thing and sounding like they're having fun, and this big structure, weathered from all the things and all the people that have been here and so big because more than enough people care about what's happening tomorrow afternoon. This is all non-Cinnabon stuff: good and relatable, everywhere only if you're looking.
Then the cops walked onto the field with their "Policia" hats and navy blue outfits and their shiny tuxedo shoes or their pants-tucked-into-boots. A few of them had rifles, and the others had guns in holsters. Our 15 minutes were up. They told us it was time to go, and I couldn't forget everything else we've been told about this place.