Dingle All the Way
To tireless hikers, Ireland throws open a 112-mile arm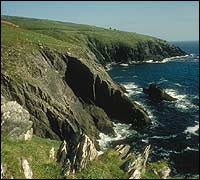 Heading out the door? Read this article on the new Outside+ app available now on iOS devices for members! Download the app.
Tourism is a relatively new game—and athletic tourism an even newer one—on Ireland's Dingle Peninsula. Although B&Bs have cropped up on this spit of land northwest of Killarney like, ahem, freckles on a redhead, it wasn't until recently that locals finished plotting the Dingle Way, a 112-mile trail that lassos the peninsula via beaches, cliffs, and hedged livestock paths. Hiking the Way is a great chance to see rural, Ryan's Daughter-romantic Ireland without seeing too many Americans — in a leisurely tracing of the path's more accessible half last fall, a friend and I encountered exactly three other hikers. We did encounter plenty of locals, however, many of whom still speak Gaelic and few of whom understand the modern vogue for vigorous vacationing. One B&B matron told us her dad had walked everywhere in his youth and couldn't fathom why anyone would subject himself to such a thing for fun. Then she plied us with those great Irish fortifiers—tea and soda bread—and put us to bed.

Blennerville to Camp
To undertake your own traverse, begin at The Haven B&B in Blennerville (011-353-66-21217). Owners Jim and Anne Costello readily supply maps and a full day's fuel; their typical breakfast consists of eggs, toast, bacon, and—mmmm—blood sausage.
If you need further sustenance, pluck blackberries along the 11-mile hike to Camp (population 68), which runs between tangled hedges of bramble and fuchsia, Ireland's flamboyant answer to kudzu. On the morning we set out, the sun was breaking through the clouds in patches. From a nearby hill, a lone shepherd eyed us as his dog bounded over to baptize our clothes with grassy mud and sheep dung.


Toward the end of the day, we crossed the Finglas River on giant stepping-stones. (In Gaelic myth, the sleeping laird Cu Roi Mac Daire was done in by his wife, who called her lover, the warrior Cuchulainn, by turning the Finglas white with milk.) We skipped rocks across its now clear pools, climbed back up to the road, and descended into Camp, where Ashe's Pub was willing to supply the requisite Guinness and Barnagh Bridge Country Guesthouse (011-353-66-30145) the requisite beds.



Camp to Anascaul

It's worth the hilly 12-mile trek through bogs and herds of skittish sheep to reach Inch Strand, a three-mile-long beach that's deserted by this time of year—at least, it usually is. Actually, as we came out of the brush to behold it, several ascot-wearing elderly gents dropped out of the sky in yellow and red gliders.


We saw them again at our B&B in Anascaul, The Old Anchor (011-353-66-57382), whose co-owner, Ann Curran, can suggest day hikes in the area. One will surely take you down the street to the South Pole Inn, a pub-cum-shrine to Dingleite Tom Crean, who made three unsuccessful attempts on said Pole.
Anascaul to Dingle

Dingle is the modern heart of the peninsula, but it's surrounded by plenty of history. The nine-mile walk's highlight is the ruin of Minard Castle, built by Normans in 1551 and cracked by Cromwell's cannons 100 years later. A tiny cove nearby is walled by cliffs that angle to the sea one after the other, like sailboats in a close race.


Drop your bags at Duinan House (011-353-66-51335); then walk downtown to Foxy John Moriarty's to rent a mountain bike ($8 per day; 011-353-66-51316) and head for the hills. Or call Sciúird Archaeological Tours (011-353-66-51937). It's thanks to them we learned that those monolithic rocks the sheep were using to scratch their hindquarters probably had a more noble purpose back in the Bronze Age.


Dingle to Slea Head

The Dingle Way's final stretch offers some of the best scenery—oceanside cliffs, ruins, clusters of early Christian beehive huts called clocháin—and some of the least interesting walking conditions, much of it along paved roads. Near Ventry, however, the path drops to a nice arc of yellow sand. From there wend your way back up to the clifftop road, this relative altitude change evidenced by the name: Mount Eagle. (In Ireland, anything over 200 feet is a mount.) End your walk at the working farm of Caitlín Firtéar (011-353-66-56120), who'll restore you with a thick stew of beef and—what else—Guinness. Afterward, stroll by moonlight to the private "beach," a little notch in the black cliffs licked clean by white-crested wavelets. In the morning, awake to views of the green mound of Great Blasket Island—think John Sayles's Roan Inish—and beyond that, home.