Hiking the Imbros Gorge
The Samaria Gorge Trail in Crete is one of the most popular hikes in Europe. But in the summer, when the trail is unbearably hot and overrun with tourists, visit the Imbros, a simple walk in an area full of charm.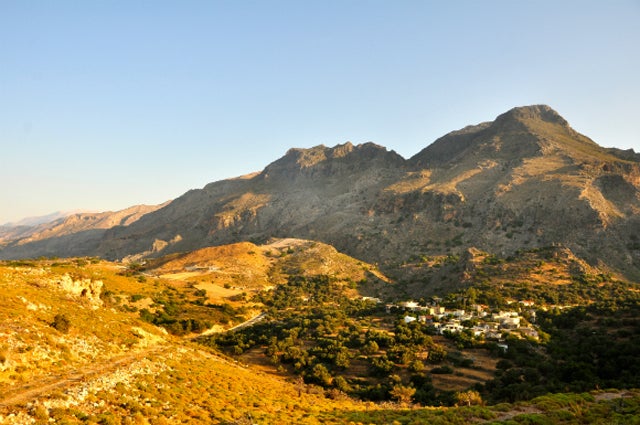 Heading out the door? Read this article on the new Outside+ app available now on iOS devices for members! Download the app.
It's Tuesday morning, 8 a.m., and I'm being driven up a mountain road in Crete with Kardashian-esque curves by Elena, a barefoot, chain-smoking grandma who's ready to party. Her battered old Skoda vibrates as the Greek folk music she's blaring reverberates across the Imbros Gorge, my destination for a morning hike. My window is broken and will only go down a crack, so I can taste Elena's third cigarette of the 20-minute drive almost as well as she can. I thought hiking was supposed to be good for you.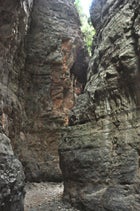 The Imbros Gorge.

The Imbros Gorge.

Southern Crete.
"This road," she says, in between puffs and hacking coughs. "Zig, zag, zig zag. I no like."
"How long does it take to hike down the gorge?" I ask, before realizing the absurdity of my query. With Elena's smoker's cough, she'd be lucky to take a walk down the street, let alone embark on a long hike. I had planned to hike Crete's famous Samaria Gorge, but as the mercury soared past 100, I reconsidered after hearing that the famous trail was nightmarishly crowded and lacking shade. But I had no solid information on Imbros and was now relying on Elena, who had no clue.
Crete is filled with gorges that are perfect for hikers, and while Samaria draws crowds, many of the other gorges are reputed to be just as beautiful. I picked Imbros for its proximity to my base in Plakias, a terrific, low-key beach town on Crete's less developed south coast. The only brief I had on Imbros was a tip from a local travel agent in Plakias. She told me the round trip hike was "way too long" but advised that I could hire a car to take me to the trailhead and hike down the gorge in about three hours.
With the forecast calling for a high of 99 degrees on the day I planned to make the hike, I was out of my hotel by 6.30 a.m. in an effort to try to beat the heat. But the town's only gas station wasn't open yet and the distance between my gas gauge and E was thinner than a heroin addict on Atkins. The road leading west from Plakias to Komitades, the small town at the foot of the gorge, passed through postage stamp-sized villages and I had no idea if there would be any gas stations. Even before 7, it was already in the mid 80s with plenty of humidity—not a good day to run out of fuel, but I decided to be optimistic, and set off hoping to make it to Imbros.
The road twisted and turned up and down roughly along the coast and at each fork the signs presented two options, always advertising two microscopic villages rather than further destinations, causing me to have to pull over to consult my map seemingly around each bend. A half-hour outside of Plakias my gas gauge nudged a touch below the E mark and I stopped in a tiny village to ask a young man in a camouflage t-shirt and matching cargo shorts where the nearest gas station was.
"You go to Fragokastelo," he said.
Fragokastelo looked to be another 15 minutes west and I reckoned I could make it if I slowed down a bit. Sure enough, Fragokastelo had a gas station, but alas it didn't accept credit cards and I had but 40€ on me. I put 20€ worth of gas in the tank, which doesn't buy much in Europe, and hoped I wouldn't need to buy anything else since the ride to the gorge trailhead was supposed to cost 20€.
A taverna owner at the foot of the gorge hooked me up with Elena, who had no problem reducing her price to 18€ after I bought two bottles of water for the hike. A couple minutes after we pulled out of the village, Elena stopped in front of a dilapidated building.
"Excuse me," she said, before turning off the ignition and stepping out of the car. "I'm coming back, one minute."
She walked up a small half-flight of stairs to a terrace, grabbed a mug and returned to the car. Apparently she'd received the call from the taverna right in the midst of her Tuesday morning coffee and had forgotten to take it with her. She drove up a series of switchbacks with the mug in her right hand while taking intermittent puffs on the cigarette in her left as music pumped out of her tinny car speakers.
After we arrived up at the trailhead, a few miles straight up from the village, I insisted on taking Elena's photo by the Imbros Gorge sign.
"Have you hiked this trail?" I asked as she erupted into one of her two-per-minute smokers coughing fits.
"Hiking?" she asked, furrowing her brow. "Is better to drive I think."
Right near the start of the trail, I saw a hut with a sign requesting a 2€ entrance fee. Elena had already pealed out and I had not a single cent left. Surely they wouldn't turn me away, would they? Thankfully, the hut wasn't staffed and I hustled through before anyone could turn up.
The gorge turned out to be a glorious hike. The first three kilometers were dull, but after that the trail evolved from a razor thin little passageway between huge rocks the width of a Fiat, into a wider section that was caked with enormous pine trees, massive, dramatic rock formations and the occasional curious mountain goat ambling about.
I didn't see a single person for the first section of the hike, but just as I rounded a bend, camera in hand, I stumbled right onto a woman squatting to pee next to the trail. She obviously thought she had the whole place to herself and, when she heard me, she quickly pulled her underwear and pants up and wheeled around to see who—or what—was coming.
Seeing my camera, she gave a horrified look and it wasn't clear to me if she thought I'd just taken a photo of her bare ass. I contemplated defending myself, but instead just beat a hasty retreat down the trail.
It took me just 90 minutes to hike down the eight-mile trail and I felt like I should have done it round trip. But then I wouldn't have met Elena and wouldn't have had the chance to pay her enough to buy her morning's supply of smokes.
Just before I exited, there was another tollbooth, this one staffed. "Two euros," said the man in the booth, looking up from a newspaper.
"To be honest, I'm completely out of money," I admitted, sheepishly.
"What country are you from?" he asked, almost certainly to ascertain if I was German, the least popular nationality in Greece at the moment, thanks to Chancellor Angela Merkel's handling of Greece's economic crisis.
"USA," I said.
"For you, the gorge is free," the man said. "Welcome to Greece."