An Insider's Guide to Skiing Europe
From renting a car to cheap places to stay and where to go, 15 tips for skiing the Alps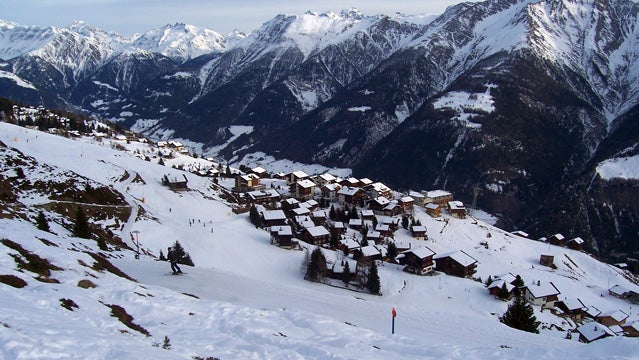 Heading out the door? Read this article on the new Outside+ app available now on iOS devices for members! Download the app.
Mention skiing in Europe to the uninitiated and you'll often be greeted by a litany of reservations: It's far. It's expensive. It's complicated. The snow is unreliable. What's wrong with Colorado?
Here's what the naysayers are missing: 5,000-vertical-foot descents that drop into 14th-century villages. Big-mountain terrain that makes the Tetons feel like a playpen. Resorts that boast 700 miles of in-bounds terrain and over 400 lifts on one ticket. Freshly-baked apple strudel for breakfast, a three-course meal for dinner, and a roof over your head for 60 bucks a night.
Armed with the right knowledge, skiing in the Alps is easy, affordable, and will change your notion of the sport forever. Here's how.
: Where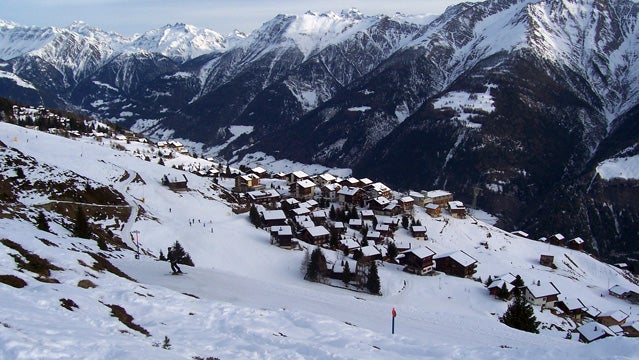 With 750 miles of mountains strung across eight countries, dialing in on where to go can be hard. Here are a few things to consider.
TIP 01: Italy is cheap. Cortina is often compared to Aspen—they're both upscale resorts that attract a sophisticated clientele. But check out these prices: $65 per person per night in Cortina will land you a clean, medium-sized room in a three-star, family-run B&B on Cortina's main drag. This price includes a huge breakfast buffet—muesli, freshly-baked pastries, and an assortment of local meats, breads, and cheeses (make a sandwich, pocket some fruit and apple strudel, and you're set for lunch). Something comparable in Aspen would be $200 a night, minus the Euro charm and bomber breakfast spread. A lift ticket costs 60 bucks a day and accesses 420 lifts and 758 miles of in-bounds terrain as Cortina is a part of a network of 12 inter-connected mountains known as the Dolomiti Superski. That doesn't include the countless off-piste options, like the Creste Bianche couloir off the Son Forca-Padeon chair or backcountry descents like Bellunese Vecchia and Antermoia off the Marmolada massif, the only glacier in the Dolomites. Lesser-known Italian resorts like Prali and Monte Rosa are even cheaper and more freeride-oriented.
TIP 02: Check out off-the-beaten-path ski areas. Instead of hitting big-name resorts like Verbier, Switzerland, or Val d'Isère, France, try lesser-known resorts that often offer comparable skiing at more affordable prices, minus the crowds and drunken Brits. Val d'Anniviers, a ski area in the Swiss canton of Valais, is a freerider's paradise: four different resorts—Zinal, Grimentz, Vercorin, and St.Luc-Chandolin—on one $50-a-day (or $293 per week) ski ticket that serves up crowd-free, in-bounds skiing and rowdy backcountry terrain, like the steep lines off the Liasion on St. Luc-Chandolin, where the Freeride World Tour qualifier will take place on March 9 and 10. A week's stay in a studio apartment that sleeps two in Chandolin costs $443. Or head west to La Grave, France, where a week of skiing with the Skier's Lodge will run you $1,500 and includes six days of guided skiing (you need a guide in La Grave, all of the skiing is off-piste and the mountain is riddled with cliffs, crevasses, and avalanche terrain), accommodation, and two meals a day—a breakfast buffet and a four-course French dinner—and some of the best skiing of your life.
TIP 03: If time is your limiting concern, hit a resort that's close to a major city. Chamonix, France, is an hour from Geneva, Switzerland. St. Anton, Austria, is two hours by train from Zurich, Switzerland. You'll leave the East Coast in the evening and be in the Alps by morning.
: When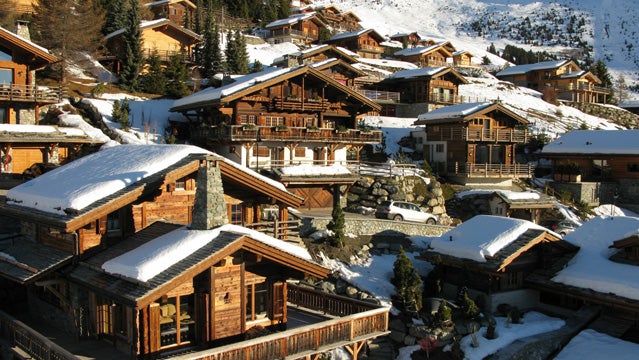 TIP 04: When it comes to the best months for snow, locals across the Alps say that late January and early February are the best bet for powder. Late March and April are prime for backcountry riding and ski touring. For the most part, spring means stable snow conditions, deep bases, filled-in crevasses, and good weather. Forgo the famous Haute Route that links Chamonix, France, to Zermatt, Switzerland—it's overrun come April—in favor of less-populated ski tours in Italy's Monte Rosa region, which claims 14 peaks over 4,000 meters, or in Switzerland's Bernese Oberland, which boasts the highest concentration of 4,000-meter peaks in Switzerland. The high elevation in both areas all but ensures good snow quality later in the season and the extensive huts systems in each region are well-suited for multi-day tours.
TIP 05: When planning your trip to the Alps, avoid major European holidays, such as Christmas, New Year's, Easter, and school holidays (of which there are many). Prices go up, slopes get tracked out, and lift lines can be long. Mid to late January is quiet across the Alps and often very snowy.
: Accomodations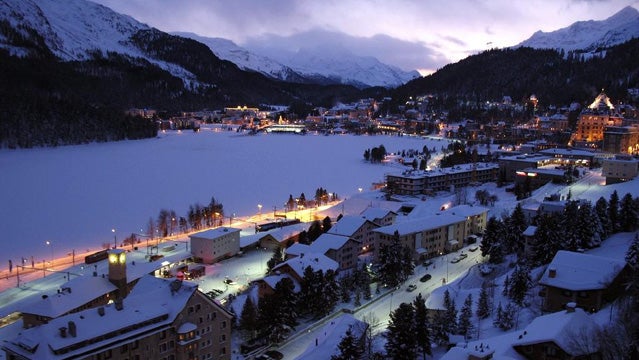 TIP 06: Launched in 2012, Alpine Home Swap is a home-sharing network designed specifically for skiers and snowboarders. The catch? You have to own a home in (or close to) a ski resort. The concept is simple: Pay $115 per year for a membership and receive access to over 70 homes at resorts in France, Switzerland, Austria, Italy, Sweden, New Zealand, the United States, and Japan. You can swap as many times as you'd like in a year at no additional cost and you negotiate the terms of the exchange directly with the owner, which means that the swaps don't have to take place simultaneously. In addition, owners of these homes are an invaluable resource of insider knowledge. Want to drink, ski, and eat like a local? Ask your AHS host.
TIP 07: If the word hostel conjures up images of backpack-clad college coeds running wild around Europe, it shouldn't. Come winter, hostel life is more sedate, mature, and teeming with ski bums. Switzerland's Swiss Youth Hostels boasts an extensive network of hostels in many of its most famous ski towns: St. Moritz, Engelberg, Zermatt, Davos, to name just a few. For as low as 33.60 Euros per night (non-member price, which includes breakfast and linens), stay in castles, charming alpine chalets, and some not-so-sexy dormitory-style lodging. For affordable accommodation in Austria and France, try Hostelling International Hostels.
TIP 08: If you're going to stay at one resort for a long time or if you're traveling with a group, rent an apartment or chalet. A one-bedroom apartment in central Chamonix starts at about $750 a week and sleeps four people comfortably. Shop locally and cook meals at home, and you'll save money on food costs, too. Search VRBO, TripAdvisor, and local tourism offices for self-catering apartments and chalets.
: Transportation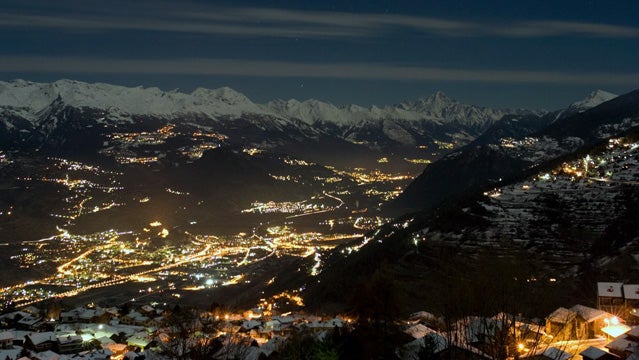 TIP 09: Train travel in Europe is a delight: it's efficient, extensive, and affordable. If you plan on visiting several countries or staying abroad for an extended amount of time, purchase a Eurail pass. Save money by deciding in advance which countries you plan on visiting and buying a Select, which grants you travel in three, four, or five countries, rather than the more expensive global pass, which covers travel in all 17 countries in the network. The three-country Select allows for five travel days over two months in three countries—say, France, Switzerland, and Austria—for $506. Save $76 when you book it with a buddy.
TIP 10: Rental cars in Europe are cheap. For as low as $287 a week, rent a manual, economy-class car with winter tires. Remember, though, that gas is more expensive and there are many more tolls than in the States (figure about $4 to $9 per hour you drive), but a car offers unmatched flexibility, spontaneity, and ease. Things to keep in mind: Automatic transmission is more expensive. It's often more costly to pick up a car at the airport, so take a train to the town rental hub for cheaper rates. Companies charge more to pick up a car in one country and drop it off in another. Rental car agencies with the best deals vary by country. Booking online yields the best rates. Try Auto Europe or Europcar.
: Extras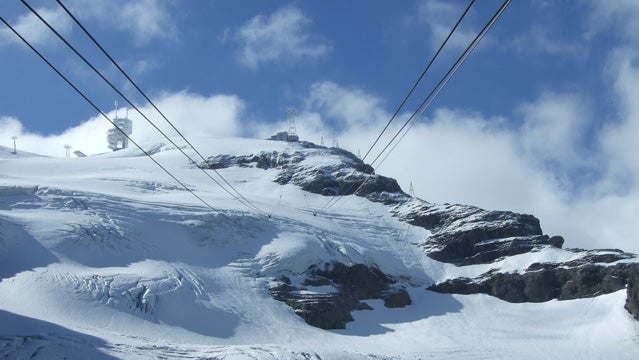 TIP 11: There are tons of amateur races, competitions, and derbies in Europe. These are a great way to get involved in local ski culture, meet natives, and connect with possible ski partners. One of the most famous is the Inferno race in Mürren, Switzerland. Held each January, it's the longest, oldest, and biggest amateur downhill race in the world. Registration opens in August and sells out within a week, so sign up early. There's also the Derby de la Meije in La Grave, France, a Chinese downhill on one of the wildest ski areas in the world held every April, and the Atomic Waymaker, a new ski-touring event in Austria, which also takes place in April.
TIP 12: Hire a guide. European resorts are massive, as in hundreds-of-miles-of-runs massive, often span several mountains and multiple countries, and connect to different villages. Throw in a foreign language and in-bounds terrain that turns into out-of-bounds terrain with little distinction, and navigating them can be overwhelming. Get the most out of your time in Europe by hiring a guide for at least a day. They'll show you secret powder stashes, how to avoid crowds, and where to find what you're looking for, whether that's couloirs, tree skiing, or lift-accessed steeps. If you want to do extensive backcountry exploring, make sure you're guide is certified for glacier travel.
TIP 13: Bring low-light, yellow-tinted ski goggles. Most of the resorts in the Alps are above tree line, so when it's overcast or snowing, things get blind quickly.
TIP 14: When traveling by train in Switzerland, it's possible to check your bags directly through to your final destination without lugging them yourself from train to train. Head to the luggage transport kiosk at the train station from which you're departing and check the bags through to your endpoint. Your hotel will fetch the luggage from the train station. Your bags will arrive shortly after you do.
TIP 15: Buy locally. Hit farmer's markets and local shops for affordable, tasty, high-quality local meats, cheeses, produce, sweets, and wine. There's a farmer's market on Wednesdays at the gondola station in La Grave, France. In Chamonix, it's on Saturday mornings in the center of town. Wednesdays in Val d'Isère. There's nothing better than a high-alpine picnic. Well, maybe fondue.