Krakatoa, South of Paris
Who would want a $100 million theme park devoted to the belching drama of volcanoes? The French, that's who—if they can ever stop arguing about it.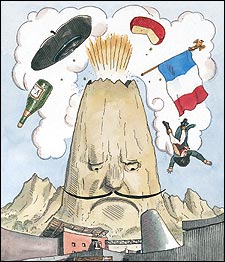 Heading out the door? Read this article on the new Outside+ app available now on iOS devices for members! Download the app.
SOMETHING IS WRONG in the Gallery of Rumbling.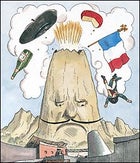 A look of bemused disorientation is probably natural on the face of any Frenchman who finds himself in a non-smoking environment 200 feet under the earth. But the puzzled expressions of the Auvergne families standing to my left—French provincials who've paid $17 a head to see the sights at Vulcania, a new volcano-themed $100 million underground entertainment park—betray a more serious unease.
Is it panic, perhaps? Because it's really loud in here: Hidden speakers are blasting a thunderous soundtrack as video images of flame-orange magma flicker across the faces of huge, flat boulders, the kind you see separating the rhinos and elephants in metropolitan zoos.
But the Auvergnats seem oblivious to the noise and the neon fissures beneath their feet. They live in real volcano country, after all. Several stories up from where we stand, the beautiful Parc Naturel Régional des Volcans unfolds in every direction, 1,600 square miles dotted with 80 lava peaks rising to 6,200 feet. Dormant for the past 6,000 years (but not forever), these peaks provided stone for the hundreds of black cathedrals and castles in this area, which is sandwiched between Provence and Bordeaux in central France.
No, the problem goes more like this: The Auvergne has never had a theme park before, so the locals don't quite have the moves down. In particular, the policy of American-style unlimited access to all attractions seems to be causing serious confusion.
"They want to know 'where is room one, where is room two?'" says Stéphanie Boulliaud, Vulcania's peppy 28-year-old PR spokesman. "They don't understand that they can visit everything 20 times if they want. That is something that is very American, but not very French."
Also known as the European Park of Vulcanism, Vulcania is the pet project of former French president Valéry Giscard d'Estaing. A longtime Auvergne booster—his grandparents lived there, and he attended school in the capital city, Clermont-Ferrand, where he also owns a home—Giscard wants to lure more tourists to the economically depressed region. His ambitious plan, now complete, called for a 90-foot titanium-lined "volcanic cone," simulated lava flows, 3-D films, and hands-on exhibits to promote volcanology.
It all sounds pretty tame by U.S. theme-park standards. But this is France, a country whose citizens greeted the coming of EuroDisney 13 years ago by literally chucking eggs at visiting Disney chief Michael Eisner. The 1992 announcement of plans to build Vulcania touched off a full-blown culture war, culminating in anonymous death threats against some of Vulcania's backers—allegedly made by radical environmentalists who didn't want construction disrupting the local scenery—followed by retaliatory searches of suspects' homes.
Ten years, 37 lawsuits, and many cost overruns later, the gates are open and tourists have been pouring in. By September the park had already seen 500,000 visitors, and the media-friendly equation of Giscard plus volcanoes kept Boulliaud nearly tripling her government- mandated 35-hour workweek.
I've come to see if Giscard's Franco-American edutainment formula works. What I'm finding is a classic situation of maximized French self-doubt. What if Vulcania fails and the huge investment is wasted? This would be bad! What if it succeeds and more parks follow, turning the Auvergne into a Gallic Orlando? This too would be bad!
The park officially opened in June, and it shuts down for the winter this month, a truncated first season that raised new questions about where this sort of thing fits into France's culture. The French are famous for scorning American ersatzness while prizing the organic, the natural, the authentic. But there's a funny little secret behind the posturing. They've fallen hard for theme parks—fake rocks, cotton candy, and all. Vulcania is the latest, liveliest example of what happens when they apply an uncertain embrace to an Ugly American import.
FRANCE, IN CASE you haven't heard, isn't feeling trè;s bien about itself these days. Income is down, crime is up, far-right candidate Jean-Marie Le Pen did shockingly well in last spring's presidential primaries, and after September 11, the U.S. government has stopped pretending it cares about France's opinion in world affairs. To top it off, resistance to American-style leisure entertainment continues to weaken.
"Ten years ago it was exactly the opposite of now," says Emmanuel Mongon, the 43-year-old president of Imaginvest, a theme park consulting firm based in Paris. "No one in France used the term 'theme park.' "
French media bludgeoned EuroDisney when it opened its gates in 1992, claiming that American-style schlock had no place in the homeland of Balzac and burgundy. Eisner didn't help the situation, loudly declining to adapt his marketing to French tastes, most famously by refusing to sell wine and stubbornly serving pricey fast food.
EuroDisney lost a million dollars a day during its disastrous first year, but it also attracted nine million customers. In a nation of 58 million whose biggest industry is tourism, nine million bodies— philistines or not—attract attention. Mongon estimates that 300 theme-park projects were slapped onto the drawing boards in France, though only a few were completed—most notably Parc Asté;rix outside Paris, which celebrates the comic-book exploits of a skinny, two-fisted Gaul who beats up Roman soldiers.
Between 1991 and 2001, annual attendance at French theme parks grew eightfold, from four million to 32 million. EuroDisney, which now sells wine and serves better vittles, is the number one tourist attraction in Europe, pulling in 12 million visitors a year, 56 percent of them from France and Belgium. Disney opened a second Paris park, Walt Disney Studios, last spring. And more is on the way. Parc Vé;gé;tal, a park devoted to horticulture, opens in 2005, as does Bioscope, near the German border, which will focus on health and wellness.
Wellness? Sure. In today's France, Mongon says, "anything can be a theme park: nature, museums, a castle, a cable car in the mountains."
Driving around the Auvergne, a longtime tourist backwater with storybook villages, gooey peasant-made cheeses, and huge expanses of uncultivated grassland, you wonder if this is the right spot for themedom's next beachhead. It's like rural Wisconsin minus the Tommy Bartlett Water Show—a quiet, friendly, rather boring place, and one of the last in France that doesn't bother overselling its charms to the travel industry. The top employer here is Michelin, the tire maker, which has whittled away half of its 20,000-strong workforce over the last 20 years. Tourism accounts for less than 10 percent of the Auvergne's economy, mostly because the region's natural beauty, while considerable, is overshadowed by alpine provinces to the east and wine country to the south and west.
Traditionally in August, when Paris is empty, the Auvergne has been full, but it's nearly vacant for the other 11 months. Most visitors are French; they come during the five-week summer high season to bike, hike, ride horses, fly-fish, and kayak the glacier-cut lakes and streams. On a typical preseason afternoon last spring, as I tooled around with a local named Jé;rôme Copack, the only tourists I saw were football-calved cyclists and a few trekkers with huge backpacks. Copack pointed out some sticks on the side of the road, each about as tall as a man.
"In the winter, those are covered by snow," he said. Which might make for great cross-county skiing, if only people could get there. But when snow comes, the roads of the Auvergne, including the winding four-lane highway up from Clermont-Ferrand to Vulcania, are often impassable for weeks at a time.
ENTER VALÉRY GISCARD d'Estaing, who served as France's president from 1974 to 1981. The onetime boy wonder of French politics, he's remembered for his brilliance and arrogance in a nation where you can get a lot of mileage out of those traits. After his center-right coalition bitterly lost the presidency to François Mitterand, Giscard sulked in Paris for seven years until he was elected to run the regional council in the Auvergne. These days, spry and tan at 76, he lives in Brussels, where he runs a committee that is drawing up a pan-European constitution, but he still likes to talk up the ancestral homeland.
"The Auvergne needed an attraction, something like Mont-Saint-Michel," Giscard told me, referring to the island castle off Brittany that attracts Americans like moths to a bulb.
The idea for Vulcania germinated in the early nineties, when René Monory, Giscard's former minister of industry and economy, secured $300 million to augment an existing park, FutureScope, and equipped it with a high-speed TGV train line—the choicest cut of pork in French politics. "After that," says Imaginvest's Mongon, "all public authorities dreamed of being Mr. Monory."
Giscard did, too. He's never been a popular ex-prez—in a typical move, he irked everybody in 2000 with a controversial book, The French, in which he said France could stop its "decline" only by wising up to globalization. In this spirit, he decided long ago to place his oomph behind a world-class park. He knew he wanted something volcano-related, but reasoned that a straight-up museum "seemed too serious, and people would not come."
Giscard's eureka moment came in St. Louis, Missouri, during a visit to the Museum of Westward Expansion, an underground exhibition downstairs from the city's Gateway Arch that celebrates the Louisiana Purchase. "I decided on a subterranean environment because the volcano is linked with the center of the earth," Giscard says.
There was, however, the small matter of selling the Auvergne on a 140-acre tourist depot. Giscard treaded lightly—"There was never any consideration of rides," he says solemnly—and arrived at what European politicians call "the third way," in which successful but potentially vulgar American ideas (welfare reform, impossibly large soft drinks) are repackaged to appeal to local sensibilities. Thus, Giscard promised not only lava-based entertainment, but a world-class volcanology research center and educational experience.
Approval to build inside the Parc Naturel Régional des Volcans was fast-tracked, partly because Giscard doubled as park chairman. Then the delays began. Thanks to legal challenges—opponents filed various lawsuits aimed at halting construction—the park's opening was bumped from 1999 to 2000 to 2002. As Giscard's vision expanded, costs ballooned from $40 million to $70 million to $100 million. Locals made a bar game of guessing what the final number would be.
UNDERSTANDABLY, the appearance of bulldozers in the Parc des Volcans brought French environmentalists to the barricades, and they're still pissed.
"Giscard is an idiot," says Marcel Breugnot, a retired septuagenarian tax inspector and volcano buff who heads a grassroots conservation group called the Association of the Puy-de-D(tm)me, named after a dormant volcano that was the area's top attraction until Vulcania arrived. "He says he loves the volcanoes, but he's ruining the environment by building Vulcania, just because he wants more tourists."
But there was never much doubt that Giscard would prevail. The park's site was reclaimed from a former military munitions dump, and even the heavy machinery was sensitized: Tractors and backhoes were lubricated with safflower oil to avoid tainting the water table. The park was designed to be almost invisible from the 360-degree observation area atop the Puy de D(tm)me, which is roughly a mile away.
Today, the most striking thing about driving up to Vulcania is what you don't see. It's pretty much concealed until you're directly in front of it, and even then it's far less obtrusive than your average Six Flags. Austrian architect Hans Hollein, with much prodding from Giscard, delivered a pleasant structure that looks like Dr. No's headquarters redecorated by Le Corbusier.
Inside, there are no garish colors, only tasteful earth tones. Visitors enter down a corkscrew ramp molded from volcanic rock. The signature volcanic cone awaits at the bottom. It has a honeycombed titanium core and doesn't blow smoke or ash, but it does draw natural light down several stories.
Outside the main auditoriums are several rooms filled with dioramas and touch-screen exhibits whose content was vetted by Giscard's team of volcanologists. The parking lot is unpaved. Unlike at an American park, where you'd be flogged if you tried to smuggle in a sandwich, visitors are encouraged to picnic on the landscaped grounds. Naturally, you can get a sit-down meal inside—with a nice bottle of wine.
So what's there to be upset about? Just ask Danielle Auroi, 58, a Green Party representative to the European Union and one of Vulcania's loudest critics. A former geography teacher at Clermont-Ferrand's Blaise Pascal University, she spent last spring taking on Giscard's son Louis for the regional-president job that his father vacated. (She lost in June.) We meet at her campaign HQ, tucked into a dark corner in the oldest part of the city.
"The Puy-de-Dôe is a green tourism place," declares Auroi, who wears her hair in an Amélie cut. "People come to the Auvergne to see the mountains and the water, not a lot of hotels and restaurants and McDonald's."
Leaving aside French knee-jerkery about McDonald's—there's only one in the entire Auvergne—such fretting seems outdated at this point: For most Auvergnats, the real worry now is that the whole thing may not succeed. The business plan is to create jobs and goose the off-season economy by luring 500,000 visitors in each of the first four years, then 800,000 per year after that, preferably affluent ones who will spend a night or three in local hotels.
The initial numbers are encouraging, but only time will tell if Vulcania has staying power. With the doors open and Giscard off in Brussels, people are starting to fret, tuning out his Music Man patter about tourism and education and wondering if it was all just a cover for another motive: self-glorification.
"When he was president of the republic, Giscard did not build the biggest thing," says Auroi, referring to a tradition among French statesmen to leave behind public works as reminders of their greatness—Louis XIV's Versailles, Georges Pompidou's arts center in Paris. "François Mitterand built the pyramid at the Louvre," says Auroi. "For Giscard, Vulcania is his pyramid."
VULCANIA'S BIGGEST potential problem isn't Giscard's ego, however. It's that, like so many French films, the place is beautiful but a little dull. My tour was supposed to last a day, but I saw and did everything there was to see and do in less than two hours.
If Vulcania is a snooze, it's because the designers bent over backward to make sure entertainment did not outweigh education. As Boulliaud put it: "We have to be certain that the exhibits in the park have scientific information and are not just for fun."
And there lies the hidden flaw of third-way attractions: It is possible to create a theme park that satisfies everyone but the tourists. Parks live or die on word of mouth and repeat business, and while I understand why Vulcania is packed with curious families now, it's hard to imagine people running home to tell their friends it's worth 17 bucks.
Oh, well, if Vulcania tanks, there's always the allure of the real volcanoes. Auroi suggested that, before I left town, I take a trip to the top of the Puy-de-D(tm)me, to see what attracted people to the Auvergne in the first place. The Puy is a mile-high volcanic peak with an extraordinarily ugly TV antenna anchored on top that gives it the appearance of a Prussian military helmet. Every few years, its steep incline serves as a punishing stage in the Tour de France, but the day I visited, most of the action consisted of thirsty backpackers looking for water and a dozen or so parapenters buzzing around in their Day-Glo getups.
You can buy a silly volcano T-shirt and a nice glass of Bordeaux on the peak, and the views are great. But it's pretty obvious from the lack of humanity on the surrounding hills that what they say in Paris is true: The Auvergne really is the middle of nowhere. As I sat with my wine and watched a flier stub out his cigarette and soar above the invisible theme park below, I thought: Vulcania or no Vulcania, this is still one of the least Americanized spots left in France. No wonder the French don't want to come here.