The Oldest Running of the Bulls
For nearly 800 years, the residents of Cuéllar, Spain, have been risking their lives in the annual encierro. Bill Hillmann traveled to this small town to participate for the first time and to speak to Josechu Lopez Jimeno, who has been running for 44 years and doesn't plan to stop anytime soon.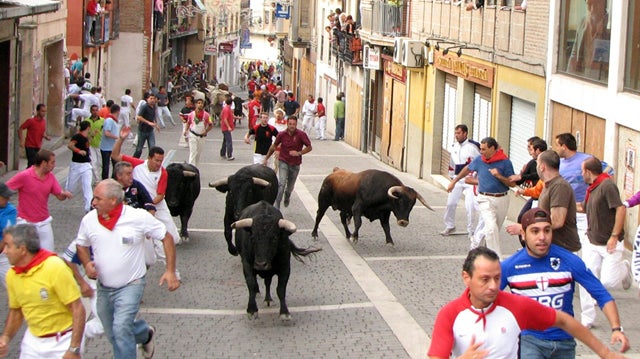 Heading out the door? Read this article on the new Outside+ app available now on iOS devices for members! Download the app.
I've dreamt of the encierro in Cuéllar, Spain, ever since I'd first seen images of its wild mass of horsemen, bulls and steers cascading down the sloping hillside at the edge of town encompassed in a dust cloud made orange by the morning light. These dreams came and went throughout the years. Often Dyango Valesco, a friend, local Cuéllar sculptor and avid runner, fanned the flames with Facebook posts and welcoming words. About two weeks out from this year's running, I posted something back: "Dyango, I am coming to Cuéllar." (My wife generously allowed me a second trip to Spain this summer—I covered the San Fermin festival, or running of the bulls in Pamplona, for Outside.)

A lone bull on the streets of Cuéllar.

Hillside.

Street.
Heading to Cuéllar was nothing short of a pilgrimage, but my arrival was even more shocking to the system. Cuéllar is the oldest encierro in the world, with documentation dating back to 1215 AD. It predates Pamplona's encierro by around 400 years, and this quiet industrial farming town looks today like what a youthful Ernest Hemingway stepped into in Pamplona in 1924.
"The animals in Cuéllar are very different than in Pamplona," Valesco told me as I walked the hilly course the night before the run. "Here you cannot run on the horns for a great distance because when you do the animal locks onto you. It hunts you with its horns. You must pass the animal to the next runner after only a few yards."
That advice would save my life the next morning when a bull followed me to the fencing. His horns came within centimeters of my back as I leapt and busted my shins on the steel structure. They bled the rest of the morning.
At 6 a.m. on August 26 we stepped into Valesco's waiting car in the morning dark. He drove us five kilometers away to the holding pens outside town. There they released the animals into a waiting swarm of 400 horsemen. The fierce black bulls rocketed into the mass in deep gallop, throwing their horns. All that was left in their wake was a fading rumble and a thick cloud glowing pink in the sun.
Valesco drove us a quarter-mile to a viewing point where the immense pack was set to gallop past. Thousands of townspeople waited on the hillside. We stood there for a very long time before a little boy—he must have been no older than six—walked up to me with genuine hurt and concern on his brow. "The bulls are lost," he said.
Moments later a stout, gray haired man in a blue jersey jogged gallantly across the field. I recognized the number 25 on his jersey from Pamplona. It was Josechu Lopez Jimeno, one of the great runners of the era. The 52-year-old from Riaza Sergovia slipped into the dark forest on foot to find the animals. After the race was completed, I was able to ask Jimeno a few questions:
How many years have you run at Cuéllar?
I started to go to Cuéllar with my parents when I was only eight years old, and even then I liked it. I've run anytime that it has been possible and continuously since 2004, participating in the release, going through the pine forest and the field and later the encierro on the street.
What does the encierro mean to you?
The closure is an escape from normal life. It's an addiction. It's something that I am sure of even with all the jitters before the rocket goes off. It's like playing a sport you love and are passionate about. It is a way of life that makes you meet many people and create great friendships with them. It makes you share some memorable moments, social gatherings, feelings, jokes, laughter, in those empty hours during the day. It's the way of life of a great family.
What are the components of a good run?
A good run? A nice, sunny day, good company, brave bulls, bullfighters who display will and dedication, bullfights that communicate artistry and finish with the cutting of the ears.
How important is it to you that the passion for the encierro be passed down to the new generation?
It is very important that this passion is transmitted to future generations. It is vital in order to achieve the further development of the encierros the way we like them—especially now, with such a large anti-bullfighting movement. We must promote and instill in young people the values and culture ​​that have endured for centuries so that future generations can enjoy these values ​​and feelings as we do right now.
Can you tell me about the camaraderie on the streets during the encierro?
In the race we are all peers; most people and runners know each other and we have a deep and strong friendship. Each of us set our personal goals in our stretch of the run, and acquaintances respect each other. In the face of danger we react differently but always with a selfless courage we cannot hold back. It is an innate reaction within us, which ignores the danger present at that time and pushes us to perform incredible acts, endangering our own lives, by reflexively thinking of our friends.
Why do you continue to run?
I keep on running because I like it, because I feel qualified, because it is a way of life, because my family is there, my friends. It's my culture and I am proud of it. I never set a time or a date to stop running. I will run for as long as I can and I feel qualified.