Hot Spot
Question: Can adventure travel take root in struggling, war-ravaged countries where the smoke is still clearing? Test Case: The Republic of Georgia, home to unspoiled wilderness, beautiful mountains, and (oh, drat) fugitive Chechen rebels and rumored Al Qaeda cells Answer: Good question!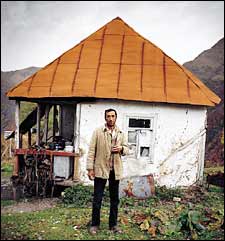 Heading out the door? Read this article on the new Outside+ app available now on iOS devices for members! Download the app.
"KAFTAR! KAFTAR! KAFTAR?"

Big sky country: at 9, 500 feet in Georgia's Greater Caucasus Mountains, with a view into Azerbaijan

"Come and see us!" Ecotourism pioneers Paata Shanshiashvili (left) Vazha Pavliashvili inside Georgia's Lagodekhi Nature Reserve

A stone church in the Tusheti region.

A Lagodekhi forest grove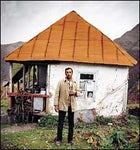 Guide Gela Khutsishvili, outside a forester's cabin at 6,400 feet.

Kaftar, I'm sorry to report, is nowhere in sight. Neither are his horses, which are supposed to carry us out of this forsaken patch of semi-desert in the beautiful but wobbly little nation of Georgia, a former Soviet republic on the southern border of Russia. As men around him yell for Kaftar, Paata Shanshiashvili, the father of his country's fledgling national parks system, is silent. Better than most, he knows that nothing comes easy in his native land.


We're in the easternmost part of the country, on the banks of the Alazani River, where the tracks of golden jackals and wild boars are stamped into the sand and poisonous Levantine vipers cling to sedimentary bluffs in search of prey. The sun has set. A cool, silver-blue light lingers in the western sky, silhouetting ramparts in the surrounding canyonlands and casting a chrome sheen on the muddy Alazani. I've been traveling with the 45-year-old Shanshiashvili for ten days, sampling the local ecotourism menu—including this float trip down the Alazani—a work-in-progress that he hopes will someday help support an ambitious network of parks and nature reserves. The striking beauty of the Caucasus Mountains has made a profound impression; inevitably, however, our tour has hit a snag. Like all the protected areas in Georgia, the nature reserve we're in, Vashlovani, has been virtually abandoned by the cash-starved national government. Its 14 employees, who earn an average of $15 a month and rely solely on two dilapidated vehicles prone to breakdown, ricochet from crisis to crisis.
The immediate problem is Kaftar Elanidze, a 30-year-old park ranger whose absence really isn't his fault: Our raft was hours late for this rendezvous, thanks to one of our jeeps rolling over in a washed-out riverbed, not to mention our being waylaid by a typical Georgian lunch that involved large quantities of food and homemade wine. As stars pop into place in the night sky, we face a decision. We can hike five miles in the dark through snake-infested canyons to the nearest dirt road, or keep floating a few more miles downriver, where, in theory, a 73-year-old driver named Volodya Elizbarashvili will be waiting in a 27-year-old Soviet-made truck to collect the raft and its three-man crew.


Paata Shanshiashvili and Paata Khumarashvili, 45, the nature reserve's director, opt for plan B, a reasonable choice—except that it requires entering the neighboring country of Azerbaijan. I don't have a visa to go there, and the consequences of being caught slipping in illegally are not pleasant—I might spend a night under guard at the border post, or I might be shipped off to the capital, Baku, for deportation. But it's either that or the nighttime viper hike, so before long we're all back on the Alazani, drifting through the darkness into a new land.


The truck, of course, is not there. (We find out later that it died that afternoon.) Now we face the least appealing of the evening's ever-shifting alternatives—marching eight miles through viperous wastes, past an Azeri frontier checkpoint, to the nearest outpost of the Georgian border patrol.


We set out shortly after 8 p.m., with the temperature in the thirties. A halogen miner's lamp strapped to my forehead lights our way along a sage-bordered dirt track. Up ahead, a shepherd's dogs snarl, prompting one of our boatmen to tear into a bush and hand us branches for self-defense. But the shepherds who emerge from the blackness bring good news: The Azeri border patrol has abandoned its position for the night. With that threat receding, and the snakes apparently off duty, I start to enjoy our stroll under a sky filled with an unfathomable number of stars. For much of the way, we march along a gravel riverbed cut by braided channels of shallow water, our escorts stopping occasionally to debate the proper path or puff on reeking cigarettes.


After slogging several hours we reach the blacked-out box that a handful of Georgian border guards call home. A teenage soldier carrying an automatic rifle invites Shanshiashvili and me into a hut and gestures for us to sit down on saggy, metal-spring cots. By the light of a kerosene lamp, he connects a car battery to a Russian TV and, voilˆ, a singer fills the room with the improbable sound of Azeri rap. It's around midnight, and in seconds Shanshiashvili is snoring on the cot next to mine as two kittens burrow into my coat for warmth.


OK, so the float trip down the Alazani needs a little work.






RAFTERS, KAYAKERS, MOUNTAIN CLIMBERS, heli-skiers, birders, fishermen, and others are roaming the globe these days, searching for new kicks, new beauty, and new cultures, in the process making adventure and ecotourism the fastest-growing segment of the global travel industry. But when you live in a nation that in recent years has endured civil war, fits of separatism, economic chaos, titanic corruption, robust organized crime, and the misfortune of bordering the embattled Russian republic of Chechnya, how do you get a piece of the action?


That's the challenge facing Paata Shanshiashvili, who isn't shy about looking for outside help. A landscape architect and ardent conservationist, he has been hired by the often controversial World Bank to develop parks and ecotourism in Georgia, which he hopes will bring three benefits: protecting wild areas and biodiversity, pumping money into surrounding communities, and preserving local cultures.


Shanshiashvili's efforts are a test case for the other distressed nations that once were the southern republics of the Soviet Union. Nearly all of them—neighboring Armenia and Azerbaijan, as well as the mountainous Central Asian nations of Kyrgyzstan, Kazakhstan, and Uzbekistan—would love to lure foreign travelers to see their exotic landscapes. But Georgia is off to the fastest start. Using $9 million in international funds and working with consultants from the U.S. National Park Service, Shanshiashvili is heading up a new six-year effort to bring three proposed national parks and nature reserves up to Western standards by building trails, lodges, and visitor centers.


Georgia—an Orthodox Christian nation whose 5.5 million people inhabit a territory slightly larger than West Virginia—definitely has the goods and by all rights should be overrun with travelers. Bordered by Russia, Turkey, Armenia, and Azerbaijan, it's a stunning, unspoiled place, with the soaring Greater Caucasus Mountains forming its northern frontier and the Black Sea forming its western boundary. The nation's hospitality is justly famous, and the traditional Georgian banquet, or supra, may be the most highly evolved epicurean ritual in the world, a riot of delicious food, good wine, and poetic toasts.


But are these assets enough to persuade foreigners to visit a gorgeous country in a rough neighborhood? Right now, in a post-9/11 world, the answer seems to be no, at least for Americans.


"There are so many other places to go. Why go to Georgia?" says Nadia Le Bon, 48, director of operations for Mountain Travel Sobek, a top American adventure travel operator that currently offers no trips to the Caucasus or the Middle East and has recently removed the Central Asian itinerary from its catalog. "I just think the Caucasus is too volatile. People are ready to go to new areas, but there has to be a comfort level."


Shanshiashvili isn't despairing, however. Though a few big ifs have to fall into place—the Chechen war ends, the impoverished Georgian government gets behind the ecotourism effort, global terrorism subsides—he's convinced that visitors will come. It's happened before in countries with turbulent histories.


"Time and again, tourism has proven to be an incredibly resilient industry that springs back quickly after a crisis," says Costas Christ, 45, senior director for ecotourism at Washington D.C.-based Conservation International, a global environmental group. "Vietnam had a 756 percent growth in tourism from 1990 to 2000. Peru, after the Shining Path guerrillas, saw tourism grow 224 percent from 1990 to 2000. If I were the Georgians, I would not look at the Chechen war and say, 'We don't have a hope for tourism.' Building ecotourism is not an easy, get-rich-quick scheme. But the rewards can be significant, both for the environment and the local people."






IN THE SHORT TERM, the Georgian government needs to work on shoring up security. Although the eastern half of the country feels safe enough, the west is still pretty risky. When I considered traveling to Svaneti, a mountainous region in western Georgia, various people handicapped my chances of being robbed by highway bandits at between 10 and 70 percent. The government has tenuous control over the region, and in the past several years bandits have picked clean a handful of foreign tour groups.


"Our central government," says Natalia Antelava, a 23-year-old journalist who served as my translator throughout our trip, "is very central."


Even if Georgia's national government gets the whole country under control, Shanshiashvili's ecotourism crusade will still be an uphill march. In eastern Georgia, where peace already reigns, I never saw another foreign vacationer in or around the three nature reserves I visited. Only about 5,000 non-Georgian tourists, mostly from Europe, ventured to Georgia at all last year, a number that represents one of the worst tourism drops any nation has ever experienced. During the Soviet era, Georgia was Russia's Riviera, Alps, and Tuscany rolled into one rollicking package. From Siberia, Murmansk, and other frozen points north, more than two million Soviet miners, railway workers, farmers, and engineers flooded in every year on state-subsidized vacations. Most headed to big resorts on the Black Sea, but some traveled to the mountains to ski or hike.


Then, in 1991, the Soviet Union broke apart and Georgia gained its independence, an event followed by a brutal civil war that led to the previously unheard-from Abkhazians, backed by Russia, breaking away from Georgia. Though the fighting ended in 1994, the Abkhazians—an ethnic minority numbering only around 100,000—grabbed and still hold 12 percent of Georgian territory, including most of the juicy real estate on the Black Sea. Once-jammed resorts there are now empty.


After the Abkhazian debacle came the Chechen war, which has raged on and off for nine years. Some Chechen fighters—along with small numbers of foreign Al Qaeda combatants allied with them—have filtered into Georgia's Greater Caucasus, and though Georgian troops have recently chased them out, the publicity has been a nightmare. "The problem is the name Caucasus," laments George Kalandadze, 34, general director of GeorgiCa Travel, one of Georgia's leading tour operators. "It's connected with wars. It's like the word Yugoslavia."


"Instability is part of our tourist entertainment program," jokes Zurab Zhvania, a 39-year-old member of Georgia's national parliament and a strong supporter of the new national parks system.
Shanshiashvili, a tall, trim outdoorsman with a graying beard, has lived through all this but remains irrepressibly hopeful. He earned a Ph.D. in landscape architecture in the Soviet era and has explored nearly every inch of Georgia, including months spent studying the indigenous stone-and-wood architecture in the high valleys of Tusheti, a mountainous region in the country's northeast. In the early 1990s he came up with his big idea: to use 14 existing nature reserves, restricted in Soviet times to scientific research, as the core of an expanded network of protected areas.


Georgia's parliament passed a law to do just that in 1996 and must now approve the new parks, one by one. It has already finalized the creation of two parks, and Shanshiashvili is asking it to create 12 more parks, reserves, or zones where traditional activities like grazing and logging will be regulated. His ultimate goal, which could take decades to attain, is to designate 10 percent of Georgia's land as national parks and nature reserves.


Shanshiashvili is consumed by his mission and can talk about it for hours on end. Indeed, as we traveled together, I sometimes begged him to stop, my head throbbing from information overload. Like all crusaders, he's made sacrifices, including long separations from his wife and eight children back in Tbilisi, Georgia's capital. He's also had to abandon a once-abstemious lifestyle. For years he was a vegetarian and teetotaler, but such behavior in the almost tribal culture of the Caucasus, where he often travels to sell his vision, is viewed as highly suspect. So now he dines and imbibes like a true Georgian, which is to say, with gusto.


Balancing this existence with his work for the World Bank is not always easy. Shanshiashvili has to walk a line between the more rigid, rule-oriented domain of Western development organizations and the ancient customs of Georgia, where personal relations mean everything and rules are often made to be broken.


"Sometimes," he says, "I feel like I'm caught between two worlds—that half of my body is in ice and half is in boiling water."






AT LAGODEKHI, ANOTHER REGION in northeastern Georgia, the snow-covered, 15,000-foot summits of the Caucasus rise dramatically from the floor of the Alazani valley. This intersection of mountains and lowlands is the site of the Lagodekhi Nature Reserve, whose director is Vazha Pavliashvili, 52, a short, powerfully built man with thinning gray hair, a dark mustache, a prominent nose, and courtly manners. He lives in a spacious brick-and-wood house surrounded by grape arbors and vegetable plots. His spotless basement is filled with vats and bottles of homemade wine.


One sunny morning, I awake in Pavliashvili's home around 10 a.m. and head into the dining room, where his wife, Nana, has covered the table with roast chicken, rice, hard-boiled eggs, homemade jams, and khachapuri, a hot goat-cheese pie. Today Pavliashvili will take Shanshiashvili and me by horseback halfway to the highest peaks, and to make sure we're well fortified, he has hauled out carafes of Georgian cognac and clear homemade moonshine. He opens his arms and leads us through our toasts: to the morning, nature, our trip, and friendship, each accompanied by a shot of hooch. The Georgians gathered around the table, including Shanshiashvili and a 43-year-old Tbilisi-based zoologist named Zurab Gurielidze, greet Vazha's salutations with gaumarjos!—"to victory!"


We drive through the tranquil town of Lagodekhi, a tiny place whose residents only sporadically receive electricity and haven't had natural gas to heat their homes for years. Passing through the gates of the reserve, we enter a quiet grove of beech and chestnut trees. There I meet Georgi Melashvili, a 75-year-old senior forester who loses little time informing me that the main problem facing the reserve is poaching, with the worst offenders being government big shots from Tbilisi.


"They shoot everything they see—wild boars, red deer, mountain goats," Melashvili says. "They talk on cell phones while we walk around empty-handed. We're sleeping in our coats. What kind of motivation do we have to protect this place if we don't get paid?"

If, as expected, Georgia's parliament designates Lagodekhi as a nature reserve this year, some of Melashvili's prayers will be answered. The World Bank project will inject money to pay for park improvements and various essentials for the beleaguered rangers. Eventually, entrance fees are expected to support the reserve's operations.


Shortly after noon, our group mounts horses for a three-day excursion that will be the centerpiece of Lagodekhi's ecotourism program. The trip takes visitors from about 1,500 feet to alpine meadows at 9,500 feet, passing through a landscape rarely encountered in Europe—an old-growth hardwood forest, mostly beech and chestnut, with some of the trees rising 150 feet.



Around six o'clock we arrive at a white stucco forester's cabin. Perched on a knoll at 6,400 feet, the hut looks out onto a line of ridges where the subalpine forest climbs to 7,800 feet before giving way to the granite flanks of the Caucasus. After unsaddling his horse, Gurielidze—an expert on Caucasus wildlife—scans the facing slope for Eastern Caucasian mountain goats. The reserve is home to not only goats, red deer, and boars but also brown bears, chamois, lynx, roe deer, and wolves, as well as numerous eagles and large vultures called lammergeiers. The past dozen years have taken their toll, with the reserve's red deer population plummeting from 1,400 to 150 and mountain goats declining from 2,000 to roughly 500.


The next morning, under cool, sunny skies, our group rides through the gnarled birches and maples of the subalpine forest, following narrow, rocky trails that occasionally wind past steep drop-offs. At 8,500 feet we come to a promontory with a sweeping view of three nations—Georgia, Russia, and Azerbaijan—and snow-covered mountains extending to the eastern horizon. We pass a pile of rocks marking the grave of a Russian traveler who died recently in the mountains, cross a 9,400-foot pass, and drop quickly into a broad, snowy alpine meadow. Pavliashvili points out the three-day route that horseback tourists will take before descending a tree-covered ridge to reach the Lagodekhi lowlands.


"Under the Soviet system, there was never any talk of bringing tourists here," he tells me. "We had sufficient financing, and we only wanted to attract scientists. But now we need some means of support. We also want people to come here and see this beauty."


Back in the forester's cabin that night, we eat a fatty goat stew prepared by ranger Gela Khutsishvili. Sucking on greasy bones and downing wine from crumpled plastic cups, we work our way through toasts so familiar that Shanshiashvili suggests we assign them numbers. After the goat, we eat chestnuts roasted on a boxy iron stove. Unable to face another night in cots whose springs droop to the floor, I spread out my sleeping bag under the sky.






SOMEDAY, WHEN NO ONE in the Caucasus is fighting, the elaborate hospitality I encounter at every turn will be a big tourist draw. Increasingly, adventure travelers, ecotourists, and other globe-trotters are looking for more intimate, authentic experiences in strange places. Michael Seltzer, director of the New York-based nonprofit group Business Enterprises for Sustainable Travel, believes Georgia is the kind of place people will respond to, because it offers "the three S's—solace, soul, and stewardship. When a country has hospitable people willing to share their lives, that has a lot of currency."


Shanshiashvili plans to play to Georgia's strengths by encouraging locals to establish bed-and-breakfasts and family restaurants around the national parks. To jump-start such development, the World Bank program will provide small grants and other assistance to new businesses, an essential step in giving residents a stake in protecting the parks.


The initial $9 million for Georgia's national parks is coming from an agency called the Global Environment Facility, a Washington, D.C.-based funding organization that raises money from industrialized countries and has hired the World Bank to run its Georgia program.


The World Bank's record of tourism development is mixed at best. In the 1960s and 1970s it supported programs that were the antithesis of ecotourism—large-scale resort development in places like Cancún, Mexico.
But the World Bank has lately been on a "steep learning curve," says Conservation International's Costas Christ, and is now supporting more-sustainable ecotourism driven largely by its interest in preserving wildlands. World Bank officials place great hope in Shanshiashvili, who they believe will dole out money carefully and keep "leakage"—through waste or corruption—to a minimum.


"The purpose is to preserve biodiversity and provide employment, not to throw open the gates of these reserves, let all these people in, and then say, 'Oh, we've damaged the very thing we were trying to protect,'" says Phillip Brylski, 48, a Washington, D.C.-based World Bank zoologist who is overseeing park projects in former Soviet republics. "We're not talking about these parks making gobs of money. They may start with hundreds of visitors a year and build on it—enough to finance the sustainable use of these areas."


In Georgia, one obstacle facing the World Bank and Shanshiashvili is a lingering Soviet mentality, which has created a conviction that solutions come from on high. "If people see that the aid money keeps coming from places like the United States, they will think they will never have to do anything themselves," says Thea Ketchakmadze, a staffer for the World Wildlife Fund, which is working to develop tourism in central Georgia's Borjomi-Kharagauli National Park.


Such passivity, some say, has afflicted the government officials in charge of developing tourism in Georgia. "The government does absolutely nothing," grouses Zurab Zhvania, the Georgian parliament member and park-system advocate. "It doesn't understand that tourism can be the core of our economic development."


In Tbilisi one day, I meet with the chairman of the State Department of Tourism and Resorts, Vazha Shubladze, an affable, middle-aged man who laments that nonstop instability has made Georgia a tough sell. Shubladze says he's all for expanding the country's parks but scarcely has a penny to promote them. "I'll tell you our budget if you promise not to laugh too loud," he says. "It's zero, zero, zero."


Tour operators have no sympathy for Shubladze, calling him a bureaucrat straight out of the Soviet era. As evidence, they point to a recent publicity stunt in which he tried to pitch Georgia's charms by gathering a group of young people in the Caucasus and having them christen an unnamed pinnacle "Tourism Peak." Leonid Brezhnev would have been proud.


But the government has an important role—such central support of the tourism industry has been a common element in the ecotourism success stories of recent years. The government of Costa Rica, by marketing the country overseas and introducing programs to help travel-related businesses, has helped create a model of success. In Belize, the government has gone the same route, launching a program 15 years ago that now attracts 200,000 annual visitors to the tiny Caribbean nation's rainforests, beaches, and coral reefs.


In some ways, what most worries Christ about places like Georgia is not that they will continue to languish, but that they will be discovered and spoiled. Global tourism has exploded in recent decades, with the number of international travelers increasing from 25 million in 1950 to 450 million in 1990 to 700 million today. Within a decade, their numbers are expected to exceed one billion. Though Georgia is in no danger of going the way of Cancœn, it does have many remote enclaves whose nature and people could be radically altered by an influx of tourists. It's vital, Christ maintains, that someone like Shanshiashvili is carefully planning for ecotourism growth.


"You have to think of tourism like fire," says Christ. "It can burn your house down or you can cook your food on it. Left to its own devices, it is an industry that can run rampant with devastating consequences. We run a terrible risk if we don't bring international standards to the ecotourism industry."






IF GEORGIA EVER SUCCEEDS in attracting flocks of nature tourists, one of the prime destinations will be the Tusheti region. Isolated, unmolested, crisscrossed by high valleys where you can hike or ride horses in splendid isolation, it is the stuff of adventure-travel dreams. If everything goes as planned, it will eventually become the country's largest protected area—a vast 231,000-acre preserve.


There are two ways to get to Tusheti, both equally hair-raising. The first is by a road, constructed in the 1980s, whose appalling condition and dicey curves snaking up to a 9,000-foot pass make it one of the world's most treacherous routes. The second is by helicopter. And after going by chopper, I can assure you that next time I'll take the road.


Our pilot is Shamil Kortoshidze, a middle-aged Tusheti native who is built low to the ground, drives a silver Mercedes, and has a scar on his right cheek. Kortoshidze flies Russian-built Mi-8 helicopters for the Georgian border guards, and he seems well on his way to belying the Alaskan axiom that there are old bush pilots and bold bush pilots but no old, bold bush pilots.


When we lift off from Tbilisi, the skies are windy and clear; far ahead of us, light clouds cling to the Caucasus. Soon we're in the mountains, roaring through the odd cumulus as we thread a narrow pass. The massive, snowy flanks of the summits loom above us on both sides, seemingly only yards from our windows. We zoom down a steep-sided valley just a few feet above a milky-green glacial river, then land in Dartlo, a village from another era. The hamlet is marked by gray slate houses creeping up hillsides, crumbling 16th- and 17th-century churches and defense towers perched on top of rock outcroppings, and a few elderly people living in dirt-floored abodes but heading toward the 100-year mark thanks to the sweet air and healthy local food.


Kortoshidze zips down another valley carpeted in golden grass, then lands his big white helicopter in Tusheti's capital village, Omalo. This burg contains a few dozen houses plunked down in a wide, grassy bowl ringed by 12,000-foot peaks. The skies are clear when I meet the region's governor, Zurab Murtazashvili, 57, a politician and businessman who has worked closely with Shanshiashvili on Tusheti's national park.


A short, bearded man with a voice like grinding gears, Murtazashvili hopes to see about 5,000 visitors a year—more than ten times the few hundred that brave their way to Tusheti today—trekking and riding in the proposed park and nearby protected areas. The governor and Shanshiashvili have helped design 16 riding and trekking routes, and World Bank money will be used to construct visitor centers and 11 sleeping huts. Tusheti's inhabitants—600 in summer and 100 in winter, spread among 48 villages—have established a handful of family guest houses and are ready to launch more.


"The tourists will stay in local houses, use local products and horses, hire local guides," says Murtazashvili, who co-owns a hotel and a travel-services company that caters to foreign visitors. "It will be a whole new sphere of economic and social development here. Our economy could grow 20 times."


In midafternoon, Kortoshidze flies our group to the village of Shenako, where Shanshiashvili will show us some superb Tushetian architecture badly in need of restoration. The pilot deposits us, then flies to his native village, several miles up the valley, with a promise to return in 45 minutes for the flight to Tbilisi.


He doesn't come back, at least not that day. As the sun eases below the mountains, plunging the village into cold shadow, we are taken in by Kako Bukvaidze, Tusheti's most renowned hunter, and his wife, Yelena. They run a small dairy farm with their two sons, and for the next 24 hours treat us to a continuous feast: cheese, sour cream, yogurt, fried potatoes, salted mushrooms, pickles, bread, homemade jam.


The next morning we awake to a hard frost and news that the helicopter has broken down in Kortoshidze's hamlet. The feasting continues, and Bukvaidze makes a toast noting the irony that Americans would be afraid to visit this tranquil spot.


"Whatever happens in the big city never happens here," says Bukvaidze, a well-built man of about 50 with close-cropped hair. "I don't understand all these scary things that are happening in America and Russia. Why don't people just come to Tusheti? Don't be afraid of anything! Come and see us!"






THAT EVENING, we return by foot to Omalo. There, in a small hotel, we learn that the helicopter has been repaired and will arrive the next day. The following morning, a heavy snow is falling, plainly killing our chances of leaving anytime soon. But then, as we eat breakfast, we hear the muffled sound of engines. A few minutes later, a messenger informs us that we must dash a quarter-mile down a steep, snow-slick hill, where Kortoshidze waits in his Mi-8.


Leaving the hotel, I see the reason for the rush. The sky has lightened and the snow has stopped, but a menacing wall of clouds is heading our way fast. We stumble down the slope, and as we reach the bottom the furious pilot hops out of the helicopter—its rotors whipping up snow—and screams for us to move our asses and get in. With the squall nearly on us, I hop into a helicopter packed with border guards and Tusheti residents, whose expressions range from extreme concern to outright panic. The governor, already on board, is bellowing at us, and several women are crossing themselves and muttering prayers. Kortoshidze leaps on, and we speed off just above the ground, headed for the cloud-draped mountains.
We beat the squall to the 9,000-foot pass, whizzing through it with clouds just above us and the white flanks of the Caucasus closing in from the sides. The 20 passengers are quiet as Kortoshidze maneuvers through one final bank of clouds. Then, in an instant, we are over the hump, the gray skies part, and we descend toward the lowlands. The helicopter comes alive with murmurs of relief.


I look over at Shanshiashvili, who arches his eyebrows and smiles. He's been through this before.