India Rocks
Welcome to the anti-Himalayas, a happy land of sunshine, frothy water, and extra-large boulders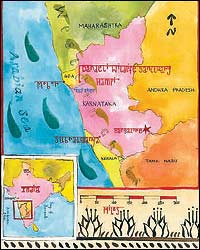 Heading out the door? Read this article on the new Outside+ app available now on iOS devices for members! Download the app.
"MAKE IT AND YOU NAME IT," says my Indian guide, Madhu Chikkeraja, as I traverse the rough granite on Hemakuta Hill, in Hampi, the ruined capital of the 14th-century Vijayanagar Empire. Ever since American climber Chris Sharma visited the historic village last year to star in the climbing video Pilgrimage, an homage to Hampi bouldering, crash-pad adventurers have been journeying to this 300-mile stretch of golden rock to pack in a lifetime's worth of cragging. But the state of Karnataka and its tiny western neighbor, Goa, are attracting more than just rock jocks. With a diverse landscape that includes the Western Ghats, India's tallest mountains south of the Himalayas, a tremendous diversity of flora and fauna—including the mahseer, a freshwater fish that can weigh up to 100 pounds—and 199 miles of oceanfront along the Arabian Sea, the region is fast earning a reputation as the California of India. It even has its own Silicon Valley: the capital city of Bangalore, which offers state-of-the-art technology parks, a cosmopolitan vibe, and year-round T-shirt weather. Here are a few tips on how to mix it up with your own multisport masala.
India climb trek paddle beach goa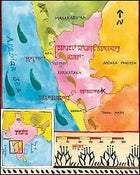 Climbing at Hampi

The pinnacle for climbers is 186 miles northwest of Bangalore, in the hills around Hampi. The best rock, with crags like Baba's Café and Cosmic Caves, is across the Tungabhadra River. Hire a coracle, a buffalo-hide-and-wicker boat, or wade over. In your downtime, explore the sprawling, luminescent ruins at the Group of Monuments at Hampi, a UNESCO World Heritage Site.


Trekking the Western Ghats

A portion of this craggy 870-mile-long range in southern Karnataka approaches 6,000 feet, which is why it draws a flurry of trekkers when snow locks up the Himalayas. From the town of Subrahmanya, about 130 miles west of Bangalore, the 12-mile Pushpagiri Trail will take you to the top of 5,616-foot Kumaraparvatha, where you can spot the headwaters of the Cauvery, one of India's seven sacred rivers. Fishermen worship it as a place they can catch and release the endangered golden mahseer.


Paddling the Kali River

In 1999, British expat John Pollard started southern India's first whitewater operation on western Karnataka's Kali and now runs raft trips out of Dandeli Camp, a rustic lodge 300 miles northwest of Bangalore, right on the river. While the 100-plus-mile Kali has been dammed almost beyond recognition, daily releases make for an epic nine-mile stretch of classic pool drops, plenty of play holes, and a smattering of Class III rapids.


Beaching It in Goa

Hidden just beyond the Western Ghats and 180 miles west of Hampi, the palm-fringed beaches of this former Portuguese colony draw such an eclectic mix of tourists that you may forget you're in India. Check in at the exclusive Leela Goa Hotel, which straddles a narrow spit of land between the Sal River and the Arabian Sea in Mobor.