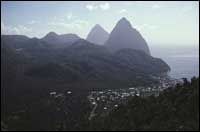 Heading out the door? Read this article on the new Outside+ app available now on iOS devices for members! Download the app.
Q: We're headed to St. Lucia and we love to hike and snorkel. What weight clothing would you suggest? Would you recommend a guide or can you do the hikes yourself? We want to do all 29 miles of the hiking trails, and the more rugged and adventurous the better.

-Frank McCabe, Philadelphia, Pennsylvania
Adventure Advisor:
A: The year-round weather forecast for St. Lucia is hot and humid with a chance of rain. Pack lightweight clothes that dry quickly– synthetics are better than cotton. When you're hiking, it's a good idea to wear pants instead of shorts, since a nip on the leg from a fer-de-lance pit viper could seriously ruin your vacation (it's not a very likely scenario, but certainly possible if your plans include tramping through bushes). Top off your wardrobe with a rain-ready, wide-brimmed hat, and there's nary an element you won't be equipped to conquer.
Since the rainforest trails are fairly well-marked, you don't really need a guide. But I'd still recommend one for a few reasons: First, this rainforest ecosystem has several species you've probably never seen, so it's kind of nice to have someone there who can say, 'Hey look, that's a purple-throated Carib hummingbird!' Second, the more remote trailheads can't be accessed by public transportation, and it could cost just as much to hire a taxi for the day as it would to hire a guide from one of the many tour companies in town, transportation included. Third, if you do tangle with one of those pit vipers, a guide will know the shortest route to the hospital.
If you decide to go it alone, the easiest trail to access is the Barre de L'Isle Trail, which takes you through rows of moss-coated trees along the ridge that marks the center of the island. Guides can usually be found at the trailhead, should you change your mind. For snorkeling, the north end of Soufriere Bay is the spot. Rent your gear in Anse Chastanet and walk out into the warm, clear water where protected reef fish swim just below the surface. It's just about as good as snorkeling gets.