Mount Rushmore by the Numbers
George Washington's nose is 21 feet long—plus 13 other facts about the presidential monument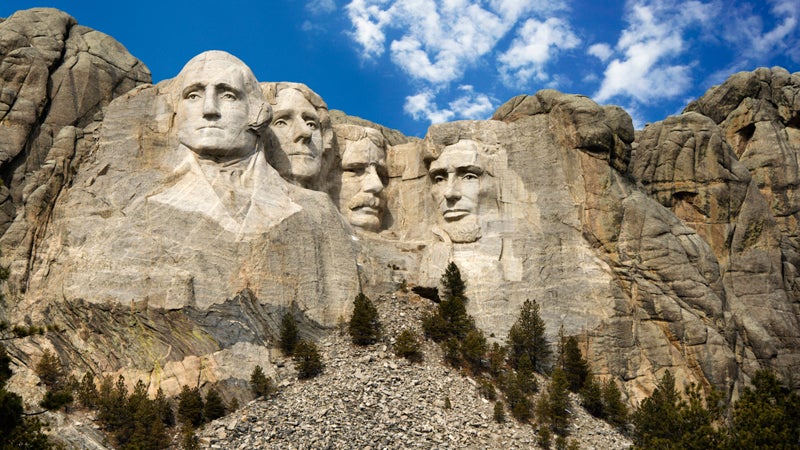 Heading out the door? Read this article on the new Outside+ app available now on iOS devices for members! Download the app.
Near South Dakota's western boundary and tucked into its Black Hills, you'll find the colossal countenances of four of America's most celebrated presidents. George Washington, Thomas Jefferson, Abraham Lincoln, and Theodore Roosevelt are forever immortalized in the granite of Mount Rushmore. Today, millions of visitors make a pilgrimage annually to pay homage to the mile-high Mount Rushmore National Memorial. 

Entrance sign to Mount Rushmore National Memorial.
In honor of Presidents' Day, we've compiled a brief history, in numbers, of Mount Rushmore: 
1885: When the 5,275-foot mountain in South Dakota's Black Hills was named for a New York lawyer—Charles E. Rushmore—who reportedly traveled west to verify some land titles and subsequently returned to the East Coast with a mountain named after him. 
28: Date in December 1923 when Doane Robinson, South Dakota's state historian at the time, floated his crazy idea to carve gigantic statues in the Black Hills.
1927: The year President Calvin Coolidge formally dedicated the future sculpture's site, calling it "decidedly American in its conception, in its magnitude, in its meaning, and altogether worthy of our Country."
150: The presidential likenesses, which are carved into the granite face of Mount Rushmore, are intended to represent the first 150 years of American history. Washington symbolizes our nation's birth; Jefferson stands for our domestic expansion by way of the Louisiana Purchase; Lincoln embodies America's preservation through the outcome of the Civil War; and Teddy Roosevelt depicts ongoing international development via the Panama Canal.
1: The noble visage of America's first prez was also the first one Master Sculptor Gutzon Borglum set to work on. 
10: Date in June 1933 when FDR issued an executive order to place Mount Rushmore under the National Park Service's authority.
14: Number of years it took to complete the project.
450,000: Amount of granite, in tons, dynamited off of the peak to make way for the monument.
21: Length, in feet, of Washington's nose (the other president's noses run about a foot shorter).
18: Approximate breadth, in feet, of each pair of presidential lips.
60: Approximate height, in feet, of each presidential face.
989,992.32: Total cost, in dollars, of the historic project, including paychecks for hundreds of workers. 
0: What it costs to enter Mount Rushmore, though there's a small fee to park.
3: Approximate number, in millions, of tourists each year—a constituency anyone would envy.
Lead Photo: Getty Images/iStockphoto