New Zealand on a Whim and a Pannier
Me, myself, and bike on a 1,253 circumnavigation of the South Island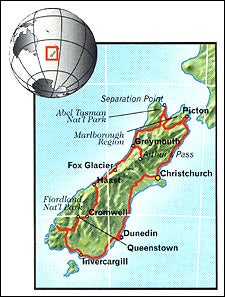 Heading out the door? Read this article on the new Outside+ app available now on iOS devices for members! Download the app.
I am dancing with Freddie Mercury at a nightclub in Christchurch, New Zealand. The king of Queen tosses a toothy grin my way and sways his hips to the beat of a circa-1984 pop tune. Nearby, Madonna is bumping and grinding while a guy in disturbingly persuasive drag is flaunting crimson lips. I have to wonder, how did my concept of a solo bike tour around New Zealand's South Island culminate in this, a costume disco bash with 50 Kiwis I'd never met?

Kiwi Twilight: Sunset on the South Island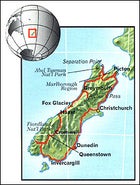 Let's not try to answer that one right away. Luckily, I wasn't looking for predictable endings when I decided, almost spontaneously, to spend six weeks in January and February tooling around the South Island on a bike, alone. I'd never cycle toured; I'd never visited the Southern Hemisphere; I'd never camped solo; and I'd never played bike mechanic.
Soon I was lurking on a cycle-touring listserv and hanging out at my local bike shop, absorbing as much as I could. I beefed up on New Zealand via guidebooks (especially Cycling New Zealand, Lonely Planet's first biking book) and dreamed about the solitude and challenge of going it alone.

Cycle touring, I discovered, is not to be confused with mountain biking or road riding, two sports at which I'm fairly proficient. Touring's twin objectives are to travel light and maintain as much creature comfort as possible…while seeing the world. Although a touring bike is optimal, I took my three-year-old Gary Fisher mountain bike—for economy and to allow me to go off-road. I had a rack mounted to hold rear panniers, added a handlebar bag, and bought semislick tires and a multitool for repairs. In addition to bike gear, I picked the lightest single-person tent and cookstove I could find and a bomber rainjacket and pants, which turned out to be a godsend on the notoriously wet west coast. The nuances of fabric, metallurgy, and other logistics were so pleasantly absorbing that I didn't have an attack of nerves until I was buckled into my seat at the back of a jet leaving Los Angeles for Christchurch. "What was I thinking?" I wondered. "Six weeks?"

My inclination to ultra-organize did battle with the desire to keep this trip as free-form as possible. The result: I charted a rough itinerary that would take me clockwise around the South Island. I guessed wildly at how much distance I could cover in a day or a week and randomly plotted time for rest and off-bike activities I might discover along the way. I figured I could make it up as I went, and I was right. Ultimately, I rode 1,253 miles in 26 riding days, an average of 48 miles a day.

Pushing off southeast from Christchurch, the South Island's largest city, I discovered that New Zealand is just about perfect for cycle touring. Roads are smooth and untrafficked. Towns are generally small but frequent: no getting stranded between services. And the rock-your-world vistas—alpine splendor, temperate rainforest, wild beaches, and glacial lakes—mean no boring moments in the saddle.
I expected the scenery; I didn't anticipate the social opportunities. Want to feel like a rock star? Go solo riding. On my first night camping, a group of four Kiwi couples invited me for cocktails at their campsite. Soon they were urging me to stay with them later in the trip. The adventures came fast and furious, especially after I connected with Rhonda Mayo, a mountain-bike guide from Crested Butte, Colorado. We banded together for eight days to face rain, soggy clothing, and ravenous insects while heading west and north from Wanaka to Greymouth.

Though I stayed in a mix of national parks, campgrounds, and hostels, I found myself gravitating toward places with the most people. There was no reason to avoid them after spending all day grinding out mile after solitary mile.
Each morning that I awoke in my tent and still thought, "Today would be a great day for a ride!" I felt blessed. But I relished my days off the bike, too. I learned to sea kayak on a two-day guided trip in Fiordland National Park, the country's largest and wettest park at 4,725 square miles and 24 feet of rainfall per year. On the second morning, my group (three Germans, three Dutch, a Brit, our Kiwi guide, and I) spent an hour amid a pod of dolphins whose transfixing ballet rendered us speechless—in any language.

Some days I did absolutely nothing. In Wanaka, known along with Queenstown for its slavish devotion to adrenaline sports, my rest day included nothing more ambitious than a massage and catching Wonder Boys in a funky theater filled with La-Z-Boy recliners.

But the bike was always the central experience. Before my trip I'd barely practiced riding with the 45-odd pounds of gear I would be carrying. I rationalized that there was little point in straining myself in advance. Sure enough, I was tormented for the first week. Then fitness took over. Of course, the exertion required near-constant calories. Someone watching me eat a typically oversize meal politely inquired whether I might be hosting a tapeworm. Ice cream? I sampled it—a lot. (My favorite brand employs this slogan: "Often licked, never beaten.") With a very hospitable exchange rate, I spent, on average, about US$20 each day, which covered camping fees and food.

My culinary pursuits included a blissful day riding around the Marlborough region, known for its sunshine and sauvignon blancs. After several stops to sample "summer in a bottle"—the nickname for a light and fruity varietal endemic to this austral Napa—I wove along the shoulder, hoping I wouldn't get arrested for Pedaling Under the Influence.

The decision to visit wineries was, like most, ad hoc, and it revealed what I now consider a guiding philosophy: Life is best enjoyed when not planned more than two days in advance. One day I found myself ditching my bike and borrowing a pack for two and a half days of hut-to-hut tramping on the north coast in Abel Tasman National Park.

It was in Abel Tasman that I stumbled upon three dodgy boys—typically friendly New Zealanders on a kayak-camping trip involving 17 cases of beer. They invited me to a birthday party two weeks later back in Christchurch. Since my plans were flexible, I didn't have to pass up the chance to cut a rug with Mr. Mercury.

More than anything, I'll savor the pleasure of achieving a physical goal (not to mention my resulting rock-hard thighs). My toughest riding day was up to Arthur's Pass, a gap in the spine of the Southern Alps between Greymouth and Christchurch that required 3,000 feet of climbing. The rewards at the top were an encounter with a cheeky kea, the world's only alpine parrot, and a warm feeling of self-satisfaction. The bird goes down on my life list. Matter of fact, so does the ride.
At five-foot-six and 115 pounds, I'm not exactly a powerhouse. So I worried that I wouldn't be able to manage all my gear. To compensate, I carefully whittled down my selections, then later regretted leaving some things that weigh next to nothing, like dental floss, at home. More important, I didn't bring enough warm layers for the alleged summer in the Southern Hemisphere. I compensated by buying a made-in-New-Zealand Icebreaker merino wool V-neck and T-shirt, two items that became my favorite possessions. But then again, I was pretty tight with all my gear by the end of the ride.

Cycling clothing: Three pairs of loose-fitting Zoic and Pearl Izumi biking shorts, three Sugoi and Patagonia short- and long-sleeve tops, three pairs of SmartWool socks, one pair of tights.
Cycling gear: Gary Fisher helmet, Trek gloves, one pair of scratched but well-loved Oakley tortoiseshell riding sunglasses.

Outerwear: Ultralight Arc-Teryx stormproof jacket and pants, my very best friends in the rain.

Layers: Marmot microfleece vest, Icebreaker V-neck and T-shirt.

Bike clothing: REI zip-off nylon pants, Moonstone polyester T-shirt and Patagonia running shorts (which doubled as pajamas), synthetic hat and gloves.

Shoes: One pair each Shimano cycling shoes and Adidas running shoes. (ok, ok…after four weeks I broke down and bought a pair of leather sandals, too.)

Other clothing: J. Crew swimsuit, three pairs of Patagonia underwear, two Sugoi bras.

Camping gear: Sub-three-pound Mountain Hardwear one-person tent (roomy enough to sit up and write in), Moonstone three-season down sleeping bag, Therm-a-Rest, MSR WhisperLite Internationale stove, cookware, Petzl headlamp.

For the bike: Jandd panniers and trash bags to line them, pump, water bottles, CamelBak, Topeak multitool, chain lube and rag, Kryptonite lock, Cat Eye cycling computer, repair kit for punctures and such, bungee cords (for tying down gear, not jumping).

And don't forget: ATM card, passport, first-aid kit, journal, Woolite (for laundry), Ivory (for self), personal hygiene items, camp towel, bug dope, BuckTool, off-bike sunglasses, reading glasses, camera, film, well-worn New Zealand Automobile Association map, and four books, including Bill Bryson's A Walk in the Woods, which I read and gave away.
WEEK 1
Christchurch-Invercargill
221 miles in five riding days
Longest riding day: 51 miles, Oxford to Methven
Notes: Began with a prep day in Christchurch—put my bike together and gathered supplies. Reminded myself constantly to ride on the left side of the road. Still warming to the idea of cycle touring, I hopped a train from Dunedin to Invercargill.
Highlight: My first toe-dabbling in the South Pacific, at Caroline Bay at Timaru.
Lowlight: Challenged 30 mph headwinds near Invercargill and gave up.

WEEK 2
Invercargill-Cromwell
224 miles in five riding days
Longest riding day: 57 miles, Clifden to Te Anau
Notes: Left the flatlands and started climbing. The trip started taking on rhythm and form.
Highlight: Kayaked and camped in Doubtful Sound at Fiordland National Park with a guided group from Fiordland Wilderness Experiences, based in Te Anau (two-day trip costs US$105; 011-64-3-249-7700; www.fiordlandseakayak.co.nz).
Lowlight: Crowds of adrenaline junkies in Queenstown after two days of solitary backroad riding.
WEEK 3
Cromwell-Fox Glacier
215 miles in five riding days
Longest riding day: 58 miles, Makarora to Ship Creek, featuring 1,820-foot Haast Pass, an easy climb.
Notes: Haast—the gateway to days of downpour.
Highlight: Learned to ice climb at Fox Glacier. I went with Alpine Guides (one-day trip costs US$60; 011-64-3-751-0825; www.foxguides.co.nz).
Lowlight: Rain. Biting insects. Lots of both.

WEEK 4
Fox Glacier-Separation Point (Abel Tasman National Park)
177 miles in five riding days
Longest riding day: 65 miles, Greymouth to Arthur's Pass
Notes: Two shuttles this week: Fox Glacier to Hokitika; Westport to Motueka
Highlight: Tramped along the hilly Coastal Track in Abel Tasman National Park (011-64-3-528-9117; www.doc.govt.nz).
Lowlight: A sleepless night in a hut full of snorers.

WEEK 5
Separation Point-Picton
200 miles in four riding days
Longest riding day: 60 miles, St. Arnaud to Renwick
Notes: Finally, consistently good riding weather, with temperatures in the low eighties—and sun!
Highlight: Checked into the Trafalgar Lodge (doubles, US$22-$34 per night; 011-64-3-548-3980), a bed-and-breakfast in Nelson, where I basked in the luxury of my own room—complete with a TV.
Lowlight: Watched rabbit roadkill in progress.

WEEK 6
Picton-Christchurch
145 miles in three riding days
Longest riding day: 50 miles, Kaikoura to Cheviot.
Notes: Took a train from Picton to Kaikoura. Rode in the big chainring all the way to Christchurch.
Highlight: Took an albatross-viewing excursion in Kaikoura (Ocean Wings, trip costs US$24; 011-64-3-319-6777; www.oceanwings.co.nz). Seeing the birds up close was worth getting seasick in the small 14-person pontoon boat.
Lowlight: Found myself accidentally biking a busy highway back to Christchurch.