The 10 Best Bike Cities in North America
You don't have to give up the amenities of a large urban environment just because you prefer traveling on two wheels over four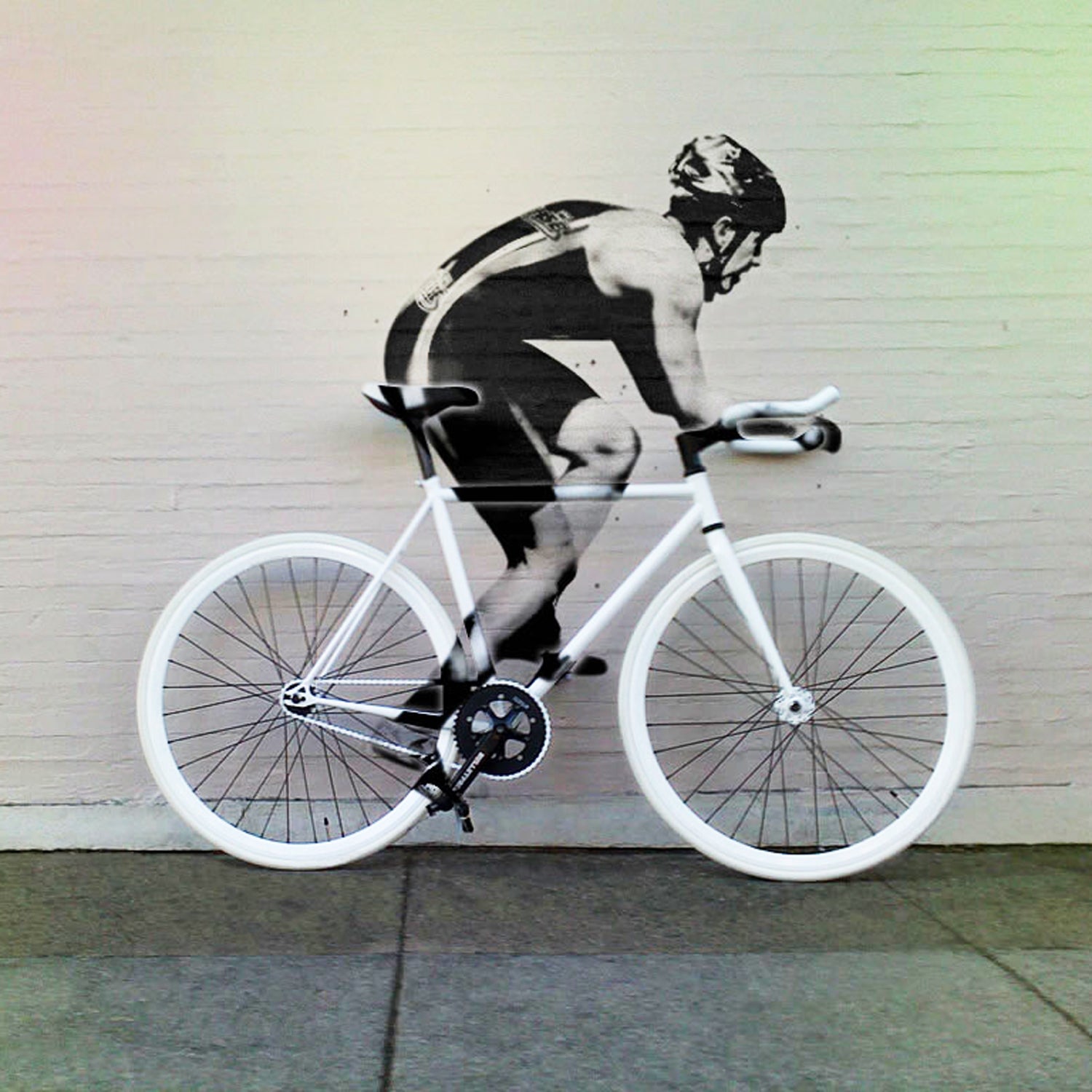 Antonio Perelló Alomar(Photo)
Heading out the door? Read this article on the new Outside+ app available now on iOS devices for members! Download the app.
When you look across the pond at places like the Netherlands and Copenhagen, you realize that urban cycling in North America is still in its infancy. Nevertheless, several American and Canadian cities are making their mark by coming up with unique solutions to the problem of how to integrate cycling into already established transportation corridors—and ones often congested with motorized traffic.
These 10 cities stand out among the rest because they have managed to do what every resident of Amsterdam and bike policy analyst would suggest: build a smart cycling infrastructure. On top of this, these cities have vibrant bike cultures and lots to see and do on two wheels.
So grab your steed and a bike map from the local cycling organization and get set to travel down the lanes and paths of some urban environments that have made biking a safe, convenient, and fun thing to do on your days both on and off of work.
---
Boulder, Colorado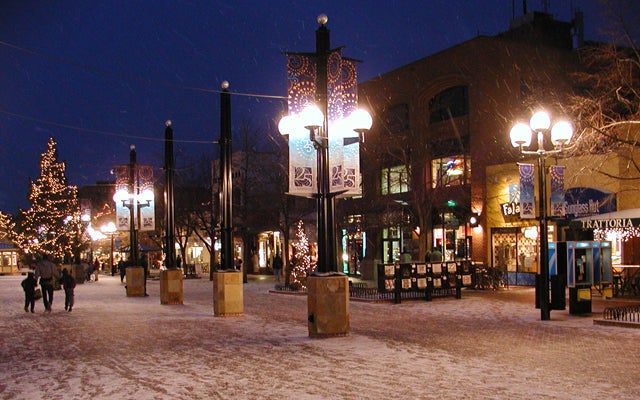 Boulder enjoys 300 days of sunshine each year, which makes it the perfect playground for mountain bikers and commuters alike. Added to that is an innovative approach to cycling infrastructure in an urban context that sets this city apart from other leading cycling cities in the United States.
Part of the Colorado Front Range, Boulder is one of three cities in the state—the other two being Denver and Fort Collins—that possess a robust cycling culture. Boulder residents enjoy a vast network of over 300 miles of bike lanes and paths connecting urban riders to almost wherever they need to go both inside and outside of the city. A recent survey (PDF) shows that over half of local residents found bike paths to be safe, and 44 percent of residents felt the number of bike lanes on city streets and bike path maintenance was better than could be expected. On an average day in 2008, city staff counted 3,574 bicycles in the downtown core.
Boulder has made the all-essential realization that making cycling easy is the only way to get large numbers of people excited about it. Buses have bike racks. The B-cycle bike share program allows you to rent a bike for a half-hour or a few hours (picture rows of bikes for hire locked into a rack with a payment kiosk at one end) for a relatively small fee—perfect for those short trips in a city that would be faster and less costly on two wheels than four. And paths have been created—thanks to the Mountainbike Alliance's Partnership Initiative Program—to get cyclists from the city to the outdoor mountain biking playground that is the Front Range without having to drive.
City Hall deserves much of the credit. Around 15 percent of their annual transportation budget goes toward bicycling projects, such as wider curbs and paved road shoulders to enhance safety for riders. Signal detection loops at traffic intersections cue the change of a red to a green light when a cyclist rolls onto the detection area installed below the pavement (similar to the current signal detection infrastructure used for cars at intersections). The length of a green light and signal change patterns have also been modified to accommodate cyclists along bike routes.
Bike-safe drain covers and proper signage are part of this city's approach to making roads safer for cyclists. And 75 underpasses make it possible for cyclists to circumvent roadways and enjoy an uninterrupted trip from point A to point B.
As a result, around 10 percent of trips to work in the City of Boulder are made by bicycle—that's almost 20 times the national average, according to the U.S. bicycle industry sponsored advocacy organization Bikes Belong.
---
Portland, Oregon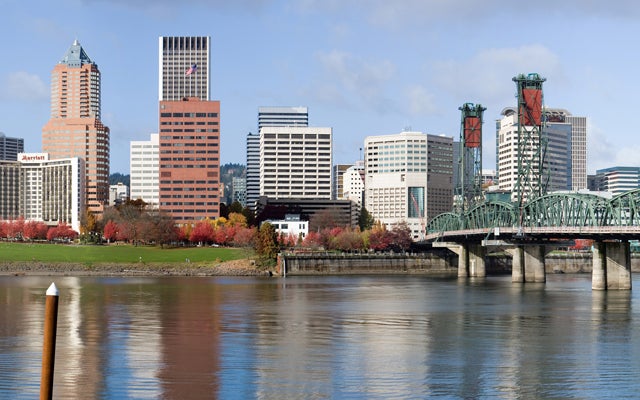 Portland is well-know as the Mecca of inner-city cycling. It again received the designation of America's Best Bike City by Bicycling magazine this year and is the only large city to have received platinum bike-friendly city status from the League of American Bicyclists—the highest recognition of bike-friendliness awarded by the organization.
The city boasts 180 miles of bike lanes and 79 miles of off-street bike paths, plus plenty of bike corrals for parking your steed. It was the first city in the United States to come out with bike boxes at intersections, which give cyclists a designated space (usually denoted by bright paint) to wait for the traffic light to change. It were also the first to start elementary-school bike commuting trains to encourage more kids to bike together to school in a safe and supportive way.
But not just anyone can duplicate what Portland has; it has taken over 25 years of planning and development to get the city's cycle-friendly streets to where they are today. Now around six percent of residents in Portland bike to work—about 10 times the national average. And it pays to be bike-friendly. The bike economy brings in around $90 million each year to the Portland city coffers.
The popular bikeportland.org, run by the well-connected Jonathan Maus, keeps residents up to date on cycling-related news. Alta Planning + Design president, inner-city bicycling advocate, and all-around cycling fashion and advocacy icon Mia Birk also calls Portland home.
Culturally, it doesn't get much better. There's the annual Pedalpalooza event in June (during bike month in the U.S.) that brings together bike-enthusiasts of all stripes for over three weeks of pedal-focused celebrations. The local coffee shop Fresh Pot has 25 chairs inside and 26 bike parking spaces outside. The Go By Bike bike shop offers customers valet parking, bike rentals and repairs. Then there's the bicycle dance troupe, the Sprockettes, that perform regularly in the area. And, if you're lucky, you might catch a Zoobomb—adults riding "tricked-out kids' bikes" down a steep hill near the Portland Zoo—or Filmed by Bike, an annual festival of short bicycle-themed films from around the globe.
And don't forget the Move By Bike program that doubles as a housewarming party. Run by SHIFT, a group of cyclists who share the joy of cycling with others, local people with bikes will help move your household possessions using their favorite mode of transportation for coffee, snacks, beer and a meal.
---
Davis, California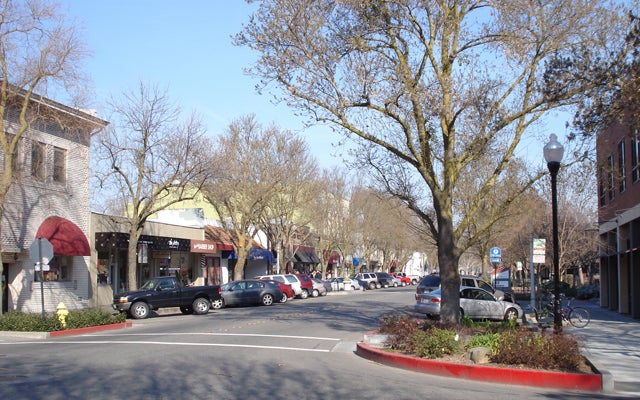 Davis is the smallest city to make our top 10 list, but it's hard not to include a place that has more bikes than it does people when talking about cycling-friendly locales.
The first city in the United States to implement bike lanes, Davis is often called Bike City, USA, and the Bike Capital of America. Here you can take a ride along the Davis Bike Loop, a winding path that will lead you on a tour around much of the city. Or stop by the U.S. Bicycling Hall of Fame for a look the history of the bicycle—the city symbol of Davis.
Bicycle repair stations and tire pumps pepper the streets. The greenway network that was initiated in the 1970s sets the stage for an idyllic cruise. Plus, the mild winters, hot summers and flatness you'll find in Davis enhances the appeal of self-propelled transportation in this city.
Davis first received platinum status from the League of American Bicyclists for being a top-notch bicycle-friendly community in 2005. Today, approximately 17 percent of residents commute by bike, although it should be noted that this university town has plenty of students looking for cheaper modes of transportation to get around.
Residents are fitter than those you'll find in most American cities, and the success of the bike culture here has resulted in a population influx that has been both a boon and a capacity headache.
To make biking safe and accessible for kids and adults alike, the Davis City Council has expanded cycling infrastructure since 1967 to the point where 95 percent of the roads in the city now have bike paths (more than 100 miles). They have also appointed two full-time bike coordinators, and two bike advisory committees keep the biking system in Davis rolling smoothly.
Each year, Davis earmarks around $100,000 to manage bicycle path maintenance. In the past 10 years alone, the amount of money spent by the city on bike-related projects has topped $14 million, which equals around $200 per resident.
School buses are non-existent, so kids are encouraged to bike or walk to school. Bike underpasses, plenty of parking, bike roundabouts, bike traffic lights, and traffic-slowing devices add to the convenience and safety of choosing to ride rather than drive in this small city with big potential.
---
Minneapolis, Minnesota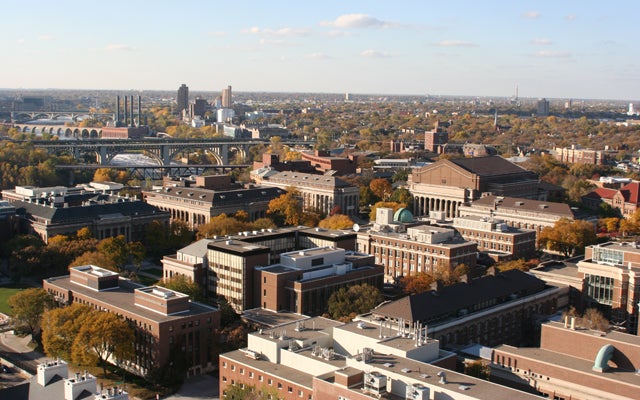 Cold winters can't cramp the style of Minneapolis cyclists. Quite the opposite, in fact. This tight-knit community of bicyclists is the envy of many in the North American cycling crowd.
For starters, there's One on One Bicycle Studio, where members of the local cycling crowd gather to share stories, fix bikes, and enjoy some caffeinated brew from Go Coffee. Picture smiling faces laughing about riding through a blizzard or on a recent New Belgium Brewery Tour de Fat, which makes a big stop here each year. Or maybe you'll overhear a conversation about someone's latest submission to Filmed by Bike or their photo in a Minneapolis Presents calendar, which features pinup gals from the local bike community.
There's a Minneapolis Tweed Ride—check out their blog for some amazing photos of participants dressed in traditional British cycling attire and classic bikes. In the winter, you can attend the famed annual bike messenger alleycat race, the Stupor Bowl—visit Cycle Twin Cities for images and video from this year's race, which took place in February—or an ice bike race. June often features an Open Streets celebration of car-free culture on roads blocked off to traffic. And you might even be lucky enough to catch a bike polo game or two. Even more events and cultural insights can be found on the Minneapolis Bike Love website.
The bike-friendly Mayor R.T. Rybak helped Minneapolis achieve silver-level Bike Friendly Community status from the League of American Bicyclists in 2008 and gold in 2011. Minneapolis was also named the top bicycling city by Bicycling magazine in 2010.
Mill City's 34 miles of dedicated on-street bike lanes and 56 miles of off-street commuter trails help residents and visitors navigate to the many attractions this city has to offer, such as the Minneapolis Sculpture Garden, the Stone Arch Bridge, and the Minneapolis Institute of Arts. It doesn't hurt that the City of Lakes is relatively flat. For when you're in need of a boost, though, buses and the light rail LRT trains in Minneapolis are equipped with racks.
Then there's always the option to pick up a bike share bike from Nice Ride Minnesota, which launched in 2010 and offers 1,200 rental bikes at 116 stations. In its first season of operations, Nice Ride saw over 100,000 trips, which doubled to 217,000 rides in 2011.
Riding in the winter is no obstacle. The Midtown Greenway, which connects thousands of commuters each week during the summer months from the Mississippi River to the western suburbs of Minneapolis, is snow plowed. So too is the Cedar Lake Regional Trail, America's first bicycle freeway and a rail-to-trail that runs from downtown Minneapolis to Minnesota State Highway 100 in St. Louis Park after passing under Target Field, home of the Minnesota Twins baseball team. In other words, no matter when you might be in Minneapolis, you have no excuse not to ride.
---
Montreal, Quebec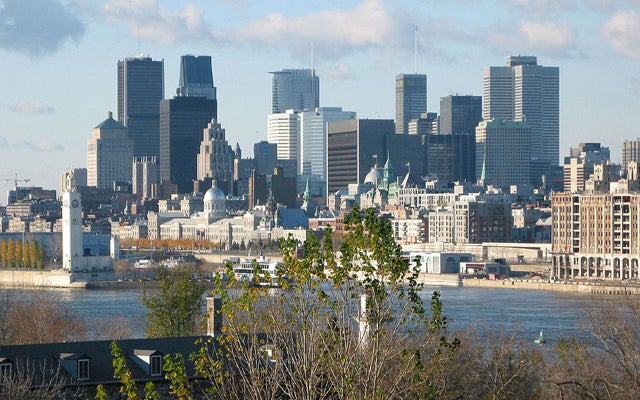 The island of Montreal is an ideal destination for people looking for a taste of Europe in a Canadian city. The many separate cycle tracks and painted bike lanes connect you to almost everywhere you want to go in the downtown core and into surrounding neighborhoods. The city currently has over 300 miles of bike routes, which it plans to expand to 500 miles in the near term.
In the summertime, bike lanes teem with cyclists in everyday clothes riding to work, to the store, or with their kids in carriers or on bikes of their own. Bikes line the sidewalks and streets outside of popular bars and clubs on weekends. They lean against stone walls outside cafés or against patio railings. You'll find them hoisted onto bike racks or rolled onto light rails. For residents of Montreal, biking is just a regular part of the lifestyle.
A short pedal from downtown Montreal across the Jacques Cartier bridge and over to St. Helene Island will take you to the Biosphere, the environment and sustainability museum housed in a large transparent dome that is a lasting legacy from Expo '67. A trip to the top of Montreal's namesake mountain, Mount-Royal, will give you a panoramic view of the many bike routes leading to and along the Saint Laurence River.
Grab a BIXI bike, a popular mode of transport for residents and visitors, and with a $5 24-hour access pass you can travel on any bike for free for the first half-hour. Considering there are over 5,000 BIXI rental bikes at 400 stations, you could easily tour the entire city by BIXI.
The Maison des Cyclistes, located next to the picturesque La Fontaine park, is home to the very active cycling advocacy organization Velo Quebec. It's also near the starting point of Tour de L'Ile, an annual 30-mile bike ride around the perimeter of the island on car-free city streets that brought together 25,000 cyclists this year. It and Un Tour la Nuit—a nighttime 14-mile bike ride along streets also closed off to car traffic that involves lots of glow sticks and funky lights—both end at a fair ground complete with Ferris Wheel, roasted bananas, beer garden and live music.
---
San Francisco, California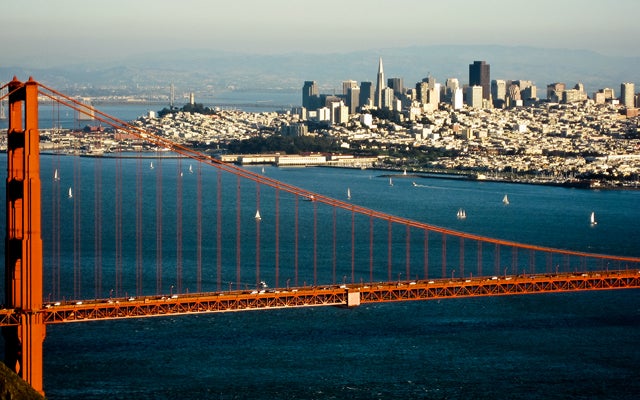 The Wiggle says it all. This mile-long switchback bicycle right-of-way leads from the popular Market Street bike route to Golden Gate Park. Like many aspects of San Francisco bike culture, art and green living intersect at The Wiggle: there's a Wiggle mural at its starting point on Duboce Avenue between Church and Market streets and even a jingle. (The video also captures much of the spirit of the San Francisco cycling culture, which can best be characterized as fun, passionate and hip.)
The local cycling organization, the San Francisco Bicycle Coalition, has around 12,000 active members and was instrumental in spurring on the development of local cycling infrastructure projects, such as the Market and Valencia street bike lanes and bike corrals. Additions to the bicycle lane network, including physically separated lanes on Fell and Oak streets, are also in the works, according to SFBC executive director Leah Shahum.
The first Critical Mass—a large and controversial group bike ride that often takes up entire streets—took place on September 25, 1992, in San Francisco. This city is also where legends Gary Fisher and Joe Breeze first experimented with riding old paper boy bikes down the steep Mount Tamalpais, which led to the creation of some of the first mountain bikes, and certainly aided in their popularization.
You can take a ride over the beautiful Golden Gate Bridge and experience the incredible views. For a longer ride, you can hop onto the Butter Lap, which skirts around the city from the Ferry Building into the Presidio and along Ocean Beach up to Mission on a 17-mile loop. You could also stay at the Good Hotel, where guests can loan Globe bikes from the lobby. PUBLIC Bikes, the premier urban/lifestyle cycling brand, has its headquarters here. And don't forget to check out Balmy Alley. It's a hidden gem where you'll find the most concentrated collection of murals lining an alleyway parallel to Treat Avenue and Harrison Street between 24th and 25th streets.
Beyond that, what makes San Francisco a great bike city is the fact that there is so much culture and so many activities involving the love of cycling here. Whether it's the monthly SF Bike Party rides; Winterfest, a large bicycle-oriented festival and fundraiser for the SFBC; Bicycle Film Festival screenings; Tour de Fat; or the ever-popular Sunday Streets, in which car traffic is cut off to allow mass bike rides and celebrations on city streets, life really does have a two-wheeled flavor in this city—and it shows all signs of getting even better in the near term.
---
Seattle, Washington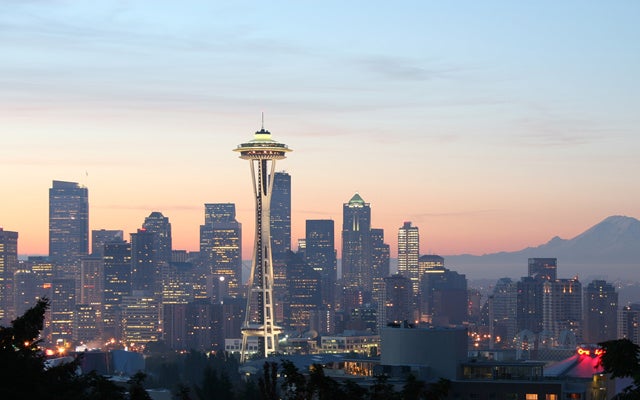 The birthplace of Starbucks coffee, Seattle is also home to some of the most cycle-enthused people in North America. Even Mayor Michael McGinn, a former Sierra Club leader, cycled to campaign events during the 2009 mayoral election in his suit and tie.
McGinn has supported Seattle's Bicycle Master Plan, which has led to the investment of nearly $36 million in bicycle improvements since its adoption in 2007. The Plan has supported the creation of bike signs, 2,230 new bike parking spaces, and 129 miles of bike lanes. The goal of the BMP is to construct 450 miles of bike lanes in Seattle by 2017.
Seattle's weather is temperate, which lends itself nicely to biking. Like many parts of the West Coast, Rain City's winters are damp, but they're nothing that some rain gear won't rectify. This is why you'll find cyclists of all stripes riding on city streets year-round.
Seattle is known for being a green and active city. There is plenty of hiking, skiing, rock climbing and water sports activities nearby to while away the hours. Visitors can take a trip around the Burke-Gilman Trail that follows the coastline for 18 paved miles. Leave your bike at the base and go up to the top of the Space Needle for a panoramic view of the city. Then ride over to the Pike Place Market, where you can see fish fresh from the ocean tossed back and forth before being placed on ice or filleted.
The Cascade Bicycle Club, a local bicycle advocacy non-profit organization with more than 14,000 members, operates out of Seattle. They put on the Seattle Bicycle Expo, the largest consumer bicycle trade show in North America, every year. Their Bike Smart Seattle program encourages bicycling through educational campaigns and materials. They'll even send a bicycle ambassador to your door to hand you a bicycle information kit that includes safety information, a bicycle map, and an event calendar. The city also contracts the Bicycle Alliance of Washington to distribute 20,000 Seattle Bicycling Guide Maps per year to cyclists and motorists alike. Knowing that everyone's in the loop will put your mind at ease when you wheel through this city.
---
Chicago, Illinois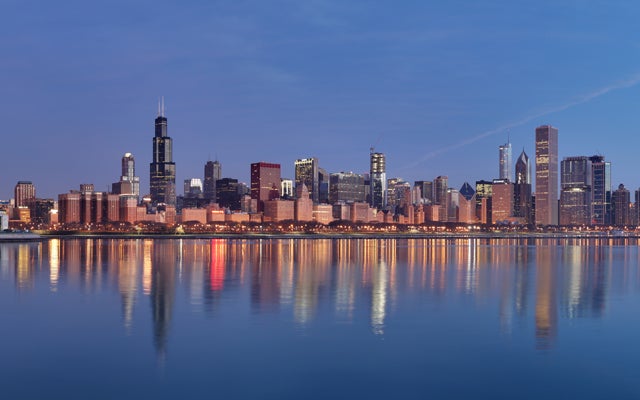 The Windy City is known for being a transportation hub. O'Hare International Airport is the second busiest in the world, making Chicago a likely pit stop for travelers. Luckily for them, once off the plane, train, car or bus, visitors to Chicago have ample opportunities to stretch their legs and take a relaxing bike ride along some of the city's on-street lanes and off-street trails and paths.
You'll have over 170 miles of on-street protected, shared and buffered bike lanes to choose from, including the Lakefront Trail, an 18-mile paved route that follows Lake Michigan. A tree-lined boulevard system will connect you to parks and attractions, such as the Osaka Japanese Garden in Jackson Park and the Garfield Park Conservatory. Once you arrive at your destination, you'll likely see one or more of the 13,000 bike racks scattered throughout the city. For those traveling by CTA rail, stations often come equipped with sheltered bike storage areas for stowing your ride while you head off on your next adventure.
If, like many travelers, you find yourself without a bike, you can easily rent one from the B-cycle bike share program, which currently offers 100 bikes at six stations.
The city has made great strides as of late to create a bikeable environment for residents and visitors alike. In 2010, they enlisted the help of Bicycling Ambassadors, who provided educational materials and outreach to 60,000 people that year about how to safely navigate city streets by bike.
The bike culture in Chicago is as diverse as the people living and traveling through the city famously are. Messengers, families, people commuting to work, kids going to school, and everyone in between make up the daily sights and sounds of bike traffic in Chicagoland.
The 2012 Cycle Messenger World Championships took place in Chicago in August, bringing together bike couriers from around the globe for a week of races, libations, and celebrations a la messenger-style. The series of profiles on the event blog capture some of the humor and spirit of messenger culture.
The Handlebar restaurant is one of many gathering points for cyclists of all stripes. Critical Mass rides happen on the last Friday of every month. Plus, there are family-friendly Kidical Mass parades, ladies-only Critical Lass pub cruises, Slow Bicycle Society picnics, and rowdy Midnight Marauders rides. More event information can be found on Chicago's online bicycling community website, thechainlink.org. As a metropolitan center and bike hub, Chicago really does do its best to make every cyclist feel welcome.
---
New York City, New York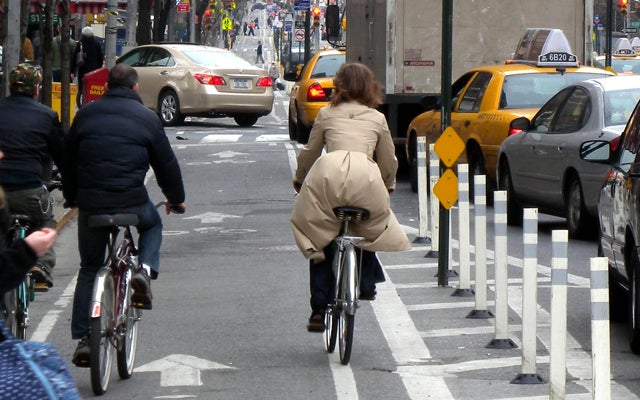 New York City has gotten a bad rap for being a car-congestion nightmare in popular culture. These days, however, the city's transportation department, led by the to-some inspiring (and polarizing) commissioner Janette Sadik-Khan, is going to great lengths to improve its image among the car-less.
Sadik-Khan was instrumental in the creation of the popular car-free zone along Broadway Avenue in Times Square, along with 20 sheltered bike parking areas and 3,100 bike racks. Cyclists have also been given routes and helpful signage to help them cross over on the East River bridges.
Over the past four years, the city has created an additional 250 miles of bikeways for a grand total of more than 500 miles. Over 15 miles of those are physically separated lanes, which place a buffer between cyclists and car traffic—often by way of medians, planters, or cones—on 8th, 9th, 1st and 2nd avenues and on Columbus Avenue and Prospect Park West.
Tourism is on the rise in part because of the city's greener image. Locally, the Department of Transportation website notes a more than doubling of the number of commuter cyclists since 2005.
Businesses are capitalizing on the green streak. Henry's is the first establishment in New York City to be given the distinction of a "bike-friendly business" by Transportation Alternatives, a local advocacy organization. Blue Ribbon Restaurants gave 160 staff members a bike, helmet, and bicycle safety information in September 2010. Citi Bike, a massive bike share project scheduled to launch in March 2013, will bring 7,000 bikes for hire at 420 stations across Brooklyn, Queens, and Manhattan.
Educating the local population about the many changes to bicycling infrastructure in the city has been part of the program all along. Forty-five thousand copies of Bike Smart: The Official Guide to Cycling in New York City have been distributed so far.
Culturally, the City that Never Sleeps is also the city that never stops biking. The Five Boro Bike Tour is a massive group ride—the largest in America—of the five boroughs of New York City. The ride attracts around 32,000 cyclists each year for a 40-mile tour along traffic-free streets.
The Bicycle Film Festival got its start in New York under the direction of founder Brendt Barbur in 2001. The annual festival travel to between 20 and 30 cities around the world each year, typically for three to four days each. In New York City, the festival also includes art exhibits, bike rides, and a Bikes Rock! concert.
Summer Streets is something worth seeing if you're either from or visiting New York City. For three consecutive Saturdays in the summertime, seven miles of pavement is blocked off to traffic to allow for this community celebration of outdoor play to get underway.
Two large bike shows now take place in New yOrk City each year. The 2012 New Amsterdam Bike Show attracted around 6,000 guests who could browse through 70-plus booths featuring bikes, gear, and bike information. New this year was Bike Expo New York, a free trade show held by Bike New York that hosted 90 exhibitors from the bicycle industry.
Like almost everything New York City, the bicycling scene is bustling and vibrant.
---
Vancouver, British Columbia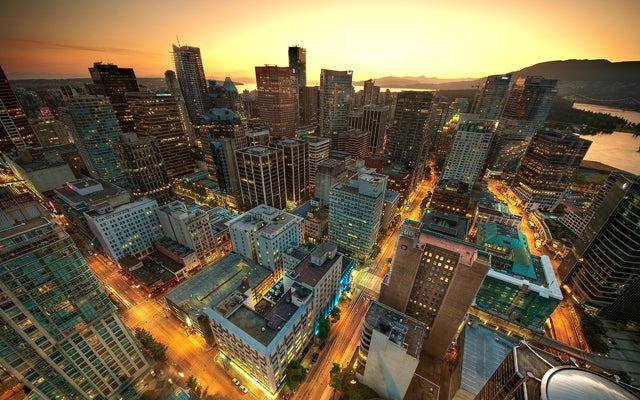 Vancouver was the recent site of the 2012 Velo-city Global conference, which gathered together 700 delegates from 40 countries and close to 200 speakers. It was also the host city of the 2010 Winter Olympics, which helped steer attention toward this picturesque City of Glass where you can ski, sail, and hike all in one day—and still get in some time on the bike.
Pro-bike Mayor Gregor Robertson has spearheaded the expansion of Vancouver's bike lane network to include two separated lanes that bisect the downtown core, distinct routes on one of the city's major bridges, and bicycle boulevards where car traffic is discouraged using roundabouts and lower traffic speeds. Plus, there's the seawall, the 14-mile separated bike path that follows the ocean around the popular tourist destinations of Stanley Park and False Creek all the way over to Kitsilano Beach, where the scenery in summertime is reminiscent of a Southern California coastline.
Beyond a growing network of bikeways, you can also take your bike onto the light rail system during off-peak hours. In fact, you can travel with your bike to and from the airport on a light rail train. Buses are all equipped with bike racks. Plus, there are rumors of a bike share coming soon to Terminal City once the issue of providing a bicycle helmet with the bike share bikes to adhere to the mandatory all-ages law has been addressed.
City council just approved five new bikeway expansions or improvements at a cost of $3 million in May of this year, part of the $25 million budget approved by the local government in 2010 and $10 million approved in 2011.
The cycling mode share in Vancouver is still below four percent—although it did increase by 27 percent since 2009, according to a report by the local transit authority TransLink—which is why it falls at the end of our list. In terms of cycle-friendly cities in Canada and North America, however, Vancouver has a lot going for it.
The temperate climate and relative density of the Lotusland makes it easier for cyclists to commute year-round. And the City of Vancouver's overall plan to be the "greenest city in the world" by 2020 has elevated the importance of developing an effective network of alternative forms of transportation.
The monthly Critical Mass rides can attract thousands of Vancouver bikers during the summer. There's also the bicycle performance troupe, the B:C:Clettes, Bikes Inside! bicycle-themed parties, Margaret Charles Chopper Collective (MC3) freak bike rides, the Kilowatt Hour electric bike rides, the VanUni unicycle group and, of course, Velopalooza. The month-long festival of bike fun features events and rides for the whole family during the Canadian Bike Month in June.
The nearby North Shore Mountains and Whistler are world renowned for their trails, which naturally has the effect of drawing a lot of mountain bikers to the city.
Having lived in Vancouver for over six years now, I can safely say that you soon get used to seeing downhill bikes parked beside townies, fixies, and carbon fiber road bikes. It's just another one of the many joys of living in a well-rounded, bike-friendly city.
Lead Photo: Antonio Perelló Alomar