The 12 Best National Forests to See Fall Foliage in the U.S.
National forests are the perfect place to leaf peep—often away from the crowds. These are our top viewing spots and adventures in forests across the country.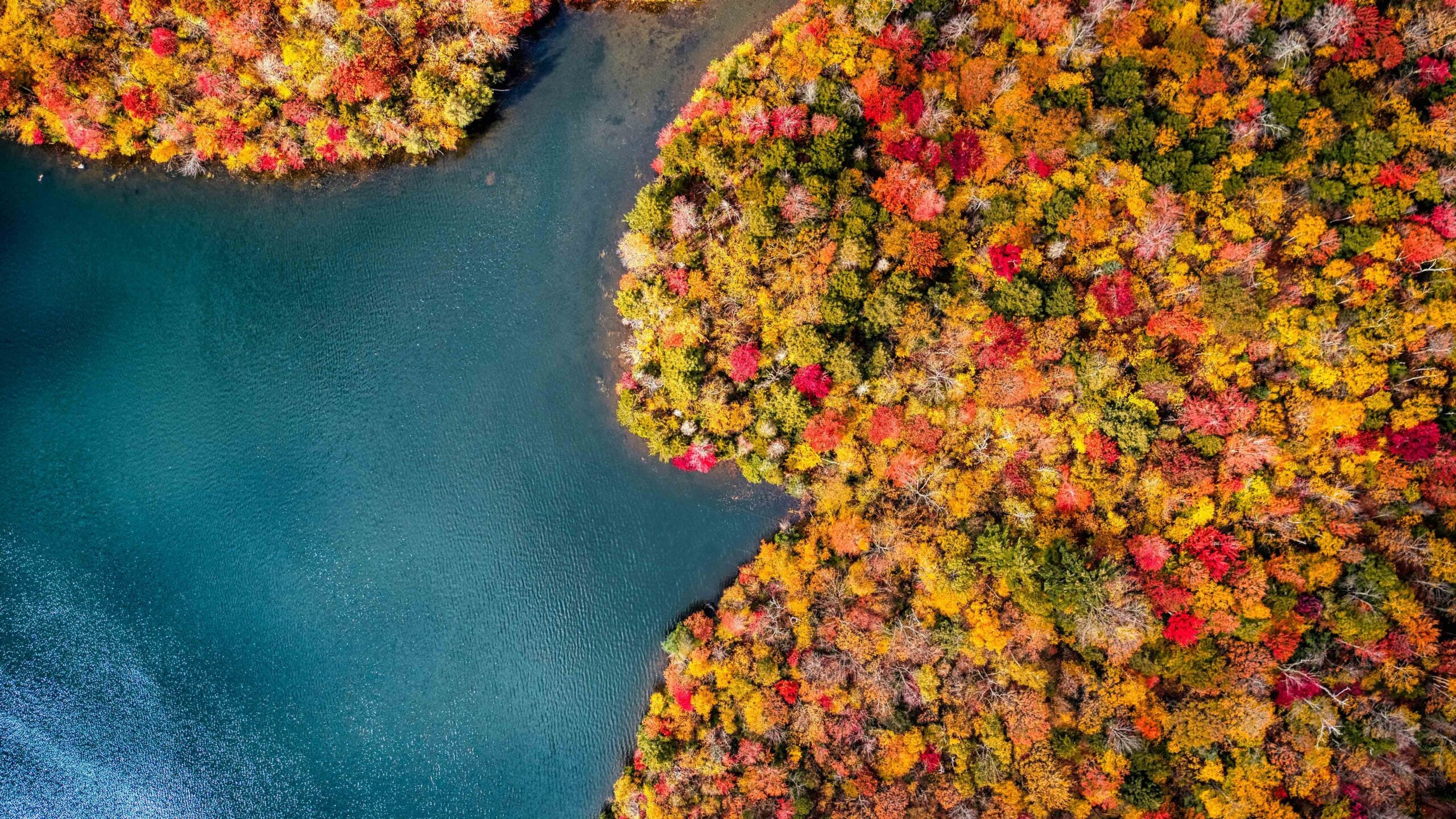 Venti Views/Unsplash
Heading out the door? Read this article on the new Outside+ app available now on iOS devices for members! Download the app.
With autumn here, our favorite hikes are about to explode with eye-popping flora. The annual Smoky Mountains Fall Foliage Map—a trusted resource for autumn-color forecasts across the U.S.—predicts peak leaf colors will hit the northern U.S. by late September, then spread west and south throughout October.
Sure, you could soak up the seasonal splendor with other leaf peepers in a national park. But, given that thick woodlands provide the best fall-foliage scenery—the more trees, the better—why not head to one of the U.S. Forest Service's more than 150 national forests? As a bonus, skipping national parks could help you enjoy the autumn hues amid fewer crowds.
From the scarlet birches of New England to the bright-yellow cottonwoods and aspens that decorate the Mountain West, here are 12 top national forests for foliage—with details on how, and when, to visit this year and into the future. (Note to readers: Please monitor the local forest-service websites for wildfire and safety updates before visiting.)
White Mountain National Forest | New Hampshire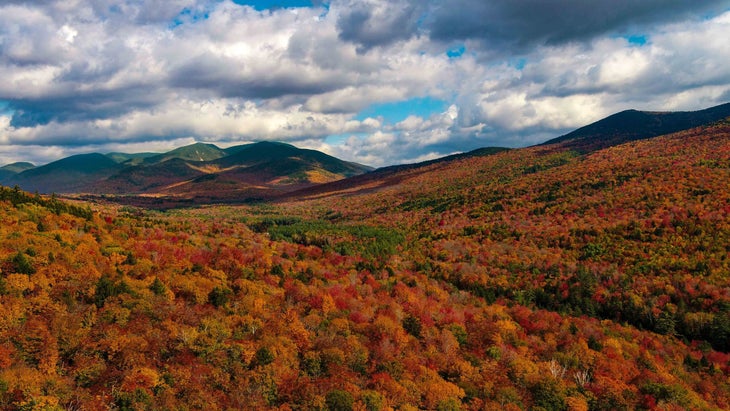 Peak color prediction: Early to mid-October
Travelers from far and wide flock to New Hampshire every fall. The state woodlands are among the world's most vivid, particularly in foliage-dense spots like the 700,000-acre White Mountain National Forest, where a sea of undulating hardwood-dotted peaks turn red, orange, and gold. Most of this national forest, which stretches from New Hampshire into western Maine, is open to the public and free to use.
For a heart-pumping White Mountain adventure, it doesn't get much better than the 16-mile out-and-back hike up the famed Mount Washington, New England's highest peak. The route climbs 4,712 feet, rewarded by sweeping 360-degree views of fall colors. See it by foot or hop on the historic Cog Railway, which travels through three climate zones from Marshfield Base Station to the Mount Washington summit (tickets start at $49). For a quicker White Mountain National Forest hike, take the three-mile out-and-back to Champney Falls, a cascade- and birch-fringed waterfall.
Rest after a day of outdoor fun in one of the forest's designated campgrounds (fees vary, between roughly $20 to $40) or cabins (from $40 to $65). Dispersed camping is also available, and largely free, in designated areas. 
Green Mountain National Forest | Vermont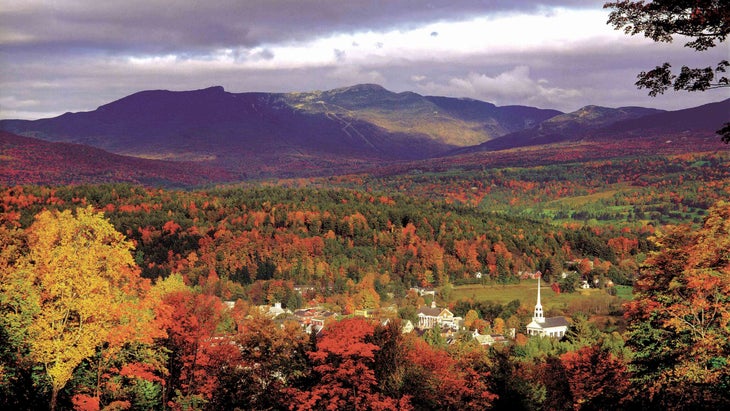 Peak color prediction: Early to mid-October
With covered wooden bridges, quaint villages around a church steeple, and forested peaks stretching out to the horizon, Vermont is the embodiment of fall in New England. One of the best places to see the colors? Green Mountain National Forest, a 400,000-acre mosaic of maples and birches in southwest and central Vermont.
The 272-mile Long Trail, the country's oldest long-distance hiking trail, is by far the region's most iconic trek. If you lack three-plus weeks to hike the full length, try a shorter stretch. The 15-mile point-to-point Monroe Skyline traverses the northern portion of the Green Mountain National Forest, with summit views, more than 5,000 feet of elevation gain, and a north terminus near the state's best-known autumn getaway: Stowe. (No permit is required for the Long Trail, although some overnight sites charge a $5 fee.)
Other can't-beat leaf-surrounded autumn attractions in the Green Mountains include strolling to Killington's Thundering Falls, a 140-foot waterfall reachable via a wheelchair- and family-accessible 900-foot boardwalk, and paddling the forested Somerset Reservoir in Stratton.
Developed campgrounds are available for around $10 to $20 per night; dispersed camping is also available within designated areas (fees vary by site and season, from free to around $5).
Allegheny National Forest | Pennsylvania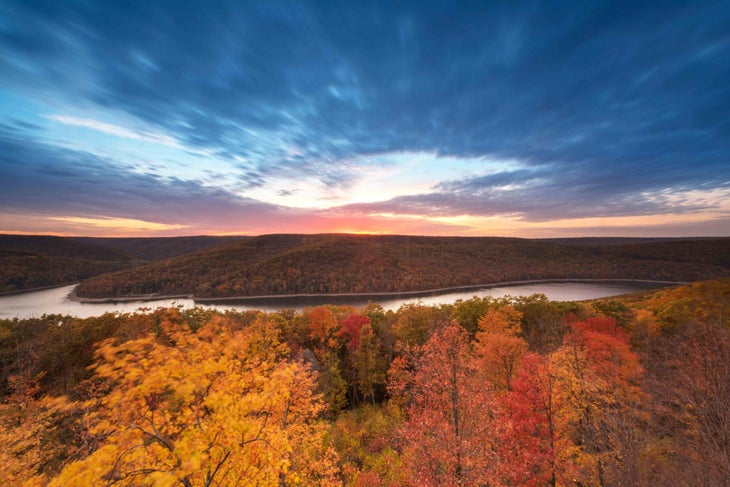 Peak color prediction: Mid-October
More than 500,000 acres of crimson and gold hardwoods make Pennsylvania's Allegheny National Forest a top leaf-peeping destination. Located in northwest Pennsylvania and open for free public access year-round, the forest contains 87 miles of the multi-state North Country Trail that runs from North Dakota to Vermont. It's also a haven for paddlers and anglers, with smallmouth bass, catfish, and walleye in the 30-mile-long Allegheny Reservoir.
To maximize the opportunity, you can drive or cycle the 27-mile Longhouse National Scenic Byway around the reservoir, with stop-offs for hikes. This colorful stretch of road traverses the forest's top fall spots, with numerous stop-offs to catch the views by foot. Those sidetracks include the Timberdoodle Flats Interpretive Trail, with two under-one-mile loops, and the 11-mile Morrison Trail loop. Mountain-bike enthusiasts can head for the 30-plus-mile Trails at Jakes Rocks, a free bike-route loop located just off the Longhouse National Scenic Byway.
Fees for the forest's many campgrounds range from around $10 to $20 per night; dispersed camping is also available in designated sections (some charge a small fee; others are free).
George Washington and Thomas Jefferson National Forests | Virginia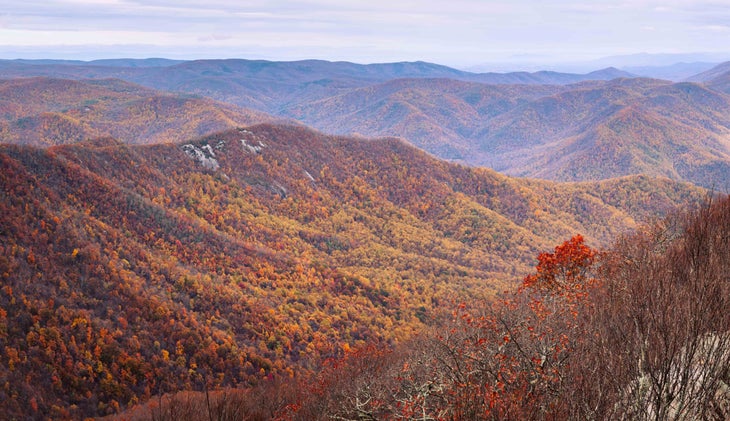 Peak color prediction: Mid to late October
Appalachian hardwood across the George Washington and Jefferson National Forests (GWJNF) burst out in a kaleidoscope of fall colors. The combined 1.6 million forest acres glow with hues of red and orange—and they see a fraction of the crowds of Shenandoah National Park.
For hikes, visitors have more than 2,200 trail miles to choose from; entrance to the majority of the forest and trails is free. Catch the forested Appalachian Trail for a 19-mile overnight along the Hog Camp Gap to Tye River route, or head out on a milder day hike like the three-mile Crabtree Falls Trail, where another tree-canopied path leads to Virginia's highest waterfall. Bicycles are allowed on more than 1,100 trail miles in the forests; for a rugged outing, ride along ridgelines and rocks, with two miles of descent, via the 15-mile Narrowback Mountain mountain-bike loop. The 6.6-mile Mud Pond Loop provides a quicker, and milder, forest ride.
End the day with a night beneath the Milky Way; the GWJNF boasts dozens of campgrounds (from free to around $20 per night) and cabins (from $45). Dispersed camping is also allowed (no fees or permits required for small groups).
Monongahela National Forest | West Virginia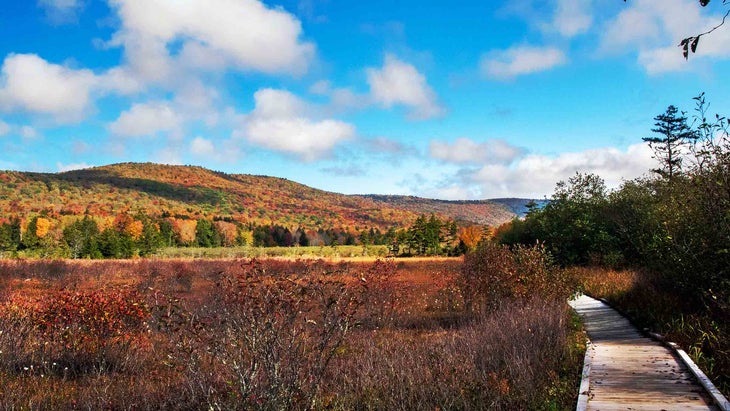 Peak color prediction: Mid to late October
As the country's third-most-forested state, West Virginia packs a big punch each fall. Its nearly 1 million-acre Monongahela National Forest, better known as the Mon, offers wild autumn surroundings and action-packed itineraries.
Head to Seneca Rocks to enjoy some of the Mon's lauded sandstone rock climbing, with more than 300 recorded routes varying from easy to difficult. Hire Seneca Rocks Mountain Guides for expert local instruction (rates start at $175 per person for private climbing). For a lower-key but equally scenic day, admire the vistas atop the Spruce Knob observation tower—the highest point in West Virginia. Equally jaw-dropping are the forest's 750-acre Cranberry Glades, where a wheelchair-accessible boardwalk leads guests through an ecosystem of cherry-colored bogs flanked by colorful spruces and hemlocks, with potential fox and eagle sightings.
Overnight options abound in the forest, with cabin rentals (around $75 per night), campground camping (fees vary by site, from free to around $10 to $20+), and dispersed camping (no fee) available.
Superior National Forest | Minnesota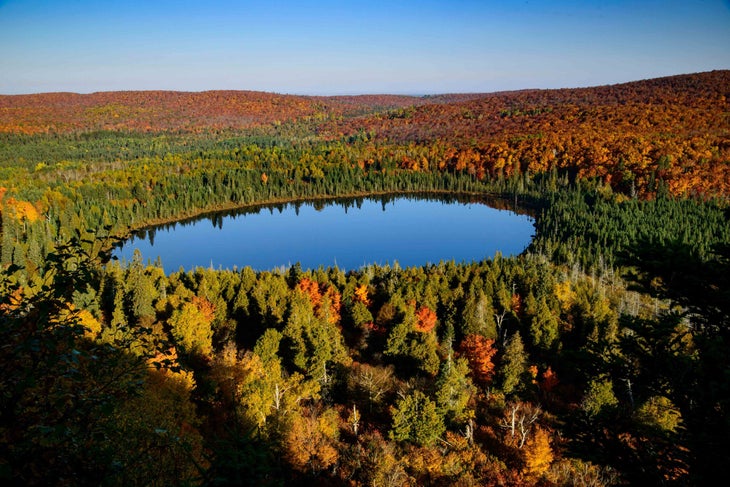 Peak color prediction: Late September to early October
Minnesota is known as the land of 10,000 lakes, and the unspoiled Superior National Forest has its fair share, with 2,000 lakes and streams across 3 million acres. Superior National Forest, which is free for hiking and dispersed camping, is located on the southernmost edge of the expansive boreal forest, the largest biome in the world, a high-latitude ecosystem with aspens, firs, birches, pines, and spruces, plus forested bogs and smaller native plants like fens.
Paddle through peak foliage via the forest-fringed Lake Vermilion, home to more than 300 pine-dotted islands. Or join Minnesota's ever-growing mountain biking scene in Tofte District and the Pincushion Recreation Area, both with single-track for bikes. With 400 trail miles, hiking is another great leaf-peeping option. Try the seven-mile roundtrip trek up and down Eagle Mountain, the state's highest point, for vast boreal-forest views. Or tackle some or all of the more than 300-mile Superior Hiking Trail, accessible from more than 50 trailheads.
For accommodations, designated campgrounds run from $10 to $22, while backcountry sites are free, first-come, first-served.
Shawnee National Forest | Illinois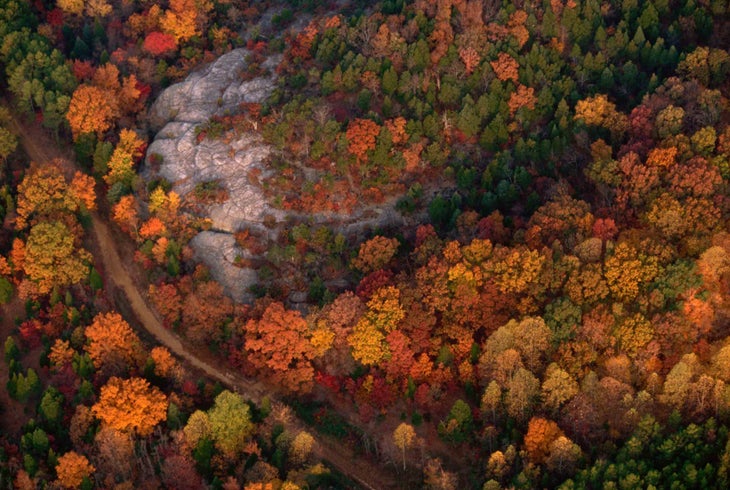 Peak color prediction: Late October to early November
Rolling hills with cherry-red oaks and hickories light up the Shawnee National Forest, Southern Illinois, each autumn. The forest is also one of the state's best adventure getaways. Enjoy the colors on the three-mile Little Grand Canyon Trail, which weaves along a tranquil creek bed beneath towering 300-foot bluffs. Garden of the Gods delivers yet more surreal scenery, amid soaring rock formations carved by erosion. Admire the rocks from a quick quarter-mile observation path, or explore Garden of the Gods' five miles of interconnected trails.
Spend the night at Garden of the Gods via Pharaoh Campground ($10 per night) or the nearby Shawnee National Forest Cabins (start at $140). Primitive camping is also free throughout Shawnee National Forest.
Ozark National Forest | Arkansas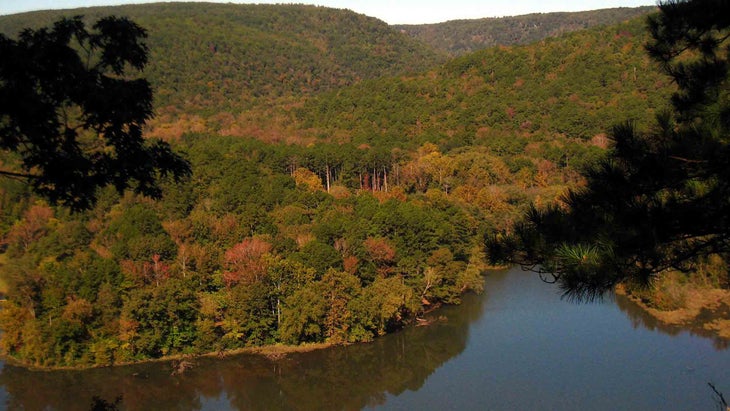 Peak color prediction: Mid to late October
The Ozark National Forest in Central Arkansas comprises more than one million acres of oaks, sycamores, cottonwoods, and pines—that come to life every October.
Hikers can snag those vibrant leaf views across the forest's hundreds of trail miles. The Alum Cove Natural Bridge promises an accessible scenery-filled outing, with a 1.1-mile route that loops by a 20-foot-wide natural stone arch. For a longer excursion, take the 10-mile Mount Magazine to Cove Lake Trail, which connects Arkansas' highest point, Mount Magazine (2,753 feet), with a peaceful lake. Join the Scenic 7 Byway for a dazzling drive with mountains, forests, and charming small towns like Jasper.
Sleep beneath the stars in a forest campsite (camping fees range from about $4 to $10 per night). Or try glamping with Ozarks Adventure Lodging, which offers onsite excursions for guests. (Tents start at $99.) The majority of the forest is open to the public, free of charge.
Grand Mesa National Forest | Colorado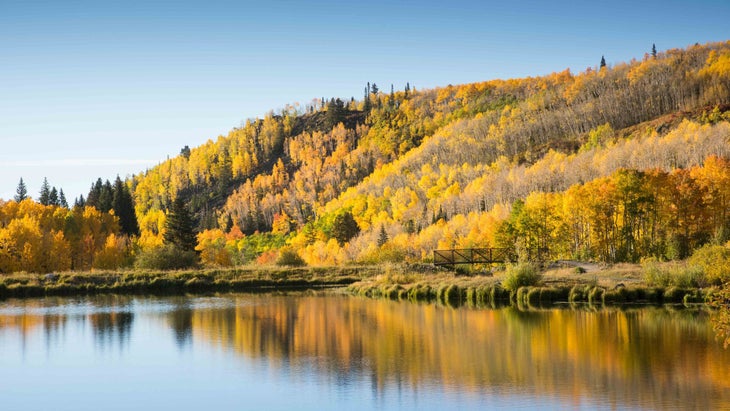 Peak color prediction: Mid to late October
Superlatives abound across western Colorado's Grand Mesa National Forest. The more than 500-square-mile expanse boasts the world's largest flat-top mountain, the Mesa—not to mention over 300 lakes and the 63-mile Grand Mesa Scenic Byway. Grand Mesa National Forest borders the Uncompahgre and Gunnison national forests; collectively, they cover 3 million acres with diverse flora, including aspens, ashes, and birches. All three are free and open all year.
For a challenging Grand Mesa hike, try the 10-mile Crag Crest Trail. The loop follows the Mesa's spine, with huge panoramas and, at certain points, vertiginous drop-offs. Take a milder walk on the boulder-dotted Lost Lake Trail, a two-mile-roundtrip hike along calm waters that provide dreamy fall-foliage reflections. Don't miss the Grand Mesa National Scenic and Historic Byway, a 63-mile route along alpine meadows, trout-abundant lakes ripe for angling, and the 6,000-foot Lands End overlook, which offers views of the rugged Sneffels range.
Numerous campgrounds (fees vary from free to around $10 to $20), cabins (from $120), and dispersed-camping options (free) are available throughout the forest; fees vary by location.
Shoshone National Forest | Wyoming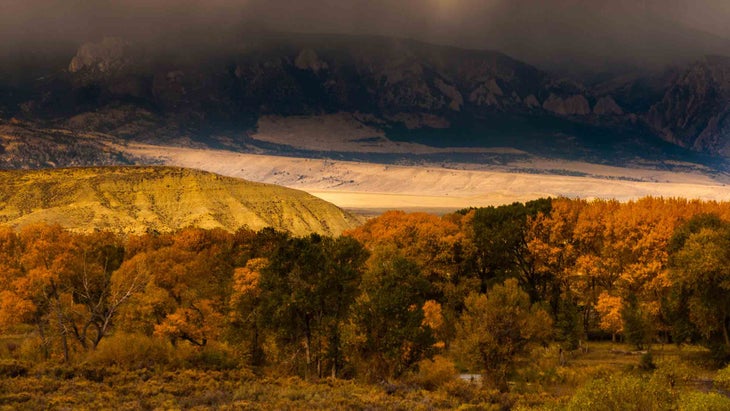 Peak color prediction: Early to mid-October
Wyoming shines in every season, but there's nothing like fall in Shoshone National Forest, near Cody. The 2.4-million-acre expanse, part of the Greater Yellowstone Ecosystem, brims with natural beauty—think forests of aspens and maples, still alpine lakes, and the jagged peaks of three mountain ranges.
You can see the changing leaves across more than 1,000 trail miles. The 18-mile Pahaska-Sunlight Trail offers a long trek through the forest with huge vistas, a waterfall, and numerous stream crossings. Canyons, rivers, and waterfalls make the three-mile Popo Agie Falls Trail prime for leaf peepers as well. Join the 68-mile Beartooth All-American Road from Montana to Wyoming, including Shoshone National Forest, for even more autumn sights in the northern Rockies. Or, grab your angling kit for a day on the water; the forest has numerous fishing spots, with 25 fishable miles on the Shoshone River.
Dispersed camping is free in Shoshone; campgrounds are also available (from free to around $10 to $20), as is the Sunlight Ranger Cabin (starts at $150 per night). The forest is open to the public, free of charge.
Sawtooth National Forest | Idaho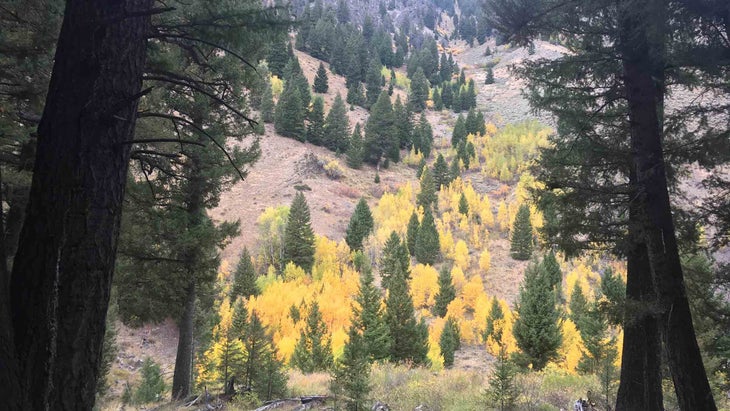 Peak color prediction: Mid to late October
Every fall, cottonwoods and aspens paint the 2.1-million-acre Sawtooth National Forest in shades of orange and red. The south-central Idaho forest offers more than 1,000 lakes and 3,500 river and stream miles, not to mention summits from 10 different ranges.
The forest's 756,000-acre Sawtooth National Recreation Area provides the best jumping-off point to soak up this mountainous terrain. (Free permits are required to visit.) Most hiking trips commence at Redfish Lake, including the scenic 13-mile loop around the lake, with its reflections of red-leaf trees and sharp peaks. Lookout Mountain is another trek option, with a 10-mile jaunt and 2,500 feet of elevation gain leading to one of the region's most sweeping views.
Camping is available throughout Sawtooth National Forest (most sites range from about $10 to $20 for a single family).
Mount Hood National Forest | Oregon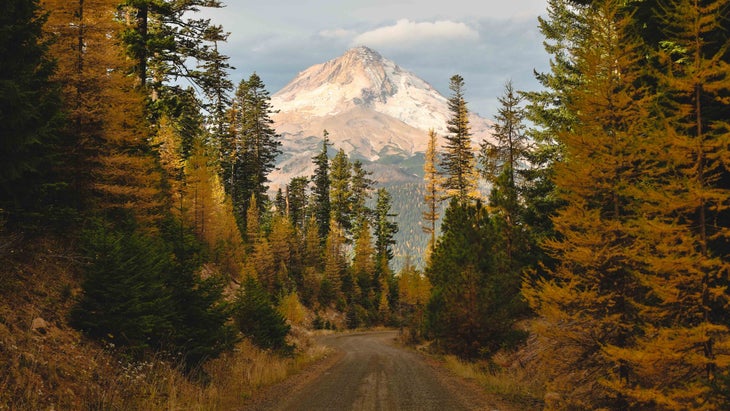 Peak color prediction: Early to mid October
For peak foliage in the Pacific Northwest, visit Oregon's stunning Mount Hood National Forest, just 20 miles outside Portland. This roughly one-million-acre blend of bigleaf maples, cottonwoods, and western hemlocks stretches from the Columbia River Gorge across forested mountains down to the slopes of Mount Jefferson, north of Willamette National Forest.
With 1,000 trail miles, Mount Hood hikes run the gamut. The two-mile path to Mirror Lake is a crowd pleaser for seasonal colors, and the lake boasts calm water that reflects its ring of foliage and also Mount Hood. For a multiday backpack, take the 41-mile Timberline Trail around Mount Hood for alpine meadows, summit scenery, and tree-shaded waterfalls. Snag another surreal fall view from the seat of a kayak or canoe at Lost Lake; bring your own, or rent a vessel from Lost Lake Resort (fees start at $25; rentals run through mid-October.)
Camping is available throughout the park, but note: many sites in the Clackamas River Ranger District were damaged during the Riverside Fire of 2020. Peruse a full list of campsites (fees range from roughly $10 to $20), or check out options for free dispersed camping—and, as with every trip on this list, pay attention to the forest's fire safety precautions before visiting.
Lead Photo: Venti Views/Unsplash