Sponsor Content
15 National Park Fishing Spots to Add to Your Bucket List
Whether you're looking for a guided island tour or a scenic river to fly-fish for trout, we tracked down the best places to cast a line in our national parks.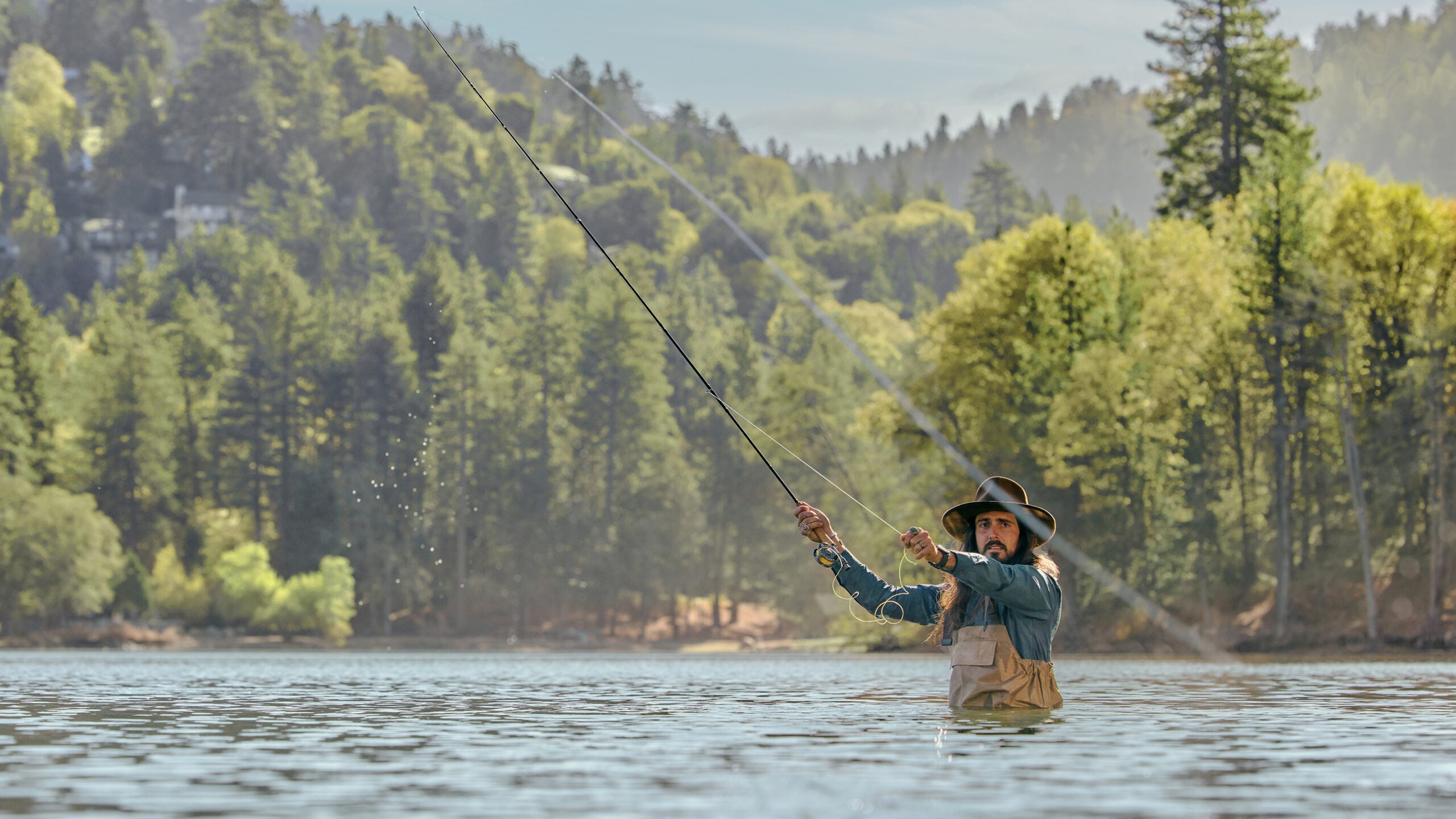 2021 Cameron Mackey(Photo)
Savvy adventurers know that there are nearly endless ways to explore the national park system beyond the most famous viewpoints and trails. One of the best: pack a rod and reel on your next trip. From fly-fishing for trout in the Tetons to casting for grouper in the Caribbean, these national park fishing spots are sure to surprise and delight.

Just be sure to check seasonal restrictions and regulations on what you can keep and which licenses you may need before casting your line.
Rocky Mountain National Park, Colorado
There are great places to fish throughout Rocky Mountain National Park, but you'll have to work a little harder if you want to find solitude at one of the country's most popular parks. If you're up for the challenge, a 16.7-mile round-trip hike will lead you through beautiful meadows to Haynach Lake, at over 11,000 feet in elevation. Cast a line here for trout and, if you're lucky enough to catch some, cook them up for dinner at a nearby backcountry campsite.
Essential Gear: The sun burns hotter at higher altitudes, and wearing UPF clothing protects both you and the waterways you visit by cutting the amount of sunscreen you need. ATG by Wrangler's Men's Hike to Fish Utility Shirt with UPF 30 is stretchy—so you can cast away—and has mesh ventilation on the back to keep you cool while you're hiking steep trails to high-altitude lakes.
Grand Teton National Park, Wyoming
The Snake River curves around some of the most iconic views of the Tetons, so you'll be hard-pressed to find a more scenic place to fly-fish for cutthroat trout. Trout are catch-and-release only from November through March, but you can take them from April through October. Grand Teton is just a short drive away from Yellowstone, so plan some extra time to visit both on the same trip.
Dry Tortugas National Park, Florida
About 70 miles from Key West, Dry Tortugas National Park is one of a handful of secluded parks you can reach only by air or sea. Skilled anglers can land massive tarpon among the park's seven islands from land or by private vessel. Take a ferry from Key West for a day trip or to camp overnight on Garden Key (you'll want to plan several months in advance). For a deep-sea voyage, authorized fishing charter Adventure Watersport Charters offers overnight liveaboard trips.
Essential Gear: Let in the breeze on sunny water days and zip up against cold, salty winds with ATG by Wrangler Men's Convertible Cargo Pant. These water-repellent, UPF-50 asymmetric cargos zip off at the knee and have plenty of pockets to store extra flies and small tools.
Glacier National Park, Montana
The icy waters of Glacier National Park, close to the Canadian border, offer exceptional fishing for Yellowstone cutthroat, kokanee, rainbow, and brook—all of which you can find in the Flathead River. In winter months, try your hand at ice fishing for whitefish and lake trout. But beware: no power augers, no open fires, and no snowmobiles allowed. 
Katmai National Park & Preserve, Alaska
To get to the volcanic area of Katmai, you'll need to charter a boat or an air taxi. But once you're there, the fishing opportunities are truly world-class. Rainbow trout, arctic char, and five different species of Pacific salmon are just a few of the highlights. Crystal Creek Lodge in the aptly named town of King Salmon is one of only six guide services authorized to run jet-boat trips up American Creek—known for its rainbow trout, Dolly Varden, and grayling.
Virgin Islands National Park
,
U.S. Virgin Islands
Around the island of St. John, Virgin Islands National Park offers pristine white-sand beaches, bright blue coral-filled waters, and ample fishing opportunities you won't find on the mainland. Here you can drop lines for tuna, tiger grouper, snapper, mackerel, and tarpon (catch-and-release only). You can also catch and take Caribbean spiny lobster, conch, and whelk—if you can find them.
Fire Island National Seashore, New York
You can surf-fish year-round at Fire Island, just a two-hour drive from New York City. From your own boat or from the beach, beyond lifeguard-patrolled zones, you can catch bass, bluefish, and fluke and keep them as long as they meet local size limits. Added bonus: Fire Island might be only 65 miles from the Big Apple, but the breathtaking stargazing makes you feel worlds away from the city light pollution.
Sleeping Bear Dunes National Lakeshore, Michigan
Along the northeastern shore of Lake Michigan, Sleeping Bear Dunes is also called the "northern tropics" for its white beaches and clear, bright blue waters. You can fish from motorized boats on the park's Loon Lake, and ice fishing is popular here in the winter. Make sure you take time to climb the park's 460-foot dunes, which offer stunning views of the shore. 
Channel Islands National Park, California
The five islands that make up this remote national park, which you can't get to by car, are home to quite a few protected marine species and no-fishing zones. But skilled anglers can legally reel in massive halibut. In fact, a world record was set at Santa Rosa Island in 2011 when a Californian caught a 67-pounder. Channel Island Sportfishing runs half-day to three-day trips around the islands.
Grand Canyon National Park, Arizona
Securing permits to raft the Colorado River through the Grand Canyon is, for many, a once-in-a-lifetime, bucket-list-worthy endeavor. And once you're there, fishing for your own dinner can make it even better. You can keep unlimited trout, striped bass, and catfish from Bright Angel Creek and a limited number from the Colorado River.
Great Smoky Mountains National Park, North Carolina & Tennessee
The country's most visited national park has nearly 3,000 miles of streams, all of them open to fishing from 30 minutes before sunrise to 30 minutes after sunset every day. Here you'll be fishing in one of the last wild trout habitats in the East.
Essential Gear: Stay warm and cozy on chilly mornings with the The ATG by Wrangler® Women's Ultra-relaxed Flannel: a soft, moisture-wicking shirt with a vented back to keep you comfortable on all your adventures.
Mount Rainier National Park, Washington
The majestic Mount Rainier isn't just home to gnarly hiking—it's also a great place to fish rivers that wind through the park's forests. The Ohanapecosh watershed, among a handful of others, is open to fishing from June through October. Make sure to take time to cross the suspension bridge over the Ohanapecosh River into the Grove of the Patriarchs, an enchanting island of old-growth trees in the middle of the river.
Biscayne National Park, Florida
You can fish for lobster at Biscayne National Park, a tropical gem teeming with coral reefs, crystal-clear waters, and mangroves. Make sure to take some time to snorkel or sightsee from a human-powered boat. If you plan a fishing trip here, you can spot manatees, dolphins, pelicans, sea turtles, and more.
Yosemite National Park, California
Yosemite may be most known and celebrated for its beloved Half Dome, but the many rivers and streams that wind through the park offer incredible fishing with stunning views. Cast a line for rainbow trout within view of Half Dome along the Merced River.
Acadia National Park, Maine
Ever heard of a landlocked salmon? You can catch them in Long Pond at Acadia National Park, along with several species of trout. Long Pond, on the park's Mount Desert Island, is an idyllic mountain fishing site—especially when fall colors start to peek through the evergreens. In the park's other ponds and lakes, you can also find several species of pickerel, bass, sunfish, perch, and sucker.
---
The Wrangler®  brand is founded in a connection to the outdoors, rooted in adventure and independence. ATG by Wrangler™ now provides versatile, performance apparel with the intent of making the outdoors accessible to all.
Lead Photo: 2021 Cameron Mackey