Sponsor Content: TOYO Tires
15 Overland Destinations to Add to Your Bucket List
Plan the trip of a lifetime or just the weekend with these iconic routes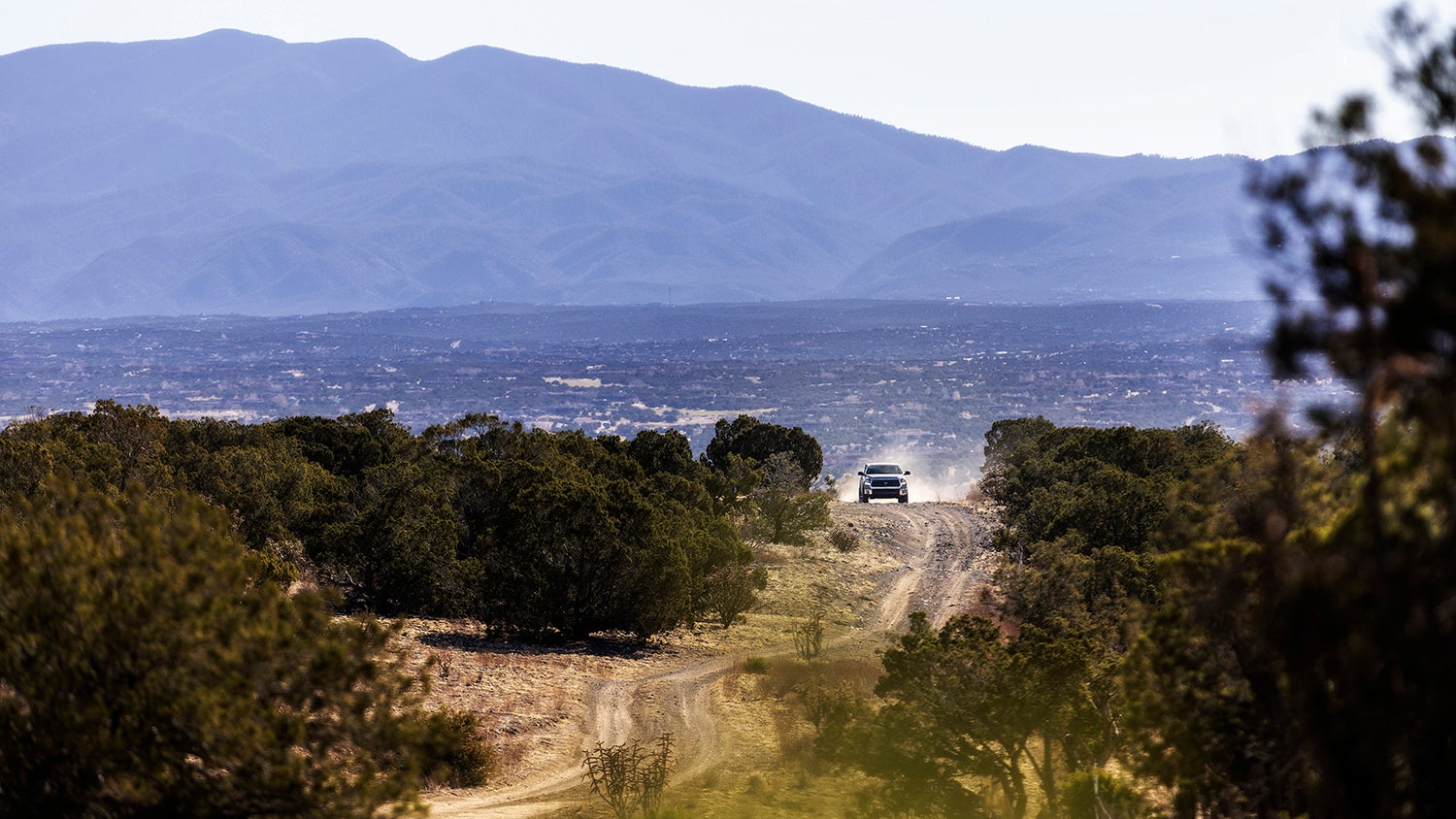 If you know where to look, the world is still a truly wild place, filled with remote back roads and empty campsites. And one of the best ways to explore them is by overlanding, a style of self-reliant travel that entails using an off-road vehicle or a van to cover a long distance, typically in a remote area. That's why we teamed up with Toyo Tires to create a guide to everything you need to know about overlanding. 
Where to start? We rounded up some of our favorites, from one-day excursions to week-long adventures. Just remember to do your homework before you hit the trail. Research the routes online, download an app like Gaia GPS so you can map out your route, and, if possible, talk to people who've already driven these trails. Reach out to overlanding groups in the area, direct message people on social media, or call the rangers in charge of these roads and gather as much on-the-ground information as you can before heading out. 
New Mexico Backcountry Discovery Route, NM
Length: 1178 Miles
Time Needed: 5-7 days
This trail traverses the entire state of New Mexico from Dell City, TX to Antonito, CO. You'll drive through many different landscapes, with incredible vistas but zero crowds. There's plenty of rough and dusty terrain, but drivers without any overlanding experience will do just fine and you can drive the entire route in a regular four-wheel-drive vehicle or van. 
Medano Pass Road, Great Sand Dunes National Park, CO
Length: 22 miles
Time Needed: 2 Days
Colorado's Great Sand Dunes National Park contains North America's tallest sand dunes, and a highly underrated overland route—The Medano Pass primitive road, which goes through several deep water crossings and sand pits as it winds its way up from the dunes to 10,000 foot Medano Pass. This is not a beginner-friendly road so make sure you have some off-road driving experience before you set out. 
The Alpine Loop, Lake City, CO
Length: 63 miles
Time Needed: 1-2 days
The Alpine Loop is one of the most scenic and iconic overland routes in the world. Open from June-September, the Alpine Loop can only be driven for a short period of time during the Summer when it's free of snow. It's chocked full of high mountain passes and incredible views but also has terrifyingly-steep one-lane switchbacks and some technical terrain so you'll need a high-clearance four-wheel-drive and some off-road experience.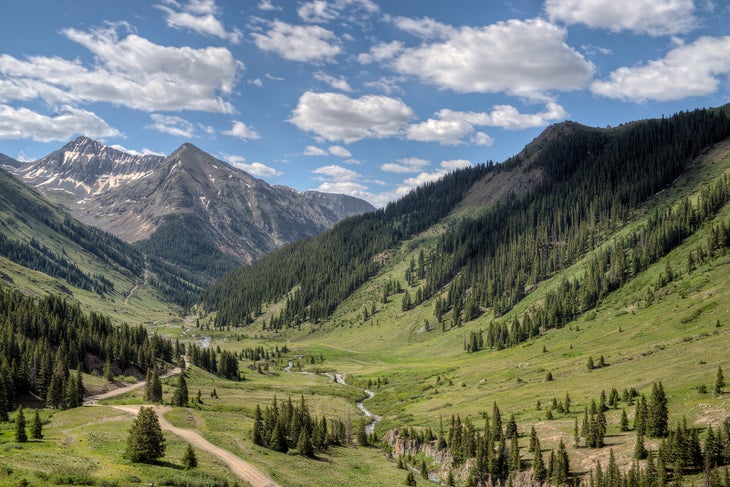 Smokey Mountain Road Grand Staircase National Monument, AZ and UT
Length: 78 Miles
Time Needed: 1-3 Days
The Smokey Mountain Road is a 78 mile overland route that cuts right through one of the most remote areas in the lower 48, between Page, AZ and Escalante, UT. The road is rough but not technical and a stock 4×4 with reliable all-terrain tires like the Toyo Open Country A/T III is capable of driving the route. The sheer remoteness of the area can be a little intimidating but that also means you'll never have to worry about finding a beautiful campsite. The views of slot canyon country also make it unforgettable.
Valley of the Gods Road, Mexican Hat, UT
Length: 17 Miles
Time Needed: 1-2 Days 
Valley of the Gods Road near Mexican Hat, Utah, is known for its dramatic red-rock towers and wide-open spaces. It's one of the best beginner overland routes in the country because you get to access incredible vistas and hikes and are never very far from a paved road and gas station. There are also plenty of incredible but easy-to-access backcountry campsites.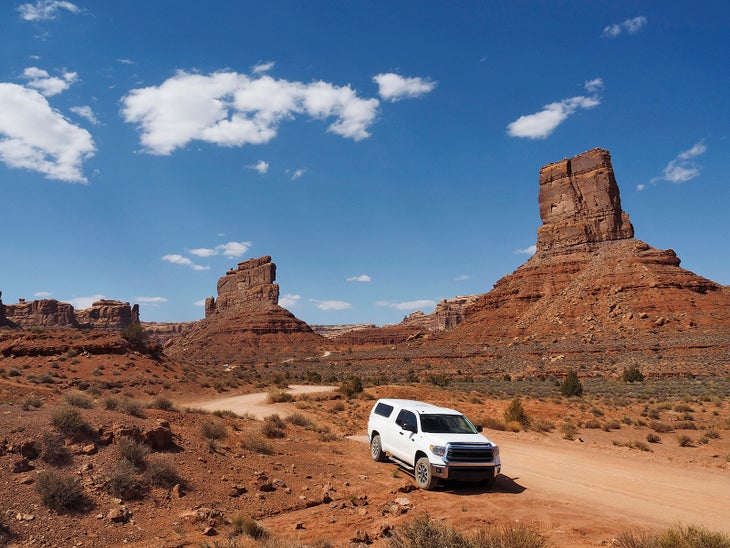 Mojave Road, CA
Length: 138 Miles
Time Needed: 2-5 Days 
The classic Mojave Road bisects Mojave National Preserve in California's southeastern desert. First used by Native Americans and later Westward-bound settlers as a trade route, this area is full of history and has remained largely untouched. The road is remote but not overly technical so overlanders with a basic off-road driving experience will be fine. Heads up: the summer and winter temperatures can be extreme, so it's recommended you visit in the spring or fall.
Cape Lookout National Seashore, NC
Length: 20+ Miles
Time Needed: 1-2 days
A ferry ride from the small mainland town of Davis to South Core Banks, the middle of three barrier islands that make up Cape Lookout National Seashore, gets you to 21 miles of undeveloped, drivable beach ripe for fishing, swimming, and surfing. Tip: make sure you know how to air down because tires with a lower PSI help with traction in the sand. And, remember, you'll also need an onboard or portable air compressor so you can air back up. 
White Rim Trail, Canyonlands National Park, UT
Length: 110 Miles
Time Needed: 2-4 Days
This classic route explores Canyonlands National Park's stunning Island in the Sky district, a Mars-scape hemmed on three sides by river—to the east, the mighty Colorado; to the west, the snaking Green; to the south, their confluence. The White Rim trail is one of the more crowded overlanding routes in the United States, but the dramatic views easily make up for the extra people.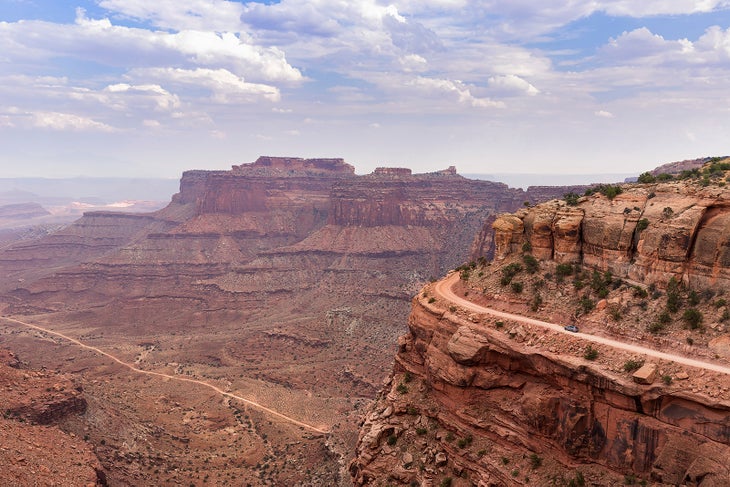 Naranja Road, Baja California, Mexico
Length: 55 Miles
Time Needed: 1-3 Days 
Also used by bikepackers, Naranja Road climbs through cardón cactus desert and over two forested passes in the Sierra de la Laguna mountains before rolling down toward the Pacific Ocean. Road conditions are notoriously unpredictable so make sure you have some off-road driving experience under your belt, just in case the road is in poor shape. 
Rubicon Trail, Georgetown, CA
Length: 22 Miles
Time Needed: 1-2 Days
It's a gnarly, beautiful 22-mile route through the rugged Sierra Nevada that should be on every overlander's bucket list. The demanding route takes a highly experienced driver and a highly modified, well-built vehicle to complete—the trail's mix of granite slabs, soft dirt, sharp rocks, and large boulders require precise maneuvering and your standard four-wheel-drive vehicle is not enough. 
Dempster Highway, Northwest Territories and Yukon, Canada
Length: 456 Miles
Time Needed: 5+ days
The Dempster Highway, which runs between central Yukon and the far northern Northwest Territories, is mainly nontechnical gravel and dirt, but it takes some serious logistical and route planning to pull it off, given the long distances between fuel stops. It's the gateway to an otherwise untouched swath of mountainous tundra.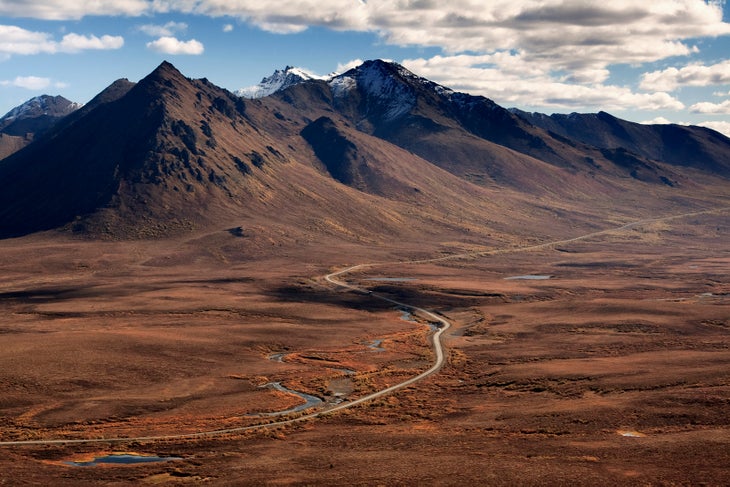 High Water Mark Trail, Ozark National Forest, AR
Length: 140 Miles
Time Needed: 2-3 Days
Arkansas' Ozark mountains have long been an underrated adventure destination, and taking this trail lets overlanders explore some of the most scenic areas in the state. There are over a dozen water crossings along the trail, and travelers will get a firsthand look at the milky blue streams, bluffs, and caves that make this area so special. Tip: you might also want to pack a chainsaw just in case you need to clear any downed trees. 
Guadalupe Mountains Adventure Trail, Guadalupe Mountains National Park, TX
Length: 296 Miles
Time Needed: 4-6 Days
This trail in far western Texas can be done in a stock 4×4, and its remoteness means you'll have incredible views all to yourself. You can spend a week exploring the Guadalupe Mountains' canyons, ghost towns, archeological sites and nearby attractions like Carlsbad Caverns. Sprinter vans and Subarus can cover most of the route but drivers with those vehicles should check here to avoid some of the rougher spots. 
Sedona Backcountry Trail, Sedona, AZ
Length: 250 Miles
Time Needed: 4-7 Days
This trail is doable for any stock 4×4, and gives you a taste of everything the Sedona area has to offer without the crazy crowds some of the more-famous trails are known for. Make sure you bring hiking boots and a mountain bike so you can explore off the road as well. 
Whipsaw Trail, British Columbia, Canada
Length: 63 miles
Time Needed: 2-3 days
One of the most famous off-road trails in Canada, the Whipsaw requires a high-clearance 4×4 with at least a two-inch lift as well as a driver who has previous off-road experience—beginners be wary. Adventurers are rewarded with epic scenery and a challenging trail that will put your rig to the test. Make sure you're running a more aggressive all-terrain tire like one of the models from Toyo's Open Country line to ensure you can clear the tricker spots. 
---
Toyo Tires® has delivered innovation, quality, and performance for 75 years. Well-known for the Open Country® line of light truck and SUV tires, the company offers a tire for nearly every vehicle including crossovers, sports cars, and luxury sedans. Many of the tires are built in the United States at their state-of-the-art factory in Georgia. Find the right tire and an authorized dealer at toyotires.com.