Sponsor Content: Vermont Tourism
3 Ways to Experience the Best of Vermont
From outdoor adventure to sampling local food culture, here's how to enjoy the Green Mountain State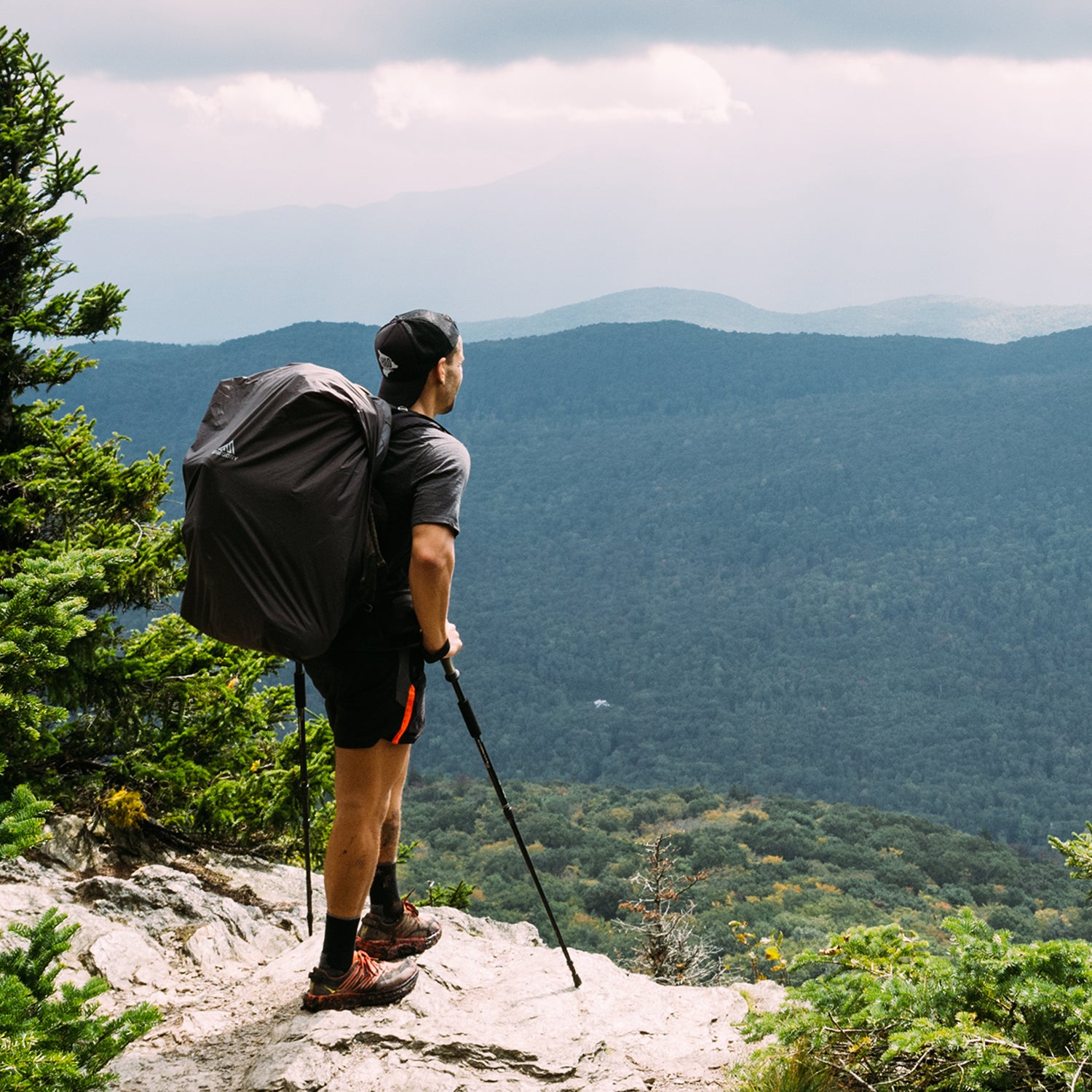 Vermont Tourism
Vermont's forested mountains, picturesque farmlands, and easygoing vibe offer something for everyone. From year-round outdoor recreation and a culture centered on healthy lifestyles to a local food scene where clean farm-to-table eating is the norm, Vermont has it all. And because Vermont delivers so much variety in such a compact area, exploring the whole state is a must (and very doable—you can traverse the state south to north in about three hours). Get a taste of everything Vermont has to offer below. Then head to Outside's sister publications (links below) for more details on how to explore the Green Mountain State.
(Photos: Gretchen Powers and Vermont Tourism)
Spend Time in Nature
Outdoor activities are a way of life in Vermont, which is one of the most forested states in the country, with plenty of public lands for recreation in every season. But many private landowners, including family-owned farms, also welcome visitors year-round to recreate responsibly on their acres. Hike, bike, or cross-country ski along hundreds of miles of trails on working farms that produce everything from dairy products and organic fruits and veggies to lavender and hemp. If exploring on two wheels is more your style, check out the Vermont Mountain Bike Association to learn more about mountain-biking trails throughout the entire state. Vermont is also home to a large network of rail-trail systems, including the longest rail trail in New England—the Lamoille Valley Rail Trail, which spans 93 miles and connects 18 downtowns. Many of the rail trails are open to the public year-round for all types of human-powered recreation.
In the heat of summer, Vermonters punctuate their outdoor adventures with refreshing dips in local swimming holes, river floats, and time on the water at more than 800 lakes and ponds across the state. Nothing says summertime in Vermont like a float down the Lamoille River or a SUP on Lake Memphremagog. Come autumn, these places transform into foliage hot spots, with brightly colored trees lining the shores and riverbanks.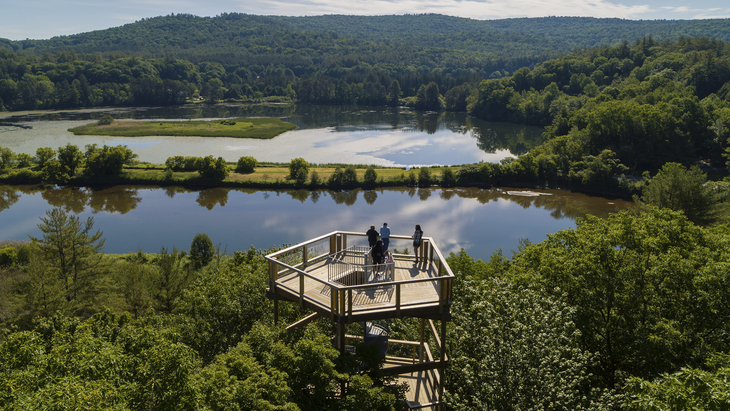 Read more about year-round outdoor adventures in Vermont on Backpacker.
Find Zen
The Vermont countryside is the ultimate setting for quieting your mind. From wellness-focused weeks full of yoga, good food, and time in nature to spiritual programs centered on meditation, there are plenty of opportunities to disconnect and recenter yourself in Vermont. You'll find a variety of retreat centers across the state, each offering unique programs. Enjoy a week or weekend of reflective conversation, meditation, and yoga, along with farm-to-table meals, seasonal activities, and opportunities to get creative.
Don't have time for a full retreat? Check out Vermont's many options for uncommon yoga practices. In warmer months, Vermonters are all about taking their favorite activities, including yoga, outdoors. Think: SUP yoga at the lake, gondola-accessed mountain top yoga, or mat work high in the treetops on the elevated Forest Canopy Walk at the Vermont Institute of Natural Science.
Get details on more relaxing ways to experience Vermont on Yoga Journal.

Enjoy Farm-to-Table Flavors
For a small state, Vermont has a surprising concentration of agriculture—approximately 6,000 farms on 1.5 million acres of farmland. Together, all these farms give rise to Vermont's clean-eating culture. Local ingredients are prominently featured on menus across the state. And many of Vermont's family-owned farms welcome visitors year-round so you can sample farm-to-table offerings, from farm-fresh dairy to organic fruits and veggies and, of course, all things maple.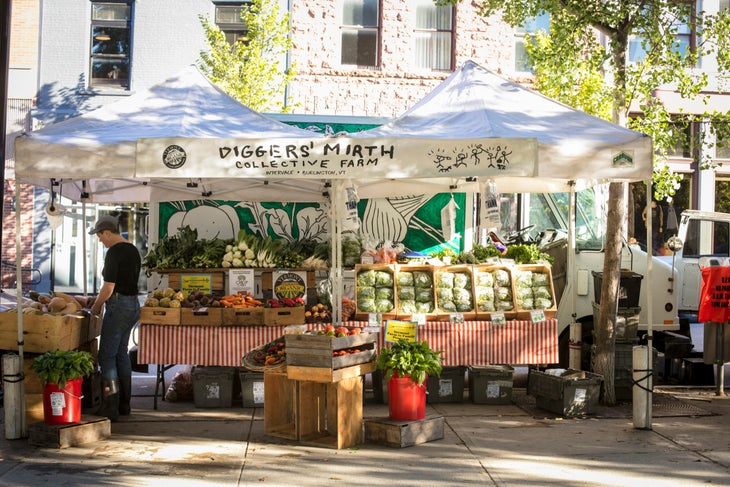 Vermonters are serious about their dairy. So it should come as no surprise that big-name brands in dairy, including Ben & Jerry's and Cabot, got their starts here. Tour the Ben & Jerry's factory in Waterbury for an inside look at how the ice cream is made, or visit one of the Cabot partner farms to see the faces (both human and bovine) behind the brand.
Want a firsthand look at how Vermonters make their famous maple syrup? Plan your visit for early spring, when warmer daytime temperatures trigger sugar maples to thaw sap. You'll get to see Vermont's sugarhouses in action and learn how the process has evolved from wood-fired boiling pans to modern-day reverse osmosis.
Learn more about uniquely Vermont foods and flavors on Clean Eating.
---
Vermont's ever-changing landscape draws outdoor enthusiasts year-round to a place where diverse natural beauty creates the space to slow down, look around, and simply take notice. Vermont can inspire, restore, and bring you to a whole new state. Sign up to receive the latest news from the Green Mountains.
Lead Photo: Vermont Tourism
Trending on Outside Online